Original URL: https://www.theregister.co.uk/2012/01/06/us_jobs_report_dec_2011/
US economy hands IT a mixed bag in December
Add jobs here, cut them there
Posted in The Channel, 6th January 2012 19:13 GMT
It looks like the IT industry is faring no better or worse than the US economy as a whole when it comes to creating jobs.
Private sector companies in the United States added 212,000 jobs in December, to some a sign that the economy is improving and to others that it is just bumbling along. Governments at the local, state, and federal level continued to slash their payrolls, cutting 12,000 people last month, but the US economy has bigger issues than government spending cuts.
Reconciling the nation to the realities of globalization and the fact that many jobs will never come back – and that many of the remaining ones will be under pressure from other markets – is probably a good step. But don't hold your breath waiting for America to cope with reality.
The country would rather dream about a real recovery where the economy adds 400,000 or 500,000 jobs a month, as it has done in past recoveries, to relatively quickly get the unemployment rate back down to pre-recession levels. This seems unlikely, with companies hoarding cash and hiring as little as possible to make more.
As it stands, the US economy has only added 1.6 million workers in 2011, and there are 13.1 million people who are officially called unemployed, yielding an unemployment rate of 8.5 per cent.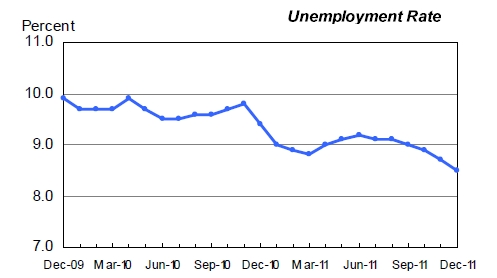 That's down a smidgen, but being unemployed doesn't mean "out of work" but rather "out of work and still looking". The Bureau of Labor Statistics doesn't calculate the true unemployment rate, which is probably twice as large once you factor in the total number of people not working but able to.
As you might expect, retailers in the US added workers in December – in this case, 28,000 net new workers mostly hired to help peddle products during the holiday season. Ditto for transportation and warehousing companies, which added 50,000 workers. That's the same number as last year – and, by the way, in January 2011 those jobs were cut.
Manufacturers added 23,000 workers, mining companies added 7,000, construction industry employee count was flat, and the healthcare industry added 23,000. The leisure and hospitality industry added 24,000 people to the payroll, and again, it will be interesting to see how many stick in 2012. The professional and business services sector, which added lots of jobs in 2011, cut essentially the same number of paychecks in December as it did in November.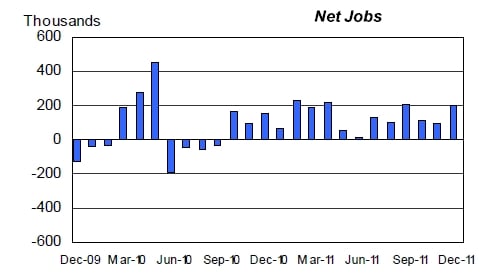 The Department of Labor does not count jobs by function and title, so you can't really get a sense of how the IT industry is doing compared to other industries. But you can get extract pieces of the industry-focused establishment data set in the monthly report to get some sense of what is going on. (The household data set compiled by the BLS, based on a survey of American households, is used to calculate the unemployment rate; the establishment data is used to come up with the job losses and gains.)
Within the manufacturing sector, computer and electronics makers added 2,600 workers, according to the December report, to just under 1.13 million workers out of a pool of 132.7 non-farm, full-time workers in the country. Within this subsector, computer and peripheral equipment makers had 175,300 workers, up 700, and communication equipment makers employed 114,200 people, an increase of 500. Semiconductor and electronic component makers had 388,500 people on the payroll in December, up a mere 300.
The BLS plunks data processing and hosting services as well as telecom services into the information sector. Employment at telecom companies was dead flat sequentially in December, at 842,600 people, and data processing and hosting companies added a mere 400, to a total of 240,000 workers.
In the professional and business services area, companies engaged in computer systems design and related services actually shed 3,900 workers in a pool of just over 1.53 million people, while management and technical consulting firms (which often have an IT component) added 5,900 people, to 1.08 million workers. ®