Original URL: https://www.theregister.co.uk/2012/01/06/review_game_star_wars_the_old_republic/
Star Wars: The Old Republic
In a galaxy far, far away...
Posted in Personal Tech, 6th January 2012 12:00 GMT
Review Star Wars: The Old Republic is a massive game with hundreds of hours of game play, so this review is just a chicken scratch on the surface of something we will see develop and grow over months, if not years. Undoubtedly, SWTOR has a solid foundation but does it have enough successful constituent parts to be enduring?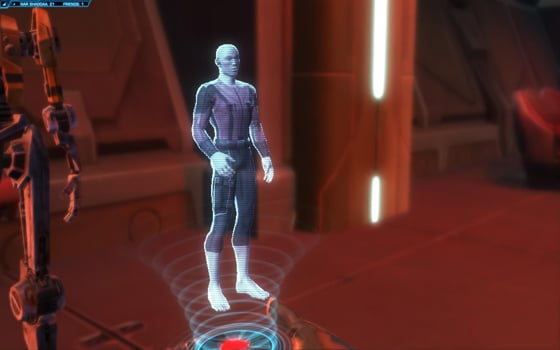 Why, holo there...
So, is this World of Warcraft with lightsabres? Sort of, and considering WoW's success that's probably not such a bad thing. Indeed, the arrival of SWTOR is a welcome, if not particularly innovative, addition to the monthly subscription MMORPG genre.
Cue scrolling text...
What first caught my attention are the cinematic intros, the likes of which I have never seen. They showcase the playable classes in a polished, exciting and just plain awesome montage that slaps you awake more than it sets the scene. The pure nostalgia for Christmas (been there, done that) and Star Wars gets me all excited. Indeed, its Yuletide release was a marketing coup.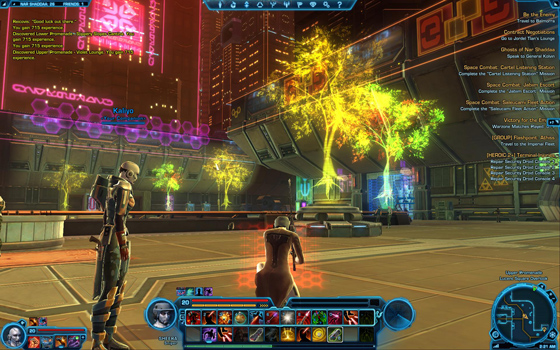 Pull your trunks up
It's been 200 years since the events of the Knights of the Old Republic but only a couple of weeks since I was locked out of the beta. In either case, it's back to the Sith academy.
Choosing a busy PVP although not over-populated server was important, in order to stay away from some nasty server waiting times. It's not true what they say about the British and queuing.
Even though I missed my Sith witch, this time I thought I might mix things up and rolled Imperial agent. I did try to roll smuggler but ended up looking the splitting image of Princess Fiona from Shrek.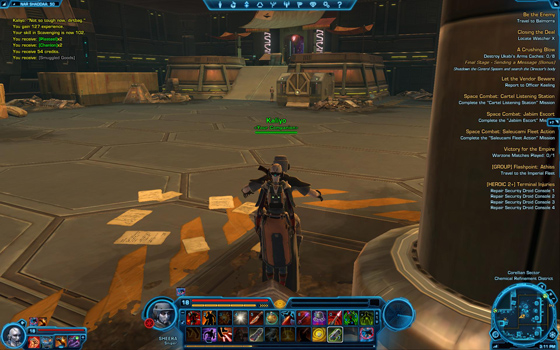 Friends always got your back
As an Imperial agent I'm a ranged character and I start with a sniper shot and the ability to roll into cover. I wondered why there so few races are available; who doesn't want to play the Gamorrean (Space Orc) to level 50? I was also slightly disappointed by the limited character customisation – just four body types that all races share. I spent some time in character creation playing with my piercings and tattoos – looking ready for an evening at Slimelight. After the time I spent fiddling in Skyrim purely with the shape of my chin, I felt robbed. As far as character creation goes, the word 'mediocre' comes to mind.
A class of its own
Whether playing Republic or Imperial, I have four basic classes available. My class choice decides my abilities and also my main storyline. The narrative is open to variation depending on the chosen dialogue options during conversations. Just how much variation there is I have yet to fully explore. And what's this? No pet classes?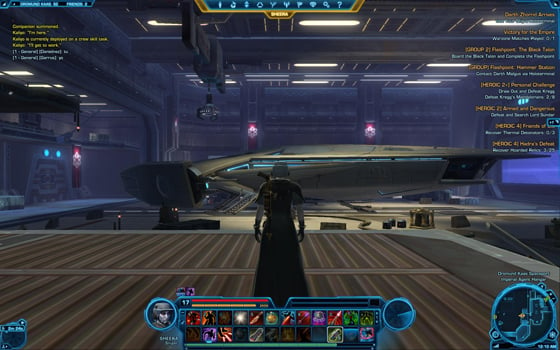 Shuttle down
The class system will be recognisable conforming to the Ranged, Tank, Healer and overpowered force lighting broker. Alas, no dual spec either. I felt disappointed that there was no engineer class with a cutesy pet droid. Yes, at level 15 I can have a droid as a companion but he isn't very helpful; seemingly scared of a fight and only useful for creating items.
While playing The Old Republic it becomes apparent that Bioware has constructed each class as a game in itself. My class determines not only how I play but my game experience, each class story has a unique impact on the central narrative.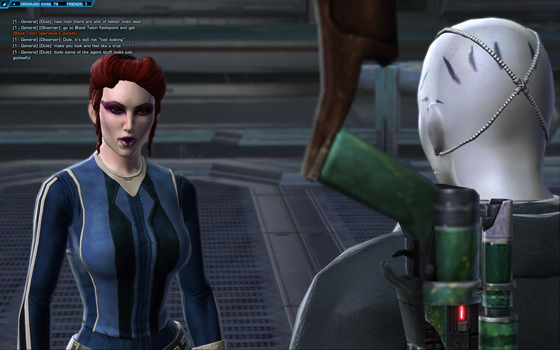 You can't cross me
The first thing I noticed was how familiar the controls are – an unashamed clone of the UI seen in WoW or Rift. But there is definitely a clear KOTOR design ethos with streamlined blue and sans serif fonts. I really like the inventory and character windows and am struck by how easy it is to use, overall.
Smooth maps make life in SWTOR much easier to navigate. The starting world for the Imperial agent is the desert planet Hutta. I complete the usual low level tasks until I level enough to leave the planet and explore the galaxy. These tasks are made more enjoyable because they are introduced with stunning and immersive cut scenes (for an MMORPG) that help capture the feel of the Star Wars Universe.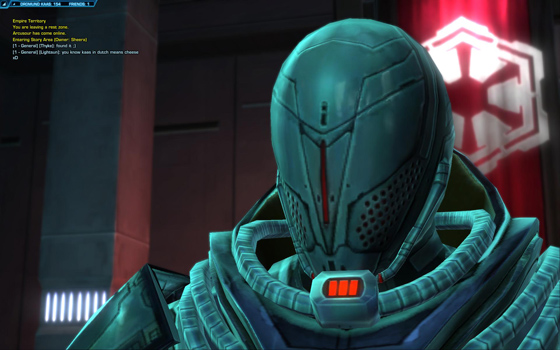 Talk to the bars...
These first few levels will be a comfortable start for noobs. Every time you gain enough experience to level, you have to find a trainer. I pay them a small amount of money to gain different skills such as cover which is basically my own personal futuristic shield.
Dark times be comin'
When it comes to allegiance, I always felt it better to stick with the dark side to stay true to my black heart. I make every choice as spitefully and viciously as possible to rack up those dark side points.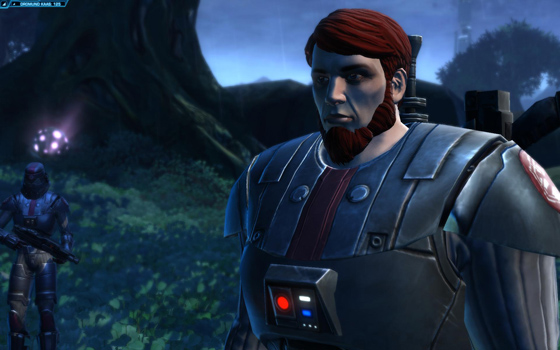 Fixed in front
One major disappointment was the lack of roaming from mobs – they just seemed to wait around in groups to be slaughtered. Now where is the fun in that? Being able to AoE loot bodies was really helpful, though who wants to pick their way through a pile of corpses? Be sure to keep an eye out for oft times well hidden datacrons, for welcome stat increases. The Old Republic is divided up into planets and other celestial bodies. While I can't visit any planet I like early on, I can later with the help of a starship (along with my lame ass droid) that I will obtain during my main quest. Watch out for contested worlds in PVP servers, as these can make the missions extremely hard if you're not accompanied by your friends.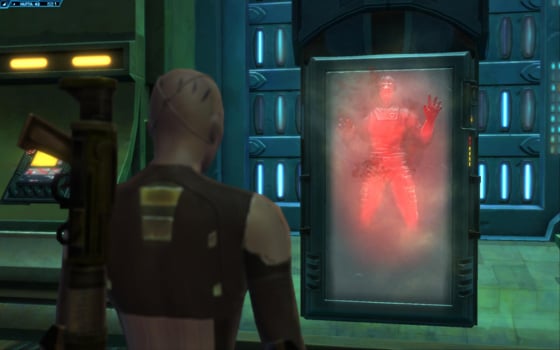 Red guy district
There is vast and epic scale for creating completely different atmospheres on the varied planets of the Star Wars universe, which made me question: why they are all so samey? In essence, if you've seen one city you seen them all.
Once I get to level 10 I get to specialise and open up my skill tree and customise my character. I chose to be a sniper. This gives me three the skill trees, Lethality, Engineering and Marksmanship. Plus one per cent marksmanship for one skill point seems a ludicrously small increase, so much that it didn't seem to make any difference in combat. In retrospect sniper class isn't the most powerful class to choose and I often felt like I was missing out not having a light sabre or force lightning at my disposal.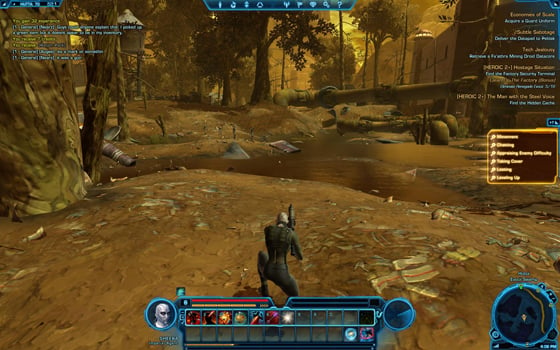 Swamp thing...
To commit to this game you have to pay attention to Crew skills and make sure to read about their different synergies before making your decision. I chose cyber tech for my crafting skill and then salvaging and underworld trading to obtain the materials I needed to build amour mods and upgrades, which I could use for myself or sell on the global marketplace.
Friends 'til the end
Companions play a large part in making your life less fraught. Kaliyo was my first companion at level 8. She is a pretty cool chick whom I met at a nightclub working for some Hutt mafia types. She is the same level character as me, and helps in a fight which makes soloing a lot easier and less lonely.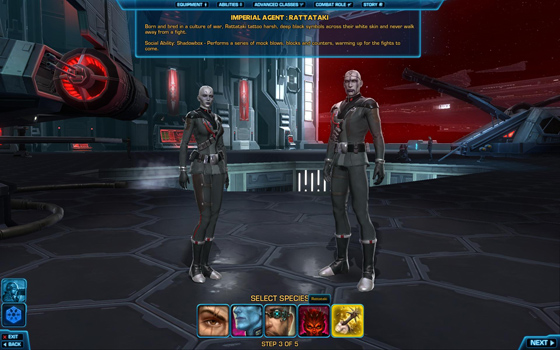 Join the race
There are several things that make this game immersive and pull you into the epic storyline. The obviously enormous amount of voice and dialogue production that went into creating this corporeal, organic world makes it clear that having scrolling quest text, breaking your suspension of disbelief, like that in found in WoW is a thing of the past. The fact I now have to listen to everything, is an instant attention grabber.
I am invariably a pussy when it comes to dungeon crawls and often shouted at for aggroing the mobs. Just call me Leroy... The Old Republic has instances, renamed Flashpoints, where there are bosses and higher value drops. These have guild written all over them but being a lone wolf I have to put out a shout and join up with a PUG to enjoy some interactive dialogue scenes and gain social points.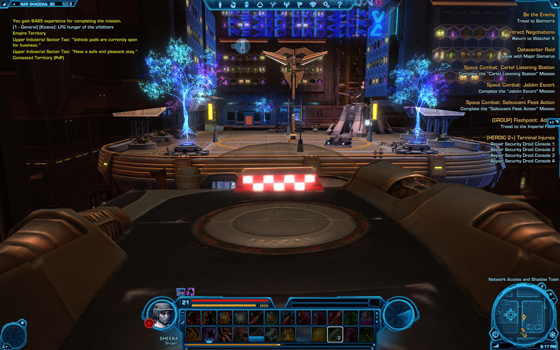 Time to jump ship
I simply click an icon to line up for PVP action. Warzones are a nod to Capture the flag and football but I didn't really enjoy these, hardly FIFA.
Overall, this game has substance and polish and convinces me I am immersed in the Star Wars universe. Having decided to invest my time and monthly sub for the immediate future, I can only hope Bioware has anticipated what it will need to do to keep me hooked.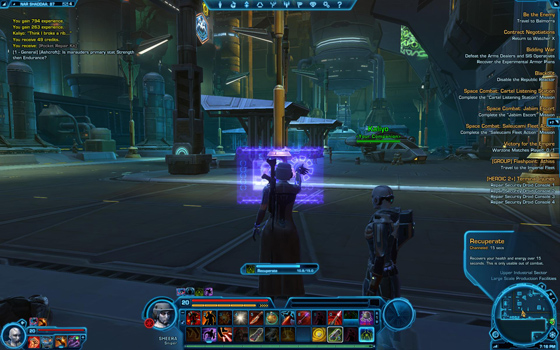 Need a little pick me up
Verdict
SWTOR isn't my dream Star Wars game, it isn't even my dream MMORPG but I did enjoy playing it. Even though it doesn't add anything new to either of these genres it brings on dewey-eyed Star Wars nostalgia. Having reached level 21, Bioware has me hooked like an Alabama meth-head and, for the meantime, I will continue to play to see how SWTOR develops. I guess Bioware hopes that's what 30 million other gamers have in mind, considering its hefty budget. ®
More Games Reviews

Need for Speed:
The Run
Saints Row:
The Third
The Legend of Zelda:
Skyward Sword
Assassin's Creed
Revelations
Halo: Combat Evolved
Anniversary Edition