Original URL: https://www.theregister.co.uk/2012/01/06/phobos_grunt_in_reverse/
Duff Russian Mars probe spotted flying in reverse
Video shows why contact with Phobos-Grunt failed
Posted in Science, 6th January 2012 21:10 GMT
A veteran skywatcher has captured a video of the doomed Russian Martian space probe Phobos-Grunt that provides evidence of why ground control has only sporadically been able to contact it.
"The images show that the Phobos-Grunt is moving backwards, with the solar panels deployed but not lightened by the Sun," French astrophotogapher Thierry Legault writes on his website.
No sunlight on the panels, no electricity to the probe; no electricity to the proble, no communication with the ground, it appears.
Legault's remarkable video (scroll down), clearly shows Phobos-Grunt in reverse, with the solar panels deployed, but in darkness.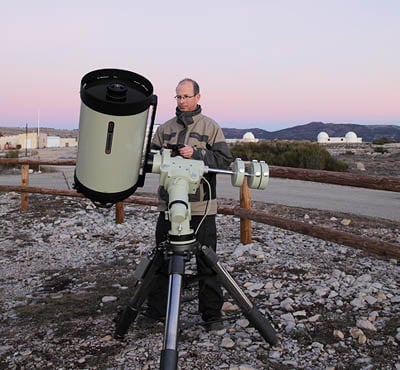 Thierry Legault at the Calern plateau Observatory above Nice, France (source: Thierry Legault )
According to Legault, the probe shows no signs of tumbling, his evidence being a video he took a day before the one he provides on his website, which shows Phobos-Grunt in a similar orientation.
After a successful launch and orbital insertion on November 9 of last year, Phobos-Grunt failed to fire the engines that were to take it to the Red Planet. Now, Larault writes, "Phobos-Grunt is out of control and its atmospheric reentry is currently scheduled for mid-January," a reference to reports that the failed Mars mission should rain hot chunks of itself onto terra firma on or around January 15. ®
Bootnote
Legault's astrophotography has captured a number of exceptional images, including solar transits of the space shuttle Atlantis and Hubble Space Telescope in May 2009 and Atlantis and the ISS in May 2010. The Reg recommends that all devotees of space exploration take a moment to examine his online gallery.