Original URL: https://www.theregister.co.uk/2012/01/05/review_kobo_vox_e_reader/
WHSmith Kobo Vox e-reader
Can't wait for the Kindle Fire?
Posted in Personal Tech, 5th January 2012 12:29 GMT
Review So you've been tempted by an e-book reader but the brouhaha surrounding the Amazon Kindle Fire launch in the States has confused you. A colour screen must be better, right? But will it ever come to the UK? If you really can't wait, rival e-book reader manufacturer has stolen a march on Amazon and released a gadget that looks just like the Fire.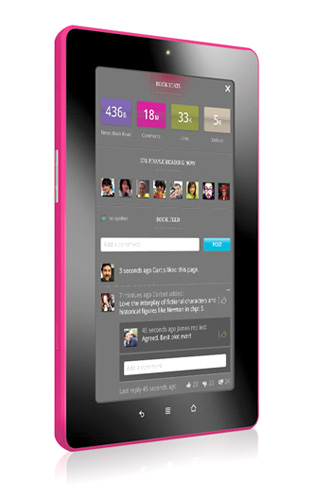 The Android alternative: Kobo's Vox
Well, though no date has been set, the Fire looks like it'll arrive in the UK in early 2012. And colour screens? If you're planning to read your e-books on a beach in sunshine, through sunglasses, e-ink screens like the basic Kindle, Sony Reader or Kobo Touch beat colour displays hands down. But if you plan to look at graphic novels or photo books, the colour screen has a lot to offer.

Practical positioning: power switch on top
For the Fire this includes a huge range of video titles but Kobo's aims are more modest: not a fully-fledged tablet, this is an e-book reader with a few extras. From the front it looks just like a Fire but flip it over and you'll see the familiar quilted, textured back like the Kobo Touch. It feels great, so the reader sits comfortably in the hand. Not everyone will care for the look, mind.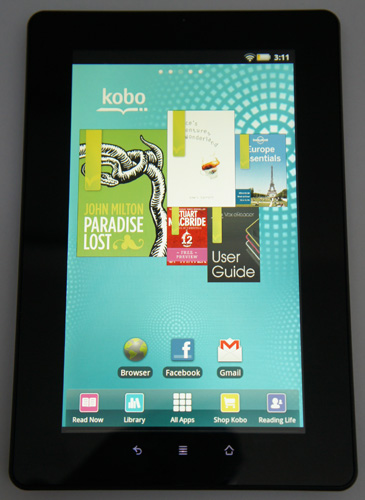 Homescreen
The power button is on the top edge of the Vox, unlike on the Kindle Fire and regular Kindle where users have noted that the position on the bottom edge makes accidental switch-off too easy. The home page is similar to on the monochrome Kobo Touch, dominated by the Kobo mosaic of five recently read books. Touch one to launch that title.
Library music
You can also press the Read Now icon near the bottom of the display which opens the last book you were reading at your last-read page, of course. Need more variety? The next icon along is the Library shortcut which opens a bookshelf designed like glossy white wood with your tomes in order. All very straightforward. And the books look good, the colours subtle rather than bright, but making photographs shine.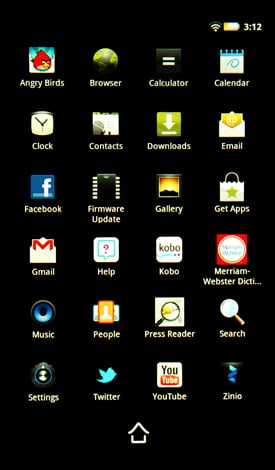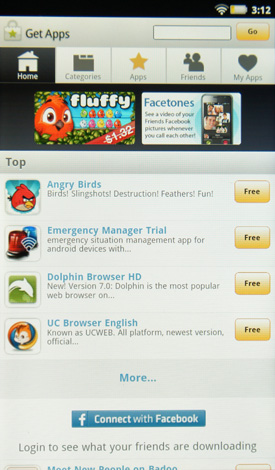 Menu and apps browser
Of course, you're reading a backlit screen which is less restful on the eyes than e-ink or, you know, paper. Page turns lack the artful animation of the iPad's iBooks, for instance, either sliding the previous page or just replacing it instantly. Still, at least it lacks the intrusive flashing which e-ink displays require.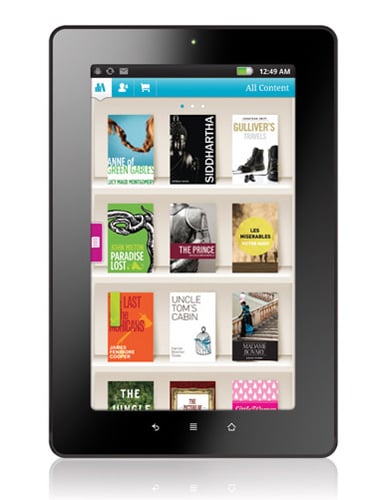 Bookshelf
The bookstore, called Shop Kobo, is another icon on the home page's bottom shelf and guides you to the Kobo book store. It has over 2 million titles, including a million free ones. Some of these are poorly laid out – the epic poem Paradise Lost is presented as continuous text which is really not what Milton intended, given his obsession with which lines fell at the beginning, middle and end of each stanza.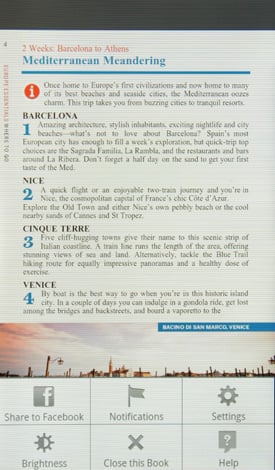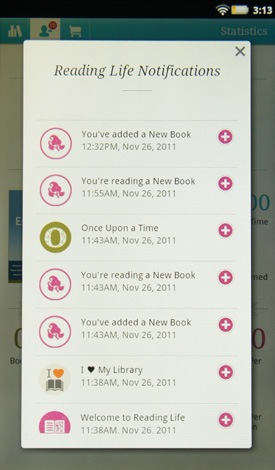 Sharing options and reading history
Storage is excellent, with 8GB on board. This is the same as the fire but the Vox also has a memory card slot so you can add an extra 32GB so the reader can hold around 40,000 books (are you really that indecisive about what you might want to read?) at a time.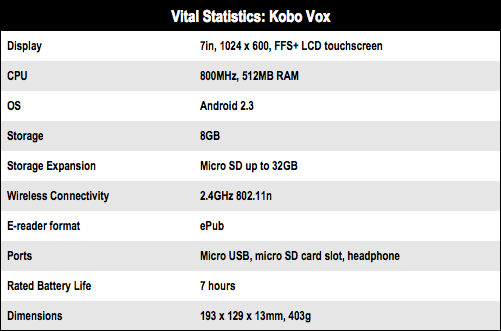 Touch and go?
Battery life is decent enough – not the days and days e-ink screens deliver but a reasonable seven hours or so between charges. You can drag video and audio files on to the Vox, but Kobo isn't pushing this. Note that unlike some Kindle models, this one is Wi-Fi only, so you can't download a new book outside a wireless zone, say.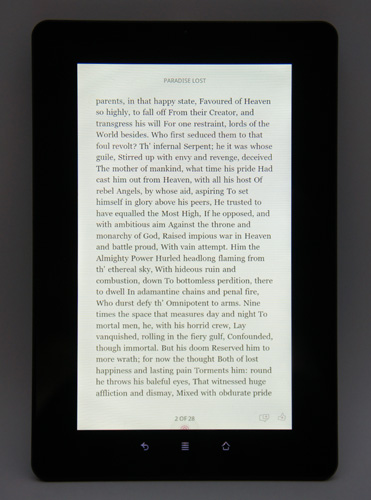 Text view
So what are the downsides? The biggest one is the unresponsive, sluggish system. Touch the screen too fast and it may not register. So you go back to touch an icon again, often twice because when it has spotted you're there it takes time to react. Turning pages in books is fine, and this is most of what you'll be doing, but launching aps can be annoyingly slow.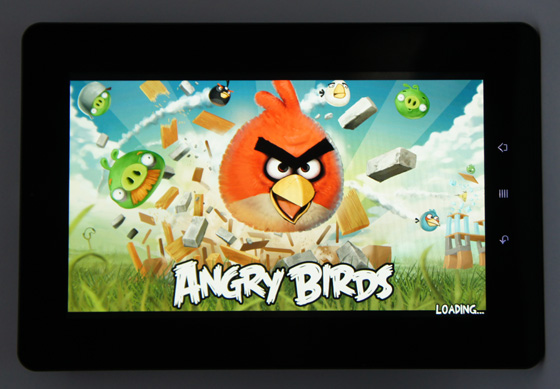 Gaming options
Fancy a game of Angry Birds? Look on the list of apps and you'll see that Android Market is missing. You have to launch an app called Get Apps and are restricted to the apps available through GetJar – though this is a very wide selection. Even so, access to the regular Android Market would have been preferable.
Charging can only be done through the dedicated Kobo charger, not from USB, though to be fair the same applies to some other tablets like the BlackBerry PlayBook, too.
A sluggish tablet, but as an e-reader it has a lot of storage
Verdict
It's here now, and it's largely competent, with great storage and a decent look and feel. But the sluggish processor is the machine's biggest problem and is a world away from the effortless-to-use touchscreens we're used to. Page turning is fine but you may find yourself waiting when programs take time to launch. But if your aim is just to read books, and you want to see colour on your screen, the Kobo Vox offers access to a big store of books and you're not tied in to a closed system as you are with Amazon's offerings. ®
More Tablet and Reader Reviews

Ten high-end
Android
tablets
Amazon
Kindle
Fire
WHSmith
Kobo Touch
Amazon
Kindle 4
Ten budget
Android
tablets