Original URL: https://www.theregister.co.uk/2012/01/05/fast_food_chain_celebrates_star_wars_release_with_black_burger/
Fast food firm fields Sith sandwich
Darths Vader and Maul to get themed burgers
Posted in Personal Tech, 5th January 2012 13:11 GMT
With bellies still recovering from festive banquets, feasting your eyes on these Star Wars snacks could be enough to put you off food for life. But we've never been one to hold back on news to make you squirm.
Belgian fast food chain Quick will celebrate the cinema release of Star Wars: Episode 1 3D with three themed burgers, set to go on sale in March, Francophone collectables fansite Mintinbox reports.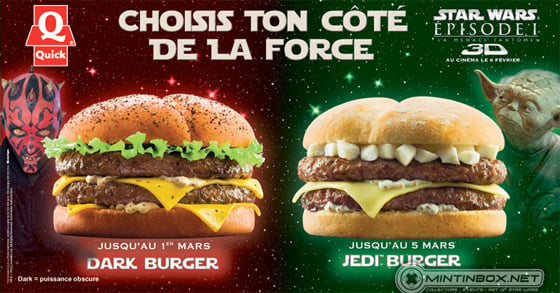 There's Darth Maul's "Dark Burger", Yoda's "Jedi Burger" and the burnt-looking "Dark Vador", an unappetising version for the Sith Lord, who only features in Episode 1 as ten-year-old Anakin Skywalker anyway, so its relevance is questionable.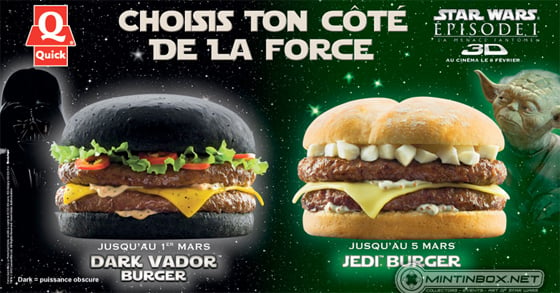 Still, if eating a burger overloaded with black dye whets your appetite, then take a trip to the Continent this spring and see if you can stomach it. I'm sure there are plenty of Jabba the Hutts out there who are just bursting to give it a go. ®