Original URL: https://www.theregister.co.uk/2012/01/04/antique_code_show_dizzy_ultimate_cartoon_adventure_retro_game/
Dizzy: the Ultimate Cartoon Adventure
Eggsemplary gaming
Posted in Personal Tech, 4th January 2012 12:00 GMT
Antique Code Show Resident Evil is considered a classic by many. But did you know that the design of the first three games was popularised ten years prior by a little eggy wegg?
Dizzy was never actually conceived as an egg. His rotund form emerged merely as a way for Philip and Andrew Oliver to more easily spin the little fellow during his eight frames of airborne rotation animation. That's twice as many frames as the characters in the Mega Drive version of Mortal Kombat had. In your face, blast processing!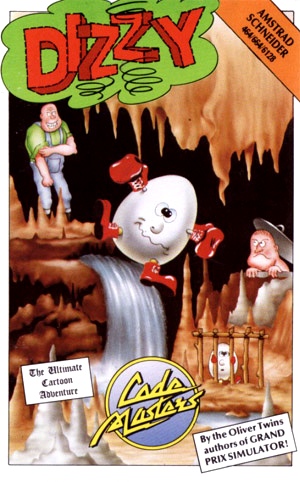 Dizzy's Amstrad CPC cassette cover
Source: Wikimedia
Despite all that, the egg-centric appearance of Dizzy stuck, and thus the "Yolkfolk" were born.
The game tasks you with hunting down and defeating the evil wizard Zaks - one of whose chief orders of business was to make it rain during the Sunday cricket - through a series of increasingly complicated lock-and-key-style item puzzles, and ultimately brewing together the ingredients for an athlete's foot potion, which just so happens to be the only thing in the world that can kill him.
I do love how the blurb in these games' inlays were seemingly written in the eleventh hour with the help of an enormous bag of weed.
The 'Take item A to location B to achieve C' structure required a lot of backtracking to lengthen the game's lifespan, but was no less enthralling in execution. The familiarity of Katmandu - sentient eggs and evil wizards were apparently quite commonplace in 1980s Nepal - was a welcome aspect of the game, letting one soak in the Oliver Twins' dark, slightly macabre design.
A common gaming trend of the era were points of no return, and Dizzy was littered with the buggers. Empowering items such as birdseed would vanish forever if left near a hazardous sprite; vital ingredients could be lost into bottomless pits or wedged between unreachable cracks in the scenery; Dizzy could die and then respawn in the same place as whatever beast had thwarted him, leading to a swift Manic Miner-style loss of all lives.
But the most heinous game-breaker of all was a notoriously fragile cloud bridge early in the game which would evaporate if you trod near the middle of it. No prior warnings, no "Woah, are you sure about this, Diz?". One single misstep, and the cloud would be whisked away, rendering the game unfinishable, unless you happened to be en route to Zaks' hideout with the completed concoction.
Merely design flaws on the programmers' parts, or another classic case of bird-flipping 8-bit sadism? Either way, Dizzy was a surprisingly tough game to crack with only three initial lives. Many enemies were completely random in their movements, so platforming was often literally a leap of faith.
Some of the later puzzles were real head scratchers - although not quite in the league of Monkey Island - so a lot of experimentation was required. I only actually managed to complete it using a teleportation poke. That's the archaic word for a cheat, for any younglings reading.
Sequel server
The sequel, Treasure Island Dizzy, was even more notorious as being by far the hardest game in the series. Having but one solitary life, not only must you trek to and fro to find a means of escape from the titular island, but the ultimate bitch-slap came at the end of the quest courtesy of the penny-pinching ferryman who demands 30 gold coins for a ride home. Presumably a retired London cabbie. This fearless and inventive scum gets his kicks by eking a dishonest living out of the poor unfortunate souls who wash up on his ostensible 'treasure' island.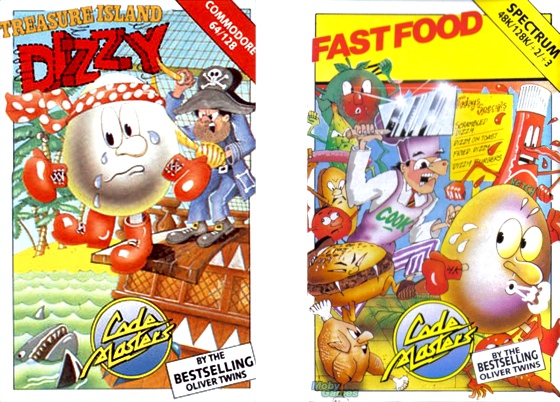 First among sequels
The single-life aspect, though frustrating, was nonetheless fascinating because it all came about by the inclusion of underwater exploration. Let's say that the game was designed with multiple lives. If a submerged player were to discard the snorkel and lose a life, then there would be no way for them to re-enter the water to retrieve it. A minor cock-up, but one which ultimately guaranteed to keep players on their toes.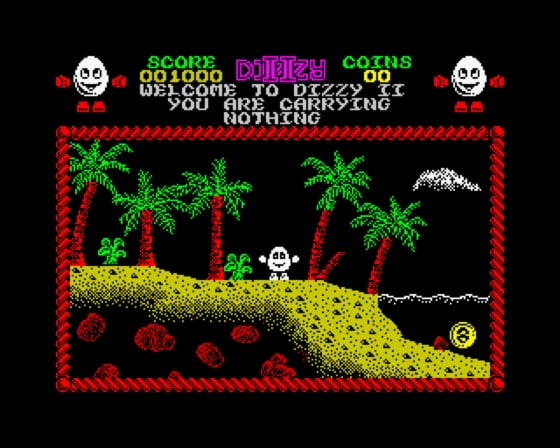 Treasure Island on the Speccy
Source: Wikimedia
It was also the first Dizzy game to feature digitised speech, beckoning you into the game upon loading with a friendly "Welcome to Treasure Island, Dizzy". Although the effect was more akin to being greeted by Steve the Dalek after smoking an entire Cuban tobacco harvest.
The third Dizzy game released, but not really considered canon by fans (ie. me) so we'll only touch on it briefly, was Fast Food, an enjoyable Pac-Man homage which saw our sentient ovulation roaming round mazes, consuming junk food such as burgers, milk shakes and pizza, all the while being pursued by four monsters. It's like a bizarre fever dream reimagining of the final act of The Shining.
Presumably reanimated via Zaks' dark sorcery, the food had no real personality, nor was it particularly 'fast', as the items of grub miserably shamble into Dizzy with scant regard for safety, almost as if to end their unnatural existence.
So, to recap, Resident Evil is just Dizzy with zombies. Actually, Fast Food wasn't too far off... ®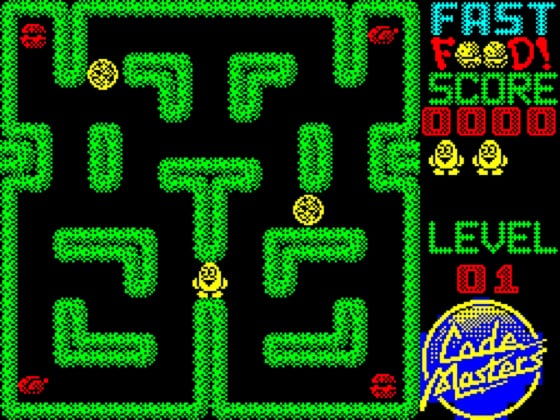 Fast food on the Spectrum
To be continued...
Antique Code Show is published every two weeks
Developer The Oliver Twins
Publisher Codemasters
Year of release 1986
Platforms ZX Spectrum, Amstrad CPC, Commodore 64
More Retro Games

Rainbow
Islands
Doom
Lemmings
Flashback:
The Quest for
Identity
X-COM UFO:
Enemy Unknown