Original URL: https://www.theregister.co.uk/2012/01/03/sia_nov_2011_semi_sales/
Chip sales sag says semiconductor seller survey
2011 semi flat, 2012 semi hopeful
Posted in The Channel, 3rd January 2012 23:32 GMT
Thanks to the flooding in Thailand and other macroeconomic issues, chip sales fell by 3.1 per cent last November to $25.13bn, according to statistics from the Semiconductor Industry Association. Those figures are a three-month moving average running from September through November, compared to sales from the same period on 2010 – which was a pretty good time for the chip biz.
"Supply chain disruptions resulting from the floods in Thailand have impacted semiconductor sales in the near term, however OEM's are expected to recover production losses over the course of the next few months," said Brian Toohey, president of the SIA, in a statement. "November sales were additionally affected by the continuing European financial crisis which is having a broad impact on other economies and global demand."
As you can see from the chart below, chip sales have pretty much stayed at the $25bn-per-month level throughout 2011 as growth declined rapidly in the wake of the Great Recession's reactionary Barely Acceptable Recovery™.
Chip sales are, in fact, more stable than you might expect given the past trends, which have tended to be spikey on an annual basis with occasional big crashes like those seen in 2001 and 2009. The other interesting thing in the trend data is that chip sales took a lot longer to recover in the wake of the dot-com bust, but were growing at insane rates just before that bust.
The general trend – SkyNet says thank you – is that more and more things require semiconductors, and chip consumption is being propped up as more people on Earth get access to smartphones, computers, and other devices.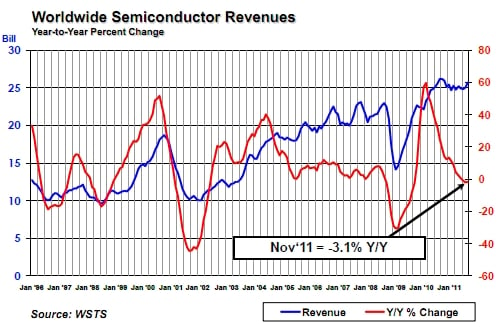 Global semiconductor sales flatline in 2011.
On a sequential basis, semiconductor sales fell by 2.4 per cent compared to the rolling average in October, when chip sales were pegged by SIA at $25.74bn.
On a regional basis, semi revenues fell by 2.5 per cent on a year-on-year basis in November in the Americas, to $4.59bn, while sales in Europe plummeted 11.5 per cent to $3.03bn, and in Japan dove by 8.2 per cent to $3.82bn. Asia/Pacific – where most chips get consumed these days because that's where most of our gadgets are manufactured – accounted for $13.7bn in revenues in November, up a mere four-tenths of a point.
SIA says that despite all of this, it is forecasting for chip sales to grow for all of 2011 – through the eleven months, chip sales are up eight-tenths of a per cent for 2011 – and is expecting "further improvement" in 2012.
As El Reg previously reported, the prognosticators at Gartner are expecting nine-tenths of a point of growth in semi sales in 2011, to $302bn, far lower than its $314bn and 5.1 per cent growth forecast back in April last year for all of 2011. ®