Original URL: http://www.theregister.co.uk/2012/01/03/samsung_series_9_900x3a_laptop/
Samsung Series 9 900X3A laptop
The almost Ultrabook
Posted in Personal Tech, 3rd January 2012 12:41 GMT
Review Samsung's Series 9 is the Korean giant's thin and light flagship, and one of several recent models to come to market that borrow engineering and design principles from Apple's Air range. Which means decent performance, decent components, but minimal expansion.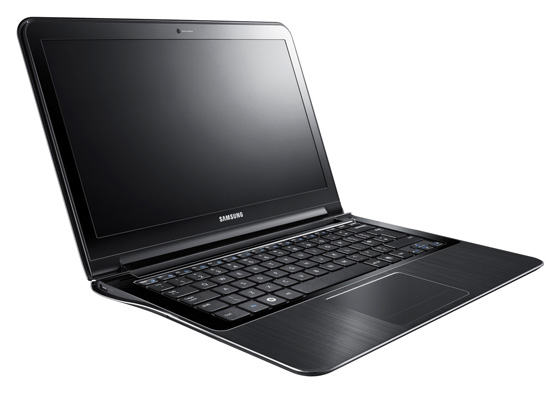 Slim and stylish: Samsung's Series 9
This machine has a price tag to match the Air, but fortunately, turns out to be an extremely well-engineered laptop with none of the usual rough edges. Just sharp ones, as we'll see. So what does £1,099 buy you? Surprisingly, quite a lot – but this is emphatically not a machine with expansion in mind.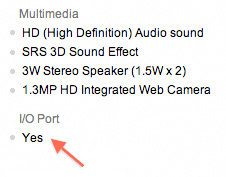 There are four ports: mini-Ethernet, mini-HDMI, a USB 2.0 and one USB 3.0, plus a microSD card slot. If you're using regular HDMI, Ethernet and SD cards that's a lot of dongles to carry around with you and (potentially) lose. Samsung seems pretty coy about this on the website.
The casing is entirely aluminium, sculpted into a wave, which is quite striking. If you can get used to the sharp edges, this is a comfortable machine to carry, particularly since it weighs in at 1.3kg and is 16mm at its thickest.

Ports are tucked away behind a flap
Visually, the Series 9 has one of the very best displays in its class, a 13.3in SuperBright Plus LED for which Samsung claims 400 nits. It's touted as a matt screen, which I suppose it is, relatively speaking - being much less glossy than the norm.
Putting on a display
While it looks clear and bright, the 13.3in display's 1366 x 768 resolution is the same resolution as, for example, that packed into the latest MacBook Airs with an 11in display, and I've used 12.1in Wintel PC with a 1400 x 900 screen. So, having experienced much denser screens on smaller models, I wish manufacturers would up the resolution. But for now, the market evidently thinks differently and goes with colour saturation and brightness, not pixels.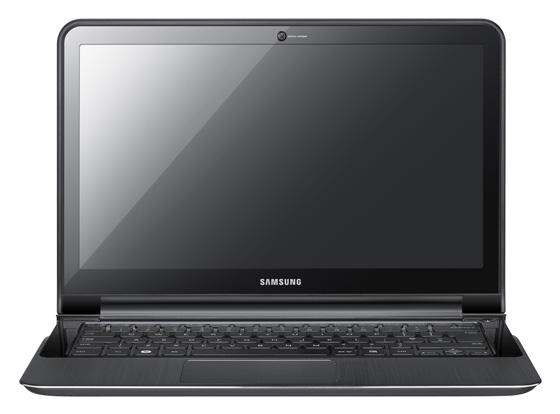 A bright, non-glossy screen but a resolution increase is in order
Performance bombs along, despite the modest 1.6GHz Intel dual Core i5-2467M. As you'd expect, the 128GB SSD gives it a formidable kick. It was slightly perturbing to see such a small heat vent, but the machine didn't get hot. As far as graphics performance goes, it relies on the integrated Intel HD 3000 GPU, so the 3DMark6 score of 2078 was a fairly typical result.
Benchmark Tests
PCMark 7 Results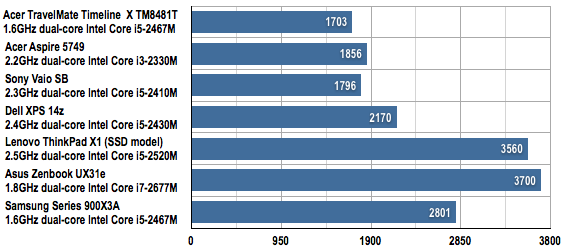 Longer bars are better
PCMark 7 Battery Life Results

Battery life in minutes
Longer bars are better
The 900X3A also pumps out terrific sound – well, for a laptop – in stereo, right into your thigh. Bizarrely, the excellent speakers are mounted underneath and towards the back of the laptop. It uses SRS to mangle the audio output (officially it's called an "Enhanced Echo Chamber") into a more expansive sound.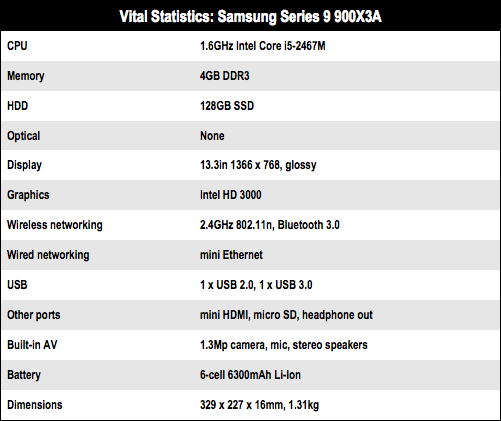 Finger friendly
Keyboard and touchpad reflect the considered design. The touchpad is a one piece affair, but one of the best I've tried and is clearly delineated for right clicks.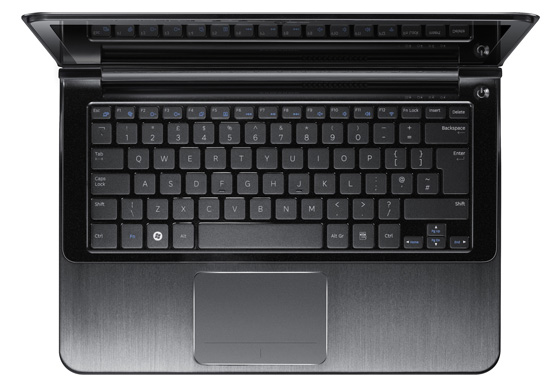 One of the better all-one-one PC trackpads around
Samsung bundles a Pontipine-House full of little apps – these are frowned upon by grown-ups but Samsung's selection is generally quite helpful: including Easy Content Share; File Share (the former is for P2P access for users on your LAN), Network Manager, and SpeedUP Manager. Experienced users will probably have their own tools for the job.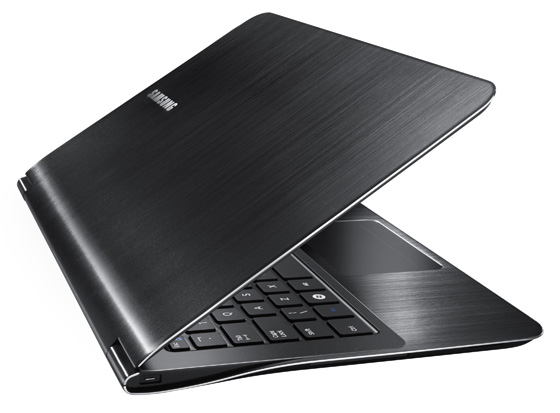 Makes the right impression
Verdict
This is a machine very much for the professional show-off to be seen with – a salesman or a designer. If you're not in this group, you still might appreciate the power and weight combination on offer here. I was extremely sceptical of the Series 9 concept to begin with, as I am wary of all "look-at-me!" designs. But by the end of the review period, it made perfect sense. It's a nice machine to use. ®
More Notebook Reviews

Asus
Zenbook
UX31E
Acer
TravelMate
Timeline X TM8481T
Dell
XPS
14z
Acer
Aspire S3
Ultrabook
Lenovo
ThinkPad
X1