Original URL: https://www.theregister.co.uk/2011/12/31/cassini_saturn/
Explicit pics of glorious rounded globes snapped in festive Saturnalia
Curvy beauties moon for the camera
Posted in Science, 31st December 2011 10:00 GMT
While most of us were hanging up gaudy decorations on Christmas trees, or knocking over festive ornaments in festive befuddlement, space boffins were busy processing photos of our solar system's own gigantic baubles.
NASA's Cassini probe has been busy snapping images of Saturn and its moons, highlighting the scale and beauty of the Saturnian system. The spacecraft has waited until the moons have more or less fallen into an alignment with them passing in front or behind another, dangling the likes of tiny ice rock Tethys against its more ornate sibling Titan.
It's all much like the family group photo at Christmas snapped away by the eager uncle with his new compact digital, except Cassini's job is rather more serious: studying the ever-changing orbits of Saturn's satellites.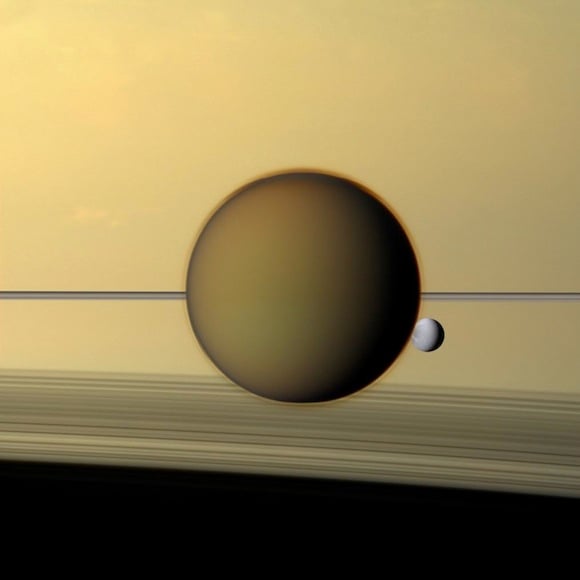 All images by NASA/JPL-Caltech/SSI
Above is Saturn's third-largest moon Dione, cuddling up next to the gas planet's largest moon, Titan. The two are posing before the planet and its rings. The picture was built out of images taken with red, green and blue spectral filters in a narrow-angle camera at a distance of approximately 1.4 million miles from Titan and 2 million miles from Dione.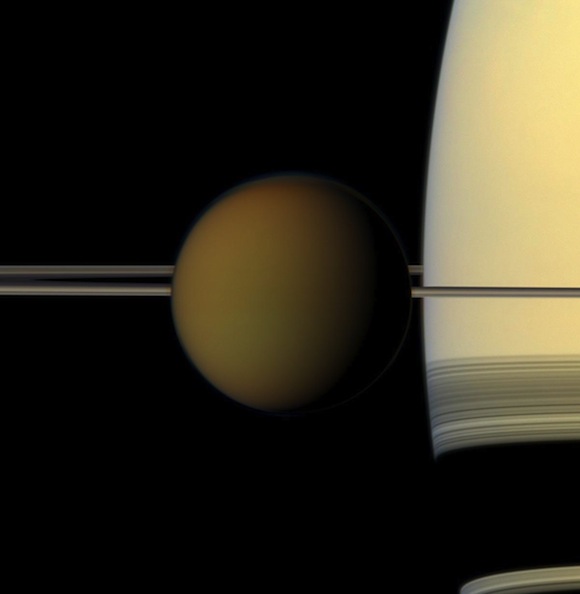 Here we have just Titan (3,200 miles across) and its north pole hood more visible. The moon is passing in front of its home world. By comparison, Dione is just 698 miles across.
Probe puts moons in pole position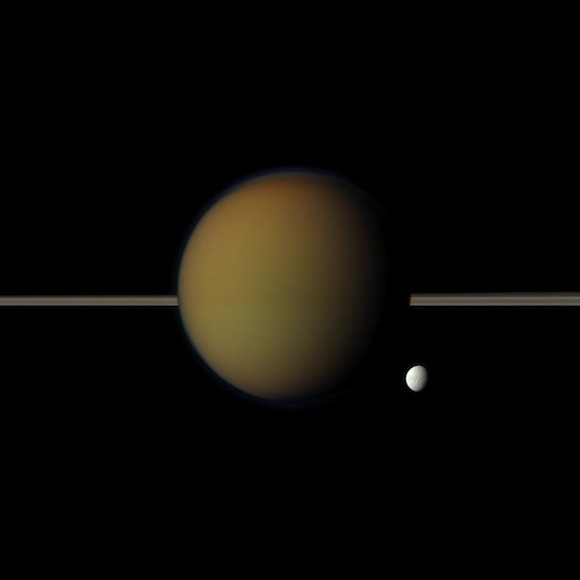 Floating through space and gleaming bright white thanks to its icy surface, Tethys stands away from - technically behind - the more colourful Titan. Saturn's rings lie between the two. Ithaca Chasma, a long ridge of cliffs on Tethys, can be faintly seen running along its surface.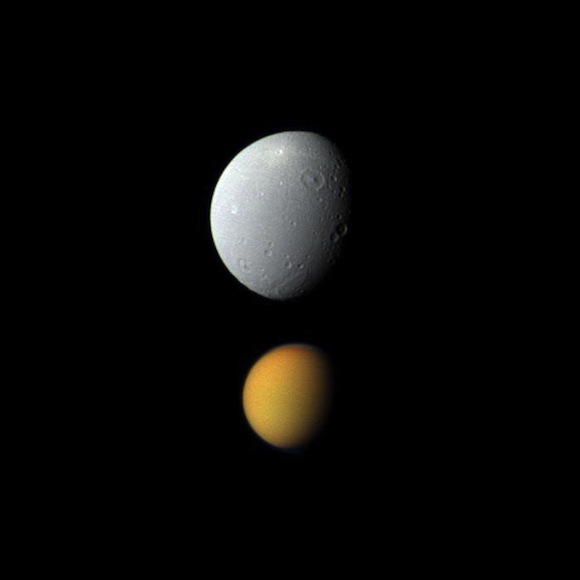 They say the camera never lies - but in this case it plays tricks. Dione appears much larger than its bigger brother Titan in this shot. Titan is much farther from the spacecraft than Dione: 684,000 miles from Titan but just 85,000 miles from Dione. A mere walk across the street, in space terms.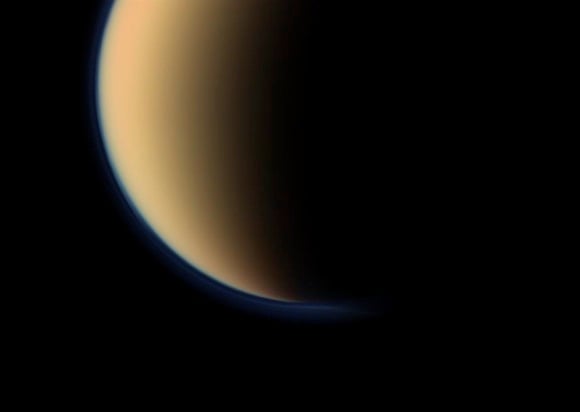 Here we're staring at a wide-angle pic pointed towards the south polar region of Titan, which shows a dip within the moon's orange and blue haze layers. If you look closely, the moon's high-altitude haze layer appears to be blue whereas it's usually orange - the blue haze likely consists of smaller particles than the orange haze. Scientists think this depression of colour is a sign the north polar vortex will flip from north to south.
There's more information on the Cassini-Huygens mission - a joint effort by NASA, the European Space Agency and the Italian Space Agency - and the images taken in May right here. ®