Original URL: http://www.theregister.co.uk/2011/12/30/review_sony_nex_c3_compact_system_camera/
Sony NEX-C3 compact system camera
Mirrorless marvel
Posted in Personal Tech, 30th December 2011 07:00 GMT
Review For years, early adopters have been saying that the mirrorless camera will see off the budget DSLR. Even Nikon, maker of the superb D3100, has entered the fray with the J1 and V1 compacts Arguably, it wasn't until Sony's NEX series appeared over a year ago that the somewhat DSLR-resistant mainstream consumer began to see the light. And now, with the arrival of the NEX-C3, Sony seems to have played a blinder.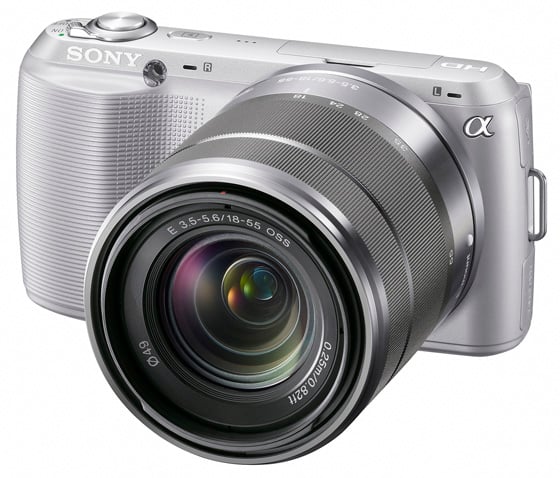 Cheap(ish) and cheerful: Sony's Alpha NEX-C3
Indeed, the NEX-C3 has enough features to keep the majority of snappers happy inclusing a 16MP APS-C sensor – which is around the same size as that featured on just about every sub-£1000 DSLR you can buy.
The body, compared to the likes of the more expensive Sony NEX-7 or Fujifilm X10, tends towards the plasticky, but it nonetheless feels robust and likely to survive abuse. The really good news is that even with the kit lens attached, it's pocketable, assuming a rain coat rather than a Gieves and Hawkes suit.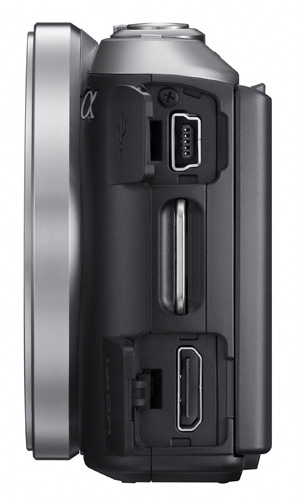 A mini HDMI out is featured among the interfacing
It looks good too, even if those appearances are of a compact camera plus a lump of glass on the front. The only problem is one common to system cameras everywhere – push the lens release button and twist the lens free of the body and you're faced with the exposed sensor, just waiting to accumulate dust particles.
I had a few dust issues during my testing, and you can expect these to get worse if you start showing a bit of ambition and using multiple lenses – sooner or later you're going to change one in the field. DSLR sensors are not only protected by the mirror but also by twin shutter curtains.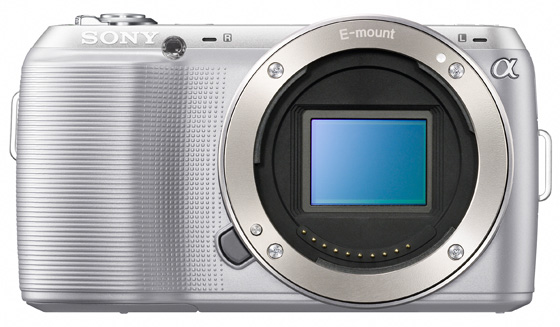 Sensitive issues: the APS-C sensor is boon on a compact
The NEX-C3's small size means body controls are limited, and by and large this is workable. Point-n-shoot types certainly won't care; it's when you start trying to shove the camera's settings around that things get a bit fiddly.
Menu reservations
It's a heavily menu driven shooter for sure and there's no full-time mode dial either. A bigger issue for manual shooters is that the finger dial on the back has to operate both shutter speed and aperture size – you switch between the two by pushing downwards on the wheel itself.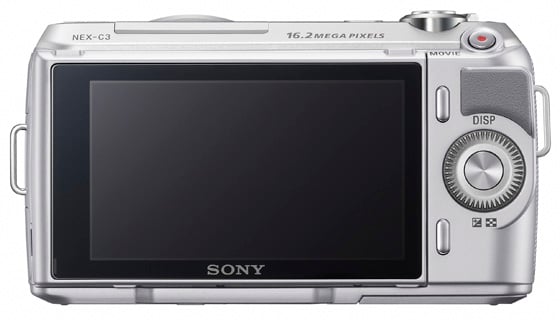 A lack of dedicated controls ramps up the fiddle factor on this model
Flicking through the available range is a bit tedious – the clickwheel is both very small (about the size of a penny) and quite stiff. Since each of the compass points on the wheel is also a button, it's easy to accidentally call a menu by pressing too hard.
On the plus side, the left and right sides of the wheel have no preset function, so you can set them in the menu system depending on which camera functions you use most frequently. Videographers will appreciate the full-time Movie record button on the right shoulder – you don't need to flick to another shooting mode to grab a quick bit of footage.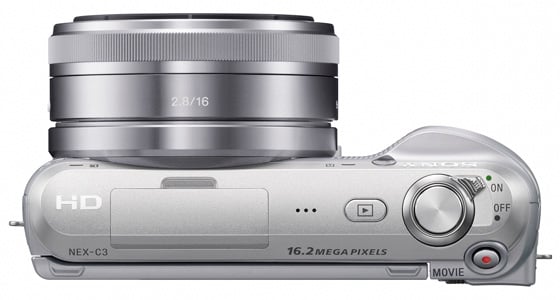 The built-in accessory port under the top flap takes the supplied flashgun and supports viewfinders
The 3in screen is excellent. Most importantly, its 920k-pixel resolution means it's extremely sharp, and the lack of body controls is explained by its size. Although the non-standard aspect ratio means the image preview doesn't fill the whole display.
Perfectionists will appreciate the ability to have a live, on-screen histogram, and the image preview changes depending how you've got the shutter, aperture and ISO set up, which makes this a decent camera for learning the photographic ropes. A final word in favour of the screen is that it tilts almost perpendicular to the body as you look down at it, or to nearly 45° if you hold it above your head.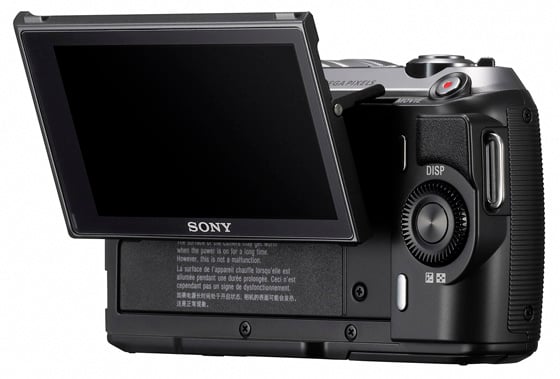 A tilting screen will always come in handy
So far so good, then, and the next bit of good news is that image quality is superb. It might be just a shade short of a budget DSLR such as the Nikon D3100, but there's still very little to complain about. ISO tests reveal just how good the NEX-C3 really is: images are impeccable up to ISO 2500, and even at ISO 3200 there's still plenty of sharpness.
Sample Shots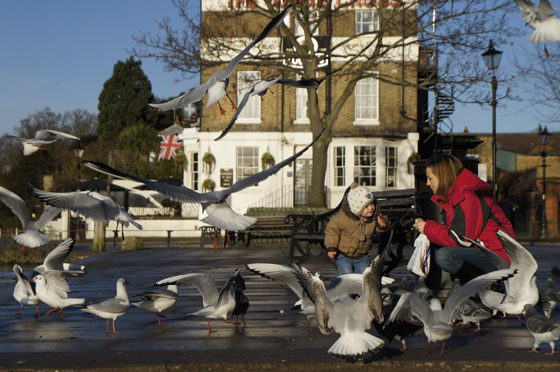 Click for a full-resolution crop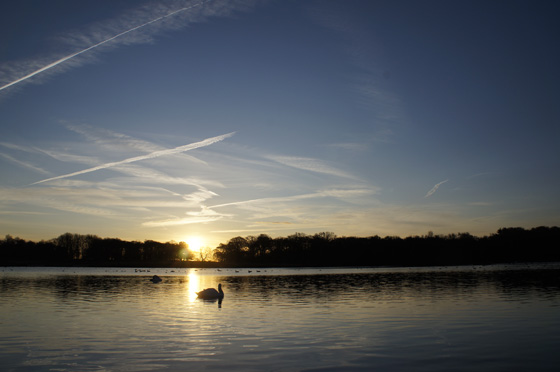 Click for a full-resolution crop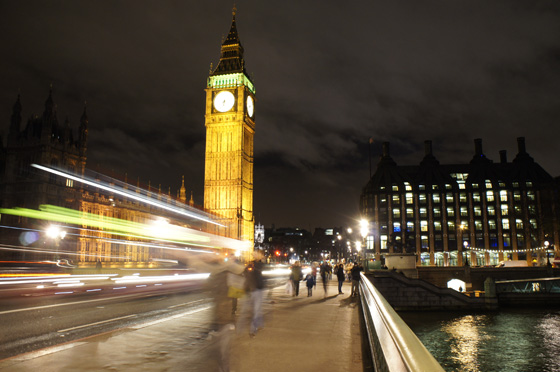 Click for a full-resolution crop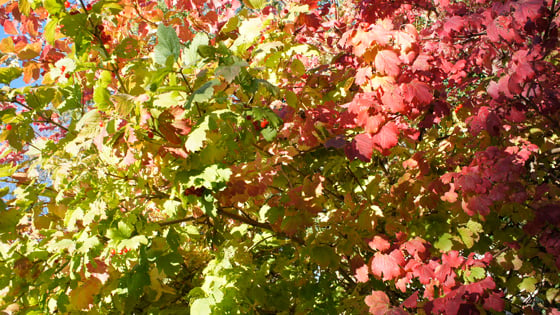 Click for a full-resolution crop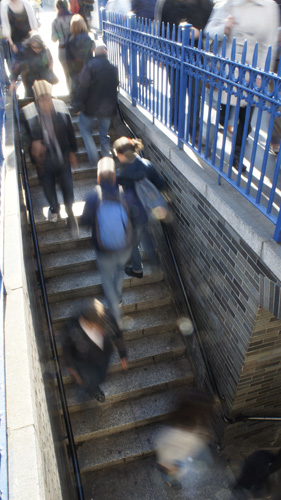 Click for a full-resolution crop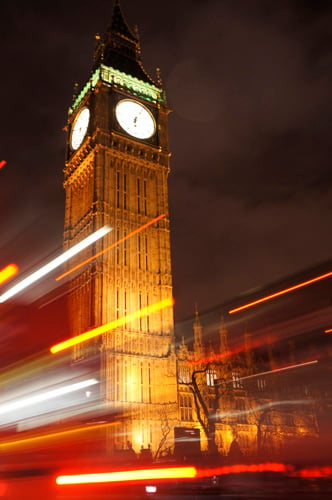 Click for a full-resolution crop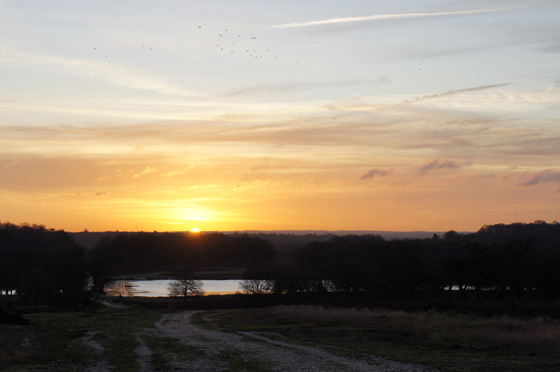 Click for a full-resolution crop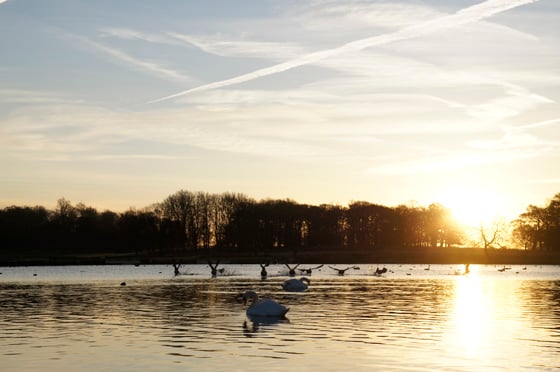 Click for a full-resolution crop
ISO tests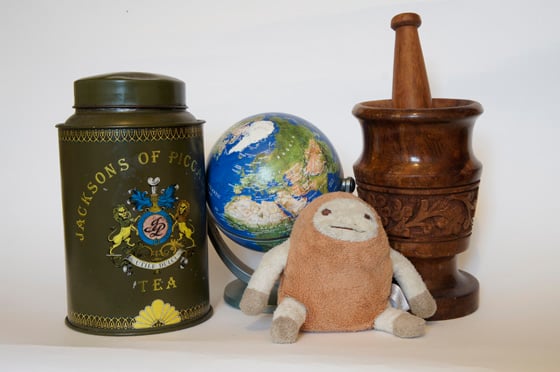 Click to download 200 to 12800 ISO samples (28MB zip file)
Glass works?
Up the stakes to ISO 6400 and there's a loss of edge sharpness and the introduction of mottled, slightly chunky grain, but images are still printable, if not ideal candidates for heavy crops. Only ISO 12800 is significantly less than usable, with sharpness blown to the wind and heavy chroma noise making shots look more like cameraphone snaps circa 2003.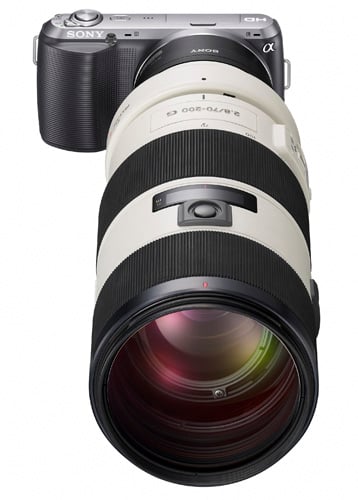 Long shot: Sony's 70-200mm F2.8 G series lens attached using the LA-EA1 adapter
If I had reservations about anything relating to the NEX-C3's image quality, they came from the lens, which has some obvious weak points. This isn't surprising from a kit lens, but does underline that if you can find the NEX-C3 with either body-only or with a higher-end lens, you should get that. For one thing, the 18-55mm f/3.5-5.6 displays obvious barrel distortion at 18mm.
Barrel distortion can be aesthetically desirable in some rather niche circumstances, but at a less than super-wide 18mm it's really unwelcome. The lens also softens up dramatically when you get it away from its sweet-spot, which is around the f/5.6-f/11 mark.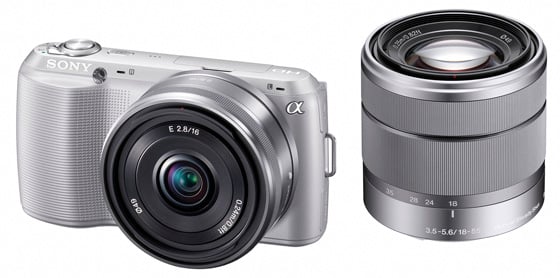 16mm pancake and 18-35mm zoom kit lenses
Drop it to its smallest f/32 (for long, filterless daytime exposures, for instance) and you'll swear the camera's autofocus has wandered off, so soft are the pictures. On the plus side, the kit lens's image stabilisation (Optical Steady Shot or OSS in Sony-speak) system is really good - with a bit of practice I was handholding shots at 1" with decent results.
There are some desirable lenses in Sony's NEX catalogue, such as the 16mm f/1.8 "pancake" lens, or the 50mm f/1.8. The bad news is that this extra kit is expensive. The 50mm costs more than £200; the 16mm wide-angle the thick end of £130. Wildlife and sports fans are poorly catered for; the longest E-mount lens currently made by Sony is the 55-210mm f/4.5-6.3.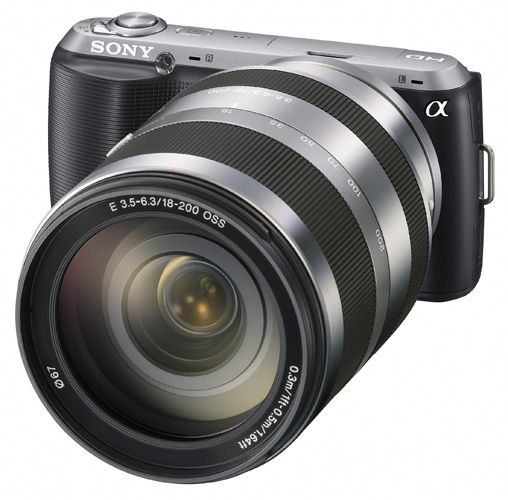 Made to measure: Alpha SEL18200 E-mount 18-200mm lens
The length is reasonable for sports days and visits to the zoo, but the minuscule f-stop at the long end of the lens is going to have you reaching for the extremities of the ISO range when faced with less than perfect light. You can always opt for the LA-EA1 adapter, which allows you to mount Alpha-mount lenses and gives you access to a far larger library of glass, albeit at the cost of nearly £200 and, in some cases, autofocus.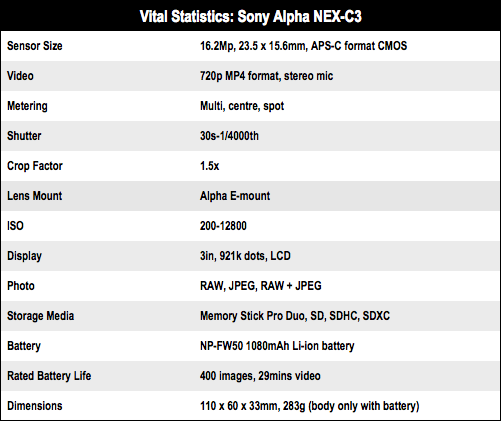 Good for your image?
There are a few other drawbacks: the NEX-C3s tiny dimensions mean an internal flash is squeezed out. That's good news for keen photographers, but less good for those who simply want to document happenings at parties. The low price also means a few 'premium' features are missing, chief among them Full HD video. Like the original NEX-3, 720p recording is all you get, in contrast to cameras such as the NEX-5 or the latest NEX-7, that both deliver Full HD in AVHCD format.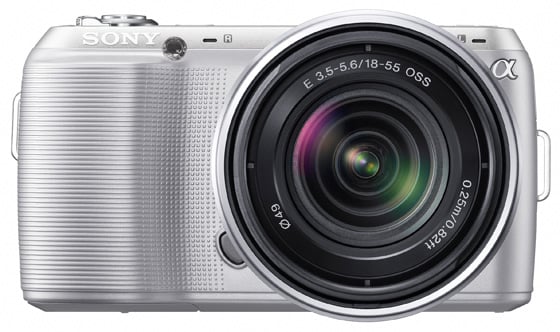 The kit lens zoom will suffice for most, but CSC enthusiasts will hanker for more options
I was also less than chuffed with the battery life, which with extensive use dries up in about two days. Annoyingly, if you connect the NEX-C3 to a computer to transfer images and forget to turn it off once you're done, it won't put itself to sleep. Instead it simply, quietly drains the battery until it's exhausted.
DSLR users might be left a bit cold by the NEX-C3 as it can be a tad fiddly to use thanks to the small clickwheel. The lack of a viewfinder is off-putting too, although you can add a fixed focal length, optical viewfinder for around £150, or a hotshoe-mounted EVF for around £250. The relative lack of lenses mean the truly enthusiastic should look elsewhere.
Verdict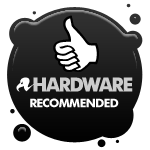 Viewfinding and fiddle factor aside, it's virtually impossible to argue with the image quality – at high ISOs the NEX-C3 is incredibly impressive, relative to its price, size and in comparison to fully-fledged DSLRs. It's true that ambitious photographers will lose out in terms of the number of lenses available, but for those who want a relatively cheap body, a few general purpose lenses and zero compromise on image quality, the C3 is perhaps the best, best value mirrorless DSLR yet. ®
Dave Stevenson is the author of A Pocket Guide to Digital Photography.
More Camera Reviews…

Nikon
1 V1
Olympus
PEN Mini
E-PM1
Hasselblad
H4D-200MS
Leica
X1
Fujifilm
Finepix X100