Original URL: https://www.theregister.co.uk/2011/12/22/local_tv_plan/
Ofcom's Local TV dream: No smut, an hour of news, endless ads
Still, sounds more thrilling than some of the proper channels
Posted in Business, 22nd December 2011 10:22 GMT
Ofcom is consulting on how to award Local TV licences, and has some suggestions about how the national broadcaster, and the channels, might make ends meet.
The Ministry of Fun has decreed that there will be Local TV channels pushed into the UK white spaces, and tasked Ofcom with finding a way to make it happen. The regulator has already convinced the BBC to chip in £40m, and now reckons the broadcaster might make it bit of money on the side thanks to the two unregulated channels it will be allocated, but how the Local TV channels themselves will survive remains a mystery.
It won't be through pornography though, Ofcom's latest consultation specifically bans that along with shop windows and chat services, but Local TV stations will be exempted from the European cap on advertising (which stands at 12 minutes in the hour, average) and will be able to show as much teleshopping as they like as long as they still manage to squeeze in an hour or two of local news and politics every day.
The consultation (PDF, good opening summary, but pretty impenetrable thereafter) is open until 19 March 2012, so none of this is set in stone, but Ofcom is clearly aware that for all the government's enthusiasm for Local TV, the commercial ground remains far from solid.
"It is plausible that both the multiplex [broadcaster] and some local service operators could be at the margins of profitability" says the consultation, justifying both the 12-year nature of the licences and the financial support of the BBC on those grounds.
The BBC will chip in £25m in licence-fee money to set up the multiplex operator; the entity charged with broadcasting the Local TV stations, then spend another £15m buying content from the local channels themselves, money which Ofcom expects to be an essential part of the business plan.
Even that won't be enough money, but Ofcom points out that every time a Local TV station is set up the broadcaster gets two additional channels on which it can broadcast anything it likes. Those channels won't have the same restrictions applied, and can therefore be sold off to the highest bidder so local porn isn't that unlikely. They will be subject to normal broadcast rules, so expect lots of Babestation-type services rather than anything more compelling.
Ofcom suggests the channels might be used to rebroadcast other Local TV stations, creating a national network of Local stations (a bit like ITV used to be) though given that the broadcaster won't be allowed to charge such stations more than cost-recovery they'll surely be happier flogging off the space to someone who can make money from them.
The actual task of building and running the transmitters will almost certainly fall to Aqiva, who have an effectively monopoly on broadcasting anything in the UK and are currently pricing up the project. But Ofcom is still looking for a company willing to take on the burden of running the whole thing, and would "particularly like to hear from those who might wish to apply for the multiplex licence" while promising that "Any such expressions of interest would be non-binding and may be submitted in confidence".
Assuming the regulator can find someone willing to take responsibility for broadcasting then there are 20 channels up for grabs: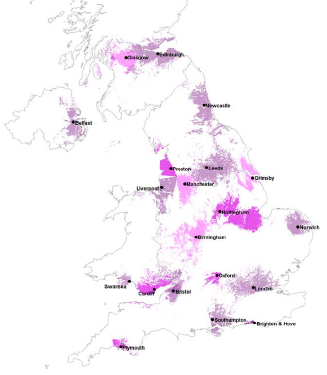 Oy, guv'ner, wanna buy a TV station?
But only seven of them can reach more than half a million households, and one (Swansea) can't even hit 100,000, so it is Local TV for Local people.
If none of that has put you off, and you'd like to run your own TV station then Ofcom would love to hear from you, "particularly any [of you] who did not respond to the DCMS* consultation earlier this year", perhaps indicating that interest hasn't been quite as overwhelming as had been hoped. ®
* Department of Culture, Media and Sport. AKA, the Ministry of Fun