Original URL: http://www.theregister.co.uk/2011/12/21/review_sony_tablet_p_android_device/
Sony Tablet P split-screen Android fondleslab
Hinge benefits?
Posted in Personal Tech, 21st December 2011 12:22 GMT
Review Now here's an odd one. Sony has created what looks like a monster Nintendo 3DS but is actually an Android Honeycomb tablet computer. So you get a sort of flattened tube that folds out to reveal two screens. Will it work? Should it work? Read on…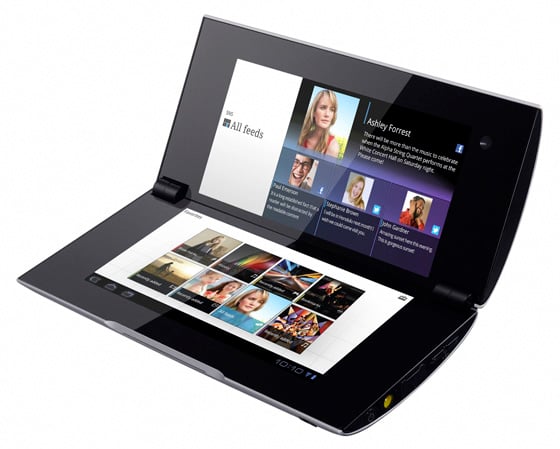 Android fondlecrab: Sony's Tablet S
This is actually one of two new tablets from Sony, the other is the Tablet S, which is a more conventional model with a 9in screen. The Tablet P however, is something else altogether.
It's certainly portable, and you could just about get away with fitting it into the inside pocket of a suit, but it's still a chunky beast, measuring 79 x 158 x 26mm when closed, though it's comparatively lightweight at 372g.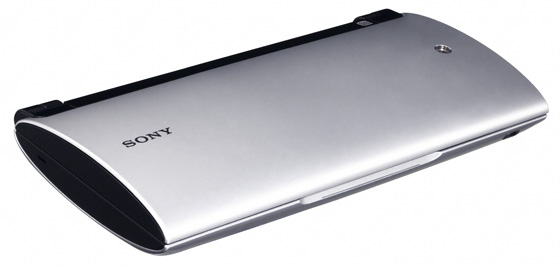 Pocketable when folded up
There's a USB port on the side covered by a plastic cover but it's only for syncing – you'll need a separate charger to power up. When you open it up via the two hinges on the side, it reveals two 5.5in touch screens, each offering 1024 x 480-pixel resolution and respectably sharp.
They're nice and bright and offer good viewing angles too, plus you can change the angle of the top one, so it you want to type some e-mails, for example, you can lay the bottom screen containing the keyboard flat on a table, with the top screen directly facing your eye line, as you would with a laptop. The keyboard isn't quite big enough to allow for all-fingers touch typing, but it's fine for two-finger pecking.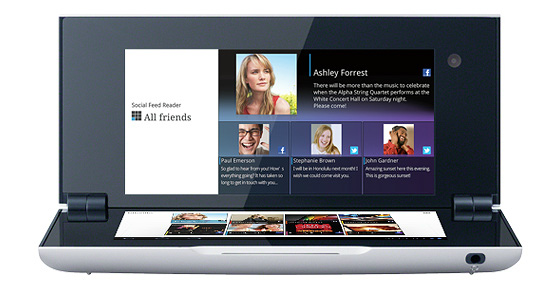 Good viewing angles in any position
In theory it sounds like a fair enough idea to split the screen to make the tablet more portable (and the protection it offers to the screens when closed shouldn't be underestimated), but in practise it can be a pain.
Doing it by halves
The problem is the really rather large border between the screens. It's 9mm, and that can be quite a barrier when you're viewing. Yes, you can scroll up or down to make whatever you're looking at more visible, but it's still a nuisance.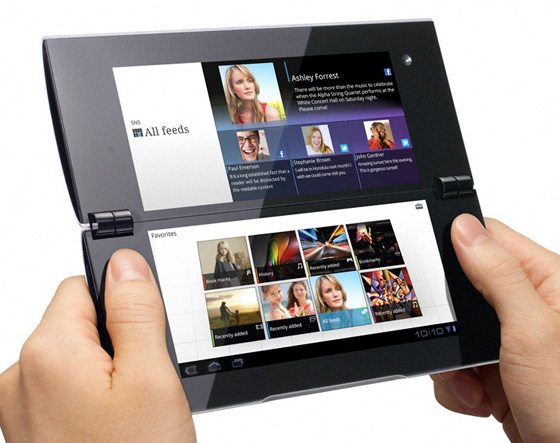 Split viewing is fine for most tasks
Also, depending on what you're doing, sometimes you're stuck with only one screen at a time. For reading ebooks it's not bad, since it makes a 'natural' break between the pages. But for movies, Sony gets around the problem of the split screen… by only using one of them! The lower screen is taken up with playback controls and yes, it makes sense, but it would be nice to have the option to use both screens if you fancy it.
Another disappointment is that those screens aren't quite as sensitive as we've come to expect from the iPad and Samsung's Galaxy Tab, and often needed a few finger prods before they would take action. It's running the latest Android 3.2 Honeycomb, Google's OS designed specifically for tablets. This version apparently includes some optimisation for smaller tablets, but it doesn't look like the twin-screen design has been specifically catered for.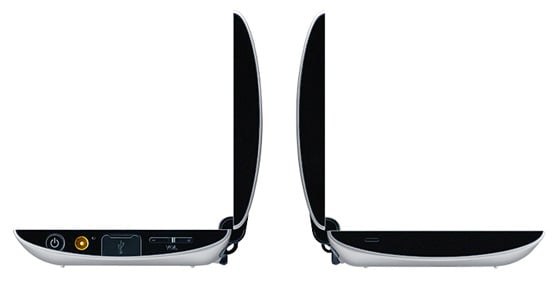 Sound isn't great so you're better off using the audio out for speakers or headphones
In use it's fast enough thanks to its 1GHz dual-core NVIDIA Tegra 2 processor is backed by a generous 1GB RAM. 'Fast enough' is just that by the way – it doesn't give the impression that it's running a sprint, as you get with some of the dual core processor models, but there are no obvious signs of lag either.
It has both Wi-Fi 802.11g/b/n or 3G for its network connection, though you can't make network phone calls using 3G. Incidentally, you'll need to pull the back off to get to the Sim card slot .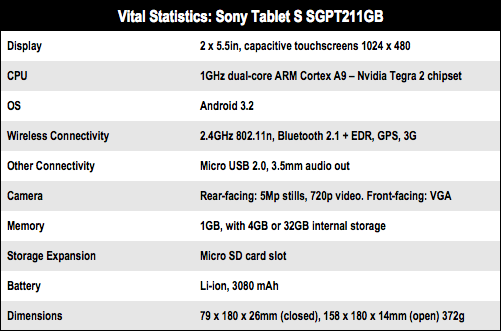 Gaming option?
Like games-oriented phone the Sony Ericsson Xperia Play, the Tablet P is PlayStation certified, which means it has onscreen PlayStation controls and Sony says it will be making older PS games available to play on it (it comes with Crash Bandicoot), though there aren't too many available on the Android Market as yet.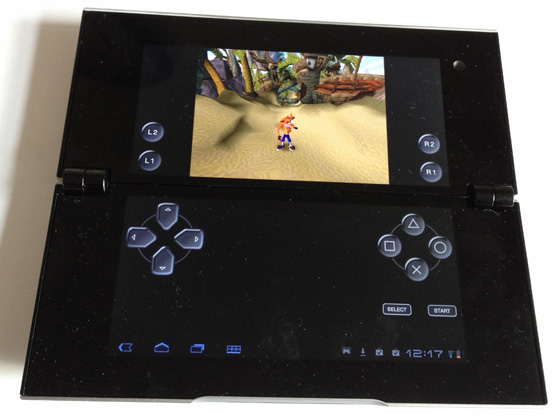 Touchscreen controls for gaming
Dedicated gamers may prefer the tactile charms of a handset with real buttons, but the onscreen controls should be sensitive enough for anyone below expert level.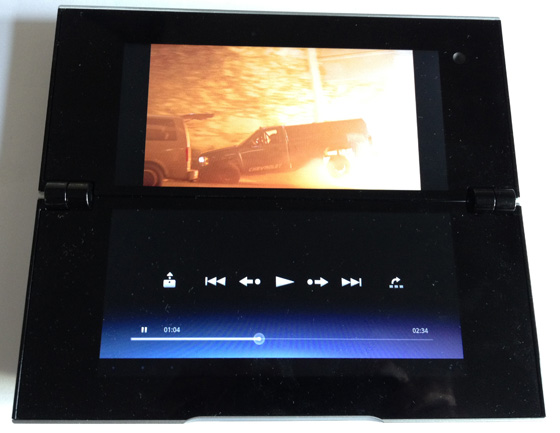 Video player delivers half measures
The Android music player has some nice graphical displays and is intuitive to use. Without headphones though, the Tablet P's built-in speakers were actually a bit of a disappointment and quite tinny.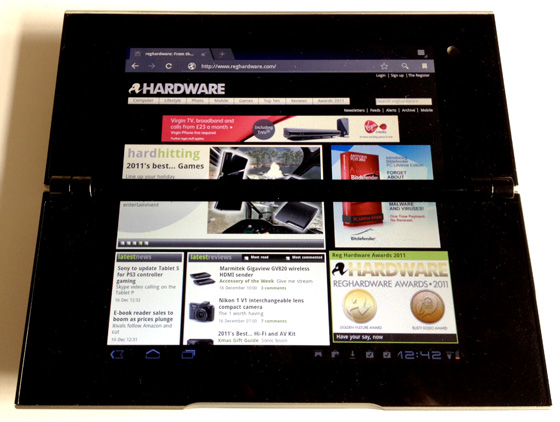 Dual-screen web browsing
The 5Mp camera offers a maximum resolution of 2592 x 1944-pixels and includes auto focus, scene settings and focus modes, including macro. There's no flash, and it's not particularly sophisticated but pic quality can be okay, so long as you're careful with your light (it's not kind to too little, or too much).
Sample Shots
Click for a full-resolution image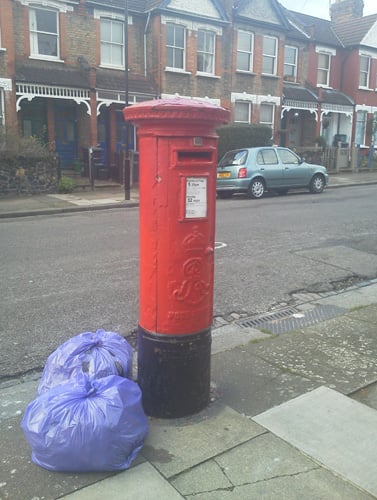 Click for a full-resolution image
Split opinions
Truth be told, the 720p video capture isn't great and there's also a front facing VGA camera for webcam chat. There's 4GB of memory on board, though you can add up to 32GB more using the microSD card slot tucked away next to the battery.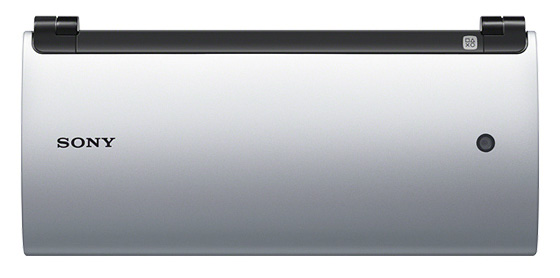 Pocketable and protected: who needs a case?
The 3080mAh battery is about half the size of batteries in the iPad or Samsung's Galaxy Tab 10.1 and it managed an AnTuTu score of 4948 but still, its performance isn't great and I never managed a full day's worth of heavy use out of it.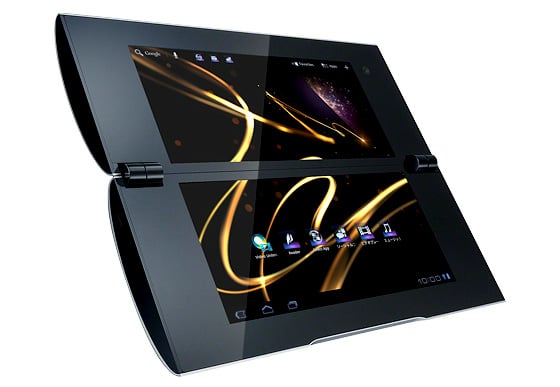 Innovative, but not necessarily practical
Verdict
The Sony Tablet P is an odd beast, and certainly won't be for everyone. In fact, it's not yet clear just who the market is for something like this but hats off to Sony for giving something different a go. ®
More Tablet and Reader Reviews

Asus
Eee Pad Slider
SL101
Sony
Tablet S
WHSmith
Kobo Touch
Ten budget
Android
tablets
Amazon
Kindle 4