Original URL: https://www.theregister.co.uk/2011/12/21/review_3m_cp45_camera_projector_combo/
3M CP45 pocket camcorder and projector combo
Making light of your photography
Posted in Personal Tech, 21st December 2011 07:00 GMT
Review The 3M CP45 is a combination HD camcorder, 5Mp camera and LED-lit LCOS projector. Not much bigger than a couple of copulating iPhones, it can film and throw an image up to 65in onto a convenient wall.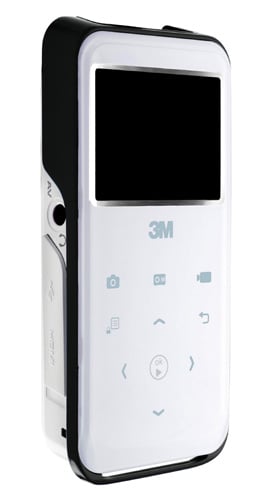 Shoot and show: 3M's CP45 camcorder projector
3M seems to be touting it at families who can't be bothered to upload their holiday shenanigans to YouTube, but having spent a few days with it I'm wondering if it's better considered a business presentation tool? Indeed, 3M sells a dinky 26in folder up accessory screen specially made for boardroom presentations. However, this is more likely to be found partnered with the company's MPro range of pocket projectors – super serious and all dressed in black, they miss out on the camcorder fun.
By contrast, the CP45 is a well-made little white shooter that feels solid in the hand. The review sample had black accents, but there's also a version trimmed in red. Beneath its 2.4in LCD screen are soft-touch controls both for shooting (projector/camera toggle, zoom, record etc.,) and menu navigation.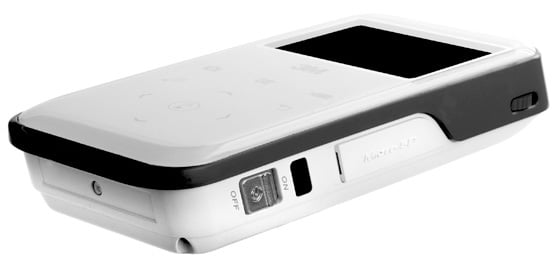 Note the projection focusing wheel on the far right
The flip side of the CP45 reveals the fixed focus lens and bright spotlight flash, while the LED lamp fires from the rim. 

You'll need 65in distance to project a 50in diagonal display, and around 82in to get to 65in. 

Adornments include a micro SD card slot, USB connector, mini-HDMI output and headphone mini-jack/AV source input. There's also a built-in mono speaker, for an all up weight of 190g. Included in the box is a USB cable and mini-jack to phono AV lead, but there's no mini-HDMI lead supplied.
Motion video is captured at 1280 x 720 in MPEG4 H.264, although you can also shoot at 720 x 480, 640 x 480 and 320 x 240. However, the CP45 can only project at 880 x 600 SVGA resolution. Arcsoft media converter is included allowing you to change any files (AVI, ASF, DAT, MOV, M4V, MPG, PPS, MPEG, MPE, RMVB, WMV, and Power Point) into the CP45's native tongue. This doesn't match the format support on the MPro models, which includes Word, Excel and PDF – an indication of that range's business aims.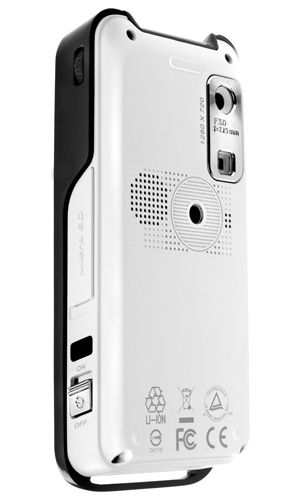 The centre hole is a tripod mount, best suited for projection
A 2GB internal memory is enough for around 40 minutes of video or 1,000 photographs. You can boost this with a memory card up to 32GB. When fully-charged, the lithium-ion battery offers around 80-100 minutes of projection time. Video recording runs for around 120-150 minutes depending on use. I recorded stuff on and off for four days without needing to recharge the battery.
Visibly shaken?
As a camcorder, the CP45 has limitations. Its form factor doesn't lend itself to particularly steady shots, and there's no image stabilisation tech onboard. Be prepared for quite a lot of jiggling. And while there's a 4x digital zoom, it's as choppy as a channel crossing.
Sample Shots
Daytime video capture
Nightime video capture
As you'll see from my sample footage, it's probably best to frame your shot and then leave well alone. The 720p image is sharp, with good colour reproduction. Recordings of London buses look picture postcard red and H.264 encoding noise is negligible. Audio quality is thin and monophonic, and subject to all sorts of handling noise and muffling.
5Mp Stills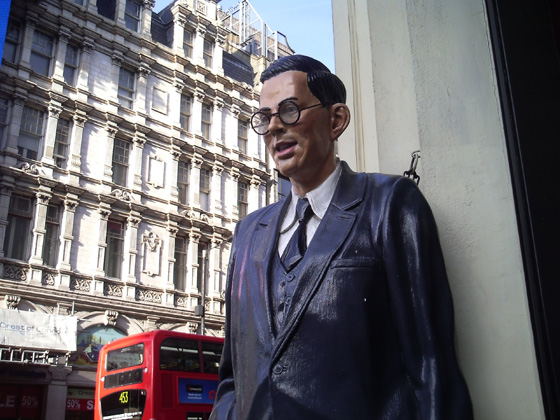 Click for a full-resolution image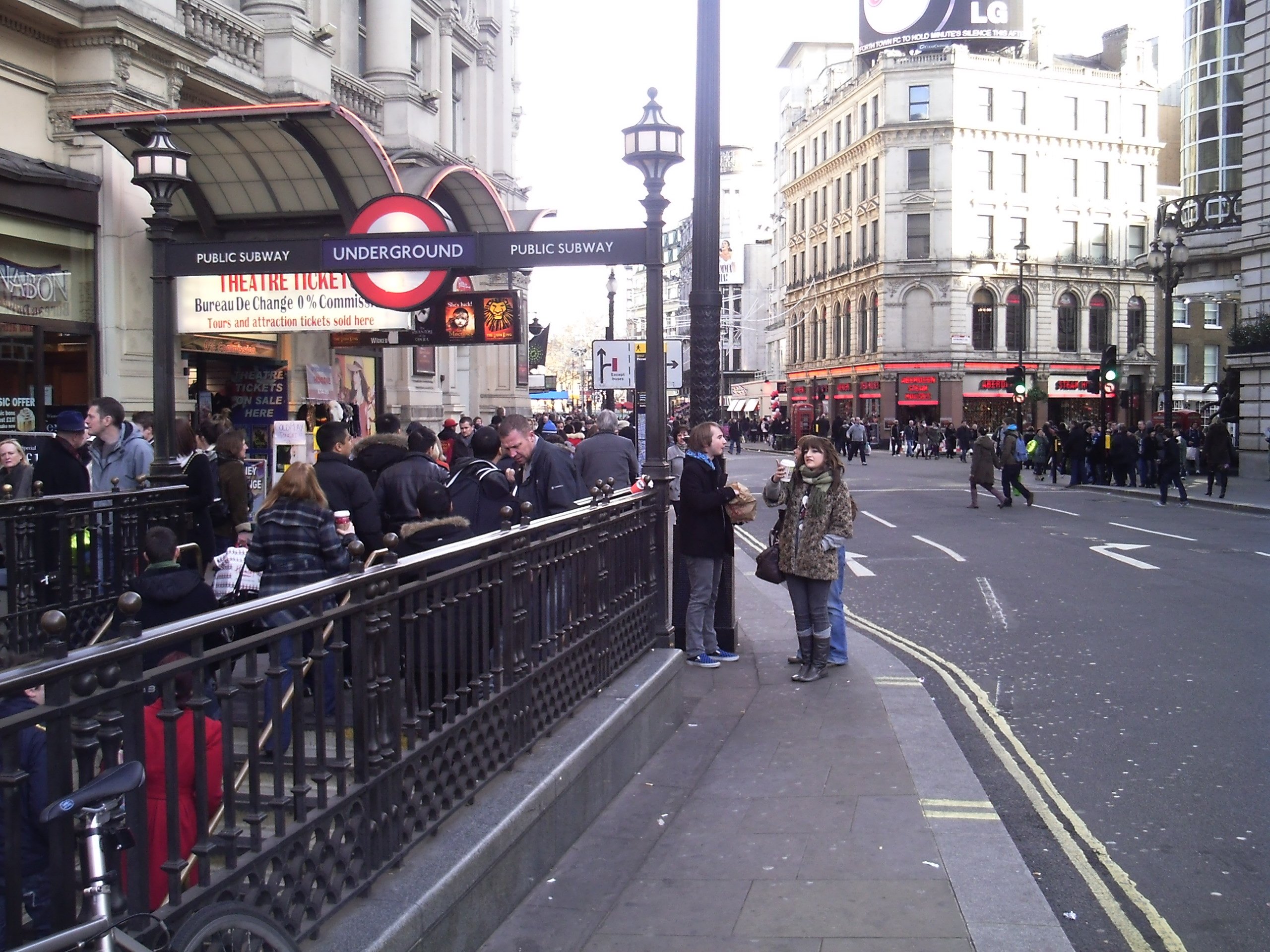 Click for a full-resolution image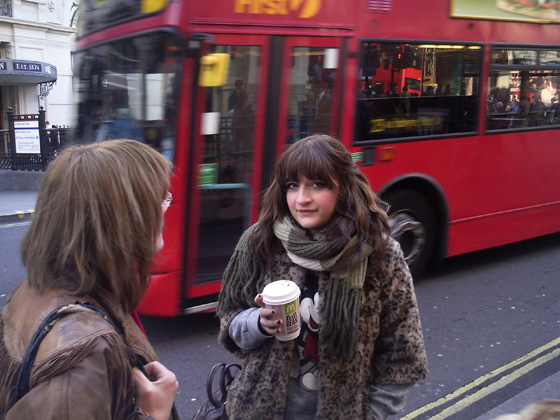 Click for a full-resolution image
As a digital snapper, the CP45 can deliver vibrant sharp images, although it does seem rather slow, with appreciable lag between button press and captured image.

 In a dark room, the unit throws a reasonable standard definition image.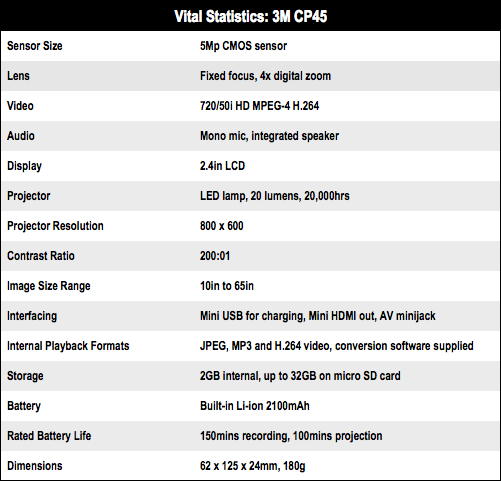 It's show time
The integrated projector is no light cannon – 3M quotes 20 lumens, bright by this category of projector, but still limited – so you have to use it in a blacked out room for decent results. Colour fidelity is good, and a little focus wheel on the side of the unit tightens things up nicely.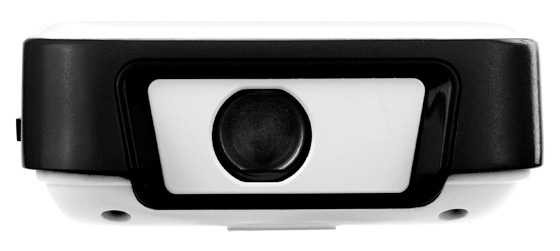 The business end for projection
There's no doubt that 3M has done a grand job squeezing a lot of tasty tech into the CP45. Where the wheels rather fall off the wagon though is usability. The soft-touch control pad is an ergonomic disaster. It's hard to tell if and when you're recording, and as there's a slight delay between button-touch and confirmation in the LCD display, I often found myself repeatedly start-stopping. It's also impossible not to accidentally brush a button; that bright white LED spotlight flash was forever going off, blowing any attempt at stealth filming.
My attempts to use the HDMI output failed to work, but I'll admit that I've begun to suspect the reliability of the lead I used since testing. Wherever the fault lies, firmware fixes are likely if the support for the MPro range is anything to go by. Incidentally, its composite AV analogue connections can be used with similarly equipped DVD players and even iOS devices with the right adapters, enabling projection alternatives from a variety of sources.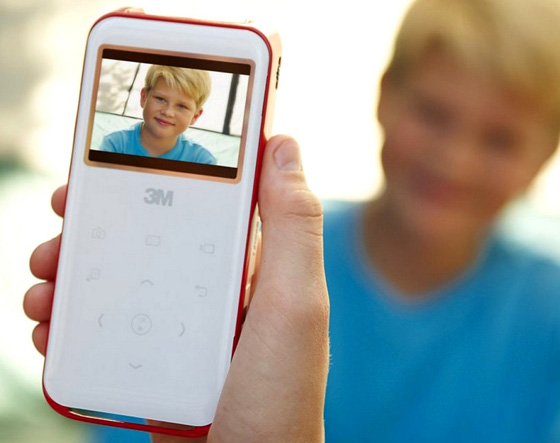 Great concept, but needs refinement
Verdict

As an example of compact engineering, the CP45 is undeniably impressive. But it's not a whizz bang buy. Many of us will already have comparable functionality in our phones, making only the LED projector element a novelty. However road warriors who need to deliver video presentations on the move may find it easier to justify the expense, but if video capture isn't an issue, they may be better off looking at 3M's MPro range. All in all, the CP45 is technically impressive but not absolutely compelling. ®
More AV Gear Reviews

Sony
HMZ-T1
3D headset
Viewsonic
PLED W500
portable projector
Sony
VPL-HW30ES
3D projector
BenQ
W1200
HD DLP projector
Panasonic
HM-TA20
pocket camcorder