Original URL: https://www.theregister.co.uk/2011/12/21/antique_code_show_santas_xmas_caper/
Santa's Xmas Caper
Jingle bell-end?
Posted in Personal Tech, 21st December 2011 10:00 GMT
Antique Code Show So let's just get one thing straight: 99.99 per cent of Christmas-themed games suck.
I might make an exception for Christmas Nights on Sega depending on my mood, but, hey, it's that time of year again and between the overwhelming urge to take a machete to every brightly tinseled tree I see, there must be time to reminisce about a simpler life that included Santa's Xmas Caper.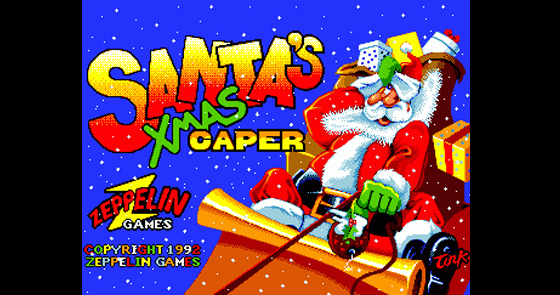 Santa's eyes roll at his fate - and so do ours at this game
Oh and before I start this retrospective, this is not a review of the Spectrum version of Santa's Xmas Caper or the Amstrad Santa's Xmas Caper, all games that look completely different but present the same theme. I'm looking at the 1992 Commodore 64 version, also by developer Zeppelin Games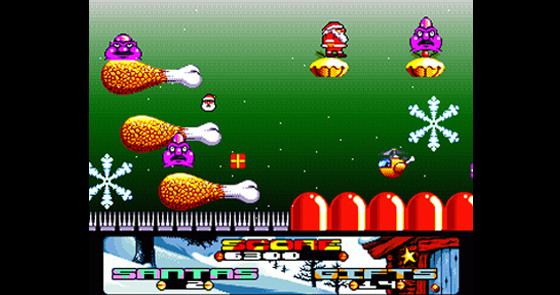 Even veggies chuckle at the turkey drumstick helicopters
No, I haven't started on the absinthe eggnog. Yet.
This single-player platformer was basically aimed at children but I remember this game being way too easy and cheesy even for my little sister. Way to a festive fail, Zeppelin. Make your games just about as long as it takes to open a present and then watch us revel in the disappointment.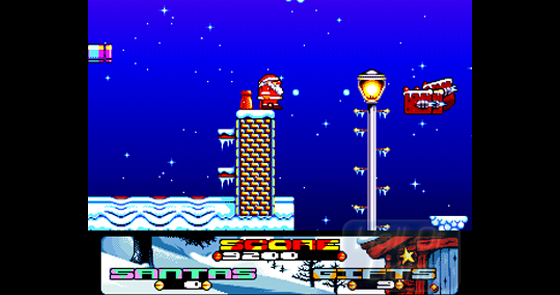 Cake incoming
Like its suspiciously Christmassy sounding but soul-bleedingly twee soundtrack, this game is rather pathetic, an attempt to corner the Christmas market that reeks of an X Factor number one. But just like X Factor, this drivel is not to be taken seriously and should be taken for what it is: pure festive kitsch.
So listen up:
Bad Santa
There are some things I like about this game but that doesn't make it good. Let me make it clear: I AM NOT SAYING THIS IS A GOOD GAME. But even as a veggie of 20 years standing, I chuckle at turkey drumstick helicopters.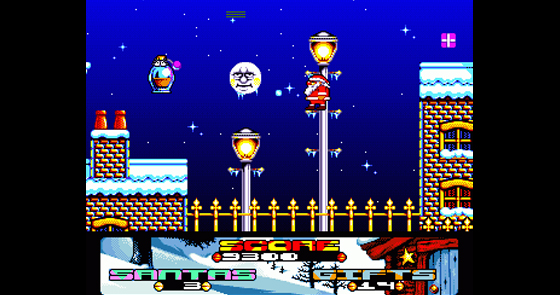 The moon look's as depressed as I feel playing this festive tosh
Over seven levels - because, seriously, who wants more than seven levels of Christmassy torment? - I play a snowball-throwing substitute Santa. My supposed helpers, those pesky Elves, have decided to start a Christmas rebellion - "Occupy Lapland", anyone? - and they have turned Christmas against me!
Before I can get back to Mrs Santa for some Christmas Pie I am going to have to swallow a lot of Christmas clichés.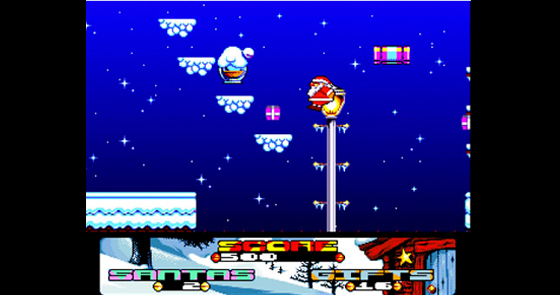 Run, fat boy, run
Hopping over presents while avoiding sinister bloated perfume bottles and strange evil jellies, I am mesmerised by the complete lack of coherence in level design or even a sense of where this game is going.
The graphics could, loosely, be defined as cute but on closer inspection are actually quite menacing. I suspect these moons with Me Gusta faces will swim before me in the work Christmas party punch.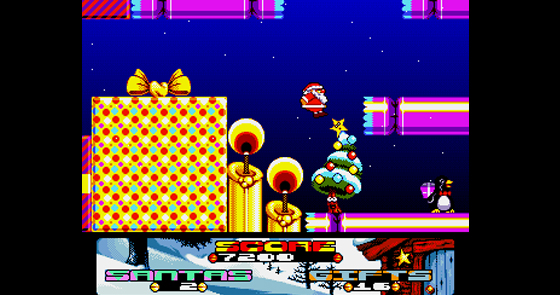 'I sense your presents'
I almost have no control of my movement as my stunted Santa decides to miss jumps and fall prey to an otherworldly and malevolent gravitational pull.
I think my reward on finishing Santa's Xmas Caper is an apocalyptic portent of the Ghost of Christmas Yet to Come:
"Congratulations you have completed the game. Game over." ®
Developer Zeppelin Games
Year of release 1992
Platforms ZX Spectrum, Amstrad CPC, Commodore 64
More Info Santa's Xmas Caper is unsurprisingly available cheap on eBay
More Retro Games

Rainbow
Islands
Doom
Lemmings
Flashback:
The Quest for
Identity
X-COM UFO:
Enemy Unknown