Original URL: https://www.theregister.co.uk/2011/12/20/imation_downturn/
Shareholders rage over Imation's incredible 88% plunge
How the leading disc and flash maker came a cropper
Posted in Storage, 20th December 2011 10:25 GMT
How do you build a $226m company? Start with a $2bn one. This joke could apply to Imation, which could go the way of Kodak and turn shareholder value into dross, because its management, facing declining sales of old technology, is late to respond and now buying bum companies with crappy prospects.
That's the view implied by transcribed comments from the 2011 third quarter earnings call. Imation's shares, at $5.93, are just 11.5 per cent of their $48.81 peak value in 2006. The company has a current market capitalisation of $226.02m. On June 20, 2006, it was $1.96bn. Imation's management has lost 88.5 per cent of the company's share value, a humungous $1.734bn of market capitalisation since then. A harsh view is that it has been a prolonged and spectacular executive management failure.

Imation share price and dividend payments chart, 2003 - 2011
How has it come to this?
In 2006 Imation was riding high, selling millions of optical disks, floppy disks and tape cartridges that it made in its own factories. Now it is basically a brand operation shell, selling secure USB memory sticks and a few Wi-Fi and removable disk drive products as a result of recent acquisitions. That year it bought Memorex and the TDK media recording businesses and so became the largest supplier of CD-R and DVD media in the world and was also, at the time, the leader in flash media sales.
But from then on the company lost ground as the products it sold started becoming less and less relevant. Imation's share price plunged throughout 2007, from its peak of $48.50 down to $21.99 by the end of the year.
In 2008 it bought XtremeMac which provided accessories for the Mac, but this was a pretty futile attempt to escape the jaws of the long-term vice it was in. The tape market was contracting rapidly as backup targets changed from tape drives to disk arrays, leaving tape the smaller archive business. Simultaneously the optical disk business declined as well with the post-DVD format wars which eventually saw Blu-ray rule over a much, much smaller optical media roost as consumers increasingly downloaded music and video content from the internet.
Shareholder to execs: 'We're not seeing anything, we're just seeing cash leave the balance sheet.'
For Imation, the escape routes from the declining tape and optical media markets turned out to be illusory or cul-de-sacs.
In a way the company was like that old Remington shaver company, but only if you can imagine it selling blades and shaving cream and not the razors. As wet shaving gave way to dry shaving, Remington switched to electric shavers - but Imation, stuck in the razor blades mindset, looked for new razor-blade type products and seized on USB memory sticks, external disk drives and Wi-Fi gear, thinking it could stay a massive company selling these bought-in commodity items through its channel under its umbrella brands.
In the external disk drive market it found itself competing with Hitachi GST, Seagate, Toshiba and Western Digital who, collectively, outsold it. Wi-Fi is a desktop and notebook computer preserve with an admixture of external hard drive Wi-Fi media servings from Seagate and WD. There is little scope for outside suppliers to make any great impact here.
Exit Russomanno
Imation's long-term CEO, and vice-chairman, Frank Russomanno, retired in May 2010. He'd presided over the two years of ghastly share price falls – 2007 and 2008 – and then failed to get the share value lifted throughout 2009. Linda Hart, non-executive chairman of Imation's board of directors, commented at the time: "The board is very grateful to Frank for his excellent leadership."
Very good. What would she have said if he had actually grown the company? What was the board doing to secure and save and even increase shareholder value from 2007 to 2009? Even then, at the end of 2009, when it was obvious Imation needed new leadership, the board waited for over a year for Russomanno to go and congratulated him on his way out.
Enter Mark Lucas
The Imation share price briefly rose as Russomanno handed over the reins to the then president and COO Mark Lucas, but has trended down since then, particularly since March this year. Lucas and his exec team devised escape routes, based on acquisitions, from the bind Imation had got itself into. The company bought:
ENCRYPTX for its technology to secure optical disks, USB flash drives and removable hard drives
MXI Security for its secure USB flash drive products
ProStor for its Infinivault removable disk autoloader technology
IronKey for its secure data storage hardware
Lucas has not found any golden goose inside Imation nor managed to buy one outside either.
Shareholder: 'We have seen nothing to prove that this strategy is going to work.'
Basically, with a few exceptions, Imation, appearing to think manufacturing its own media technology is boring, sells me-too non-premium products to too few customers to make any significant difference to its revenues. Over a period when storage companies like SanDisk, which manufactures consumer flash memory products, have more than maintained their share value – $42.4 was its peak 2003 price with the current price being $48.07 – Imation's management did not invest in new product manufacturing.
It preferred, instead, to sell commodity product through its branded channels. Since the start of 2003 Imation has lost 41.45 per cent of its value and SanDisk has gained 438.56 per cent in value. This is especially ironic as Imation says it was the flash market leader in 2006. Who says manufacturing is boring now?
At present optical media sales represent 40 per cent of Imation's business, with tape representing 25 per cent. Revenues in both product categories are declining and are expected to continue declining.
Not like Tandberg
Tape drive and cartridge supplier Tandberg nearly went bankrupt around 2005. Like Imation, it signed a manufacturing deal with ProStor for its RDX removable drives, did well with them via OEM deals and its own branded sales, and bought ProStor's RDX assets in May 2011.
Basically RDX was the growth recovery medicine for Tandberg and it worked. Imation had its own Odyssey removable disk drive products but did not do well against Tandberg's competing and overlapping product, until it worked out this overlap was undesirable. It then bought the InfiniVault RDX autoloader business from ProStor, no doubt thinking it would sell a lot of RDX cartridges on the back of that; the older shaver and razor blade business model rearing its head again.
Tandberg had the spur of near bankruptcy to spark its rebirth. Imation has not met that watershed yet.
Revenue and profits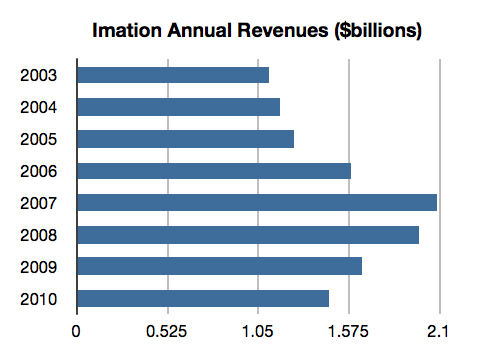 Imation annual revenues from 2003 to 2010.
The annual revenue (above) and profit/loss numbers (below) show the scale of the problem, with plunging revenues and deepening losses.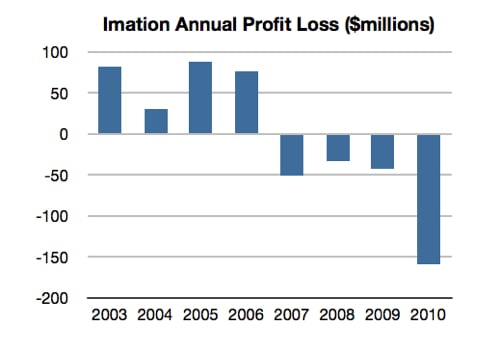 Imation annual net income numbers 2003 - 2010.
Imation's growth strategy
In February this year Imation CEO Mark Lucas outlined a 5-pronged strategy, with the intention of returning Imation to revenue growth by the end of 2011. Firstly, the dying tape and optical businesses will "use a disciplined, end-to-end product life cycle management process designed to deliver products with higher gross margins while phasing out low-margin businesses". Prongs two, three, four and five were new core product technology areas: secure storage, scalable storage, wireless connectivity, and magnetic tape.
Secure storage meaning protected thumb drives and hard disk drives? That's surely not a significant business, not at Imation scale, especially not when hard disk drive vendors sell self-encrypting drives.
Scalable storage means RDX and InfiniVault, disk-based data protection when general small/medium business protection is set to move to the cloud, limiting RDX's prospects, although RDX revenues are growing at 24 per cent annually.
Wireless connectivity meaning Link Wireless Audio/Video Extender products to project audio and high-definition video content - internet TV, movies, photos, online games, web video conferencing and even business presentations - to a television or projector. Really? With Seagate and WD making Wi-Fi and router-connected hard drives serving media to output devices? There is also wireless link which creates a secure, wireless connection from a laptop to a digital projector.
Magnetic tape meaning LTO-5 since all other formats are dying businesses. Here Imation appears to be competing with HP, IBM and Quantum, the LTO threesome.
Most of this can be judged unrealistic. Playing about with Wi-Fi, muddling about with securing USB sticks and external disk drives; calling RDX scalable storage when everyone else understands scalable storage to be cloud storage or big data arrays like the EMC Isilon jobs, and then calling tape both a dying business and yet a core business? Is it surprising that the share price has continued resolutely downwards?
Imation describes itself as undergoing a "strategic transformation to a global technology company focused on growth opportunities in data storage, protection, and connectivity". For disappointed investors this doesn't ring true.
They think Imation needs a real growth strategy, this view was reflected in the earnings call comments.
Earnings call
Lucas said in the call: "Our goal is to return to revenue growth by the end of 2012. We continued to deliver growth in our secure and scalable products during the quarter, but we have not yet hit the inflection point where these revenues will offset declines in our traditional storage area … We saw some positive signs in terms of new product growth. We need more."
Five years after the XtremeMac purchase he had this to say: "In our audio and video information products, formerly called consumer electronics products, we saw a 12 per cent growth in accessories with several new retail placements for our XtremeMac line. Excluding rationalised video products, other audio and video information products grew almost 8 per cent."
That is not impressive. If the rest of the business was producing good profits then the reasonable growth seen in RDX and secured storage products would be readily acceptable but, on their own and against the ongoing decline in tape and optical media these investments could look like too little too late and too limited in growth prospects.
Earnings call disagreements
Rich Rubin of Hawkeye Capital said: "Clearly we are disappointed with the numbers. Our stock is down 10 per cent today and we have seen the cash go from 305 [$million] at the end of 2010 to 233 [$million] at the end of September. We have seen tangible book [value] go down."
Rubin noted that no company execs or directors (insiders) were buying shares: "You can't tell us the numbers on how you've spent our cash. So as shareholders you can use these terms like progress and they may sound great. We're not seeing anything. We are just seeing cash leave the balance sheet. We are seeing no insiders buying shares in the open market, so that shows us how confident you are."
Then he let rip with both barrels: "We have seen nothing to prove that this strategy is going to work. And yet your shares had been trading below cash and you don't aggressively buy back your shares. It's a disappointment. And none of you guys buy back shares. None of you buy in the open market."
Lucas replied: "You are very consistent in your comments to me, so I appreciate that. I totally understand what you are asking for. We have outlined very clearly I think what the strategic direction of this company is, how we are going to best leverage our assets to increase shareholder return. We have said we are in a state of transition for 2011 and much of 2012. We plan to continue down that path. Now as we..." at which point he was interrupted.
Rubin fired another verbal barrage: "You are following the path of Kodak. You are going to spend and take a shot with shareholders' money and you have a ton of cash. The stock trades well below liquidation value. And you are doing nothing about it. You're just taking shots at acquisitions."
Lucas responded: "I appreciate your comments. We have done some share buybacks and we will continue to evaluate that depending on stock price and market conditions. We are very committed to our strategy going forward. We're very thoughtful about what we do. We're very analytical about what we do and we believe we are making tremendous strides to return shareholder value over the long term.
"This is not a short-term play for us. This is a long-term transformation that is going to eventually build tremendous value for shareholders. I understand your point of view. I think perhaps we just disagree with it."
Shareholders versus the execs
Rubin's point is that the company has $233m in cash but its market capitalisation is just $220m, less than the cash it holds in the bank. The company's leadership is depleting its cash in acquisitions and the company's leadership are not buying Imation shares.
If the company's chief officers are not buying shares then any professions of faith they have in the company's prospects are not matched by their personal financial investments. Understandably some shareholders are deeply displeased.
A Seeking Alpha article said:
According to the last proxy statement, insiders own 6.09 per cent of the company, reflecting an economic value of $14.34 million. One would expect this level of investment to create an alignment of interests with other shareholders, however these same insiders earned total director and executive compensation totalling more than $11 million last year alone.

If it is personally so profitable to continue operating, then why would you ever move to dissolve (or shrink through a share repurchase), even if continuing to operate destroys shareholder value? It is the board's responsibility to represent shareholder interests, yet it does not appear to be taking the necessary steps. Additionally, while management proclaims its confidence in this strategy, Mr Rubin correctly points out that insiders are not buying shares personally.
What would it take to get Imation moving again?
One conclusion could be that Imation needs new leadership. Maybe it needs an entrepreneurial CEO to turn the company around. A board with more impatience would have started looking for a successor already. ®