Original URL: https://www.theregister.co.uk/2011/12/20/ebay_scam_nets_suckers/
eBay scam nets suckers on both sides of the road
Buyers and merchants fall for empty box ripoff
Posted in Policy, 20th December 2011 23:30 GMT
Greedy eBay customers and merchants have both been caught by scammers punting empty boxes as containing high-priced kit at a 50 percent discount.
According to the Victoria Police e-crime squad, the scam works like this: the perpetrators target merchants with a good reputation on eBay (usually via recruitment ads) and signs them up to act as agents. The agents take on the job of advertising products on their sites, customers trust the seller and place their orders, only to receive empty boxes.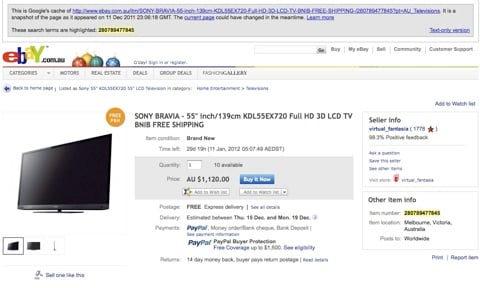 Half-price Sony TV turned out to be an empty box.
One such role advertised on Australia's Seek employment site, since removed, says that the high-paying "sales manager" would be responsible for "listing products daily,handling customer enquries and general bookkeeping of all sales and transations through ebay, paypal and banking" (sic - a hint for anyone viewing such ads in the future, an advertiser who can't even use the spacebar, spell, or bother with capital letters is probably not a candidate for Employer of the Year).
The Sydney Morning Herald reports that one merchant victim, who goes by the handle Virtual_fantasia, has had her account suspended and is being chased for fees by eBay, while being unable to get a response from the auction site beyond "generic emails".
It would appear that the standard warning should be given: "if it looks too good to be true, it probably is." For merchants, the lesson is not to act as an agent for someone you haven't met. ®