Original URL: https://www.theregister.co.uk/2011/12/17/product_roundup_ten_inkjet_photo_printers/
Ten... inkjet photo printers
Making pictures
Posted in Personal Tech, 17th December 2011 08:00 GMT
Product Round-up There's only really one choice of technology for printing photos well and economically. Inkjet printers produce better quality photos than traditional silver halide, one of the reasons digital photography has superseded it.
Most of the major printer manufacturers produce inkjet printers and even the most basic of these can print good photos. When you're buying a new printer, though, you usually want it to be able to print plain paper pages, too. These ten printers can do both and most can handle copying and scanning. There's something to suit all budgets, with top of class performance from most.
Brother DCP-J125

All Brother's SOHO machines look similar; neat and with a small footprint, more like an old fax machine than a modern all-in-one. This entry-level photo inkjet still includes memory card slots and a colour LCD, though not the wide-screen display which is a hallmark of Brother's dearer models. It prints photos slowly, taking around three minutes for a 15 x 10cm print, under test. Print quality is fair on lighter shades, with natural colour rendition but, as with many inexpensive inkjets, dark hues can be murky and merge into each other. There's a third off the RRP, if you shop around.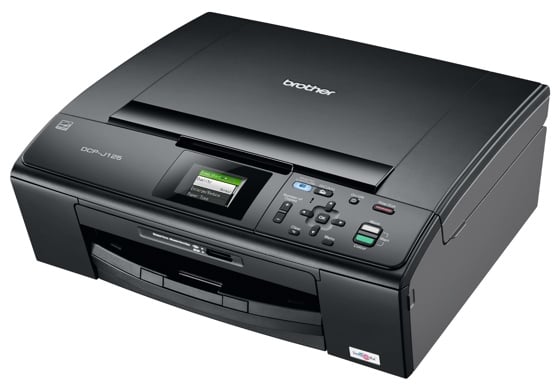 Reg Rating
70%
Price
£90
More Info
Brother
Canon Pixma MG8150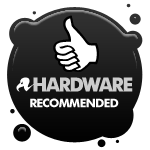 This is a high-end photographic all-in-one from Canon's extensive range and includes several extras a photographer will value. As well as photo card slots, which include CompactFlash for older, pro DSLRs, there's a transparency adapter in the lid for scanning conventional slides and negatives. Twin paper sources also mean you can load plain and photo paper simultaneously. A 15 x 10cm print comes through in around 35s and extra photo black and grey inks improve colour and black and white images, giving some of the best photos seen from a non-professional printer. Online discounts put this machine at around £220.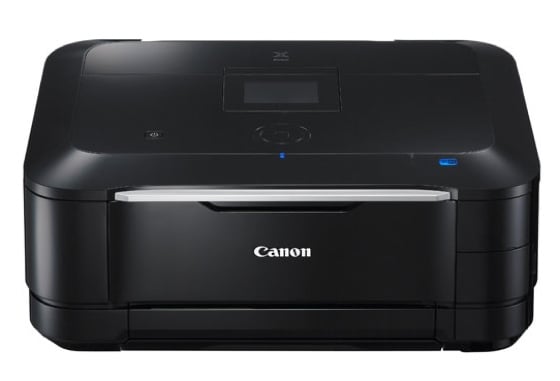 Reg Rating
85%
Price
£329
More Info
Canon
Canon Pixma iP4950

This is a photo printer, often referred to as single-function in reviews, but in fact it's capable of print from a PictBridge camera and directly onto a CD/DVD/Blu-ray, as well as through more conventional routes. It has duplex print and twin trays, so you can load plain at the front and photo at the back. It prints reasonably quickly, getting a 15 x 10cm photo out in around 50s and has five inks, so photo prints are helped with a photo black. Photo print quality is excellent for a budget machine, with natural colours and good detail, even in the dark shades. You should be able to pick one up for under £60.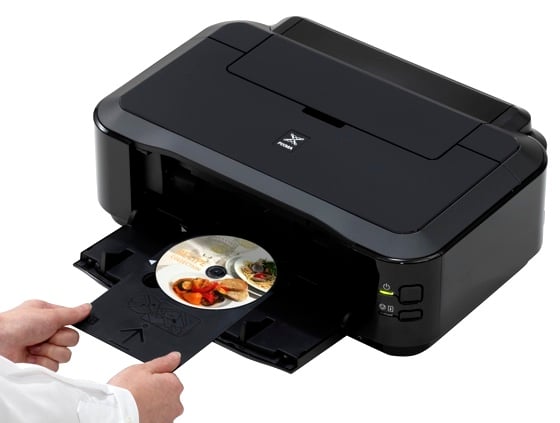 Reg Rating
80%
Price
£79
More Info
Canon
Epson Stylus Photo PX720WD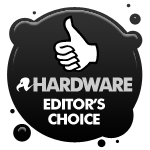 This is one of Epson's big black, glossy photo all-in-ones at the high end of its range. It has a touch screen with surrounding touch panel and includes a powered photo tray, memory card slots and automatic direct disc print. Wireless connection is standard. Most Epsons boast fast photo print and this one produces a 15 x 10cm print in less than 30s. Photos, from its six inks, which include light cyan and light magenta, are good, with above average rendition of colours in light and dark shades. PC World is currently selling this machine for a bargain £80.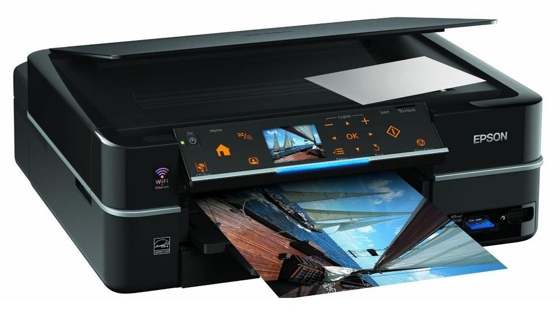 Reg Rating
90%
Price
£200
More Info
Epson
Epson WorkForce Pro WP-4535 DWF

This is one of Epson's new fleet of office inkjets, but is included as it still produces a more than reasonable photo. If you have a home office, but still want to be able to print images, it offers the functions of both. You can load plain and photo paper at the same time and the machine includes an ADF for its scanner and fax functions. There's a PictBridge socket and fast print, with a 15 x 10cm photo coming through in under 45s. Photos look bright, but not unnatural, and running costs are very competitive. It's available for under £200.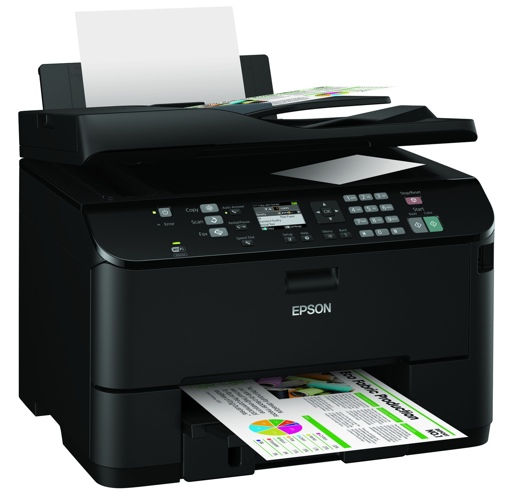 Reg Rating
80%
Price
£300
More Info
Epson
HP Photosmart 5510

It's perfectly possible to get a good photo all-in-one for £60 at Internet discounted prices and this is a key offering from HP. Even though it's inexpensive, it has some grown-up features, like wireless connection with WPS setup, touch screen control and memory card slots. There's ePrint, too, if you like printing photos with little control, when you're out. A 15 x 10cm photo prints in just over a minute and although you lose some economy through the lack of separate colour cartridges, running costs overall are fair. Photo quality is surprisingly good, though with a slight blue cast.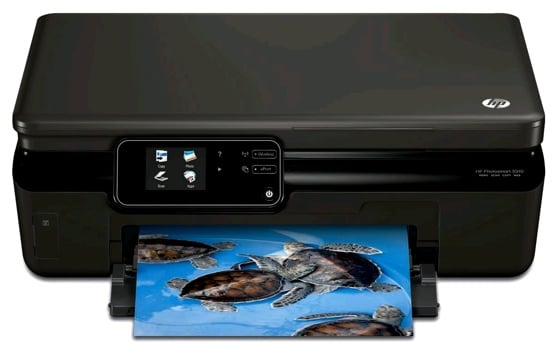 Reg Rating
80%
Price
£69
More Info
HP
HP Photosmart Premium Fax CQ521B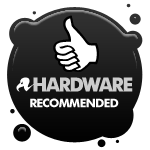 You're getting a lot of all-in-one for the money with this SOHO machine. Like the Epson Workforce Pro, it's happy to handle general correspondence, as well as photos. It has a duplex scanner as well as duplex print, wireless connection and full fax functions. It produces 15 x 10cm photos in around a minute and the extra photo black helps it produce good quality photos. Photos show natural pastels in landscapes and bright primaries in more artificial surroundings. Best price is around £95, making it an excellent, all-round offering.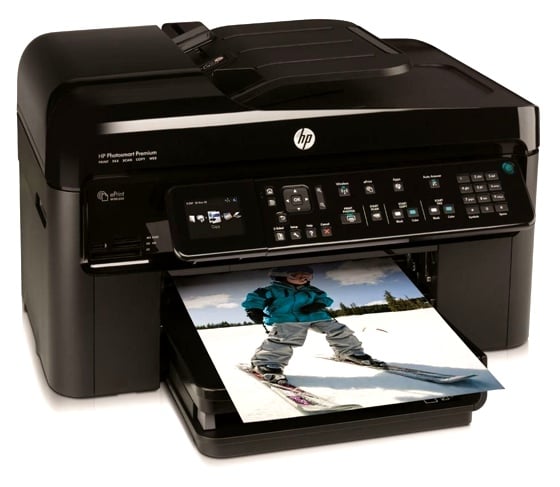 Reg Rating
85%
Price
£114
More Info
HP
Kodak hero 5.1

Kodak has revamped its all-in-one range and come up with a smart set of machines, with this one at the entry-level. It has a smallish, fold-up LCD and front panel memory card slots. There's only one paper tray, so you swap between plain and photo paper, though the machine does offer duplex print and wireless connection as standard. 15 x 10cm photos print in under 40s, which is impressive, as is the quality of the images, with natural colours and precise details. The main selling point continues to be low ink costs, with a cost of around 5p for an ISO colour page.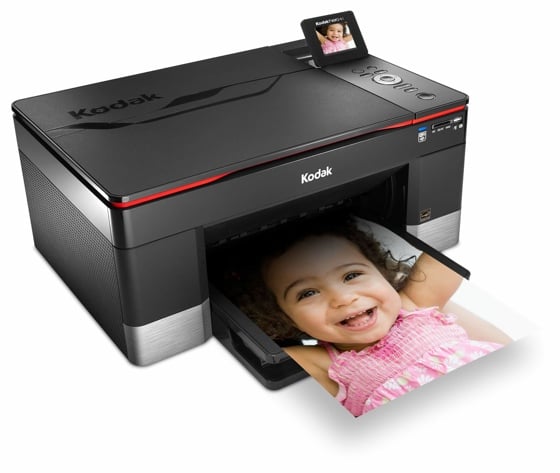 Reg Rating
80%
Price
£100
More Info
Kodak
Kodak hero 9.1

At the high end of Kodak's hero range, this machine has a duplex ADF on its scanner and a touch panel for control. It has memory card slots and twin paper trays, including a generous, powered, 40-sheet photo tray. As with other hero machines, you can print remotely, through Google Cloud print but, somewhat surprisingly, the print engine is the same as in all hero printers. It managed a 15 x 10cm photo in 35s and photos are bright and well rendered. Running costs are low, though at this machine price, there's more competition in consumables pricing.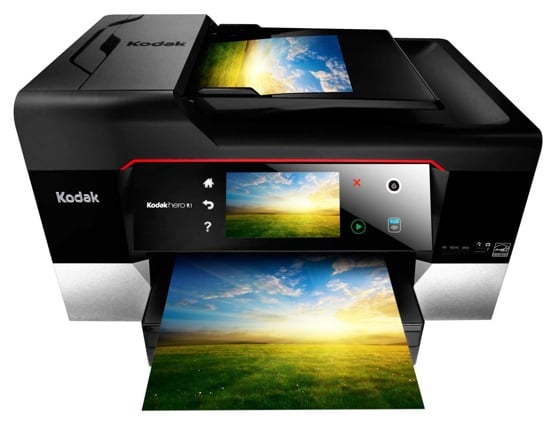 Reg Rating
75%
Price
£200
More Info
Kodak
Lexmark Pinnacle Pro 901

Although this is the latest Professional range inkjet Lexmark has released, it's still looking a bit long in the tooth, compared with its rivals. It uses the same print engine as all Lexmark's range of inkjet all-in-ones, with the company relying on feature sets to distinguish between models. On this machine, there's a large touch-screen, memory card slots, duplex print and the option of a second paper tray. It takes around 50s to produce a 15 x 10cm print and while colour gradations are smooth, dark tones tend to merge to black. Discounted, you should be able to pick one up for around £100.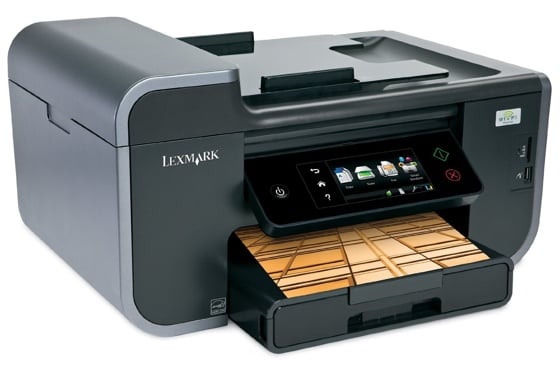 Reg Rating
65%
Price
£299
More Info
Lexmark
More Printer Round-ups

Colour Lasers
Mono Lasers
All-in-one Inkjets