Original URL: https://www.theregister.co.uk/2011/12/16/review_nikon_1_v1_compact_camera/
Nikon 1 V1 interchangeable lens compact camera
The 1 worth having
Posted in Personal Tech, 16th December 2011 07:00 GMT
Review The V1 is the flagship model of Nikon's newborn mirrorless, interchangeable lenses camera system simply called 1 that currently has only two models, the cheapest, being the smaller and less sophisticated J1 reviewed recently. Yet having entered the Compact System Camera's (CSC) scene with some considerable delay, can Nikon really bring anything new and truly competitive to this increasingly saturated market?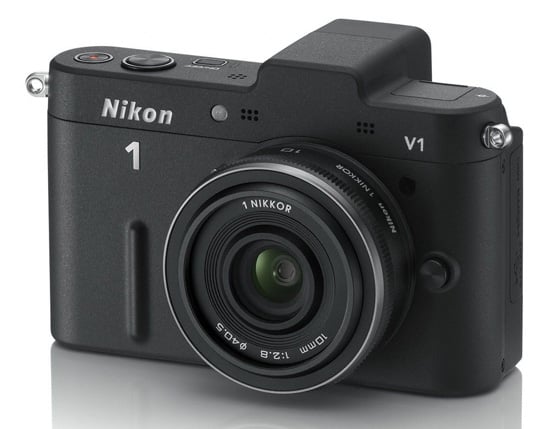 Sophistication meets simplicity: Nikon's 1 V1
Selling at £880 with the 10mm Pancake lens, the V1 is certainly not cheap however it does have a few tricks up its sleeve, such as a an electronic viewfinder, a high resolution screen, both an electronic and a mechanical shutter release. On-board is Nikon's latest processor – capable of a continuous shooting rate of up to 60fps – and a hybrid Autofocus system that combines the benefits of both phase and contrast detection.
At the heart of the new system lies a newly designed 10.1Mp sensor, which Nikon calls CX and is significantly smaller than both the Micro Four Thirds and the APS-C formats currently employed in most Compact System Camera models. It measures up at 13.2 x 8.8mm and delivers a 2.7x crop factor.
Cleverly Nikon has restricted its resolution to just 10.1 MP, as opposed to the average 12-16Mp of its competitors, and therefore has been able to keep a decent pixel size to compensate for the reduced sensor surface.
Strangely instead Nikon, despite choosing a smaller sensor, does not take advantage of the reduced size to make this camera tiny and truly pocketable. The V1 is in fact the bulkier, larger and heavier of the CSC cameras currently on the market albeit the one that can boast the better and more professional looking build quality.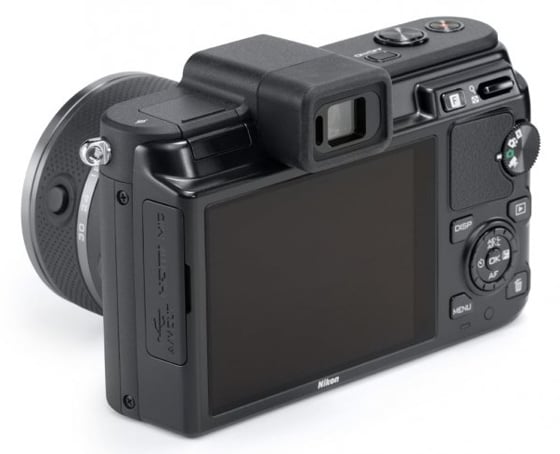 EVF or LCD viewing with proximity auto-sensing
Built of solid aluminium and magnesium alloy the V1 feels extremely comfortable and balanced in the hand despite the almost complete lack of gripping surfaces, with only a ridged bar on the front for your middle finger and a slightly raised rubberised square to rest your thumb at the back.
Snappy dresser..?
The V1 might not be a looker but I personally love the sheer plainness of the design. Its squarish, vaguely reminiscent Trabant P601 styling has both a retro charm – more genuine than the Olympus E-PM1 – and a cool contemporary edge. Also to Nikon's credit is the complete departure, in designing the controls layout of this new system – different from that found in their DSLR and compact models – and the adoption of a refreshing minimalist approach completely at odds with their latest advanced compact release. Indeed, if the latest Coolpix P7100 is a feast of controls, the V1 is the bare essentials.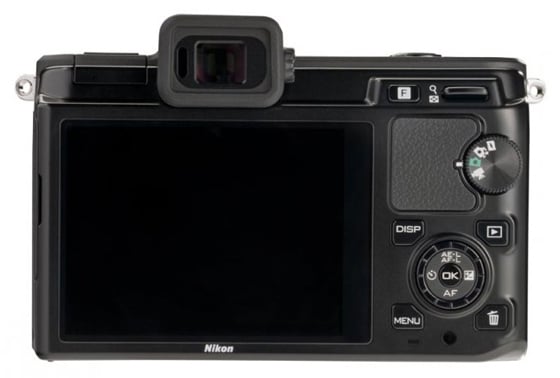 No PASM dial, but making changes works out better than you might think
The V1 controls are deliberately sparse and basic. Apart from the obvious four-way pad giving you access to AE/AF-Lock, exposure compensation, AF mode and self-timer and including a scrolling wheel, the only other dial is the mode dial. This only includes four settings, Photo, Video, Motion Snapshot and Smart Photo Selector, despite having space for many more.
The decision not to make the PASM settings readily available on the mode dial is at first puzzling but it then becomes obvious that this distinction avoids in-house competition between the 1 range and Nikon's DSLR and Coolpix series. My guess at Nikon's logic is: if you want the same readiness and flexibility of controls of a DSLR, then go for a DSLR or if you want a compact that feels like a DSLR then opt for the Coolpix P7100 instead.
With these assumption in mind, it becomes clear that Nikon has made virtue of the design limitations this camera system. By providing the V1 with bags of personality, from the blocky looks to the minimalist and idiosyncratic control layout, Nikon has transformed this camera's flaws into eccentric but attractive design choices.
So manual and semi-manual settings can only be accessed through the menu? So what? Despite I like to shoot prevalently in aperture priority and manual mode I did not miss the direct access to these modes, since I tend to stick to one or the other for a period of time during shooting.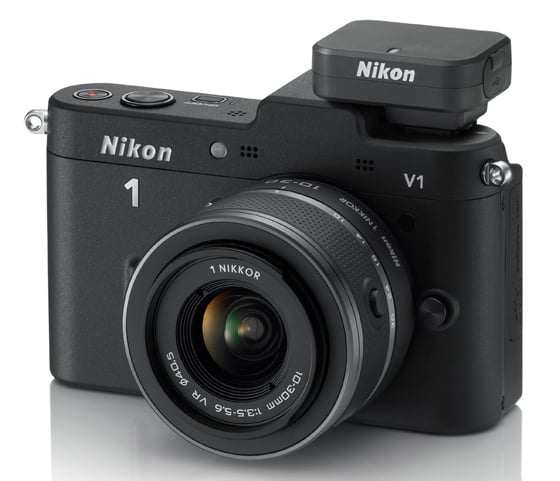 That's no idiosymcratic flashgun, it's the optional GPN100 GPS accessory
Also, the general operation of the V1 is one of the most straightforward I have experienced and one of the most pleasant. The menu is extremely simple and does not feel too crowded. Settings and shooting options are basic but include some very useful ones such as a choice of three different upper range ISO auto setting: Auto ISO 100-3200, Auto ISO 100-800, Auto ISO 100-400. These options give you better control over your acceptable image noise preferences in varied environments.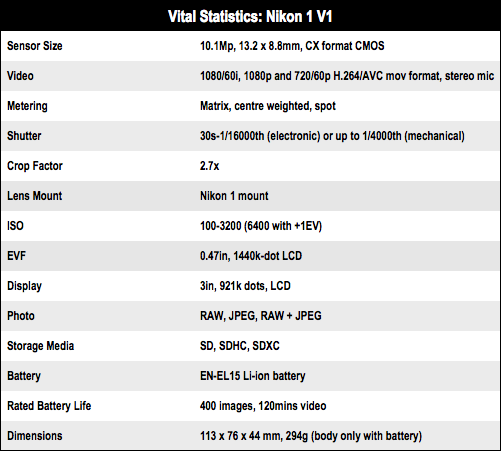 Sample Shots
Nikon 1 Nikkor 10mm f/2.8 lens (35mm equivalent: 27mm)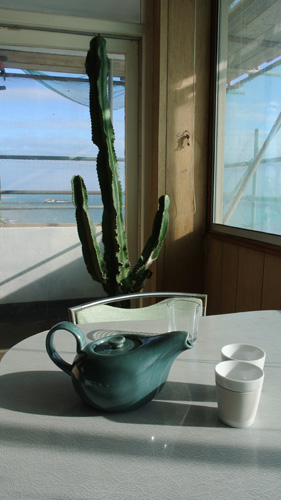 Click for a full-resolution crop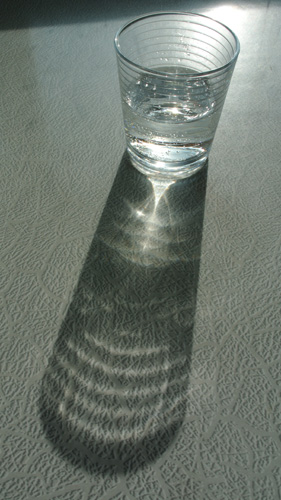 Click for a full-resolution crop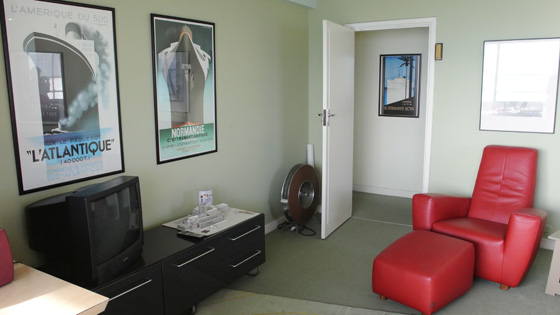 Click for a full-resolution crop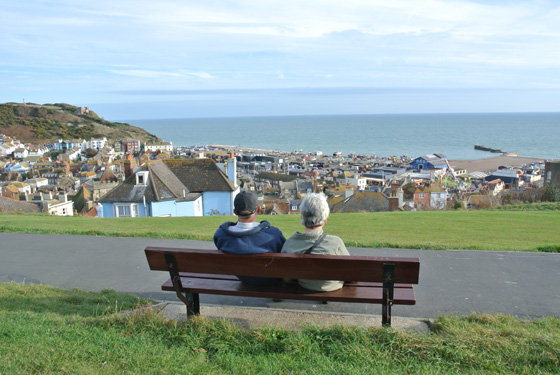 Click for a full-resolution crop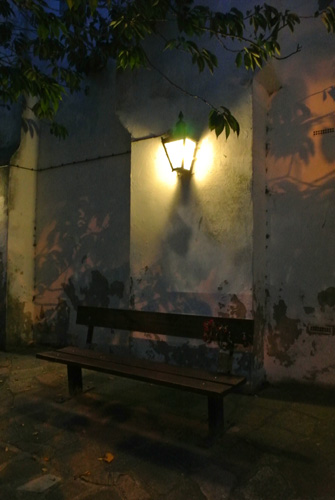 Click for a full-resolution crop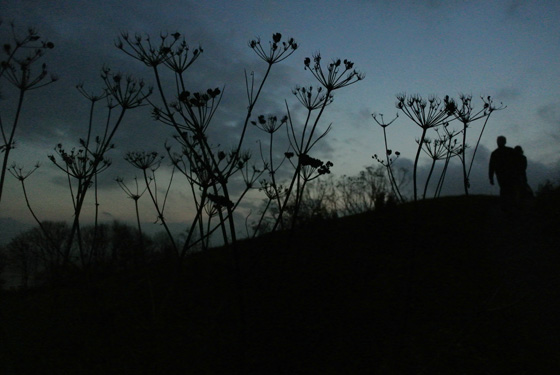 Click for a full-resolution crop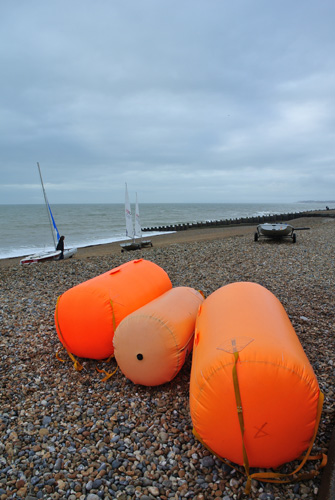 Click for a full-resolution crop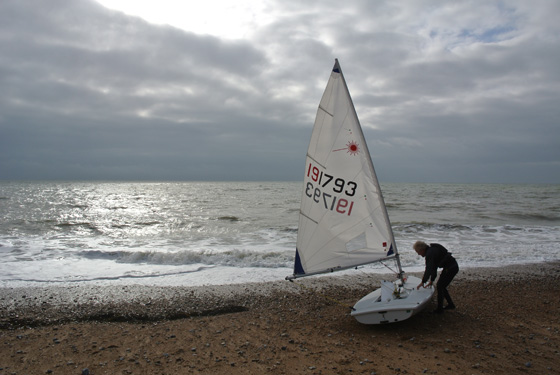 Click for a full-resolution crop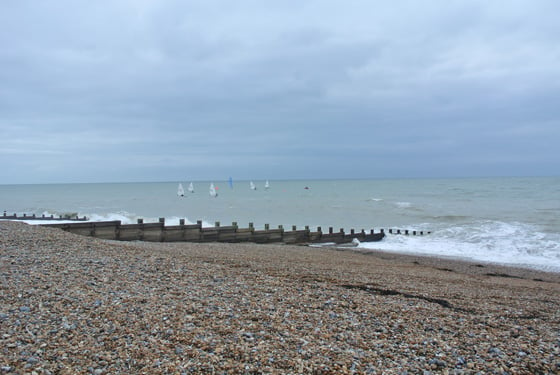 Click for a full-resolution crop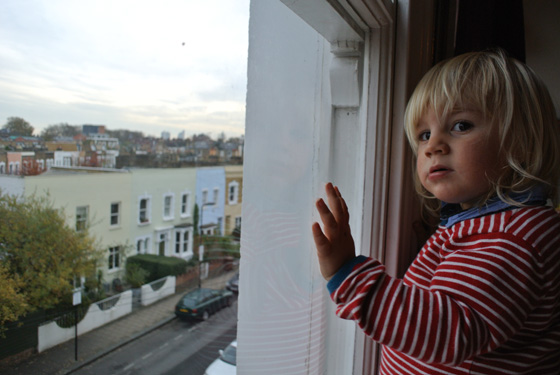 Click for a full-resolution crop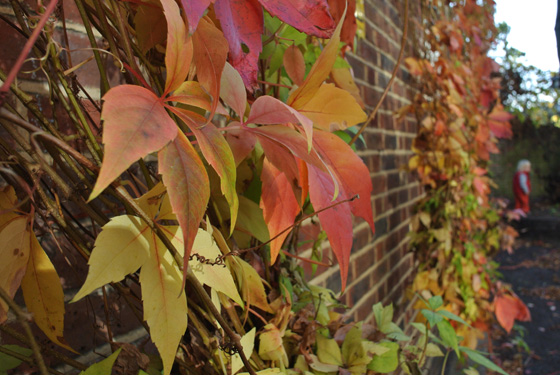 Click for a full-resolution crop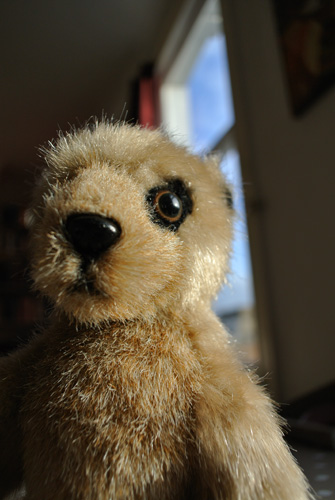 Click for a full-resolution crop
ISO Tests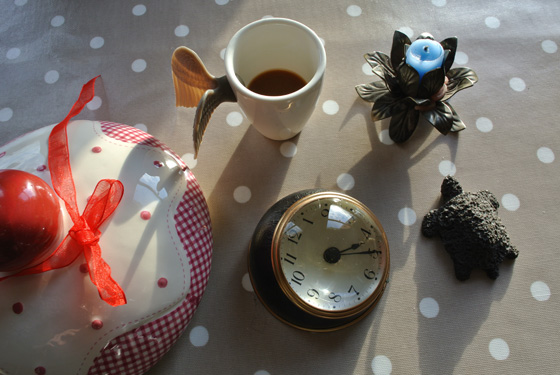 Click to download zipped ISO 100 to 6400 files (43MB)
Visual aids
A major selling point that will set the V1 apart from most of its competitors is the provision of a built-in high resolution electronic viewfinder, with a sensor for automatic activation and a very detailed view. This is partnered with a top class 3in LCD with a 920k-pixel resolution, which presents astonishingly clear images and is a pleasure to use.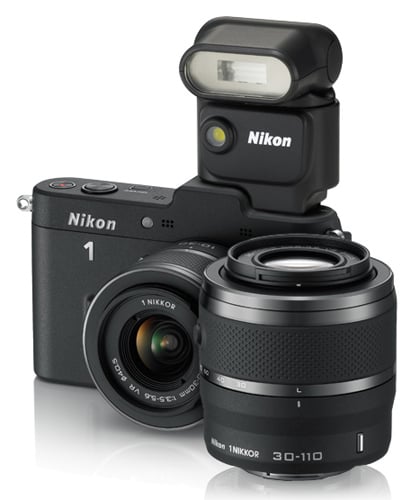 The port for flash and other accessories is one of the main benefits of the V1 over the cheaper J1 model
In a bid to justify the hefty selling price Nikon has provided the V1 with their latest generation image processor, the Expeed 3, which offers exceptional performance, with up to 60 fps shooting at full resolution, and enables complex functions like Smart Photo Selector, which combines five of the best 20 shots the camera takes in a burst when the shutter is only half pressed to the final shot obtained at full depression to create the perfect image.
When it comes to the AF system, the V1 distinguishes itself by adopting a hybrid, ingenious combination of phase and contrast detection, which proves a very flexible and effective approach to focusing. The 73-point phase detection option is the fastest of the two and does an excellent job at keeping track of moving subjects while the 135-point contrast one is just the perfect solution for still subjects in difficult lighting conditions, traditionally a sticky point for this class of camera.
Another nod at the enthusiast photographer is the unusual dual shutter release sported by the V1. This unconventional camera gives you a choice of a mechanical or electronic release, where the former allows you to sync at high shutter speeds of up to 1/250th of a second but limits the continuous shooting speed to 4fps whilst the latter, indicated in all other shooting situations, supports silent operation and full shooting speeds.
In line with its minimalist approach the V1 refrains from offering any sort of funky feature or special effect, the only exception being a rather strange and pointless Motion Snapshot mode, where the camera records on the buffer a 1 second movie clip to a pre-selected musical tune immediately before registering the still image and can, if desired, combine the two into a slow-motion and odd-looking video.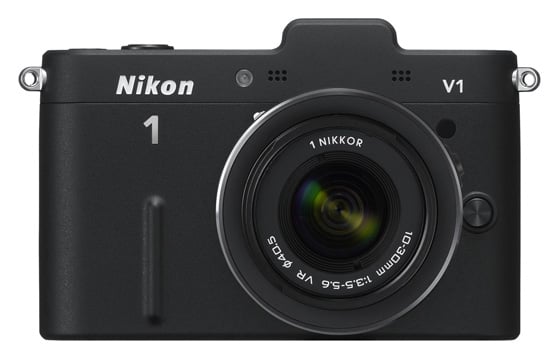 No fun filter effects on-board, this model takes itself far more seriously than its J1 sibling
In terms of image quality the V1 produces some of the finest and more detailed pictures I've seen in the CSC range, with very natural-looking colours, perfectly balanced exposure and an impressive dynamic range despite the smaller sensor. Noise performance is also very good, although some grain starts to appear at ISO 800 and becomes a bit more evident at ISO 1600 and ISO 3200 but both sensitivities are still perfectly usable.
Wide-eyed
I've tested the camera with the Nikon 1 Nikkor 10mm f/2.8 wideangle pancake lens – equivalent to 27mm on a 35mm camera. This is one of four lenses currently available with the Nikon 1 mount. Despite being very light and flat the lens feels extremely well built and delivers great optical results with virtually no aberrations.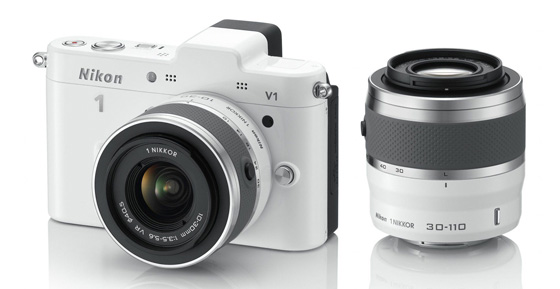 Also available in white: V1 with 10-30mm and 30-110mm lens kit
The V1 also offers Full HD 1080p video recording at 30fps or 60fps in MPEG4 format, with additional 400fps and 1200fps for slow motion effects. Video recording is activated from a dedicated movie-recording button on the top plate and benefits from full manual control and continuous AF during shooting. Footage looks smooth and the sound is clear and rich.
The EN-EL15 7V battery might be chunky and rather heavy but performs well, with a rating of 400 shots per charge – almost double the shooting capacity of EN-EL20 featured on the J1.
Arguably, the choice of a smaller sensor might alienate some enthusiastic users, whilst the no-frills approach, dead-easy operation and image quality may well tempt the regular compact user. Simplicity aside, I feel that this camera should not be sneered at by the more advanced photographer.
After all, with its professional shooting speeds, ingenious, innovative and, above all, photographically relevant technology married to a picture quality that fares well with the competition, the V1 should appeal to the enthusiast and discerning photographers alike.
Verdict
I personally loved this camera and feel its superior build quality, distinguished personality and excellent image output will turn a few heads. Despite its high price, which does impact on its overall rating here, no doubt it will bite into the sales of other already established compact systems from the likes of Olympus, Panasonic, Samsung and Sony who have all shown their take on compact mirrorless models for over a year and then some. ®
Catherine Monfils is a professional photographer specialising in portraiture, lifestyle and fashion.
More Camera Reviews…

Nikon
One J1
Olympus
PEN Mini
E-PM1
Sony
Alpha SLT-A35
Leica
X1
Fujifilm
Finepix X100