Original URL: http://www.theregister.co.uk/2011/12/15/review_asus_zenbook_ux31e/
Asus Zenbook UX31E
The finest Ultrabook on the market?
Posted in Personal Tech, 15th December 2011 07:00 GMT
Review I honestly thought it would take the industry a lot longer to start producing Windows Ultrabooks for under a grand that are this good. The Asus Zenbook is as flat and skinny and as light as a MacBook Air without trying to look like one, and is a darn sight better connected.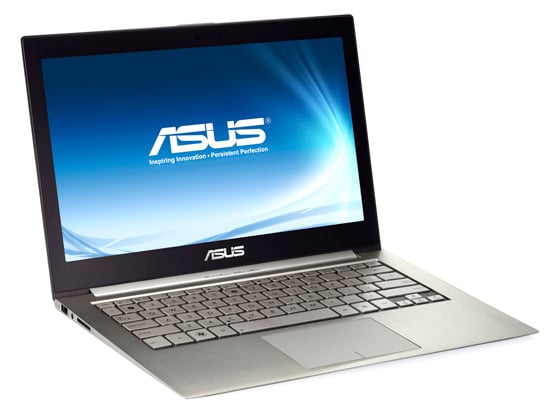 Smart notebook in size zero clothing: Asus Zenbook UX31E
The Zenbook comes in 11-inch and 13-inch versions: the UX31E tested here is the larger and more expensive of the two kitted out with a 128GB SSD, 4GB of RAM and sporting a 1.8GHz dual-core Intel Core i7-2677M CPU.
The case is built from what looks like two-tone brushed aluminium, the lid appearing darker than the base due to its circular rather than linear brushed finish. The press release describes this top-surface finish as "a concentric circle design that refracts a halo of light that excites the senses". Oh lordy.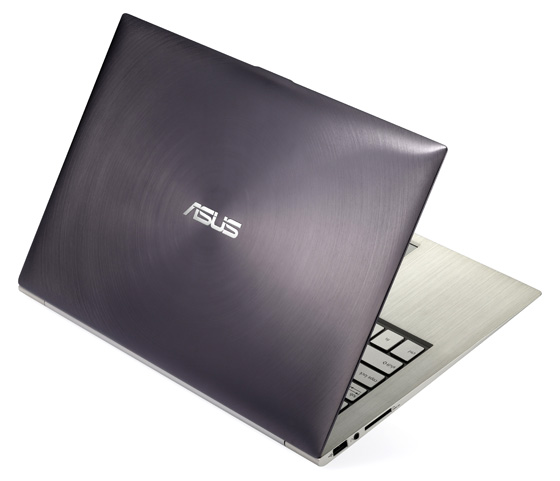 The refraction effect of the lid is supposed to 'excite the senses'. I expect you're feeling frisky just looking at this photo.
Similar to some other Ultrabooks – such as the recently reviewed Acer Aspire S3 – the Zenbook is gently wedge-shaped: the UX31E is about 17mm thick at the rear hinge and just 3mm at the front edge. The edges of the lid and base are flush on the sides and front, which naturally makes them appear sharp when the case is opened. They're not sharp enough to cut you, but I can attest that they are sharp enough to scrape away the top surface of your fingernails, should you be so inclined.
Opening the case is a bit fiddly because there's no clasp or catch, nor a recess to stick your thumb into, just a 0.5mm overlap to grip on to. However, with the Zenbook on a desktop, it's possible to lift open the lid fully without the base tilting back – beautiful.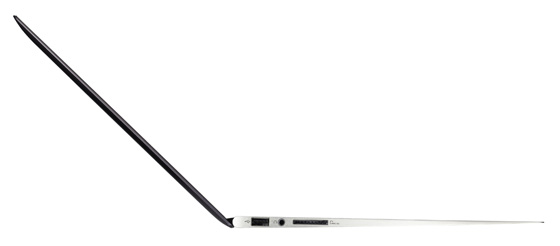 No kidding, this is an extraordinary piece of impossibly thin hardware design
The 13.3in, 1600 x 900 display is crisp and clear, even in its slightly dimmed 'battery saving' mode, and the bezel - whose grey plastic rather disrupts the brushed aluminium finish everywhere else - is untypically narrow at roughly 16mm on either side.
Visual basics
Unfortunately, it's also one of those displays that suffer from significant visual degradation depending upon your viewing angle. Push the screen back a little and it goes dark; hinge it forwards and it goes pale; turn the Zenbook side to side and the display becomes difficult to read.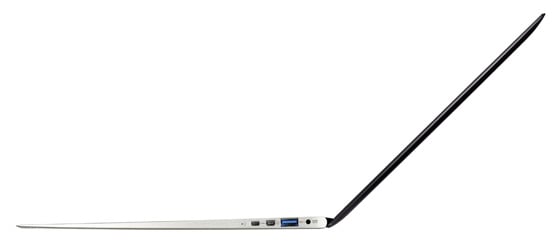 The provision of separate micro HDMI and VGA ports is a really good idea for the wandering presenter.
With the screen and my eyes in optimal position, the display looked great but this is not a computer that I'd find comfortable to share a presentation on with a huddle of people.
The keyboard is pretty good, though. Its metallic-looking keycaps do nothing for me style-wise but I enjoyed using the keyboard even though it can be difficult to read the symbols on the top row of Fn keys when the room is dimly lit. It's possible to turn Wi-Fi on and off, adjust screen brightness, switch between displays, adjust audio volume and drop into Sleep mode directly from these Fn keys.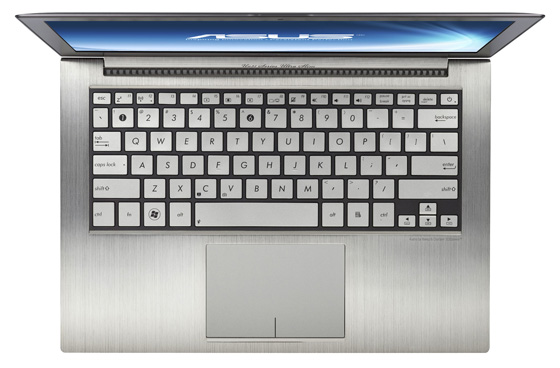 Top notch trackpad and a decent keyboard to boot
In front of the keyboard is a well-sized (roughly 10x7cm) trackpad with big, clearly defined left- and right-click areas and a perfectly smooth surface. It supports basic two-finger multitouch gestures such as for scrolling and for swiping between programs, and it supports gentle touch-taps instead of clicks without having to disable the click areas. I found the trackpad very easy to use - indeed, it was one of the best I have tried on a Windows notebook.
I have complained in the past about noisy notebooks. The Zenbook is, unless you place your ear directly against the underside, silent. Bliss. It's also a modest consumer of mains energy, sucking up around 15W on a fast recharge, 27-30W while in use and recharging at the same time, dropping to about 20W when fully charged. This perhaps helps explain why I was unable to get the Zenbook to heat up. No matter what I did, it remained steadfastly cool underneath.
Benchmark Tests
PCMark 7 Results

Longer bars are better
PCMark 7 Battery Life Results

Battery life in minutes
Longer bars are better
Clearly, one thing the Zenbook is really good at is power management. Register Hardware's insane battery life torture test squeezed 135 minutes at full blast from a 100 per cent recharge before the automatic hibernation kicked in. More realistically, in battery-saving mode, I was getting something more like four hours of continuous use before I even started thinking about looking for the mains cable.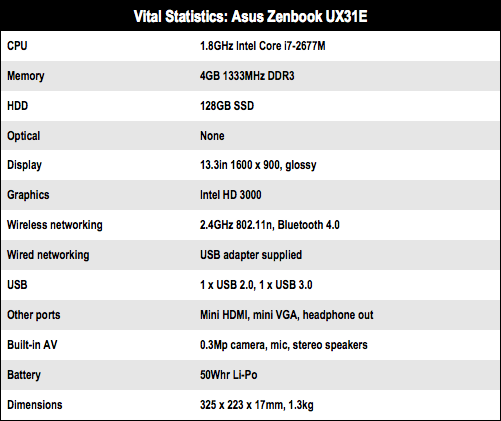 Fired up
For the first time ever in a PC test, I even found myself confirming the manufacturer's claims for startup times. Starting up the Zenbook from cold took 19 seconds to reach the Windows 7 login screen. Starting up from hibernation took six seconds. Starting up from Sleep mode took two seconds. Yes, two.

Close it up to send it to sleep. Open it later, and Windows is ready to go in two seconds.
And yet the Zenbook seems perfectly happy to sit in Sleep mode for days on end while nibbling negligible battery power. Asus claims it can stay in standby for two weeks without recharging, and I believe it. I wish my tablet computers could do as much.
Another nice touch was the provision of a USB 3.0 port in addition to the conventional USB 2.0. This meant I could make use of my portable USB 3.0 hard drive to its full potential, and I definitely noticed the difference, especially when editing and playing back HD video.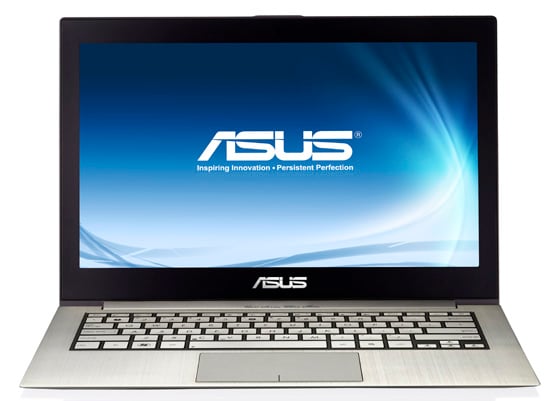 Lovely brushed aluminium offset by dull grey plastic screen bezel – ah well
I should also like to congratulate Asus on building separate micro HDMI and mini VGA ports into the UX31E, and especially for bundling the necessary mini VGA adapter in the box as standard. Also bundled is a USB-to-Ethernet adapter which could be occasionally useful in the absence of Wi-Fi, but only supports up to 100BaseT, not Gigabit Ethernet.
And to round up the package, the mains adapter is only 23mm thick and quite light, so carting it around on longer journeys is no great effort.
Verdict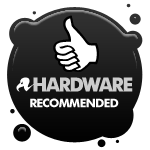 The bad points? I don't like the restricted viewing angle on the display, and the case doesn't immediately snap shut when you close it in your hands - the Zenbook just gapes back open a little unless you put it on a tabletop and press the case shut for a couple of seconds. The good points? Everything else: usability, connectivity, build quality, slimline profile and power management. The UX31E is a cracking good Ultrabook and worth the money. ®
More Notebook Reviews

Acer
TravelMate
Timeline X TM8481T
Dell
XPS
14z
Apple
MacBook
Pro 13in
Acer
Aspire S3
ultrabook
Lenovo
ThinkPad
X1