Original URL: https://www.theregister.co.uk/2011/12/14/top_10_star_wars_christmas/
I have you now! Top 10 Star Wars Xmas presents
From Millennium Falcon manual to USB sticks
Posted in Bootnotes, 14th December 2011 10:21 GMT
With the shops jammed and checkout lines up the wazoo, it would be forgivable to buy Star Wars: The Complete Saga on Blu-ray from Amazon for The Wars fan in your life, and think "job done".
The Reg, however, has channeled The Force to show there is another way, with 10 of the best Star Wars gifts. From the Millennium Falcon, Owners' Workshop Manual to a limited edition R2-D2 Xbox 360 and more, from the metro to the mainstream, strap in...
Millennium Falcon Manual: Modified YT-1300 Corellian Freighter
Since they debuted in 1960, Haynes Publishing's hard-backed car manuals have become as much as a garage institution as grease under the fingernails and the smell of WD-40. With its latest manual, Millennium Falcon, Owners' Workshop Manual, Haynes reaches beyond the transmission jockeys of Earth to the space cowboys of Star Wars.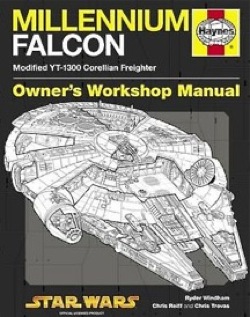 The Millennium Falcon, Owners' Workshop Manual wears Haynes auto-heritage on it's sleeve: you get vital stats, owners' history, modification options, handling and performance characteristics, and plenty of photos, illustrations and cutaway diagrams of important things such as the cockpit, engines and guns all with a handy numeric key.
In Episode IV when farm-boy Luke calls the Falcon a piece of junk Solo cuts him off with: "I made a lot of special modifications myself." Solo's not just spilling hot plasma, and Haynes explains two of Solo's hottest but highly illegal modifications to the ship he took from fellow rogue Lando Calrissian. Solo made the Falcon able to out-run and out-gun the Empire. No wonder they resorted to trickery to disable her. If, like Solo, you find yourself stuck on some frozen ice cube with a malfunctioning hyper drive and Imperial ships closing in, then this Haynes guide could be the thing that saves your cowboy arse.
Xbox 360 Kinect Star Wars Limited Edition Bundle
When he's not suffering the indignities of being barred from the Mos Eisley Space Cantina or the endless put downs of C-3P0, R2-D2 is coming to the rescue of his human companions or lending Luke a sympathetic beep from the backseat of his X-wing deep in space. How in the cosmos Obi Wan can't remember owning this plucky and resourceful little 'droid we'll never know.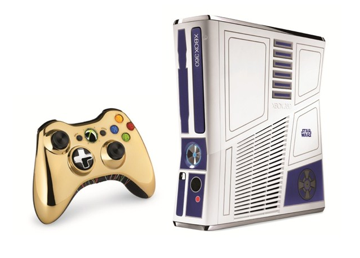 Thanks to Microsoft, however, you can now possess your own R2-D2 style Xbox unit: Microsoft's Star-Wars themed Xbox 360 bundle has given a 320GB Xbox console a blue-and-white panelled paint job and the ability to make R2-style noises. The pack includes a C-3P0 gold handset, and a Kinect controller and Kinect Star-Wars game to refine your hands-free Jedi skills. This is the console you were looking for.
Blu-rays, massive prints, Imperial Wallpaper
Star Wars Clone Wars, Season 1-3 Blu-ray
The mega Complete Saga, episodes I-VI, released in 2012 on Blu-ray will feature on the Christmas wish lists of many a box-set completist of high-def fan. This package is the first time that the complete series of films have been offered in high definition, home format with additional documentary features and previously unseen footage.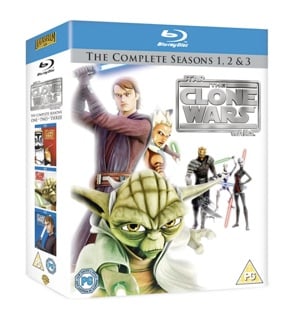 But cometh the film cometh the man, and the kind of Lucas fiddling that gave us Midichlorians in Phantom Menace and Anakin's ghost in the first remastering of Jedi continues with this blast-door stopper of a set. Once stoically silent, Darth Vader now shots "No!" while hurling his evil Imperial Sith master to his death aboard the Death Star number II. Simon Pegg said it best when he tweeted it here. The Reg therefore prefers to steer clear of the Saga this Christmas and instead recommends the Star Wars Clone Wars Season 1-3 Blu-ray set. A hip and stylish set of animated adventures set against the backdrop of one of the "prequels" to the last three, this is a thrilling and fresh exploration of the Clone Wars chapter that - shock - even manages to introduce new characters that succeed in not being annoying us. These include dark Sith femm Asajj Ventress and Anakin's eager and awkward teen Padawan Ahsoka Tano. Fret not, you also get the voices of Samuel L. Jackson as Mace Windu, Anthony Daniels as C-3PO and Christopher Lee as Dooku.
Clone Wars demonstrates you can embrace and extend the franchise without alienating the fans that helped make it. The most remarkable thing of Clone Wars? Lucas is actually onboard as executive producer. Pick Clone Wars and there's no baggage: you get to relieve that experience of watching Star Wars for the first time all over again.
Vader and Yoda nutcrackers
When he's not crushing throats and busting balls, Vader likes cracking 'em. Keep you regular they do, says Yoda. We're talking nuts, and these wooden Darth Vader and Yoda are just the thing to get you through the festive season, a time when nuts seem to become abundant. An elegant weapon for a more civilised age.
Imperial Wallpaper
The flock strikes back with this textured wallpaper featuring portraits of masked heroes of The Empire. Vader, Boba Fett, Storm troopers, Snow troopers and Imperial Guards are captured in heroic gaze and reproduced in Victorian-style monotone by Brian Flynn. The Reg suggests you grab a few rolls for the walls of your Imperial smoking room or cocktail bar.
Boba Fett Shepard Fairey giant poster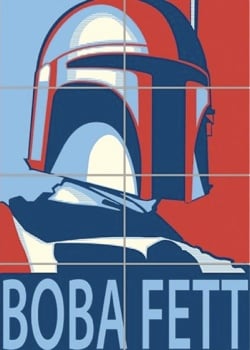 One inspired hope, the other fear and trepidation. During the US presidential election of 2008 an Associated Press photographer's head shot of then-hopeful Barack Obama was seen and stylized by graphic designer and illustrator Shepard Fairey. His work became the iconic "Hope" poster.
Bounty hunter Boba Fett's amour-plated dome has now also been given the Fairey treatment, with this eye-catching print sold by an eBay merchant known only as Maloot2 here. Eight A3 borderless prints are marshalled to form one imperious image of Fett staring out into the timeless distances of your Boho studio apartment.
The AP claimed Fairey had infringed on its copyright in his unsanctioned use of one its images. The pair settled in court. Fett will just blast you.
Action figures, carbonite, Moleskines
Moleskine Notebooks
Moleskine notebooks have enjoyed a renaissance in recent years among those trying to re-capture the lost, golden area of traveling European or US writers, thinkers and artists.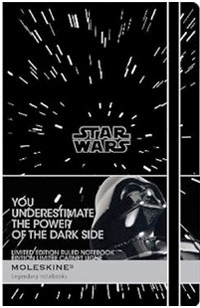 Today, tech companies have started getting in on the act, chucking out moleskines at their events, under some odd impression their words recorded in these books from a pre-digital world might carry more weight.
These pocket-sized books, however, are also a real must for that Jedi master or Sith lord in a galaxy far, far away, exploring the dusty planets of the Outer Rim, investigating a lost transmission or hunting down some Rebel scum. Whether it's jotting down his or her thoughts on how fear is the path to the Dark Side or sketching a design for the exhaust vents on that Imperial Death Star RFP, these Imperial- and Rebel-Alliance- themed notebooks are an essential back-pocket filler for any hard-thinking and slightly bookish fan of the franchise.
Yoda Christmas Tree lights
He couldn't prevent the rise of the Sith but from his self-imposed exile on the dank Dagobah, Yoda did succeed in keeping the light for the good side of The Force burning bright. It attracted Luke and changed his destiny. Now you can attract your friends and family to your Christmas tree also using the power of the force with these Yoda-themed tree lights.
Vintage action figures
Star Wars actions action figures have been through different incarnations. From the first reasonably accurate Han, Luke and Vader and cast by toy makers Kenner and Hasbro these characters developed a steroid problem in the 1990s, manifested by unfeasibly large Charles-Atlas-style pecs with huge, grippy hands in the Power of the Force range. Then came the experimental drugs, resulting in squat bodies and massive heads. Now, Hasbro is releasing "vintage" Star Wars figures that aren't just, well, actually recognisable figures but that also hark back to those first releases of the 1980s. You can also pick up the Kenner figures here. If only Hasbro would pass the "stop messing" memo to Lucas, too.
Han Solo in Carbonite Mimobot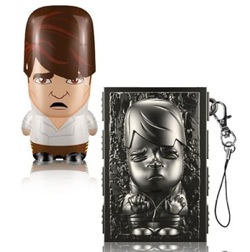 When you've got an elusive smugger who's always on the missing list, the best way to nail him down is chill his arse in some primo carbonite. Same goes for his little USB memory stick buddy.
This Han Solo Carbonite Mimobot gives you not only the rogue but also the carbonite block from Empire as a handy carry case to stop your 4GB or 8GB Han Solo storage stick getting lost. Crack open the carbonate and a defrosted Solo falls out into your warm hand. An added plus: Solo's packing a bunch of Star Wars content including wallpapers and desktop icons. ®