Original URL: https://www.theregister.co.uk/2011/12/12/review_dell_xps_14z_14inch_core_i5_notebook/
Dell XPS 14z 14in Core i5 notebook
Shiny, shiny
Posted in Personal Tech, 12th December 2011 07:00 GMT
Review Don't worry, the XPS 14z may be one of Dell's new "thin and powerful" range, but it doesn't fit into the superslim Ultrabook category so there's absolutely no need whatsoever for a gratuitous comparison with Apple's MacBook Air.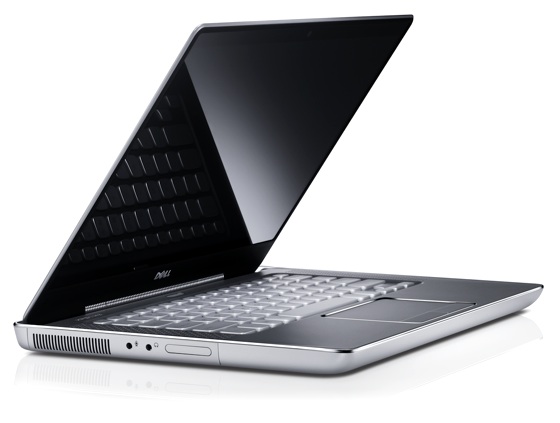 It's certainly a more stylish affair than the businesslike hardware I'm used to seeing from Dell. The silver-grey aluminium casing and curved edges give it a very smart and classy look, and the 14in unit is just 23mm thick, even though it houses a slot-loading DVD drive. It's not too heavy either, coming in at a whisker under 2kg.
Prices start at £799 for a model with a dual-core Core i5 processor running at 2.4GHz, 4GB of Ram and a 500GB hard disk, although the unit I tested had 6GB of memory, which bumps the price up to £849. There's also a Core i7 model that costs £999. Dropping the hard drive and adding a 256GB SSD take the price to £1299.

All the models in the range are equipped with two GPUs: a processor-integrated Intel GMA HD 3000 and a discrete Nvidia GeForce GT 520M with 1GB of its own VRam.
The stylish hardware design certainly makes a good first impression, but the Dell gets messy when you it on. Windows 7 boots quite quickly, but the screen then fills up with a plethora of bundled applications and utilities all demanding to be installed, registered and updated, or simply pestering you to do things like starting a back-up or connecting to next door's wireless network. Some of us do still use wires, y'know.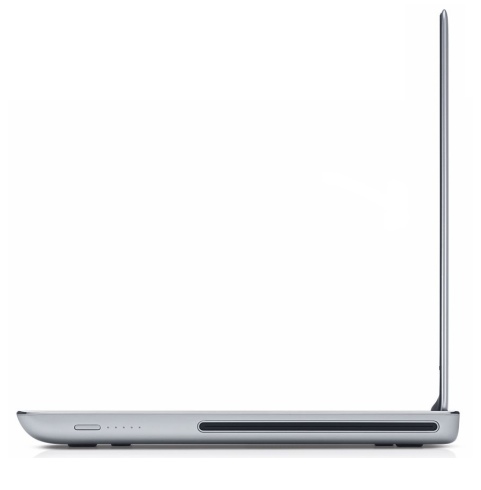 Some of these programs were so persistent that I had to use the MSCONFIG utility to turn them off, and even then there were odd bits of software randomly – and annoyingly – popping up on screen the whole time I was testing the machine. OEMs, stick to what you're good at, the hardware. Leave out the bloatware, please.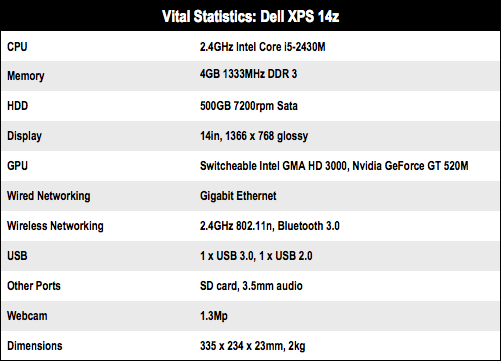 Thankfully, the user experience picked up after that. The 14in screen's 1366 x 768 resolution provides a bright, sharp image and worked a treat when I was streaming some episodes of Merlin off BBC iPlayer. The large speakers on either side of the keyboard provide a decent volume too, although I did find the higher frequencies a bit harsh when playing noisy guitar stuff.
The compact design means that the keyboard looks a bit cramped – especially with those big speakers taking up so much space – but it turns out to be solidly built and comfortable to use. My only complaint here is that the trackpad isn't all that sensitive and sometimes needs a firm prod in order to click and select items on screen.
PCMark 7 Results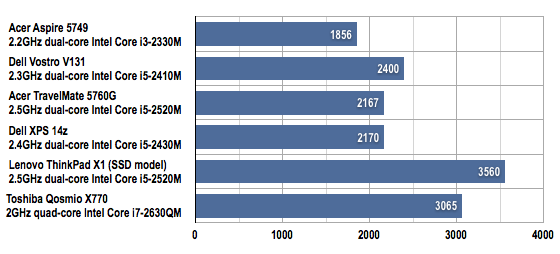 Longer bars are better
The use of a Core i5 processor means there's plenty of raw horsepower available, and the XPS 14z feels smooth and responsive in general use. But I wasn't wild about the decision to stick the USB ports round the back of the unit.
PCMark 7 Battery Life Test Results

Battery life in Minutes
Longer bars are better
The two GPUs mean that you can use the integrated graphics in order to maximise battery life, or switch to the faster GeForce when you need extra performance for gaming or Photoshoppery. It's good to have that option, especially in a machine with a mid-range price such as this.
And Dell has implemented Nvidia's Optimus technology, which automatically decides which GPU is appropriate for the task at hand and switches smoothly between the chips.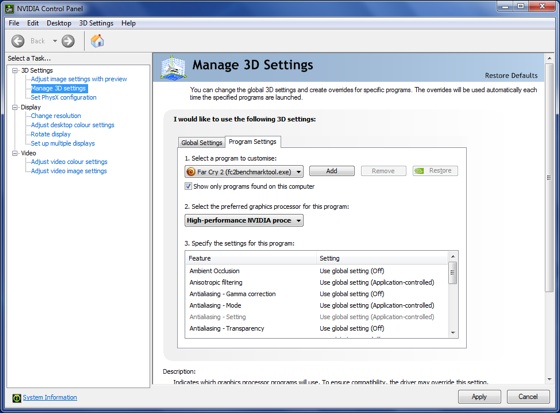 Choose which app uses which GPU - or leave it to Nvidia
The downside is that Nvidia's software maintains a list of which apps require each GPU. But it is possible to override Optimus using the Nvidia control panel. I fired up Far Cry 2 to see how the two chips compared. The integrated graphics produced a playable speed of 29f/s, while switching to Nvidia up that to 38f/s. I wouldn't describe it as a full-blown gaming rig, but it'll be more than adequate for casual gamers.
Battery life is decent too. Dell quotes an unusually precise six hours and 42 minutes on its website. I got almost exactly five hours when streaming Merlin off the BBC iPlayer, so lighter work such as web browsing and running productivity apps should give you closer to six hours.
Verdict
The Dell XPS 14z has one or two rough edges, but for the most part it's very neatly designed and provides good, strong performance at a competitive price. ®
More Notebook Reviews

Acer
Aspire
5749
Apple
MacBook
Pro 13in
Acer
Aspire S3
Lenovo
ThinkPad
X1
Dell
Vostro
V131