Original URL: http://www.theregister.co.uk/2011/12/07/review_owc_6g_mercury_auro_pro_express_solid_state_drive_ssd/
OWC 6G Mercury Aura Pro Express SSD
Speedier solid-state storage for your MacBook Air
Posted in Personal Tech, 7th December 2011 07:00 GMT
Review Macs were never made to be messed with. Apple has softened its approach to aftermarket upgrades in recent years, a little, making it easy to switch out both the memory and hard drive in most MacBooks made in the past couple of years. But the MacBook Air is still a bit of an upgrader's island - you can't even bump up the Ram as it's soldered to the logic board.
In fact, the only component that you can actually upgrade in the current generation MacBook Air without heating up your soldering iron is the SSD sitting inside.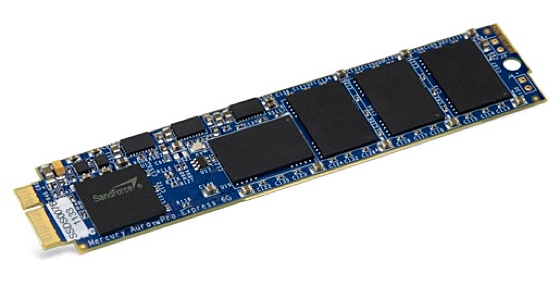 Configured for mSata
You've got to find a the right replacement - a standard 2.5in drive won't even fit inside an Air - but Apple's recent move to use the mSata (mini Sata) connector means aftermarket drives are at least an option. Which is where OWC comes in.
OWC has been maxing out Macs for years, although its MacBook Air SSD upgrade is probably one of its simplest upgrades to fit. If you can change memory modules, you are qualified for this upgrade.
The latest, 2011 Airs feature a 6Gb/s Sata 3 connector for the SSD, although the disk Apple supplies only connects at 3Gb/s. Apple also uses two SSD suppliers - Samsung and Toshiba - and, according to users, the Samsung unit is considerably faster than the Toshiba one. Which one you get when you order an Air comes down to pure luck.

Too skinny for a standard 2.5in drive
In order to take full advantage of the 6Gb/s link, OWC has the snappily named 6G Mercury Aura Pro Express SSD. This upgrade is purely about performance - the maximum capacity OWC sells is 240GB, which is actually 16GB smaller than a fully tricked out MacBook Air custom order from Apple.
That's because the OWC drive's Sandforce controller reserves that 16GB - it's called "over provisioning" - for its own use, to ensure there's always empty space to write data to, part of the way the chip mitigates Flash's knack of slowing down write performance as the drive fills up.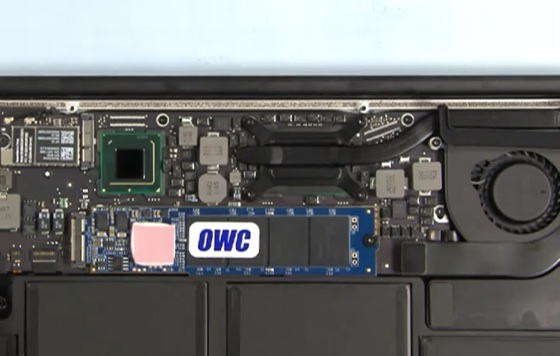 The new drive in place
OWC also makes a slower, 3G-branded drive as well, which goes up to the heady heights of 480GB, but at a price of $1079 (£690) is actually more expensive than the cheapest MacBook Air - $999 in the States.
The 6G OWC SSD is not compatible with earlier Airs than the 2011 models.
Easy to install
Given that you can't buy a MacBook Air without an SSD, you're probably wondering what to do with the expensive slab of silicon you've just taken out. As luck would have it, OWC also sells an external caddy that will take the old SSD and turn it into a speedy USB 3.0 external drive, although the lack of USB 3.0 support on the Mac means you'll be accessing through the slower USB 2.0 standard.
This kit can be yours for an extra $30 (£19) when you order it with a replacement SSD and it's definitely worth opting for as it makes setting up the new drive so much easier.
The MacBook Air case uses five-point Torx screws, rather than regular crossheads, and the SSD is held down by a different Torx screw. You can argue about Apple using non-standard screws in the comments section, but screws do hold the screwdriver much more securely and as a result at no point did the head slip out and scratch my MacBook Air during installation, as has happened to me on MacBooks with crosshead screws in the past.
OWC includes all the necessary tools, so you can get going straight out the box.
In terms of performance, the news is good and bad. First the good: for some things, the drive is blazingly fast, even compared to the Samsung SSD in my MacBook Air. Turns out I won the SSD lottery after all.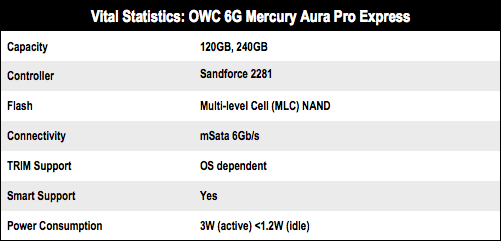 Speed up
The OWC drive saw sequential reads ranging from 38.21MB/s for 4KB files to 336.85MB/s for 1MB files, with an average of 204.62MB/s. The original MacBook Air SSD ranged from 29.59MB/s to 253.04MB/s for the same sizes, with an average of 151.55 MB/s.
Quickbench
Sequential Read Speed

Throughput in Megabytes per Second (MB/s)
Longer bars are better
Sequential Write Speed

Throughput in Megabytes per Second (MB/s)
Longer bars are better

Sequential writes were 35.36MB/s to 446.55MB/s, averaging 252.68 for the OWC, and 25.28MB/s to 232.12MB/s, averaging 140.33MB/s for the standard SSD.
Random reads were 23.21MB/s to 428.99MB/s, averaging 209.79MB/s for the OWC and 12.55MB/s to 226.83MB/s, averaging 102.42MB/s for the standard SSD.
Quickbench
Random Read Speed

Throughput in Megabytes per Second (MB/s)
Longer bars are better
Random Write Speed

Throughput in Megabytes per Second (MB/s)
Longer bars are better

Finally, random writes were 34.86MB/s to 445.86MB/s, averaging 236.48MB/s for the OWC and 24.33MB/s to 232.79MB/s, averaging 123.57MB/s for the standard SSD.
The bad news is that my machine also ran hotter with the OWC drive inside, and the fan began to kick in even for simple operations like using Chrome with five or six tabs open.
Verdict
There's no arguing the OWC drive is way faster than a stock SSD, but the question to ask yourself is really whether that increase in speed is of any real benefit to you. You'll also trade off fan noise, which is going to hit battery life too. It's not a cheap upgrade either, so it's really only worth doing if every ounce of speed is essential to you. ®
More SSD Reviews

Kingston
Technology
HyperX
Patriot
Wildfire
Samsung
Series 470
Intel 510
Crucial M4