Original URL: https://www.theregister.co.uk/2011/12/07/antique_code_show_rainbow_islands/
Rainbow Islands
Cutesy-cutesy
Posted in Personal Tech, 7th December 2011 10:00 GMT
Antique Code Show I know you played this. Admit it, darn you! Or at least you coveted it from afar as I did, watching my little sister Chloe play it and waiting till she fell asleep to sneak into her room to worship it's vivid iridescent rays - or as close as you can get with just 4096 colors!
Rainbow Islands is one of the most successful conversions from arcade to console, in my humble opinion. It's a simple cute platformer, not definitive of any genre or ground- breaking on any way, but totally addictive.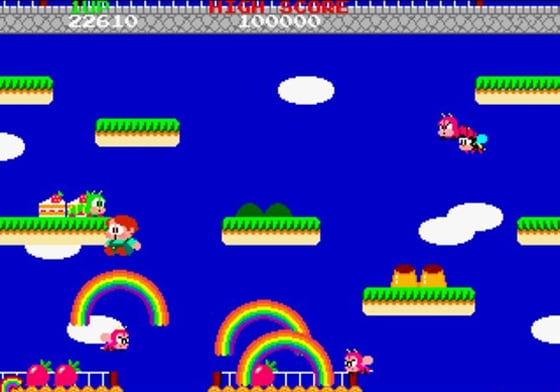 Takes the cake
I will always remember reaching the seventh island and getting killed in literally three seconds.
The idea behind Rainbow Islands is simple. Each level is an island which is slowly sinking into the ocean. By jumping on platforms and solid rainbows, I need to get to the top of the screen before I drown.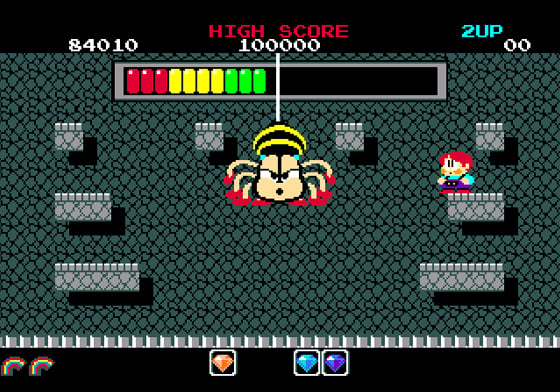 Friendly neighbourhood spider, man
Why do I remember Rainbow Islands so fondly, and why was it so popular?
Rainbow Islands was my friend, the geeky pal who talks too much and always has something new to show you and is annoying, distracting and demanding yet entertaining all at the same time.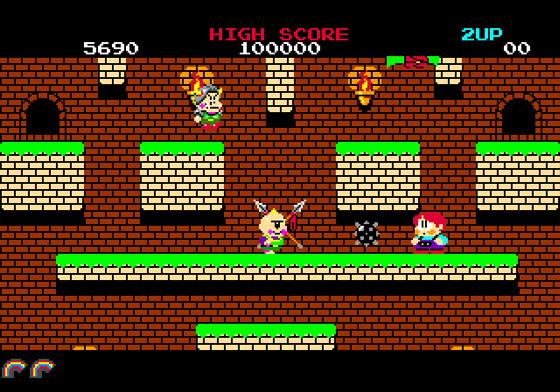 Brown among the dead men
A brash kaleidoscope of colour, populated with heaps of eye-bleedingly bright creatures, food and objects, Rainbow Islands lived up to its name and then some. You control a cute character of distinctly Mario-meets-Manga appearance that is attacked by equally cute baddies - caterpillars, bees and bugs, but also trucks and helicopters. DOUBLE CUTE FTW!
I land on the island
Though simple, Rainbow Islands wasn't easy. I was constantly working against the clock to avoid an adorable waterboarding session. Throwing double or even triple rainbows as weapons or platforms to stand on, I'm not to be messed with.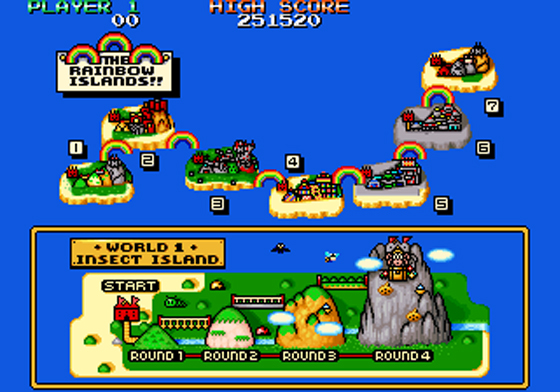 Island hopping
Fighting my way through the seven islands - including my two favorites, Monster Island, all full of bats, ghosts and skeletons, and the final level, Dragon Island - kept me amused for at least a year and was a welcome break from my dissertation.
I think the true success of Rainbow Islands was that there was a lot more to it than I suspected. Being able to access such a depth and variety of delicacies that being hidden levels or secret power ups, made the time I had to invest into it worthwhile.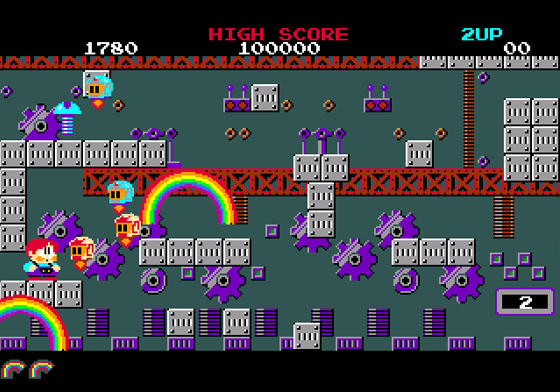 Wag the cog
Once I survived a level, I felt obliged to go back and try to score more loot the next time round.
I will always remember the evening I defeated the last boss on the final level, a massive Dragon, for the first time. I was euphoric. Just don't tell anyone I had to cheat and use unlimited lives.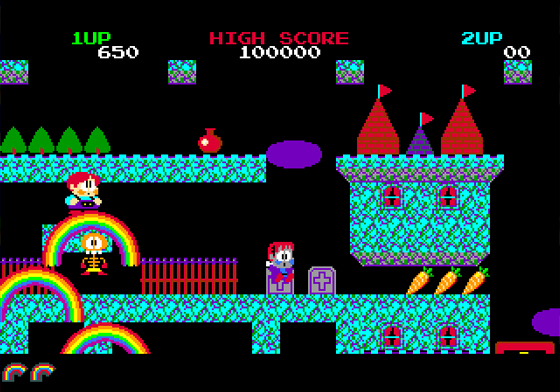 Fort in vain
Double cute and pretty pretty in the Nyan Cat sense of the phrase, Rainbow Islands is a classic in my house. These dragons aren't from Skyrim but if you want to ignore everyone this Christmas and don't fancy Star Wars The Old Republic I'm giving you another option. ®
Developer Taito
Year of release 1987
Platforms Arcade, Commodore 64, ZX Spectrum, Amstrad CPC, Atari ST, Amiga, NES, Master System, Game Boy Color, Sega Saturn, PlayStation, Sega Mega Drive, Mobile
More Info Rainbow Islands is still on the PC and the Nintendo 3DS. There's a BlackBerry version too.
More Retro Games

Doom
Lemmings
Flashback:
The Quest for
Identity
The Secret of
Monkey Island
X-COM UFO:
Enemy Unknown