Original URL: http://www.theregister.co.uk/2011/12/05/xmas_gift_guide_ebook_readers/
2011's Best... E-book Readers
For lovers of literature
Posted in Personal Tech, 5th December 2011 13:03 GMT
Xmas Gift Guide World+Dog might fancy a glossy, colour tablet, but for the more literary inclined an e-book reader will likely prove a more suitable option. Yes, they're not as flash as fondleslabs, but their screens are legible both indoors and out, and their batteries last an age between charges. And, to please the canny gift buyer, they're relatively cheap too.
Reg Hardware would recommend any of the following five e-book readers, but if we had to pick one... well, you'll find our Editor's Choice product on the next page. So, in reverse order of rating we have...
Bookeen CyBook Orizon

Bookeen's Orizon is getting long in the tooth, is bigger then most 6in readers, not only in size but also in price. But it has the requisite Wi-Fi connection, unnecessary Bluetooth and - for folk who were hoping to get a tablet this Christmas - has a touchscreen and accelerometer-driven screen rotation. Its 2GB of book storage is expandable too with Micro SD cards of up to 8GB capacity.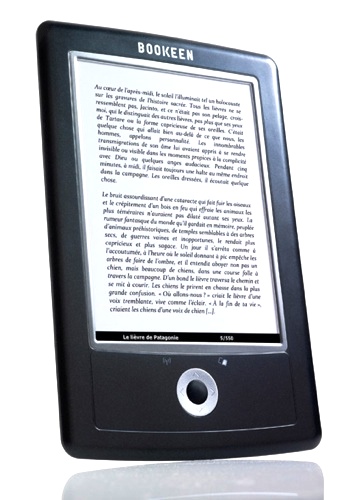 Reg Rating
70%
Price
£140
More Info
Amazon
Amazon Kindle Keyboard 3G

Keen to be able to buy a book anywhere? Then the third-generation Kindle - now renamed the Kindle Keyboard - is for you, thanks to its built-in cellular connectivity. If you can get a mobile phone signal, you can access the Amazon ebook shop and buy. And you don't pay any extra for the service beyond the cost of the reader and the price of the book. It has Wi-Fi too. The only snag: it's a mite more bulky than the higher scoring 6in readers, though it does have 4GB of book storage on board.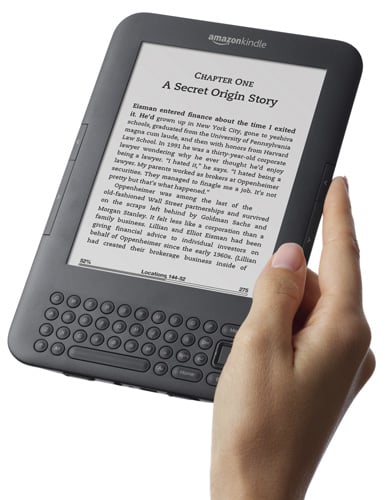 Reg Rating
80%
Price
£149
More Info
Amazon
WHSmith Kobo Touch

It's not quite as compact as the new Kindle, but it's 6in touchscreen makes it easier to use: just tap the screen to turn the page. Simples. And while all Kindles are tied to Amazon, the Kobo can handle DRM-protected e-books purchased from a variety of online suppliers, downloaded over Wi-Fi, and not just Kobo and WHSmith. Shame about the slightly girly, padded-look casing, mind.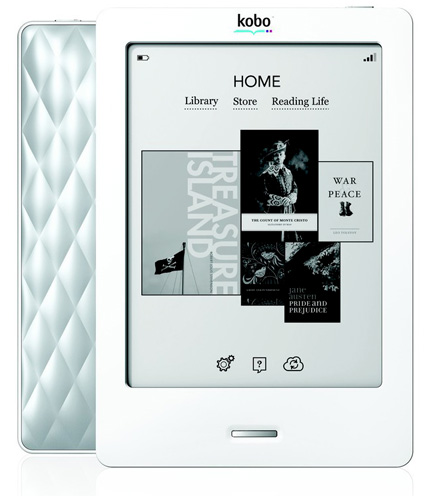 Reg Rating
85%
Price
£110
More Info
WHSmith
Sony Reader Wi-Fi PRS-T1

Sony finally gets over the off asymmetrical designs of its previous Readers - and adds wireless connectivity (802.11n) into the bargain. Like the Kobo, it supports Adobe DRM to work with various e-book shops, and if it's pricey in comparison with its rivals, it has an expandable memory - just plug in a big (up to 32GB) Micro SD card - and can play music. It's less cheap looking too. If it was only under £100 - £99.99 would do - it would be the winner here.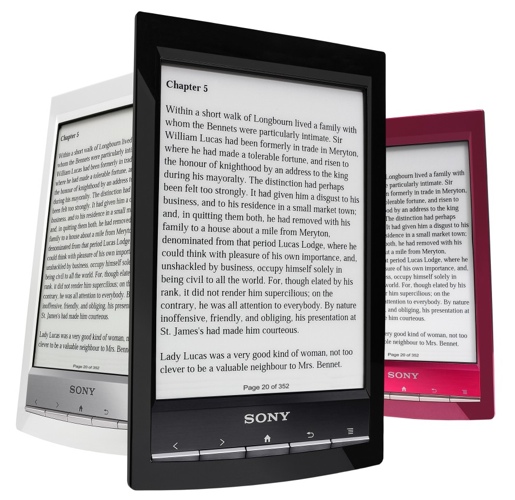 Reg Rating
85%
Price
£129
More Info
Sony
Amazon Kindle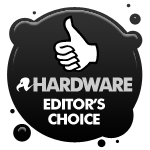 The latest reader from the online retailer, the new Kindle is thinner and lighter than its predecessors, and though it's less capacious too - 2GB of book storage - you can still get a lifetime's worth of e-books - downloaded over Wi-Fi - onto it. Yes, it's tied to Amazon, but who doesn't have an Amazon account these days? It has one of the best 6in e-ink screens around, and will slip into most pockets. Crucially, for these economically difficult times, it's only 89 quid.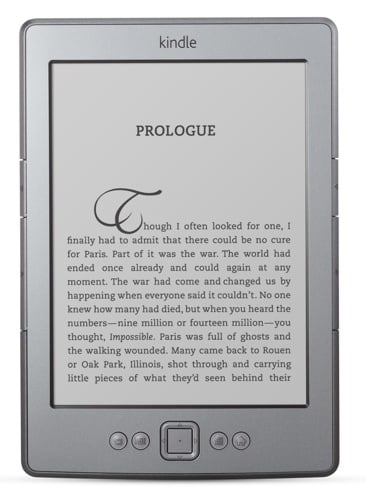 Reg Rating
85%
Price
£89
More Info
Amazon