Original URL: https://www.theregister.co.uk/2011/12/05/review_samsung_galaxy_note_android_tablet_and_phone/
Samsung Galaxy Note
Wee tablet, big phone? No, the ideal in-betweener
Posted in Personal Tech, 5th December 2011 10:21 GMT
Review With Android tablets starting at seven inches and phones now reaching just under five, something was bound to come along to occupy what little middle ground remains and blur the distinction between phone and tablet irrecoverably. That something is the Galaxy Note.
The Note is a fair bit taller and wider than your average mobile, but it's not much thicker. In fact, it's only seven-tenths of a millimetre thicker that an iPhone 4S. At 178g it's noticeably heavier than the Motorola Razr but it only gives away 14g to my HTC Desire HD.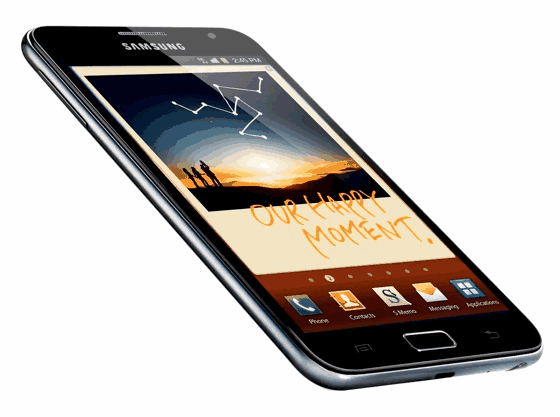 Hybrid: phone, meet tablet
This means that holding the Note single-handed is not an issue but using it so can be. No matter which hand you pick it up with, your thumb won't give you full coverage. So some judicious placing of shortcuts and re-ordering of dock icons will be in order.
The Note's killer feature is its screen. At 5.3in, the display is bigger than that of any other phone and, at 800 x 1280, it has more pixels too. The pixels-per-inch count of 285 doesn't quite match the iPhone 4S' 330ppi or the Samsung Galaxy Nexus' 316ppi, but lay the three side-by-side and there's not much in it to the naked eye.

Barely thicker than a regular phone
The words 'Samsung', 'Super' and 'AMOLED' are quickly becoming synonymous with display excellence, and that is certainly the case here. 'Bold', 'vibrant', 'sharp', 'crisp', 'saturated' - all these words can be used to describe the Note's display, but I'll stick to 'excellent' because that's what it is.
As with the HTC Flyer 7in tablet, all my preferred apps and widgets designed for phones with lower-resolution screens worked a treat on the Note. In fact, the only difference is that the screen is ranged 5 x 5 rather than 4 x 4, but that's no bad thing because it leaves room for more stuff.
The 8Mp camera on the back is none too shabby
The Note runs Android 2.3.6 Gingerbread with Samsung's generally inoffensive TouchWiz overlay. Until the arrival of an Ice Cream Sandwich update, Android isn't optimised to make full use of the Note's dual-core 1.4GHz processor but it still goes like the clappers, helped by a full gigabyte of Ram.
Style and stylus
The AnTuTu benchmark app returned a score of 6483 which is impressive enough - the Note is ahead of everything but the yet-to-ship Asus Eee Pad Transformer Prime - but rather more so is the Note's ability to play 1080p video irrespective of codec or container. Audio is equally well supported with the stock music player handling Flac files with aplomb.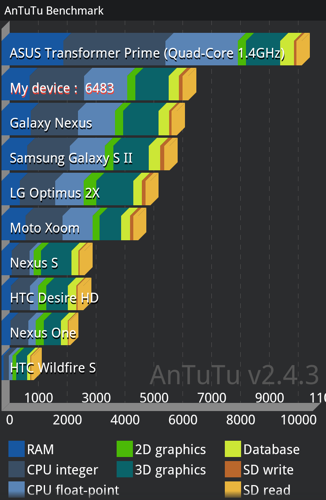 Internal storage is a reasonable 16GB with 2GB of that available to the user for app storage. If you need more space you can use a Micro SD card to add up to 32GB more. Unlike the annoying Nexus you can connect the Note up as a mass-storage device.
Stylistically, the Note is every inch a Samsung, which means it's a bit dull compared to the best from Motorola or Sony Ericsson. I'm not a fan of the physical home-button that Samsung seems wedded to. It looks old-fashioned and cheap, in my opinion.
To be fair, though, it's a very clean and solid device and Samsung has found space for a stylus bay at the bottom though it's a firm fit and teasing it out requires some careful work with a fingernail.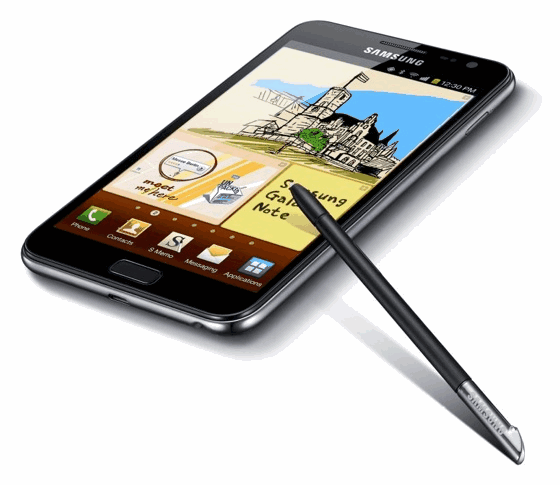 Scribble away
A stylus? Yes indeed. Whip out the pressure-sensitive Wacom-made digitiser 'S Pen' and you can write, paint, draw and doodle to your heart's content. You can even take and annotate screen grabs, which I suspect will be the most popular use. Grab an image of a map, circle a spot, scribble "meet you here" on it, save and send.
The bundled S Memo notepad software's handwriting recognition was a bit hit-and-miss too, but my penmanship is utterly terrible so that proves nothing. For creative sorts or kids, the Samsung app store has lots of free drawing and painting apps that work with the pen. I'd recommend Zen Brush to start with.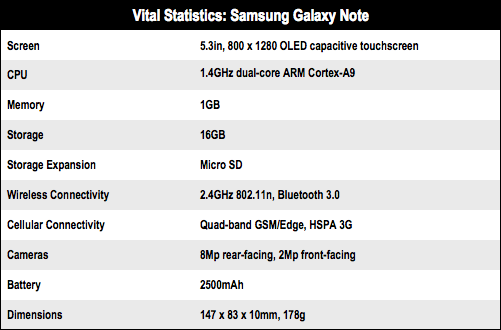 Galaxy Note Apps in Action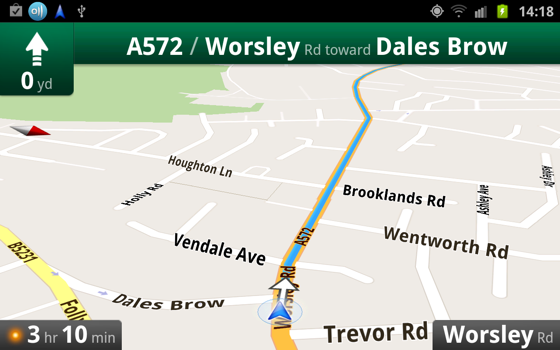 The Note makes one heck of a satnav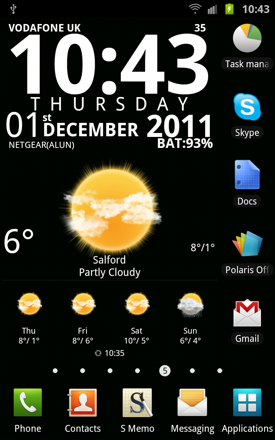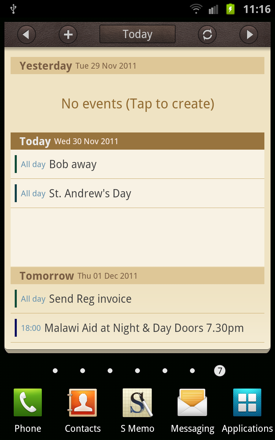 The Home screen's 3 x 4 widgets still leave space for more stuff (left). One of several handy calender widgets (right)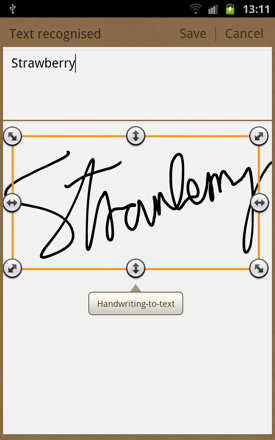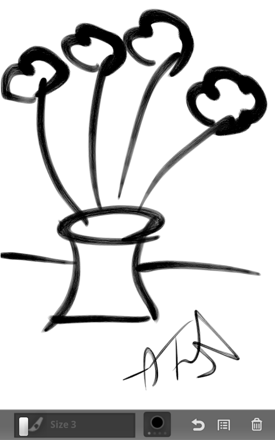 The Note will do handwriting recognition (left). Zen Doddle is a great sketching app to download (right)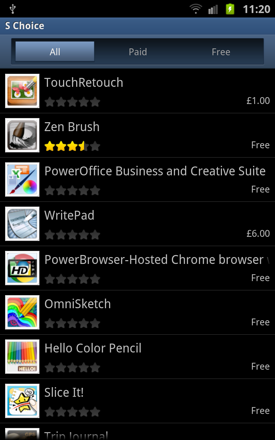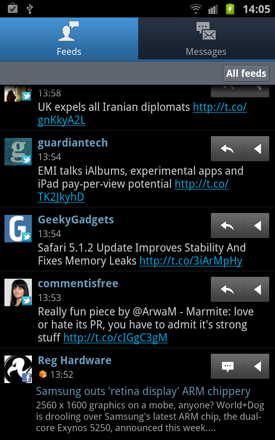 The Samsung Apps store is well stocked (left). Samsung's social media hub (right)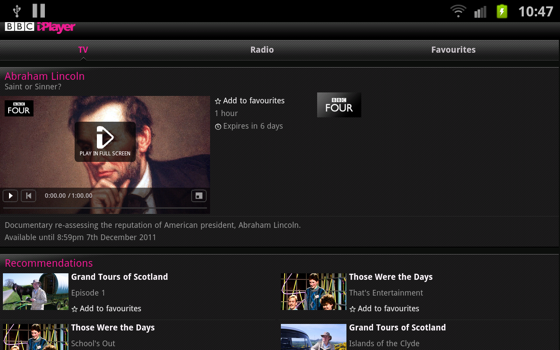 The Note is a brilliant BBC iPlayer player
Carry one device not two
Other than the stylus bay, the smooth exterior is only interrupted by a micro USB slot at the bottom, a 3.5mm audio jack on the top, and power and volume buttons on the right and left side, respectively. There's no HDMI, but if you have the right cables then the micro USB port supports Mobile High-Definition Link as well as USB On-The-Go.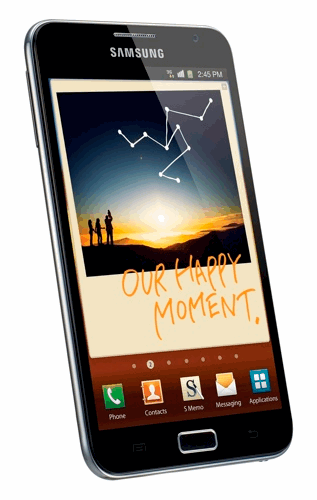 The main camera shoots at 8Mp and does a decent job of it while the forward-facing webcam tops out at 2Mp and supports Skype video calling. Video can be recorded up to 1080p and 30f/s with the main camera but not at all through the webcam.
As a phone the Note performs well, Dom Joly appearance aside. There's a good active noise cancellation system so people can hear what you're saying, and the speaker is clear and loud so you can hear them.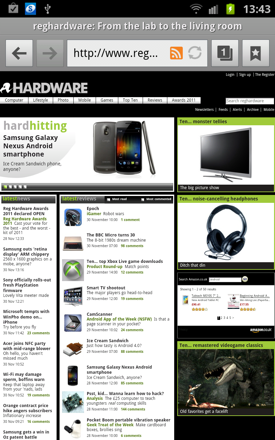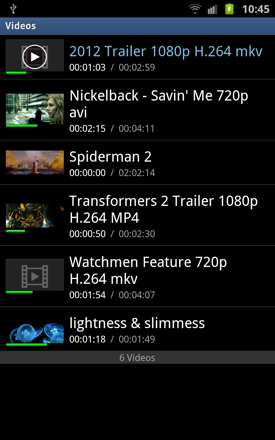 The big screen is great for browsing (left), and the Note will play HD video with ease (right)
Unclip the back and as well as the Sim and Micro SD card slots, you will find a removable 2500mAh battery which gives the Note a decent runtime on a full charge. Unless you cane it relentlessly, 48 hours of activity is easily achievable.
The fly in this so far excellent ointment is the cost. The buy the Note unlocked and Sim-free, you're looking at the thick end of £600, which is, to say the least, a lot.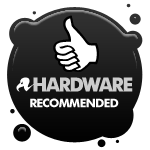 Or is it? The argument could be made that you're getting a device that will do everything a 7in tablet like the Acer Iconia A100 and a really good smartphone like the Razr can do and those two together will set you back around £700.
Verdict
For a mobile phone, the Note has a big old footprint but it's reasonably slim and not excessively heavy. It does everything you would expect of a high-end Android handset, but when it comes to all the other stuff we use our smartphones for, it leaves the competition for dead thanks to that huge, high resolution screen and the lightning-fast chip. ®
Thanks to Clove for the review sample