Original URL: https://www.theregister.co.uk/2011/12/05/idc_storage_software_3q2011/
Storage software sales strong
Second-largest revenue quarter
Posted in The Channel, 5th December 2011 17:42 GMT
Storage software sales for the third 2011 quarter were the second highest ever, with Hitachi recording the highest annual growth followed by market leader EMC. NetApp, Symantec and IBM grew less than the average though, with NetApp nearly flat at 0.3 per cent.
IDC said total storage software revenues were $3.5bn, 9.7 per cent higher than 2010's third quarter, and only exceeded by the first 2011 quarter, it being a good year so far. Fifth-placed Hitachi recorded 18.4 per cent growth with $140m revenues. The next highest growth rate was the 15.3 per cent attributed to the Others category with a total of $1,150m. Market leader EMC grew at 10.3 per cent to $847m. Third-placed IBM lagged the market, growing at 8.8 per cent to $485m.
Second-placed Symantec grew just 2.2 per cent to $530m while NetApp registered a mere 0.3 per cent increase to $304m. IDC didn't mention HP or CA, including them both in the Others category, but did say HP's storage software revenues grew 38.2 per cent compared to the third quarter of 2010, attributed to its acquisition of 3PAR.
IDC says the Archiving software segment grew at 12.2 per cent, while storage and device management software increased at 11.3 per cent. The largest category was data protection and recovery software, accounting for 34.9 per cent of total revenues.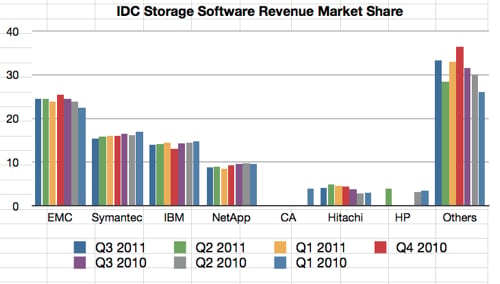 IDC storage software revenue market shares Q1 2010 to Q3 2011
The storage software market is pretty fragmented, with the "Others" category having 33.2 per cent of the revenue and EMC just under a quarter at 24.5 per cent. A graph of the main vendors' revenue market share shows EMC has been the leading vendor for at least the past seven quarters. In that time CA has declined into the others category and HP has appeared sporadically, but more than CA.
Hitachi has been growing its storage software revenues quite steadily, quarter-on-quarter, only to stumble this quarter. NetApp shows a gently but steady declining trend in its market share, as does Symantec and, less evenly, IBM. EMC peaked in the final 2010 quarter then fell back and has been flat for the past two quarters with a 24.5 per cent revenue share. Its overall trend over the seven-quarter period has been upwards however. ®