Original URL: https://www.theregister.co.uk/2011/12/01/review_viewsonic_pled_w500_projector/
Viewsonic PLED W500 portable projector
Travelling light
Posted in Personal Tech, 1st December 2011 07:00 GMT
Review Some pieces of kit take a long time to review. Particularly if they're very nice pieces of kit that you're reluctant to return to the PR agency. The Viewsonic PLED-W500 is just such a piece of kit.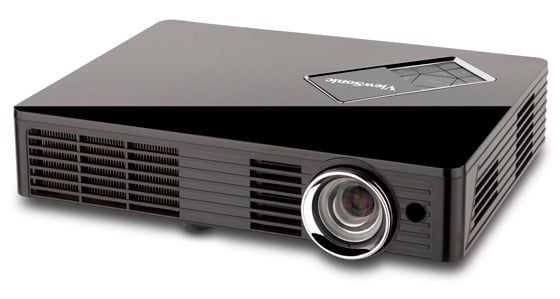 Take away display: Viewsonic PLED W500 portable projector
I've always liked projectors – the big screen, the sense that you're in a cinema in your own home. But projectors tend to be bulky, with fans that make their presence felt while cooling costly lamps that need replacing after a few thousand hours of use. By that definition the Viewsonic PLED-W500 hardly qualifies as a projector. But it is.
Viewsonic is touting it as an ultra-portable business beamer, something a rep or exec can take on the road for demos and meetings. Its WXGA 1280 x 800 native resolution is ideal for detailed presentations, and although 500 ANSI lumens doesn't look too bright on the page, in practice the clean, sharp image with a 6000:1 contrast ratio shows up clearly enough for use in diffused daylight.

Well connected
This thing is small: just 214 x 164 x 42mm and weighs in at a lightweight 1.18kg. You don't even need a laptop either, as the PLED-W500 has its own 1GB of memory and can display a variety of data types from a USB stick or SD flash card plugged in at the rear. Standard picture formats like PDF, JPG and BMP are catered for, as are Microsoft office document and PowerPoint formats. 3M's MPro range of pocket projectors have had such capabilities for a while now, but they're not as bright as the W500.
Instant start up and power down is an impressive feature, but here's something I've never come across in any projector before: it runs stone cold. The 500 lumens are provided by LEDs that are rated to run for 20,000 hours, and that's effectively the life of the kit. Yes, there is a fan in there, mostly blowing out cold air. So it's not silent in operation, but the noise certainly isn't intrusive. Slides can be changed from the remote control, which even doubles as a laser pointer.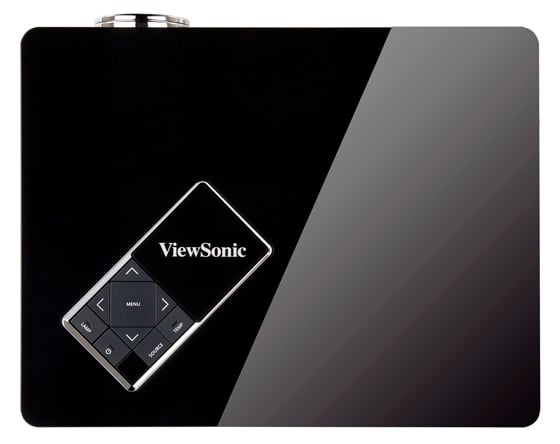 Cool running
So, costing around half-a-ton, with no lamp changes to worry about, the PLED-W500 ticks all the boxes for being written off as a business expense. Now the fun can begin. Don't tell HMRC, but this little job also doubles as a terrific home theatre projector.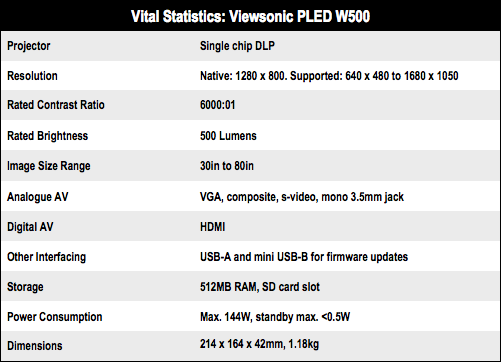 Rainbow worrier?
The codecs built in to the PLED-W500 can cope with regular AVI and MOV movie formats on a USB stick or SD card, but for home cinema viewing you'll probably want to hook up the projector to an HD TV tuner and/or a multimedia player. For my tests I used Viewsonic's own VMP74 digital media player connected using HDMI.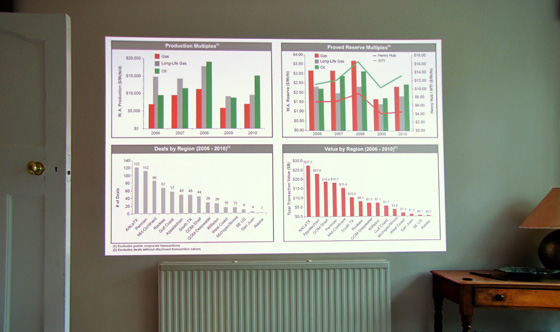 Lighting up the room
Frankly I didn't expect much. I was wrong. The colours are rich and deep, with accurate skin-tones, and the menu offers you the sort of picture control you'd expect from a dedicated home theatre projector at twice the price. If you're particularly susceptible to the "rainbow" effect characteristic of single DLP projectors you'll notice this hasn't completely gone away with LED illumination, although I didn't find it at all bothersome.

Takes SD cards and supports a variety of file formats so you can leave the laptop behind.
Auto-keystoning works to square off the picture accurately as you tilt the machine. At this price there's no lens shift and, alas, no zoom, so for any given projector-to-screen distance you're stuck with a fixed picture size. Luckily my sitting room seems to have been designed for the PLED-W500: at 125 inches from the blank wall I use for a screen I got a 100 inch diagonal picture that was perfect for setting.
Instant Home Cinema, for a price
Verdict
If you don't mind the missing bells and whistles (lens shift, zoom) and can hook the PLED-W500 to a sound system to substitute for the good-enough-for-presentation built in 2W speaker, here's a cracking good entry-level home cinema projector. At a bargain price, too, particularly if you cost in what you're saving on replacement lamps. ®
More AV Gear Reviews

Sony
HMZ-T1
3D headset
Samsung
PS64D8000
64in plasma 3D TV
Sony
VPL-HW30ES
3D projector
BenQ
W1200
HD DLP projector
Sony
BDP-SX1 portable
Blu-ray player