Original URL: https://www.theregister.co.uk/2011/11/30/hasselblad_h4_d_200ms_medium_format_multishot_camera/
Hasselblad H4D-200MS medium format multishot camera
Just what does a 200Mp image look like?
Posted in Personal Tech, 30th November 2011 14:04 GMT
Review Having an enviable reputation for excellence in the medium format film world, digital photography presented a whole new range of challenges for Hasselblad to maintain its position among commercial photographers. Yet after establishing its H-System digital cameras in 2002, the company has continued to innovate and adapt the system to every viable photographic sector.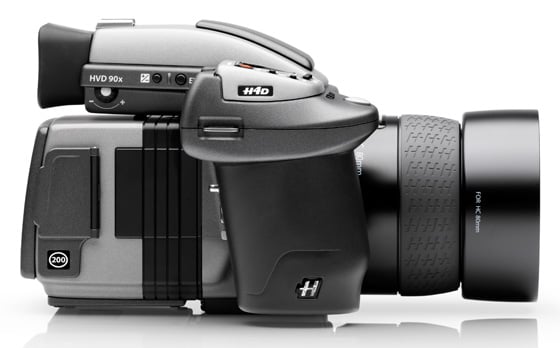 Hasselblad's H4D-200MS combines six 50Mp shots to make a 200Mp image
And if you need evidence of innovation, then look no further than the Hasselblad H4D-200MS released this year. It boasts a monster resolution of 200 megapixels. This amazing, almost scary creature was created to meet the needs of high-end commercial studio photographers – a small but lucrative market niche that is willing to pay for uncompromising image quality and the finest detail possible. Think: cars, art, jewellery, watches and architecture. The H4D-200MS price tag of just under £35k is, in itself, a statement of the results the company believes this camera is capable of.
So how has Hasselblad achieved what appears to be an impossible step up in resolution from the flagship model, the H4D-60 and its 60Mp sensor? In a nutshell the H4D-200MS builds on the Multishot technology first integrated into the H3DII-39MS in 2008, and currently featured on the 50Mp H4D-50MS. With the latter, multishot capture is performed with four successive shots taken to compose a single picture. It's a process where every individual pixel is separately and independently exposed to the red, blue and green.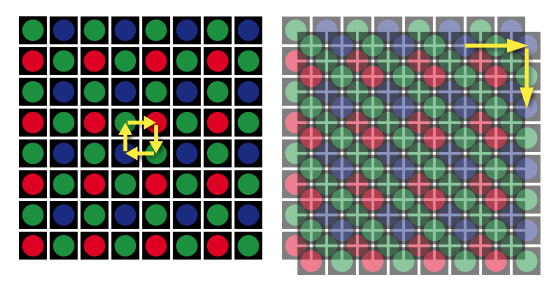 A combination of separate RGB capture per pixel (left) and half pixel shifts (right) deliver 200Mp images from a six multishot capture
Typically, a single shot camera detects one colour per pixel when gathering image information and applies interpolation of adjacent pixels of different colours, together with advanced algorithms, to produce the final image. Moiré and colour accuracy issues that can be a problem with single capture cameras, are minimal as multishot capture does away with this interpolation process that usually generates these artefacts.
Hasselblad has refined the multishot approach still further, expanding it to six shots, thereby filling even the tiniest information gap in between pixels. In practical terms the Hasselblad H4D-200MS camera takes six composite that include half pixel movements to capture the full colour information of the scene at four times the resolution of the H4D-50MS delivering mind-blowing results. If you want a more technical explanation, you can read it here [1.4MB PDF].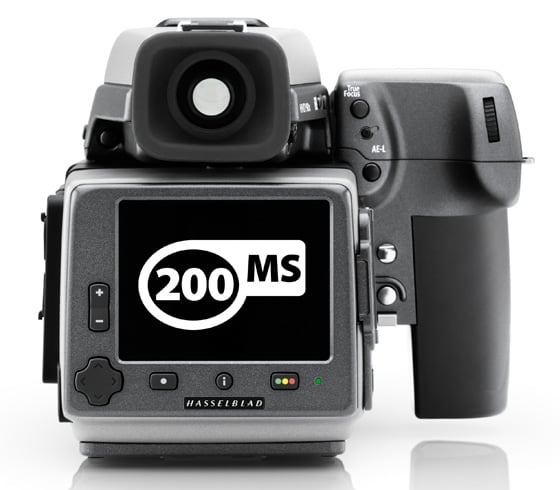 The multishot digital back screen isn't the largest as tethering to a computer is the way to go here
In terms of camera body the H4D-200MS is virtually the same of the H4D-50MS, namely, a large and heavy affair made even bigger than other H4Ds by the bulky presence of the Multishot sensor unit at the back. The camera does have quite a sizeable and ergonomic grip extending out of the main body but, truth to be told, the H4D-200MS should live permanently on a tripod.
Sensitive business
The Hasselblad H4D-200MS has a sensitivity range of 50-800 ISO although multishot users will almost certainly keep it on 50 ISO and let the studio lighting do the rest. Admittedly, architectural photographers may dabble with the sensitivity a bit more though. All the features of the H4D camera range, such as True Focus including the new Absolute Position Lock processor, Ultra Focus and Digital Lens Correction are here too.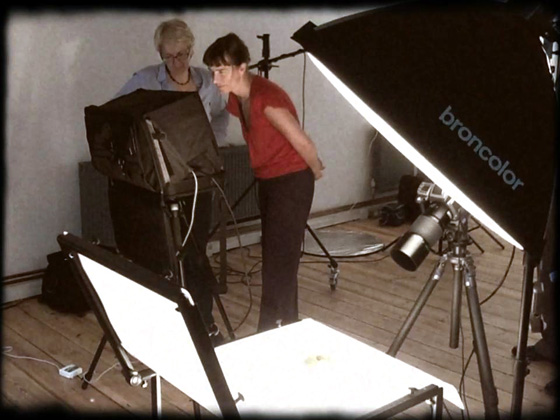 Studio session with Hasselblad's Nicky West and Catherine Monfils
Still from iPad 8mm HD camera app
The H4D-200MS can also function in three different capture modes to increase versatility. Apart from the 200Mp six-shot setting – intended for detail and accuracy – there's a single-shot mode for portraits or moving subjects with a maximum output resolution of 50Mp. For still life shooting and increased colour accuracy at the same native resolution, the camera can be instead switched to the four-shots capture.
I tried the H4D-200MS for half a day in a third floor studio. The provided set up included Broncolor lighting, with the latest Scoro A2S 1600 J generator, tripod and a studio assistant to build the set and to lend a hand with the camera. Nicky West, Hasselblad's Sales Manager introduced me to the technical workings of the camera and after some experimenting we were ready for the first shot with the camera tethered using FireWire 800 to a MacBook Pro running Hasselblad's Phocus software.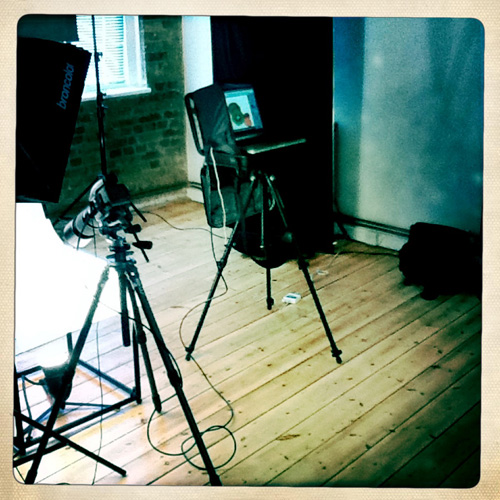 H4D-200MS tethered to a MacBook Pro with FireWire 800
Still from iOS app Hipstamatic
The promised marvels of the 200Mp medium format capture was something I couldn't wait to see. Indeed, the first shots were spectacular and not far from the stunning images of the advertising showreel. Yet, unexpectedly the outcome of the following shots taken proved more of a challenge. In four-shot mode, the results were pretty amazing but when the six-shot capture was activated the images became fuzzy. With the assistant we tried everything we could think of and spent some time retaking the same shots, alas, with similar results.
In need of a break and a clear mind, we switched everything off for a while. Shortly after we realised that the monotone hum that had constantly accompanied our earlier session had suddenly disappeared. And then it dawned on us that the fan of the flash head could be the culprit. The breeze and vibration from this fan, mild as it was, could obviously be picked up by the alignment system guiding the sensor into position therefore upsetting the otherwise razor sharp mechanism and resulting in the blur we observed.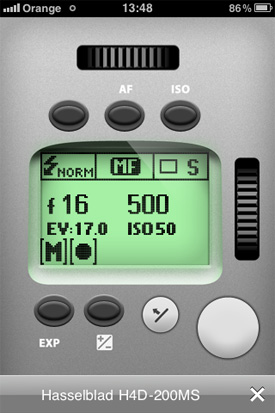 An iPhone 3GS running Phocus Mobile receives previews and camera controls over Wi-Fi
Enlightened, we switched off the modelling lights and proceeded with our shot: a miracle of definition, detail and depth took place right in front of my eyes. The images were not only sharper than sharp but they showed an impossible level of fine detail. Colour reproduction was superb and tonal gradation broad and smooth.
Sample Shots
HC 120 Macro f4 MkII lens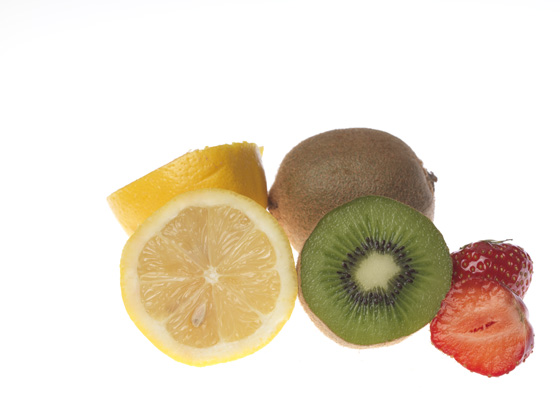 Click for 44MB zip of crops of single, four and six shot images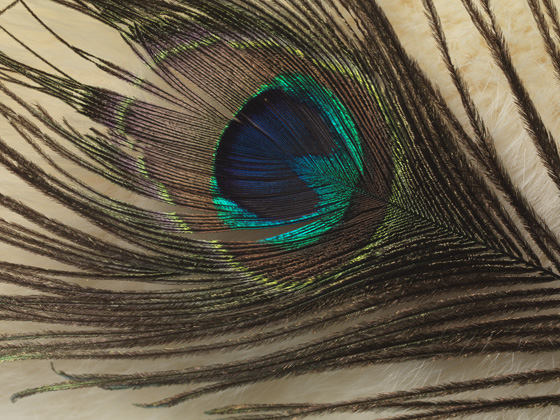 Click for 44MB zip of crops of single, four and six shot images
Click for 48MB zip of crops of single, four and six shot images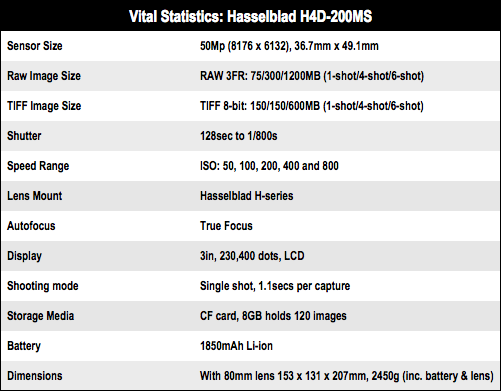 The big picture
The H4D-200MS will mostly be used for tethered shooting with Phocus and the Phocus Mobile iOS app certainly broadens the flexibility of such set-ups. From an iPhone or iPad you can access a range of functions such as focusing, live view, shutter and aperture. It can also trigger the shutter, for an ever growing number of remote capture operations. Besides preview images being conveyed to the app, there's also a virtual camera view giving you all the shooting and setting information showing on the actual camera display.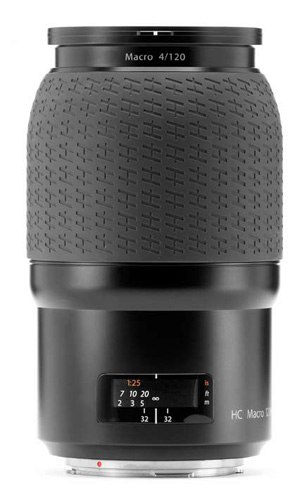 Hasselblad's HC 120 Macro f4 MkII lens used on the shoot
Naturally, given the little time I spent with the camera, its full potential and likely limitations could not be fully explored. However, what I could easily establish from my photo session is that the Hasselblad H4D-200MS is certainly state-of-the-art for still-life and studio photography and, in the right environment, is difficult to fault.
With four and six multishot images notching up file sizes of 314MB and 1.22GB respectively, you're going to need a fast computer with plenty of RAM to handle the camera's output in a busy workflow situation. Incidentally, Adobe's Lightroom supports Hasselblad's .FFF image format and has a growing range of profiles for H-system lenses too.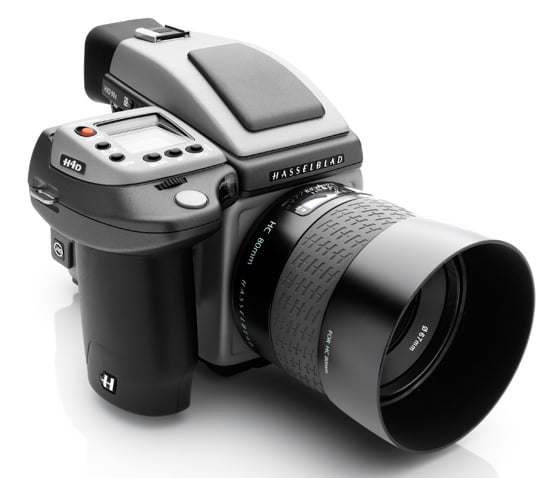 An eye-watering price, but a tempting investment for commercial photographers
Also, beyond the studio, using Phocus on a Core i5 iMac turned out to be workable, if not exactly swift, with image rendering taking 20 seconds or more when zooming in to 100 per cent resolution. It was reminiscent of running Photoshop 2 on a PowerBook back in 1993. Still, outputting native four multishot images to other formats took around a minute or so, which was bearable, but six shot captures took five minutes to deliver a TIFF, which goes to show why you shouldn't really be doing this stuff on an iMac.
Verdict
All in all, it is difficult to fault the H4D-200MS or Hasselblad's effort to raise the game in commercial photography arena. If you're already a Hasselblad user, then the company has trade-in deals that could put this system more easily within reach. And if you're tempted, Hasselblad has leasing deals, typically over three years, that turn out to be very tax efficient – you can even add the computer to the list and you get to keep the gear at the end of it all. Just make sure your sessions diary is looking busy but then again with a Hasselblad H4D-200MS installed as your studio shooter, you could get busier by default. ®
Catherine Monfils is a professional photographer specialising in portraiture, lifestyle and fashion.
More Camera Reviews…

Hasselblad
H4D-40
Pentax
645D
Leica
S2
Nikon
D3s
Hasselblad
CFV-39