Original URL: https://www.theregister.co.uk/2011/11/29/review_roundup_smart_tv_platforms/
Smart TV shootout
The major players go head-to-head
Posted in Personal Tech, 29th November 2011 12:00 GMT
Review It's about 18 months since I last rounded up internet-connected TVs - or "Smart TVs" as they're now being named by all the manufacturers these days. Since then, all the brands have upped their game considerably, and just about all of their offerings are much more powerful than the 2009 models I looked at last time.
As before, I've focused on the connectivity and "smart" aspects of the sets, not the picture quality, remote control, or screen size.
Although smart functionality is appearing on more and more sets, including some from the budget brands, I've concentrated on the most popular names, and looked at sets from LG, Panasonic, Sony and Samsung.
The TVs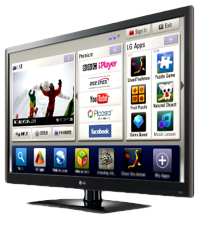 LG 42LV550
I reviewed the main brands' Smart TV offerings on the following tellies: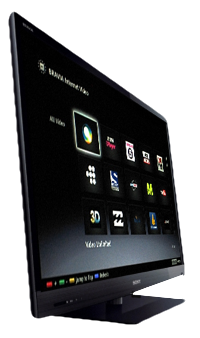 Sony Bravia KDL-46EX723
Of course, the companies' smart TV platforms are available on a wide selection of televisions, across a range of sizes and price-points. Their smart TV platforms are common to all these sets, though older models may have inferior versions which aren't always upgradeable to the new UI and feature set.
Some, such as Sony, also put the same UI and connected content features on their Blu-ray Disc players and set-top boxes. Reg Hardware will be looking at these gadgets' strengths and weakness as IPTV devices in the new year.
BBC iPlayer and catch-up TV
Eighteen months ago, BBC iPlayer was something of a rarity, largely available only on Freesat HD kit. Now it's something every manufacturer wants, and it's also rolling out on Freeview set-top boxes.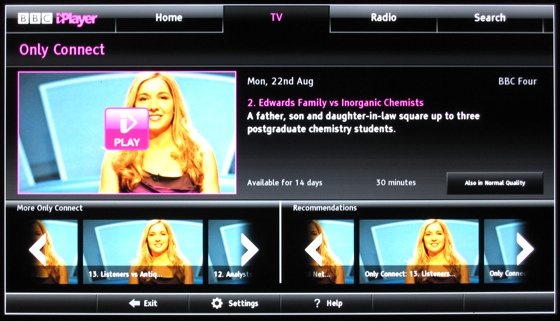 LG's iPlayer implementation makes good use of the screen, with plenty of graphics
All the sets I looked at incorporate iPlayer, though in the case of the Sony and the Samsung, what you get is really just the standard big screen version. It works, but there's no HD and it's a little basic – especially for a really large screen.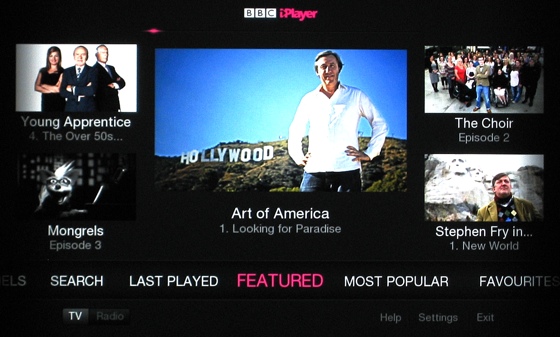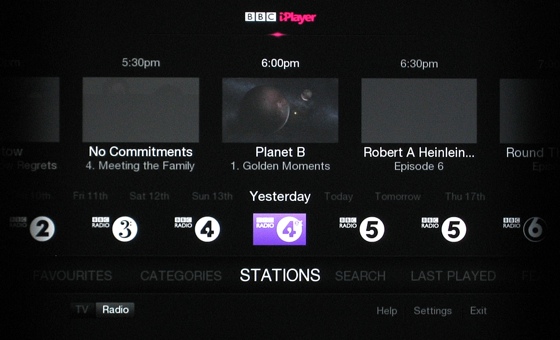 Panasonic's iPlayer stands out for good looks, and lots of features - including the ability to browse the timeline of radio stations
LG's offering is much more slick, but by far the best was the new Viera Connect implementation from Panasonic, which lets you do things like browse radio schedules, and provides richer graphics than the other sets. If you're a Beeb fan, this could swing the balance.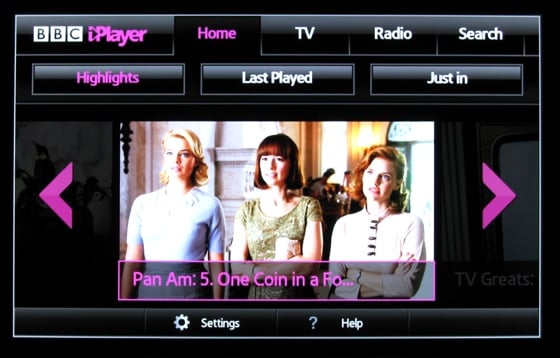 Like Sony, Samsung's iPlayer is the familiar 'big screen' version
On the other hand, if it's Channel 5 that you're keen on, then the Sony platform was the only one to have Demand 5 pre-loaded. It's a shame that the players for all the main UK stations aren't available yet – and that's one area where YouView, when it appears, is likely to score heavily over what's built into people's TVs.
Video on demand
With an internet connection, the theory goes, your TV could replace a cable or satellite subscription – so called "cord cutting". Whether or not it can do that really depends on what content is available - and at what price.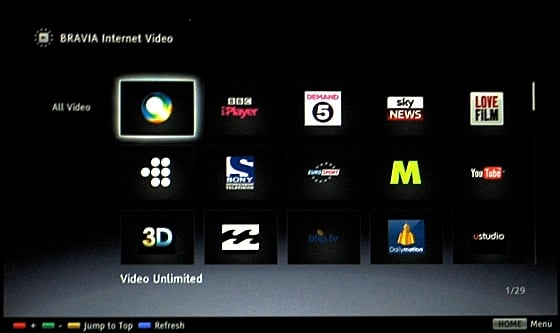 Sony's video selection includes LoveFilm as well as Sony's own Qriocity rental service
All the sets have some sort of VoD service, allowing you to buy or rent movies and TV programmes. But, we'd venture, none of them is quite ready to replace a pay TV subscription just yet. Sony has its own service, Qriocity, and LoveFilm, which is also found on Samsung and LG sets. AceTrax makes an appearance on all the TVs I looked at except the Sony, while Panasonic also adds BigFlix for Bollywood movies.
LG offers access to content from Cartoon Network, Box Office 365 and less mainstream channels, like StuffTV, while Samsung has BlinkBox, Cartoon Network and Box Office 365. My impression is that the Samsung will give you the biggest range of real programmes and films to watch.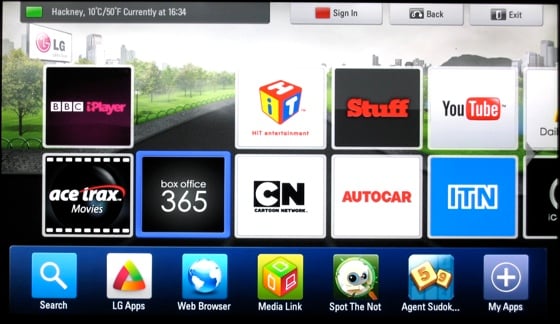 There's more video available than LG's main menu might make you think
But it's not always that straightforward. LoveFilm's online catalogue is available only to subscribers, so you'll have to pay at least a fiver a month to be able to access it.
AceTrax, on the other hand, can be used with no monthly commitment, so you can just pay as you go. But neither is going to make you go 'wow' at the selection. Dive into the Science Fiction category of either and you'll probably wonder why there are only a handful of screens to browse through – many of which include films that made me think, 'Why's that in this category?'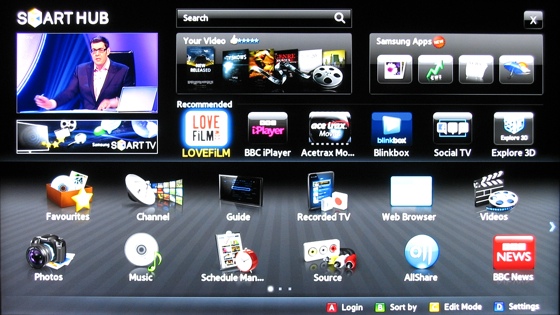 Samsung's main menu looks cluttered at first, but turned out to be the easiest to use
And a lot of films seem to be available to buy only, rather than to rent, which can be doubly frustrating.
Samsung may – for now – be the winner in terms of breadth of content, but at the moment, video on demand is really just filler for when you can't find something to watch. It doesn't yet have a big enough catalogue to make you cancel a Sky or Virgin subscription, or ignore terrestrial telly.
Social media
Some would argue that Twitter could be very handy in a Smart TV, allowing you to follow the hashtag for the programme you're watching. But, sadly, it seems as if none of the sets with Twitter can cope with this.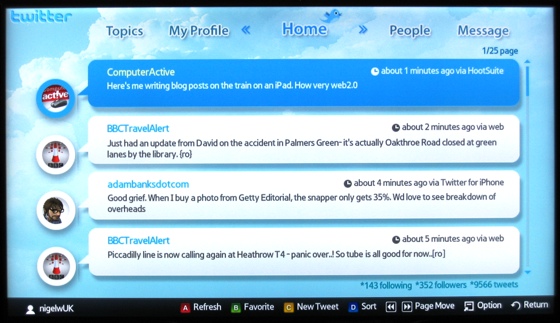 A full-screen Twitter client - here on the Samsung - is rather missing the point
The main Twitter clients on Panasonic and Samsung, for instance, are full screen. And while the 'Social TV' app on the Samsung can run Twitter in a side panel – like the widget on the Sony Bravia sets – it's still not possible to follow just a single tag.
Similarly, Samsung's YouTube client is a bit of a let down, with no support for favourites and just a basic search. Panasonic's might not look slick, but it will pick up material you've market as a favourite on the PC.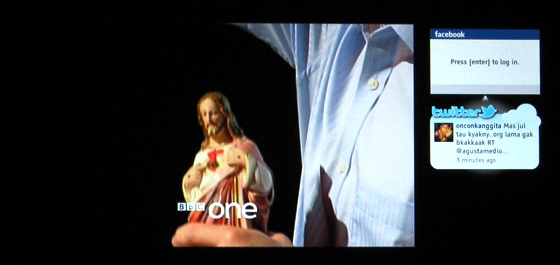 Sony's Twitter widget sits at the side of the screen while you watch
Overall, functionality for services like Facebook and Twitter, on all the platforms, really comes across as more of a tick-box exercise than a serious attempt to integrate social media with TV.
DLNA
All the sets were tested on a network with a Synology server loaded with a range of films. Given the numerous container formats, and the many, many codecs they may include, it's impossible to be completely comprehensive, but all the sets played back standard DivX video without any problems, as well as MP3 audio.
We also had no problems with MKV files on any of the sets, with the exception of the Sony, which simply didn't display them in the file browser.
If you're playing with MTS (AVCHD) files, the Panasonic and Samsung sets worked flawlessly; the LG and Sony both had problems with one of our files, and the Sony wouldn't play a DivXHD file either. None of the sets was happy with HD clips that used WMA for audio, leaving WMV HD clips silent.
Overall, the Samsung was the most reliable for playing back network media files.
Ease of use and interface
Content and functionality aren't the only important elements of a "smart" TV - ease of use is key, too. All the sets were pretty much plug and play in terms of getting on the network. Accessing the smart TV functionality is a press of the button.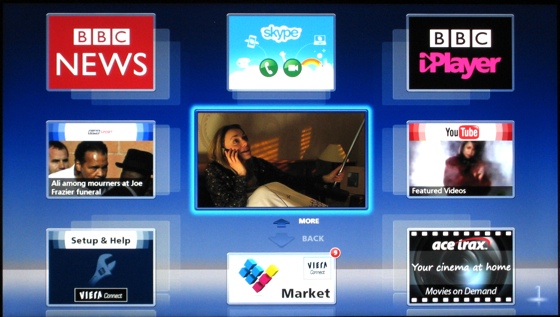 The VieraConnect home screen is simple – perhaps too much so, necessitating multiple levels
But while LG, Panasonic and Samsung have a single interface for all their connected functions, the Sony set still uses a modified version of PS3-oriented XMB interface, which is not ideal, and results in a fragmented experience – there are top-level menu items for Bravia Internet video, Qriocity, Application and Widgets, which just seems unnecessary.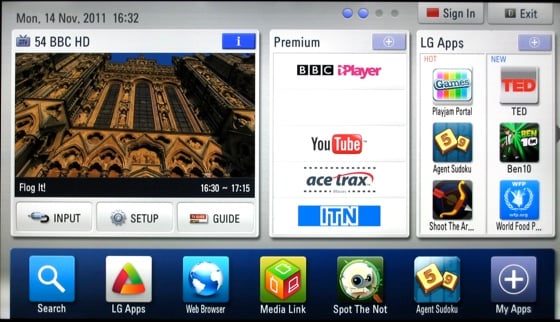 LG's main menu looks neat, but hides a lot of content
Panasonic's is perhaps the cleanest interface, with its rigid grid unchanged from the VieraCast days, but having to move in and out through 'levels' to find things can be a bit annoying, unless you rearrange all the icons to put the things you want on the first screen.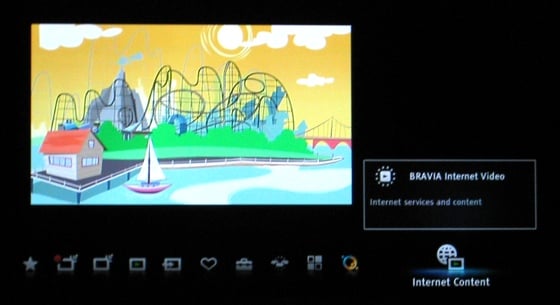 Sony's set suffers from a slightly tweaked version of the XMB interface, with too many top level options
Despite the rather busy appearance, the Samsung turned out to be the easiest to use, even including DLNA access in the main menu, with the LG a very close second. That said, I did find the process of having to register a Samsung account, then link it to Twitter, before I could access Twitter on the TV, a little tedious.
Smart choices
If BBC iPlayer and a bit of network media playback are all you are really concerned about, then just about any of the main brands of smart TV will do the job. They'll all also give you a fair bit extra that you can watch when there's nothing decent on the TV at Christmas.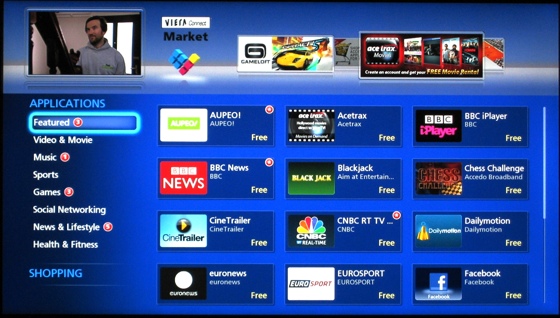 The VieraMarket allows for future paid-for applications
There's a lot more content available online now than there was when I last looked at connected TV sets, and the launch of YouView next year shoul spur manufacturers on to add even more – in particular catch-up for the main broadcasters, giving every set BBC iPlayer, ITV Player, 4oD and Five on Demand.
In the meantime, and despite below-par BBC iPlayer and YouTube implementations, for breadth of online content, best DLNA compatibility and ease of use, the clear winner is Samsung's SmartTV platform. ®
Reg Ratings
Sony 70%
Panasonic 75%
LG 75%
Samsung 80%