Original URL: http://www.theregister.co.uk/2011/11/29/review_ice_cream_sandwich_google_android_4/
Ice Cream Sandwich
Just how tasty is Android 4.0?
Posted in Personal Tech, 29th November 2011 07:00 GMT
Review No new version of the Android mobile operating system has been quite so eagerly awaited as v4.0 or Ice Cream Sandwich as it's more colourfully known. The reason is not hard to explain: Android has streaked ahead of iOS in the bums-on-seats stakes but there is still the feeling that the user interface lacks the polish and grace of Apple's mobile platform.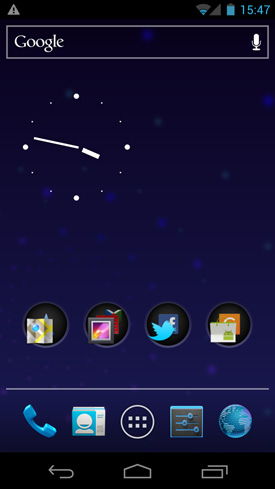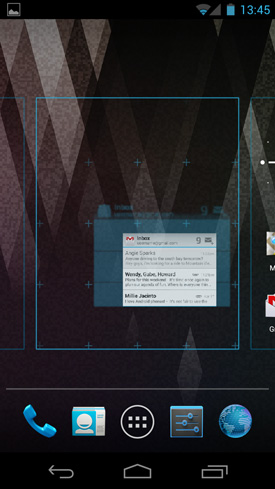 Homescreen and Honeycomb-style blue border show when moving icons
ICS is also charged with unifying Android's look and feel across both phones and tablets and those devices likes the Samsung Galaxy Note that are a little bit of each. You could say that ICS is what v3.0 Honeycomb would have been had Google not rushed it out to try to compete with Apple's iPad.
Let's start with the looks. You'd have to be blind not to see that in terms of design, with its Honeycomb-like theme, ICS is a quantum leap forward over previous incarnations of Android. Taking inspiration from iOS and WinPho 7, the UI is now replete with visually pleasing animations that give the impression that the UI is alive to your touch. This new look is most obvious when adding or removing home screen items.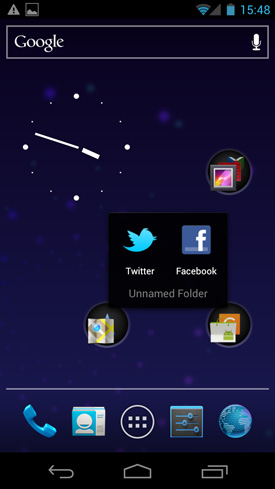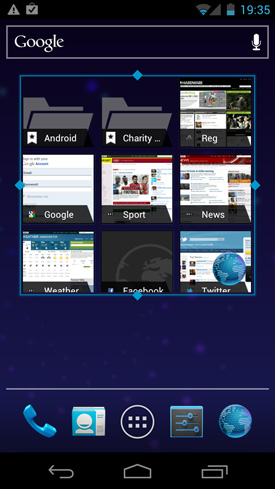 Folder contents and resizeable widgets
This process is now accompanied by the appearance of blue border lines and icon corner markers, just as it is in Honeycomb. Sadly you can no longer add things with a simple long-press on the screen but only from the app tray which now also scrolls into a widget catalogue.
Once you've found and placed your widgets ICS now lets you re-size them, a major step forward and the Honeycomb feature I welcome the most. With the screen now playing host to a row of virtual system buttons – as well as a five-button dock – you need to get used to the complete absence of fascia controls, be they touch sensitive or physical.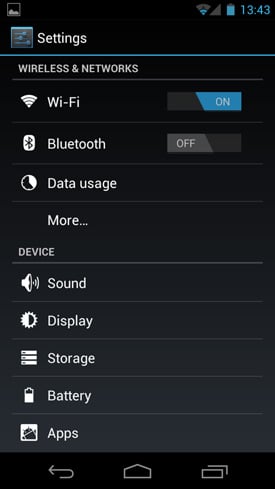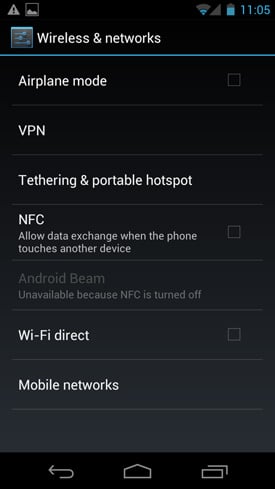 Settings and networking
Aesthetically, this will make for much cleaner handset designs with a higher screen-to-phone size ratio but it makes me wonder how ICS will look on existing handsets that already have fascia buttons. The traditional Android search/menu/home/back buttons have been replaced with a Honeycomb-style offering of back, home and running apps. The search bar is now a fixed widget present on all your home screens.
Background info
The menu button now migrates around the screen depending on context and app. Sometimes it appears in the app menu bar at the top, sometimes at the bottom and sometimes next to the running apps window in the system bar. Call me old fashioned by I like a menu button that stays in one place.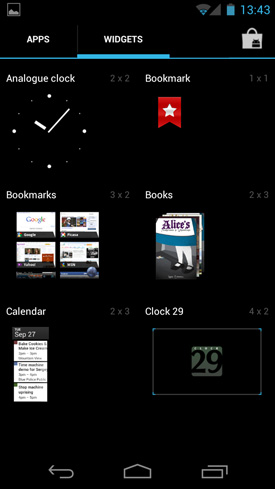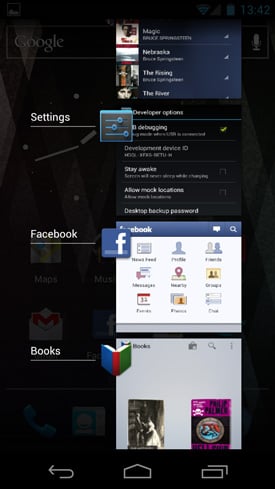 Widgets selection and recent apps listing
The big advantage of this new arrangement is the ability to see what apps are currently running in the background and then swipe them away to close them down. This option to swipe away is carried over to the notifications bar, where you can clear alerts individually.
If, like me, you spend far too much time pondering home screen organisation, you will applaud the option to nest apps inside folders simply by dropping one app icon onto another. Once created folders can be renamed as you wish. This has been a feature of iOS for a while but the way ICS layers the app icons in the folder cover is a neat twist.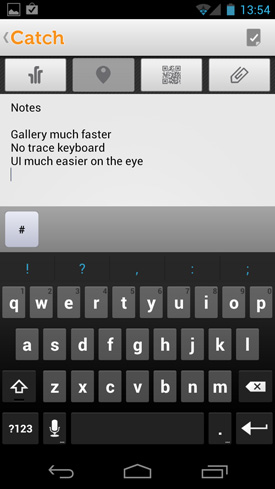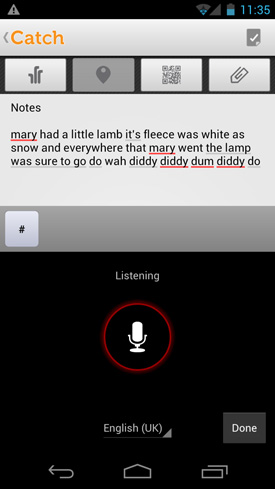 Type or talk
The virtual keyboard may not look that different from the v2.3 Gingerbread implementation but it's much easier to use and now has that same degree of uncanny accuracy the iOS keyboard is blessed with, complete with pop-up letters to tell you what you have hit.
If you prefer to talk rather than type, and no doubt with an eye on Siri-bashing in the future, the voice recognition system has been improved. Rather than waiting for you to finish speaking the system now deals with what you have said while keeping on ear open for anything new. In effect, you can rabbit on interminably and Android will keep up.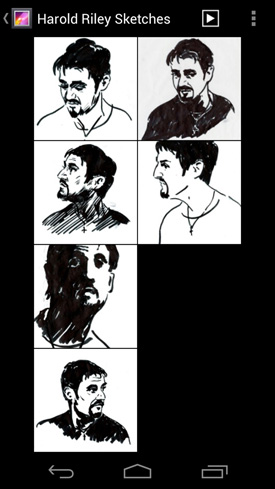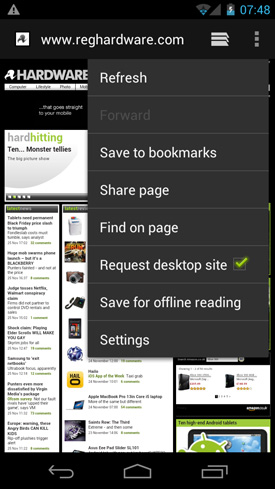 A more responsive gallery and browser tweaks
The new photo gallery not only looks better but it works faster. Much faster. Assuming your data connection is up to snuff, your Picasa gallery thumbnails appear as fast as they do from local storage. The system's ability to see newly added media has also been improved so you no longer have to sometimes wait for files to appear.
Visual contact
The Android web browser has also been given a good going over. It has certainly gained a bucket load of extra speed and, at long last, an option to render web pages in their desktop format by default. Pages can now also be saved for off-line reading directly from the browser menu.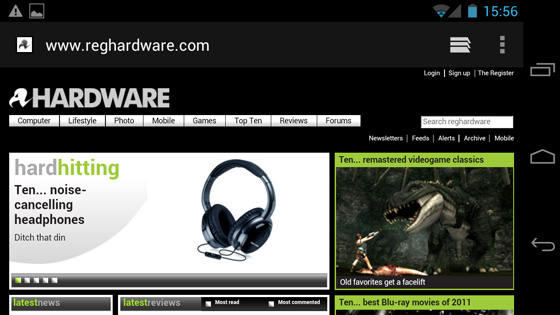 No Flash on the browser as yet
Navigate to the camera app and you move from the Gingerbread stone age to the Ice Cream Sandwich 21st century. The new interface is much improved and comes with a built-in panorama mode that works surprisingly well. Tap the screen while shooting a video and the camera takes a still capture which is a feature I can see coming in handy.
Outside of Gmail and Google+ ICS is still rather weak on the e-mail and social network front. The e-mail client has been warmed over but every time I tried to open the combined inbox, the app crashed. Also, my Samsung Galaxy Nexus handset wouldn't let me add my Facebook account, so I can't tell you how well that integrates into the new contacts app called People.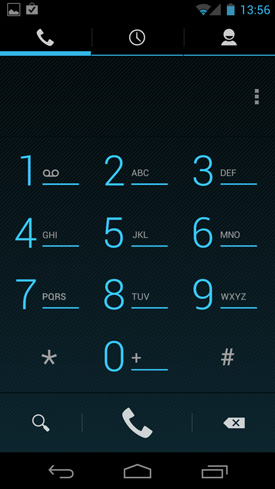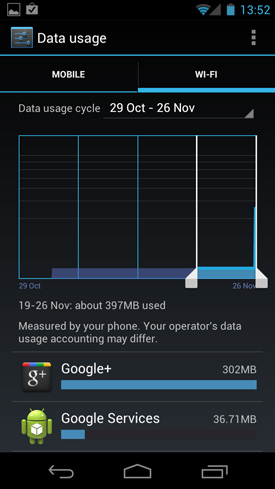 The dialler is a bit humdrum, but data usage is on-board now
When it comes to wholly new features there are a couple of interesting additions to the Android playbook. Pride of place goes to Face Unlock which uses facial recognition to unlock the handset. Impressively, the system never failed to recognise me as the authorised user but equally was never fooled by anyone else's fizog or even by a large picture of yours truly.
Android Beam and Wi-Fi Direct are a couple of systems designed to let Android users share their goodies peer-to-peer either between NFC-enabled handsets or over a Wi-Fi connection. I've yet to be convinced about all this NFC malarkey but Wi-Fi Direct certainly has its uses.
Verdict
With Ice Cream Sandwich, Android moves its game on by the greatest degree yet. In terms of look and feel it is now hard on the heels of iOS and well ahead of WinPho 7.5 and BlackBerry 7. The new look will also raise the question of do we need third-party overlays anymore? I'd argue 4.0 has made them redundant. The web browser, keyboard, camera app and media players have all been given a thorough brush up and are now not only nicer to look at but faster and easier to use. My only complaint is that migratory menu button and nailed-on Google search widget but I suspect I'll learn to live with both. ®
Thanks to O2 for the loan of the Samsung Galaxy Nexus handset.
More Smartphone Reviews

Samsung
Galaxy Nexus
Nokia
Lumia 800
Ten… Androids
to outshine
the iPhone 4S
RIM
BlackBerry
Bold 9900
Apple
iPhone 4S