Original URL: https://www.theregister.co.uk/2011/11/29/jet_man_flies_over_alps_again/
Strap-on thruster daredevil shows off Swiss peak formation
Pocket rocket man can't get enough high-altitude Alps antics
Posted in Science, 29th November 2011 09:33 GMT
Pics A man strapped to small jet pack has flown over the Alps - again. It's the second time that Yves Rossy, known as the Jet Man, has propelled himself over the famous mountain range with a four-engine rig bolted onto a 6ft 6in wing.
This time round he flew in formation with two Albatross aircraft and managed a soft landing with a parachute.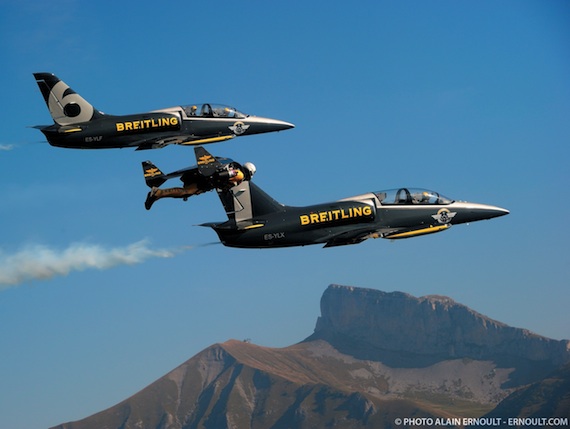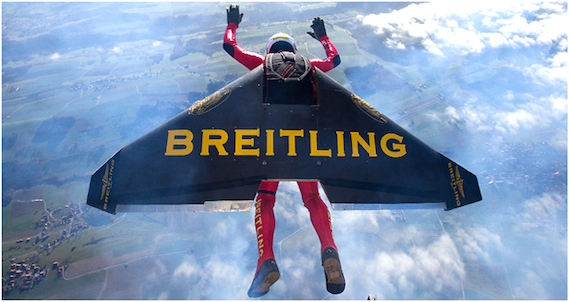 Cruising in formation with two Albatross planes
Rossy has been propelling himself over natural landmarks since 2008, when he first took on the Alps and flew across the English Channel. He made it across the Grand Canyon in 2010, though an unsuccessful attempt to cross the Straits of Gibraltar in 2009 led to him plunging ingloriously into the sea.
Jet Man's personally designed contraption weighs 120 pounds and can get up to speeds of 125MPH. The Register has followed the career of Rossy with interest. Here was our original run-down on the unusual kit required to send the Swiss thrill-junkie into the sky.
Today's wing is a rigid carbon-fibre job, extended after Rossy jumps from his drop aircraft by a gas piston. The four miniature jet engines are cased in kevlar, to prevent the dashing birdman from being riddled with high-velocity debris in the event of a turbine coming to bits. A flame-proof suit is necessary to avoid burns from the hot jet exhaust.
Sadly, Rossy's backpack rockets won't let him take off from standing, which means he has to be dropped from a plane or helicopter.®