Original URL: https://www.theregister.co.uk/2011/11/29/digital_audio_history_part_two/
How digital audio ate itself ... and the music biz
Part Two: The attack of the clones
Posted in Policy, 29th November 2011 13:00 GMT
Special Report In the first part of this series, we looked at how digital audio emerged in the studio, going beyond its Compact Disc domestic debut. As Moore's law impacted on the cost of digital audio recording, studio techniques were emerging to add colour to this transparent medium – first in hardware, then in software. Digital signal processing went beyond the studio and landed on everybody's desktop. The creative and corrosive consequences of these developments are explored in this final part.
In the 1980s, as digital recording developed, the technology quickly began to lead a double life. In the studio, in its more orthodox guise as a replacement for analogue tape, it could capture whole performances with pristine clarity. Yet being digital, the means existed for this audio data to be recorded to RAM for instant playback and much, much more.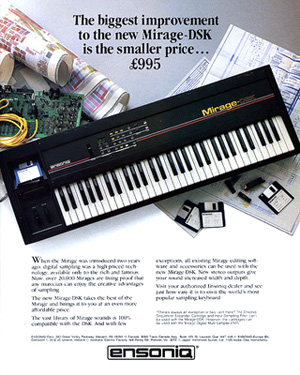 Akai built better samplers but the low-fi Mirage won on price
Admittedly, even a second or two on early samplers was an achievement, but once in the digital domain, this audio could be trimmed, reversed, looped, pitched and mapped across a keyboard. Notes from instruments that proved difficult to synthesise, such as convincing piano sounds, were sampled with gusto. Also, like the analogue Mellotron before it, sampling would be used to put choirs and string sections at your fingertips – traditionally expensive ensembles to hire and record for sessions. Undoubtedly, classical session musicians were the first to feel sampling's copycat consequences.
Sampling's capacity to deliver rhythmic, as well as melodic output from just about anything that made a noise provided such a wealth of creative possibilities that the technology became an instrument in its own right. But as those who sat behind pioneering Fairlight and Synclavier samplers knew, such creative freedom came with quite a hefty price tag. Trevor Horn's first Fairlight set him back £18,000 in 1980, equivalent to at least £60,000 today.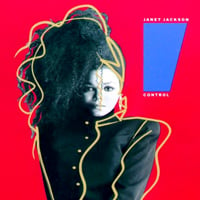 Control: made by affordable 8-bit sampling
By the mid-1980s, the Ensoniq Mirage-DSK sampling keyboard was a pioneer in terms of cost rather than quality. With its price settling at around £1000, the Mirage took sampling technology beyond sophisticated studios and into the hands songwriters and producers: think Janet Jackson's album Control (1986) with Jam and Lewis running the show.
You had to program the Mirage in HEX from a two-character display – it was slow and repetitive and, as a studio engineer, I even found myself dreaming HEX after a lengthy Mirage session. At its 8-bit/32kHz maximum resolution, the Mirage only had two seconds of sampling time. Certainly enough for vocal snippets, percussion sounds and, if you were deft at looping, you could sustain sampled instruments, as it had eight note polyphony too.
While low-fi sampling could be masked by studio effects and buried in the mix, the consumer – now sold on CD – wasn't going to be buying into the digital equivalent of a TDK D-90, they most likely already had a Walkman of sorts, perhaps even a Discman, but no domestic digital recorder. While musos could content themselves with RDAT and benefit from the Moore's law effect on the cost of sampling, it would take until 1992 for digital recording for the masses to be realised in competing formats from Sony and Philips. Yes indeed, there were still a few bends in the road to get to drag and drop digital duplication of today.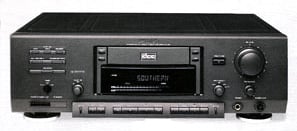 The Philips DCC-900 was well-specified but enormous
Philips had devised the Digital Compact Cassette (DCC) – a tape based digital recording format that offered backward compatibility with analogue cassettes. You could only replay the latter, but Dolby B and C was on-board and the analogue tracks would even be relayed to the digital output. Sound.
As for the digital recordings, DCC was capable of 18-bit resolution and supported 32kHz, 44.1kHz and 48kHz sampling rates. It also applied its own data reduction algorithm, PASC (Precision Adaptive Sub-band Coding) which works along similar lines to popular lossy data compression techniques used today.
The traditional wisdom here was all to do with masking. In short, if our hearing is unable to perceive certain musical signals, because there are louder parts playing at the same time that dominate, then don't bother encoding the content that is masked by the more in yer face content.
Are you perceiving?
Being uncompressed, RDAT remained superior, yet PASC actually worked very well having more air in the top end compared to Sony's rival ATRAC (Adaptive Transform Acoustic Coding) method featured on the MiniDisc recorders that also appeared around the same time, but at a higher price.
Yet despite sounding better, the original DCC-900 was an enormous piece of kit and definitely not the in-car system that had been anticipated by the resellers. The portable DCC-170 did eventually appear, but by then, we were already becoming accustomed to CD-style track searching which was MiniDisc's advantage over the fast-forward and rewind palaver with tape.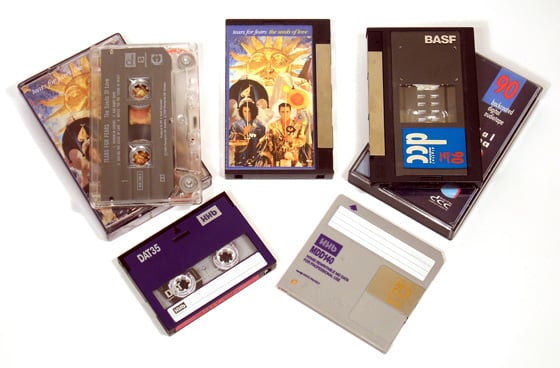 Pre-recorded analogue cassette and DCC version with recordable DCC and DAT tape formats. The MDD140 data cartridge shown is a MiniDisc variant that was utilised on 4- and 8-track recorders from Sony, Yamaha and Teac.
The psycho-acoustic principles behind the data-reduction methods employed by DCC and MiniDisc work along similar lines to methods devised for MP3 and AAC; it's all about selective encoding of what the ear will perceive and dumping the rest. Yes, we can get that 10MB/min stereo CD-quality content down to 1MB/min to fit days of music on an iPod, but – as anyone knows who has experimented with low bit rate MP3 encoding – there are trade-offs.
This kind of lossy encoding is the audio equivalent of a Hollywood film set' it all looks real – but get close and you know it's fake. And that's the listening experience too, artefacts do present themselves, more so on quieter passages, but casual listeners will either live with it or skip on to the next track. Really, it's all down to how you regard music: chewing gum for the ears or masterpieces of creativity and performance.
If you fall into the latter camp, then, needless to say, lossless techniques have been devised which rely on mathematical functions to pack the data in more efficient ways, rather than alter its frequency content. These methods manage a 40 to 60 per cent data reduction – effectively two CDs for the space of one – and much like unzipping a text file, you get everything back, there aren't missing characters.
Yet character is precisely what is missing with digital audio, and this became especially obvious in the recording studio. If you consider the success of apps like Hipstamatic, bringing old-style film quirks to digital photography, you can see straight away that unadulterated digital capture has a talent for the ordinary, rather than the extraordinary. Hence the creative need to fuck it up somehow, just to make it different.
Rip Mix and Burn

Despite being an obvious choice, RDAT just wasn't cheap enough to appeal to consumers, and its rather more enticing potential to allow CD cloning or self-styled compilations, had been scuppered in the US by Senator Al Gore's 1987 CopyCode Act. As he remarked at the time...
There will be very little incentive any longer to go out and buy the recording when you can simply borrow someone else's album and make a copy just as good as the one in the store, or borrow someone else's copy of a copy and copy that, and still have a version identical in quality and in every way to the original version.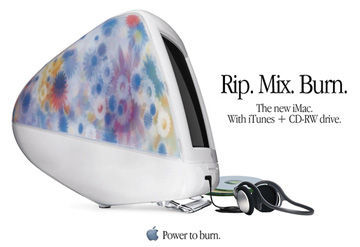 Given that digital's raison d'être is to accurately preserve and restore data why should anyone be surprised by the mass appeal of flawless copying? With each new DRM, followed the inevitability that someone like DVD Jon would defeat it. The genie had been out of the bottle long before digital, but now casual copying didn't happen in realtime any more.
This would be the same Al Gore who joined Apple's board one month before the iTunes store opened. At least there was FairPlay DRM on those music sales, but lest we forget that the original iTunes slogan was "Rip, Mix and Burn". Now there's an inconvenient truth, but I digress.
Character analysis

Arguable benefits: valve conditioner, anyone?
Initially, attempts to change the 'purity' of digital were somewhat tentative and naïve. In the UK, Tony Larking Audio (TLA) – a company that had made a business from hacking channel strips out of old Neve mixing consoles and selling them as mic amp/equaliser outboard gear – produced the VI-1 valve conditioner. [PDF brochure]
This was an eight-channel box that you'd plumb into your digital recorder's analogue I/O signal path and was typically used with an Alesis ADAT or Tascam DTRS tape system – these were the modular digital tape recorders appearing around 1992 that helped seal the fate of the Sony and Mitsubishi behemoths discussed in part one. The VI-1 had valve (tube) circuitry that was supposed to add warmth to those colourless converters. It had no equaliser or drive controls and it was arguable whether it had any effect. For many, it was a case of the Emperor's New Clothes, as subtlety at this level didn't really cut it in this Brave New World.

With the decline of tape, recorders found other uses: a Mitsubishi X-880 32-track metamorphoses into a beer cooler
Naturally, you could always opt for original valve gear, and hire in a classic Fairchild valve compressor or Pultec EQ, but it would cost you. And wasn't this sort of behaviour somewhat incongruous with digital's promise of clarity and linearity? It was like these musicians and engineers were being given a delicately flavoured meal only to splash mustard and tabasco on it.
The spice rack would grow, but in the form of software emulating classic kit: anything from early drum and bass machines (Propellerheads ReBirth) to valve gear (IK Multimedia T-Racks and Waves Renaissance).Every week there was something new, and so it goes today.
Classic equipment has been analysed and remodelled in the digital domain to reintroduce the je ne sais quoi that had graced recordings from a bygone age. For a time, Steinberg's Cubase featured True Tape, a plug-in that was designed to emulate analogue tape saturation. The only thing missing was noise, and you could supply that yourself.
The rise and fall of the DJ
Creatively, musicians were catered for by the digital domain, but this came at a price which was that non-musicians were getting in on the act too. DJs with production ideas were lifting whole sections from songs and adding a few beats and maybe a singer. These weren't two second
Funky Drummer steals from James Brown
any more, if you consider the likes of P.M. Dawn's
Set Adrift on Memory Bliss
then you'll find yourself listening to a large chunk of Spandau Ballet's
True
. Likewise,
Guns of Brixton
by The Clash served to get Norman Cook's career started when Beats International used the bassline intro as the mainstay for
Dub Be Good To Me
.
Musically, these were interesting times, with DJs self-promoting their homegrown projects with works from real musicians seemingly sidelined. For many musicians, who had spent years honing their craft, the idea that someone who hadn't nurtured such ability could just nick your performance and make money out of it seemed like rewards for failure. Listen to the radio through most of the 1990s and you could count prominent live bands on the fingers of one hand. It just took a while for the novelty of dance music to wear off and for it to find its place as yet another genre, rather than the dominant one on the airwaves.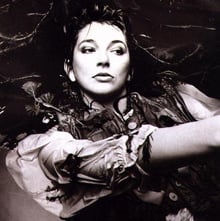 Kate Bush took to sampling as composition tool
Whether the music business feeding off itself in this way was healthy or not would need to be examined by degrees. Musicians sampled too – Kate Bush was already paid-up Fairlight fanatic long before her 1985 samplefest The Hounds of Love/The Ninth Wave appeared – it wasn't exclusive to one camp or another. However, the means to sample, to make squeaky-clean copies, inevitably went beyond the bounds of the studio and ended up on the desktop.
Sampling was the free lunch to get a tune started by pinching a drum loop or guitar riff, but the means had grown and mutated to just drag and drop of whole pieces of work. And this wasn't necessarily being done by those with creative endeavours, it was being done by the artist's greatest asset: the listener.
Star performance
The swift migration from studio hardware to plug-in software was facilitated by consumer demand for desktop computers. Hard disk storage became cheaper and capacities increased. Hence, the track count for direct-to-disk recording steadily grew and its instant location and editing capabilities ensured that digital audio tape became yet another format consigned to the history books.

Mobile studio? The Joe Co. Black Box recorder is more than just an audio interface.
This 1u rack unit needs no computer and records 24-tracks to USB storage
Even recording consoles were losing their intrinsic value; replaced by on-screen alternatives with fairly dumb interfacing attached at a range of prices and fidelity to suit professional and enthusiast needs alike. And for mobile musos, you could even use the basic interfacing on your laptop if you were really pushed.
All that mattered now was to get the audio into the digital domain. Thermal noise inhibits A/D converters from going much beyond 24-bit, but the internal resolutions of desktop audio recording software enabled audio mixing busses of 32- and now 64-bit resolution. Once inside the machine, you had all the headroom you needed along with sample rates of 192kHz or 384kHz with 768kHz mastering options. As far as the art of digital audio was concerned, there was little to complain about now.
Digital audio had been devised to give the studio the best possible means to capture musical performances for the pleasure of the listener. And that listener was always meant to buy that creative output, but digital's cloning capabilities saw to it that quite of lot of them didn't need to. Before the iPod era hit centre stage, entire disc copying with no lossy artefacts, using desktop applications such as Toast, was where the rot set in revolution started.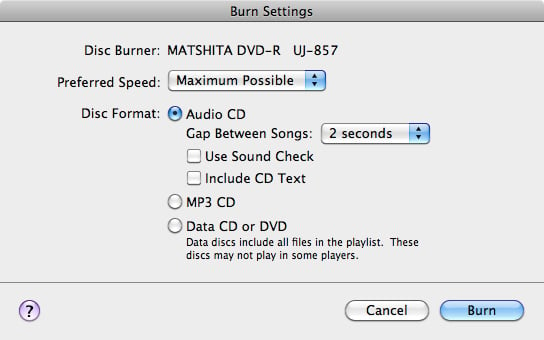 Ripping yarns: lossy compressed music can easily be exported as CD PCM audio.
The chances are the music will get ripped a second time from the exported disc and degraded still further
Furthermore, those honourable intentions of delivering the best sonic reproduction were in tatters too. Inevitably, CDs would be ripped in one format, converted to another and then maybe converted back to CD only to be ripped and stripped again of those imperceptible sounds further along the line. New distortions were being introduced that, while not as obvious as tape hiss, were nonetheless muddying the mix as never before. Moreover, Internet radio streamed lossy music to anyone who'd 'tune in' and with its inexhaustible playlist output another casualty befell the entertainment industry, the on-air DJ. Apart from a handful of stalwart stations, their relevance and influence was now on the wane.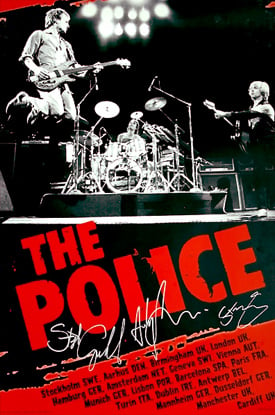 The Police back on the beat after 20 years, touring in 2007-8
As digital audio's mercurial ability to move around the planet hit record sales, and with it the pension plans of established acts, a new dawn emerged that turned everything upside down. Pop Will Eat Itself seemed quite prescient prediction for the state of the industry. Previously, touring would be a loss leader to boost record sales, but as the dinosaurs of rock began roaming the earth once more, live performance became the moneyspinner. There always was more than one kind of listener and the live audience was revisited as the new cash cow.
Also DJs, who had always been installed in clubs, were putting on quite a performance with new timeshifting tools for their craft. No longer carting around boxes of 12-inch singles, they now have music libraries on USB sticks holding a zillion songs and most of them unpaid for. Still, it was the listener who was paying for their dancefloor efforts now.
While copying has undoubtedly hurt the recording industry, digital audio's attack of the clones has benefited music in a core sense. The art and craft is being seen and heard by audiences in the moment, rather than a moment being captured and replayed and redistributed as the definitive version. Performance rather than perfection is in the ascendant now and recording is the sideshow; the T-shirt and glossy programme. Digital audio became too easy to abuse and we take it for granted: what it gave to recording, it took away from the industry. ®