Original URL: http://www.theregister.co.uk/2011/11/28/review_samsung_galaxy_nexus_android_smartphone/
Samsung Galaxy Nexus Android smartphone
Ice Cream Sandwich, anyone?
Posted in Personal Tech, 28th November 2011 12:00 GMT
Review The much-anticipated new Samsung Galaxy Nexus is the first phone to feature Android 4.0 Ice Cream Sandwich – or ICS if you're being very 'now' – the latest version of Google's mobile OS. It also includes one of Samsung's top of the range HD screens, a dual core processor and 1080p HD video recording – not too aspirational then.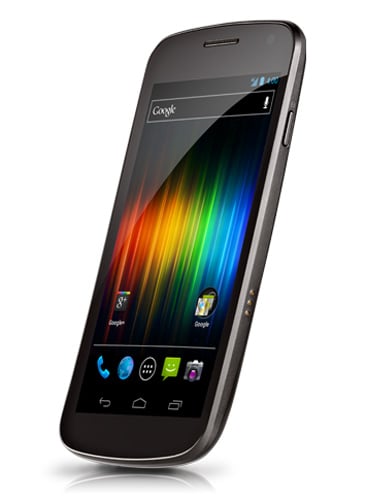 Googleness galore: Samsung's Galaxy Nexus
Pick it up and it's immediately clear that you're in the company of a quality phone. It's quite a handful at 136 x 68mm, but pleasingly slim at just 9mm. For the size, it's also surprisingly light at 135g, due largely to the all-plastic casing. The 4.65in capacitive touch screen takes up most of the front and virtually disappears when the phone powers down, giving it a sheen of glossy black glass.
And what a screen it is. It's a Super AMOLED HD number, with a 1280 x 720-pixel resolution, all crammed in at 316ppi. That's 0.3in bigger than Samsung's flagship Galaxy S II and a real advance on that phone's 800 x 480 resolution too. With a beautifully wide viewing angle, it's arguably the best display you'll see on any mobile phone today.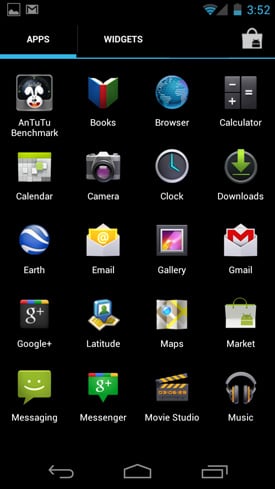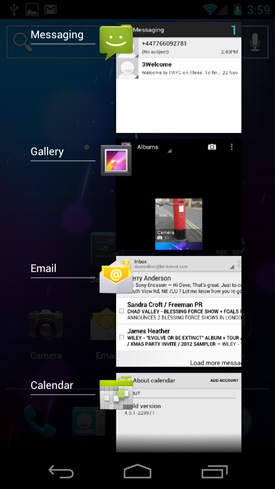 Apps menu and multitasking listing
At the bottom of the screen is a touch sensitive panel with just two of the standard four Android controls (home and back) plus a multitasking button that shows all your currently running apps as thumbnails. The buttons disappear when the screen's not in use, adding to that sleek black effect when the phone's in repose. The loss of search and app controls isn't too much of a hardship, since menu options now pop up in various apps and search is available as an on-screen widget.
From the start you're in no doubt that this is Ice Cream Sandwich. Where past updates over the last three years have added features and fixed glitches, this version offers a completely new look and feel, albeit one that bears some resemblance to the 3.0 Honeycomb version that's been appearing on tablets.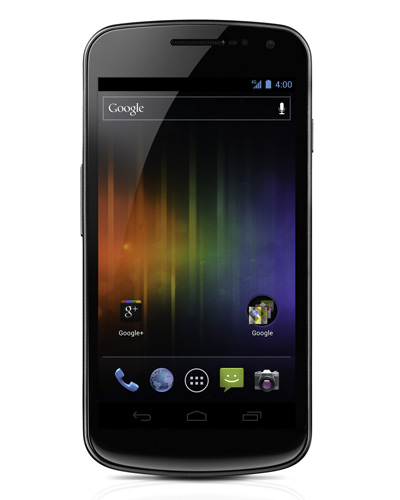 The high pixel density screen notches up a 720p resolution
It's more advanced however, with lots of cute little tweaks that not only look better, but help it to work more intuitively too – using a picture of your face to unlock the device for instance, and the action bar that appears in apps such as Google Maps, allowing you to access key functions without entering a menu first.
Sharp shooter?
The benefits of the new OS are helped by the speed and efficiency of the handset. It's fast, very fast, and the 1.2GHz dual core processor does a cracking job of whipping through the apps and keeping several running at once, with no sign of slow down. It clocked up AnTuTu Android benchmark of 5759, just shy of the similarly equipped Motorola Razr. Android benchmarking hasn't yet managed the same level of consistency as that on PCs, but it's still a useful guideline.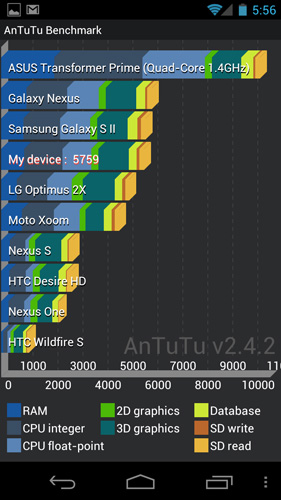 AntuTu benchmarks show some slight variations from the anticipated score
This pure Google handset will almost certainly be the first to get future Android updates too, unencumbered by any additional user interfaces that need to be configured and likely to slow down the update process.
Strangely, the camera takes a step down from the 8Mp model you'll find on the Galaxy SII, with the return of the 5Mp from the previous Nexus S. While stills snaps have shrunk, video goes up from 720p to full HD recording at 1080p and there are a few other enhancements.
Sample Shots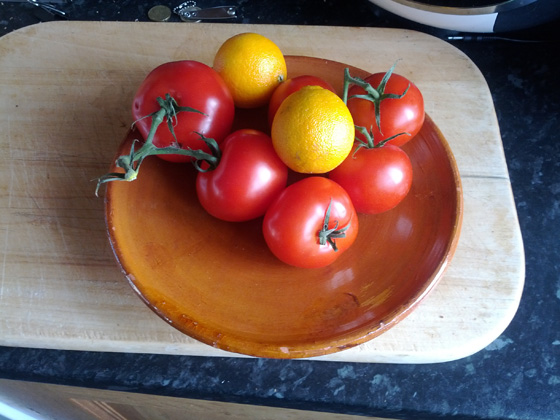 Click for a full-resolution image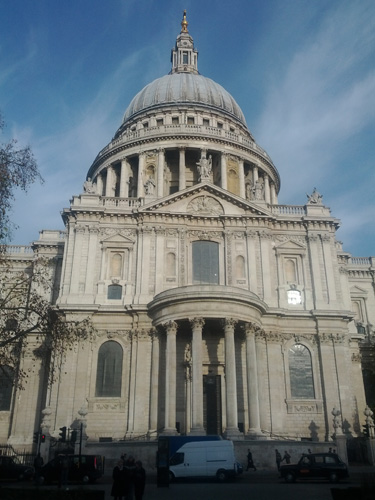 Click for a full-resolution image
Certainly, the camera's very quick to get going – less than two seconds from a standing start and it's ready to take a second pic virtually instantly. It has autofocus, a bright LED flash and several scene modes, including panorama. Picture quality is generally pretty respectable and there's a good level of detail, though colour can appear a little washed out at times.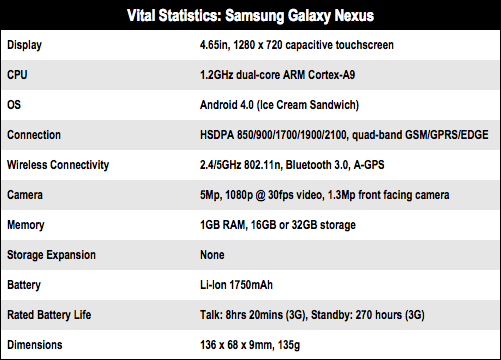 Off-line contentment
The browser has some new features. It now offers multiple pages, including the Incognito option from Honeycomb, and there's a new look to the drop down menu.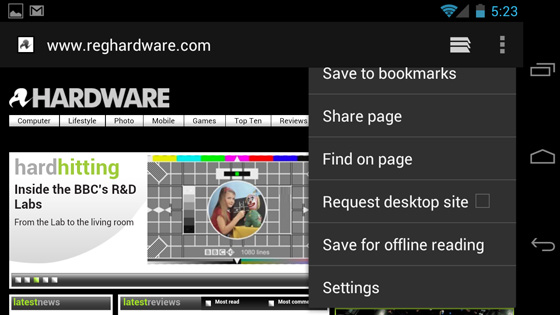 Off-line browsing is an option on Android 4.0
You can also save pages for viewing later offline and force the browser to display the desktop version rather than the automatic mobile version of its site, which can come in handy if you want all the features from an under specced mobile site. All is fast and intuitive too, and pages render well on that really rather gorgeous screen, though there's no support for Flash yet. However, the word from Adobe is that it's working on an update for Android 4.0.
Call quality was fine over the Nexus's speaker despite reports of a glitch in the system that causes an occasional drop in volume, which Google has promised to fix pronto. I didn't notice this during any calls, but it did occasionally happen when playing music and watching movies – if they don't fix it quick, it could be a serious problem for take-up of this phone.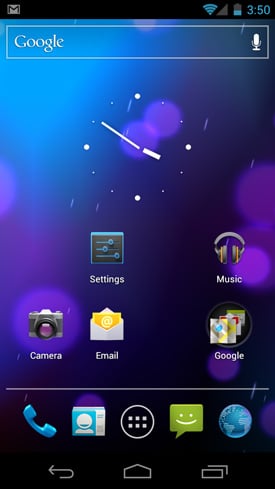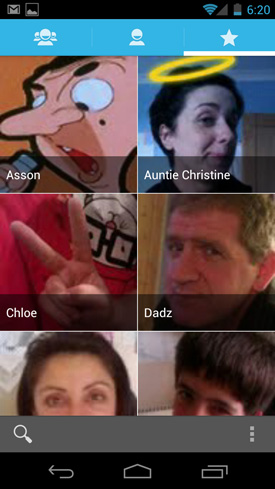 Homescreen and contacts display
There's 16GB of memory available, which is good, but unfortunately that's your lot, since there's no microSD slot. Like Android Honeycomb however, you can use all of the available storage for apps as well as media.
The 1750mAh battery is big and powerful, but there's a lot of technology to drive, so while battery life was certainly no disaster, you shouldn't expect more than a day of heavy use.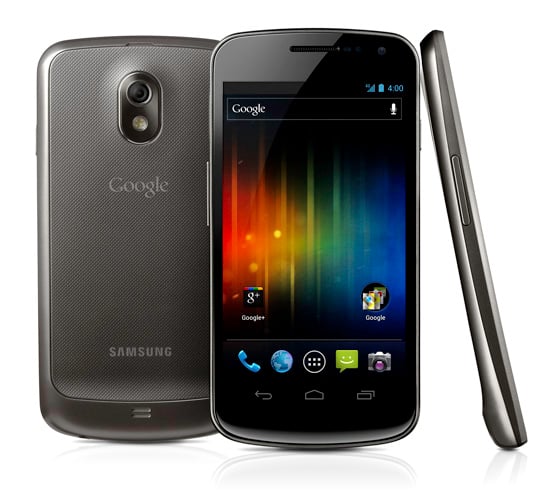 Following the iPhone and WinPho 7 norms, there's no storage expansion on this handset
Verdict
The Samsung Galaxy Nexus leapfrogs its rivals and its workmanlike predecessors to become the best Android phone so far. The latest 4.0 version of the Android operating system is packed with improvements as well as a highly welcome new look and feel. Plus, it's backed up by a superb screen, very fast processor and decent battery life. The camera, while satisfactory, could have been better though. Even so, it's a top quality handset that will be hard to beat, at least until the Galaxy S3 turns up early next year with its rumoured 1.8GHz processor. ®
Thanks to Three for the loan of the review sample.
More Smartphone Reviews

Motorola
Razr
Nokia
Lumia 800
Ten… Androids
to outshine
the iPhone 4S
RIM
BlackBerry
Torch 9860
Apple
iPhone 4S