Original URL: https://www.theregister.co.uk/2011/11/28/review_jawbone_up_wristband/
Jawbone Up wearable health sensor
Tech tag that fights the flab
Posted in Personal Tech, 28th November 2011 07:00 GMT
Review Jawbone is known for its excellent Bluetooth headsets and a very cool, if pricey, portable speaker called the Jambox. By any standards, its new product is pretty out there. It's a rubberised wristband with a motion sensor in it. When you connect it to its free companion iOS app, it becomes something to help you become healthier.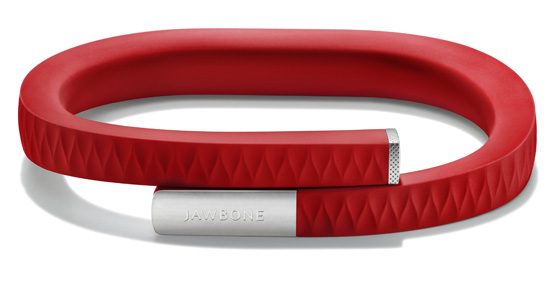 Jawbone's Up wristband helps keep you on your toes about your health
It's not magic, you understand, though there is something remarkable about it. Jawbone maintains that the simple act of tracking activity increases the level of activity by around 26 per cent. So the motion sensor tracks how your arm is moving and thus deduces how many steps you're taking. You can set a target of how many steps you want to take – 5,000 is very moderate exercise, 10,000 represents a more active lifestyle.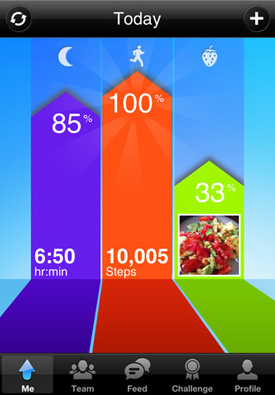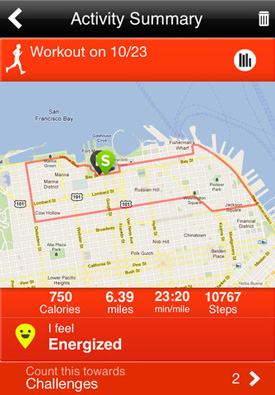 The free iOS app keeps track of your activity
If you're working out, you press and hold the button on the end of the wristband and it knows to measure your movement accordingly. And if your workout doesn't move your arms, like when you're cycling outdoors, say, you can tell the app to use the iPhone's GPS to measure how far and fast you're moving.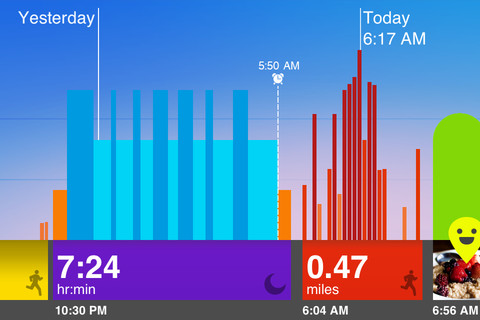 Just how often you're on the move (or not) is summarised
Since diet is an important part of getting healthier, the app encourages you to eat better. You can use the iPhone camera to take a photograph of your meal and after you've eaten, the app asks how you're feeling and your reply (sleepy, stuffed etc) is logged. This is the weakest part of the Up experience: if you could enter a description and the app could search a database and calculate calories and so on, that would be better.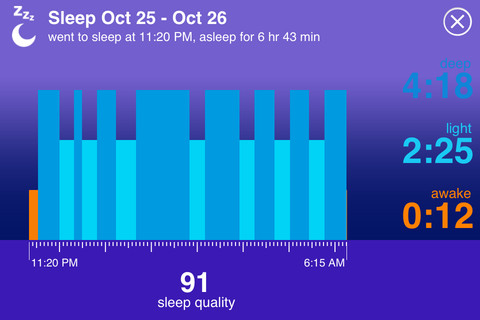 The sleep monitors tells you what you might know already – how well you slept
Then there's sleep, and this part of Up works brilliantly. When you go to bed, you press the end button to switch to sleep mode. A small blue crescent moon briefly lights up to confirm it's active. The motion sensor can tell from your movement whether you're awake, lightly asleep, or deep asleep. In the morning, you synchronise the wristband with the Up app to find out how well you slept.
Wrist watch
Even better, the wristband can wake you up. Jawbone says that it's best if you wake from light, rather than deep, sleep. Set the alarm for 8am, say, and from 30 minutes before that the Up measures what sleep cycle you're in. As soon as it spots you going from deep to light sleep, it starts vibrating to wake you up. If you're still in deep sleep by alarm time, it'll wake you anyway. No doubt many of you have tried apps like Sleep Cycle and this is yet another take on that sort of idea.

USB charging adapter
Since the vibration is silent, this is ideal if your significant other wants to wake later than you. And on the occasions I've used it, it's consistently woken me gently and left me feeling refreshed, so the timing seems right too. For me, this is the best thing about the Up, and many will feel it justifies the price tag for this alone.
Build quality is excellent and the wrist fit is comfortable and secure. But the Up is not perfect. Syncing with your iPhone is done by sliding the silver tip off and revealing a 3.5mm headphone jack which plugs into the phone. That's OK – Bluetooth might have been more convenient but would have added weight and cost – but the silver tip is all-too-easily lost, especially if you catch the wristband on something.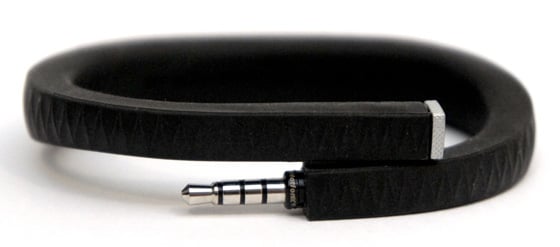 The 3.5mm jack plugs into your iPhone to sync the data on the Up
The Up is useless without the app, so it's a shame there's no Android version, though I've been told this will follow. As a UK user of a certain age, I'd like the option to input my weight in stones and lbs instead of just lbs or kg. And I'd like some indication about what's healthy. In an eight-hour sleep, for instance, how much should be deep sleep, how much light? The app isn't as intuitive as it should be, although the opportunity to improve it with updates exists, of course.
Still, there are other features, like the facility to set team goals to encourage your friends. The range of colours available means you should be able to find one that suits. And there's something very satisfying in confirming that you had a good night's sleep – the rays of sunshine radiating from the sleep icon can be enough to make you feel ready to start the day. Well, almost.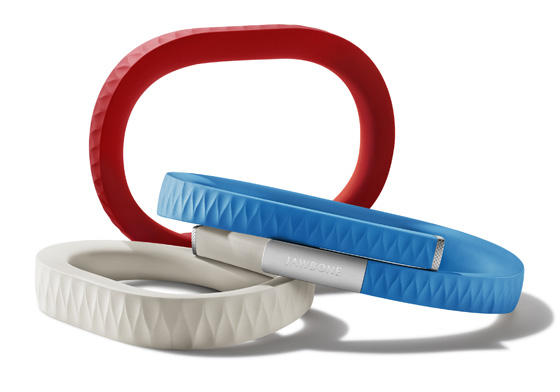 iOS for now, with an Android version to follow
Verdict
Jawbone up covers a range of lifestyle issues although the food aspect of the program is rather too basic. Still, it's neat-looking and simple to use although currently for iOS only. The only real concern is the Jawbone tip that covers the 3.5mm headphone jack could easily get lost. There's also the cost. The Jawbone Up is expensive but this is gadget could genuinely inspire you to eat better and exercise and sleep more and may well be a price worth paying. ®
More Gadget Reviews

iRobot
Roomba 780
automated cleaner
Audio Pro
WF100
wireless streamer
IRISnotes
Executive 1.0
digital pen
H2O
shower-powered
radio
Lingo
iMini DAB/FM
iOS tuner