Original URL: https://www.theregister.co.uk/2011/11/26/ten_colour_laser_printers/
Ten... colour laser printers
Rainbow warriors
Posted in Personal Tech, 26th November 2011 08:00 GMT
Review There are two main technologies that can put colour text and graphics on paper; inkjet and laser. Though inkjet makers like Epson and HP have tried to push inkjets into the lower end of the office market, it's still dominated by colour lasers, due to their speed and the high permanence of solid toner over liquid ink.
Colour laser printers have dropped dramatically in price in the last few years and a canny shopper can find budget models for under £100 on-line. Beware, though, that these loss-leader prices often come with high running costs. Here are ten, capable colour lasers you should consider for a short list.
Brother HL-3040CN

This is an entry-level colour printer, but uses high intensity LEDs instead of a laser beam, which keeps the mechanism simple and the machine quite small. Brother supports secure print on this machine, so you can give a job a PIN and only print it when you're at the printer. There's a 250-sheet main tray and a single-sheet feed for special media and USB and network connections are standard. Speeds are good for entry-level, with a genuine 14ppm maximum and print quality is good, with crisp black and vivid colours. Lots of consumables means a bit of maintenance is needed and costs are only fair, at 3.1p for black and 13.3p per colour page.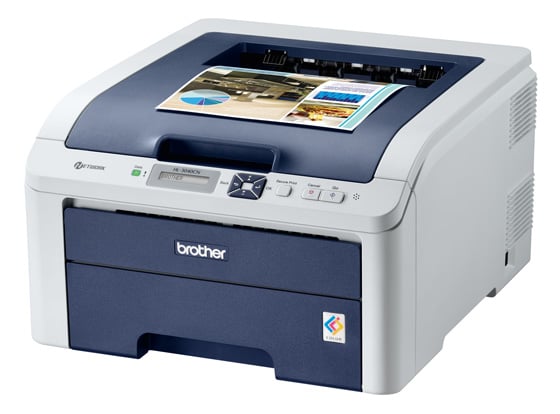 Reg Rating 75%
Price £204
More info Brother
Brother HL-4570CDW

A much heavier weight machine with a price tag to match, this printer still comes with a single 250-sheet paper tray as standard – a second is available as an option – but it does have a 50-sheet, special-purpose tray. It can also do secure print and the two-line LCD is enough to display menu contents. The printer's in-line laser engine is rated at 28ppm, fast for a colour machine, and I saw 23ppm under test. Text print is sharp and clean and while colour graphics are vivid, some colours are dark by default. Running costs are low, with black pages costing 2.0p and colour ones 9.4p.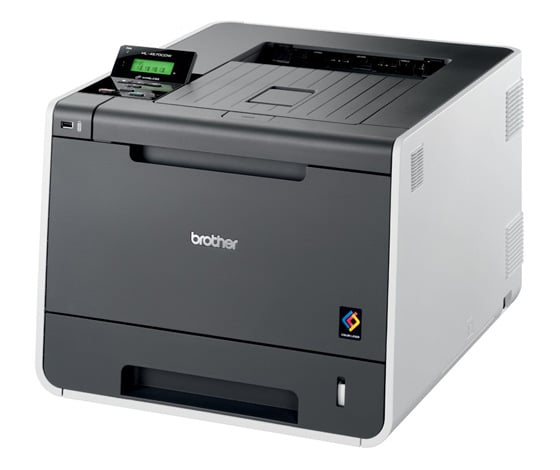 Reg Rating 75%
Price £634
More info Brother
Dell 1250c

Dell's recent range of small-footprint, LED colour printers appear to offer very good value for money. Indeed, on-line prices are now down to about £60, but there is a catch. Toner cartridges, which are only available from Dell, cost £218 a set for standard yield and £244 for high yield. That's 3.0p for a black page and 16.1p for a colour one; both high. The printer itself has simple, but sleek lines, with nice touches, like a slide out-cover for the 150-sheet paper tray. Print speeds are modest, with a maximum of 8.6ppm, but print quality is much better than its price would suggest; crisp blacks and bright colours.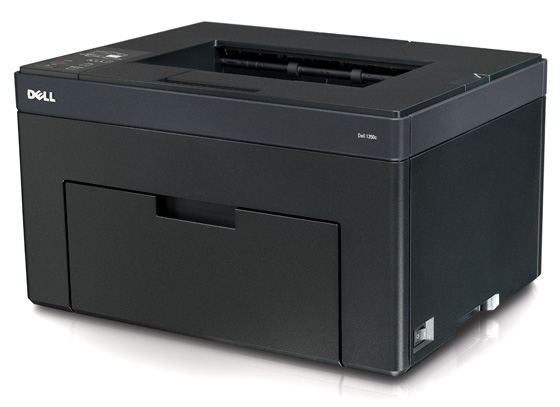 Reg Rating 65%
Price £143
More info Dell
Epson AcuLaser C3900N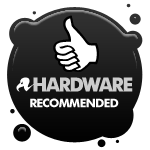 This is a big laser printer for small networks, designed to be fast and with duplex print as standard. It has an unusual design, more like a traditional photocopier, with a paper path running right to left, rather than front to back. It still only has a 250-sheet tray, with a 50-sheet multipurpose tray, though an extra 500-sheet tray is an option. Under test, the printer returned over 22ppm and 13.5spm duplex. Printed output is well above average, with dense black, bright, but not exaggerated colours and even fairly natural photos. Running costs are 2.1p for a black page and 10.9p for a colour one; both OK, but not spectacular.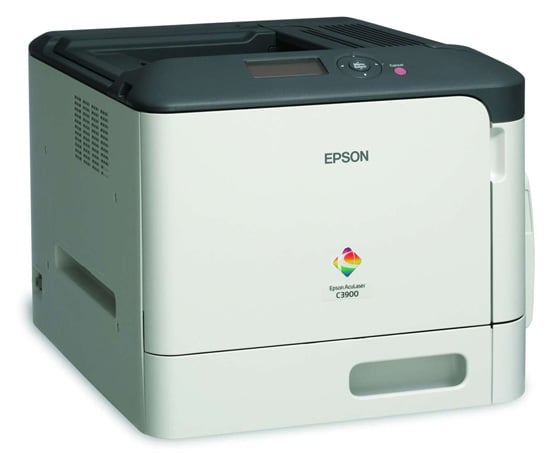 Reg Rating 85%
Price £569
More info Epson
HP LaserJet Pro CP1025

This is HP's entry-level colour laser printer. It's classy black and white lines and simple, but adequate control panel give it a good look as a personal desktop machine. A 150-sheet paper tray is the only feed source and a single USB socket is the only data connection. It uses a carousel print mechanism, which slows down colour print to around 3.3ppm, though it can still manage 13ppm printing black. Text and graphics prints are sharp and bright. The killer is again the running costs, with a black page coming out at 4.1p and a colour one costing 17.8p. Both are high, but the colour cost in particular is a big deterrent.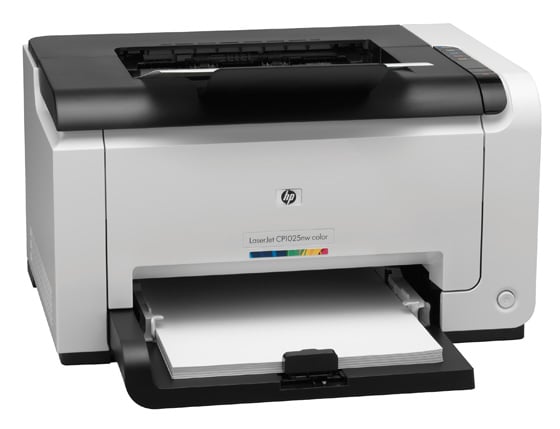 Reg Rating 60%
Price £139
More info HP
Kyocera Mita FS-C5250DN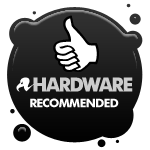 A workgroup laser printer, even a colour one, should handle more than 250-sheets and this one can handle 550 sheets as standard, with optional trays giving up to 1,500. The control panel has over-modest buttons, making jobs like USB drive file selection a little awkward. USB and Ethernet are standard, though wireless is only an option. As you'd expect at this price, it's a quick machine, measured at 21ppm black, 15ppm colour and 12ppm duplex; duplex is standard. Print quality on text and business graphics is good, but photos can be a bit fuzzy round the edges. Page costs are very economical, at 1.4p for black and 7.6p for colour.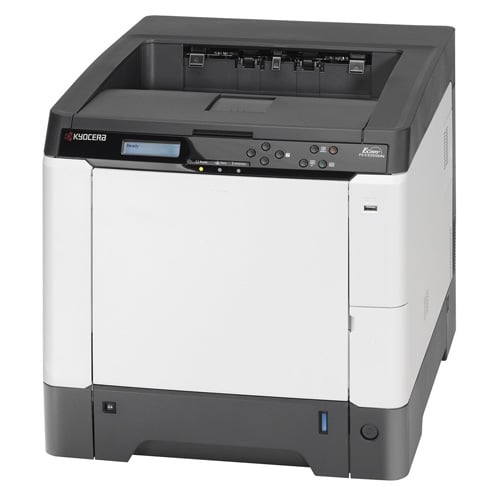 OKI C310dn

OKI pioneered the use of LEDs in print engines and this is a mid-priced colour machine. It's deeper than it is wide, due to the in-line design of its engine. The simple control panel is well designed, with a two-line, backlit LCD. The standard paper tray takes 250-sheets, with a second tray optional, and there's a generous 100-sheet multi-purpose feed. USB and network connections are standard and speed results were 16ppm for black, 12ppm for colour, with a healthy 11.5ppm printing duplex. Black text and colour graphics are fine, but the colour gamut is too limited to do photos justice. Running costs, at 2.0p for black and 11.8p for colour, are about average.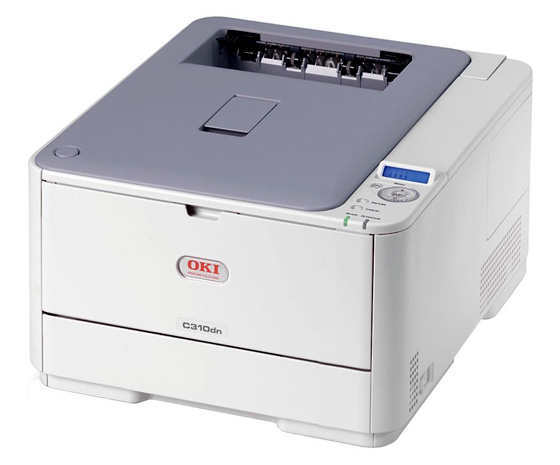 Reg Rating 70%
Price £404
More info Oki
Samsung CLP-670ND

Billed as a very fast colour laser for workgroups, this printer managed 18ppm under test, which is fast, but not breathtaking. It did 12.5ppm in colour and 9.5ppm duplex, which is also only fair. The big machine has a traditional design, with a 250-sheet main tray and a 100-sheet multi-purpose feed, with a full-width control panel, using a four-way, illuminated navigation ring. USB and network connections are standard and print quality is sharp with attention-seeking colours. Running costs, at 2.4p for black and 10.6p for colour, are mid-range. Don't pay too much attention to the printer's RRP; it can be had for under £400.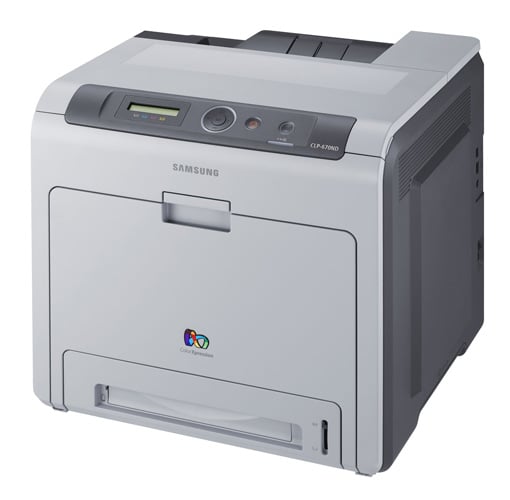 Reg Rating 80%
Price £900
More info Samsung
Xerox Phaser 6010

The LED print engine in Dell's 1250c is made by Xerox and this is its maker's own take on an entry-level model. It looks petite in its rounded white and deep blue case and boasts a similar pull-down paper tray with slide-out cover. The printer includes a network port, as well as USB and prints at 10.3ppm in black and 7.7ppm in colour, so faster than its Dell cousin. It produces good prints very quietly, though photos have a slight blue cast. Trouble is, it costs more to run than any other colour laser we've tested (3.0p black and 20.7p colour) and at Internet rates is nearly twice the price of the Dell. May be OK if you only print occasionally.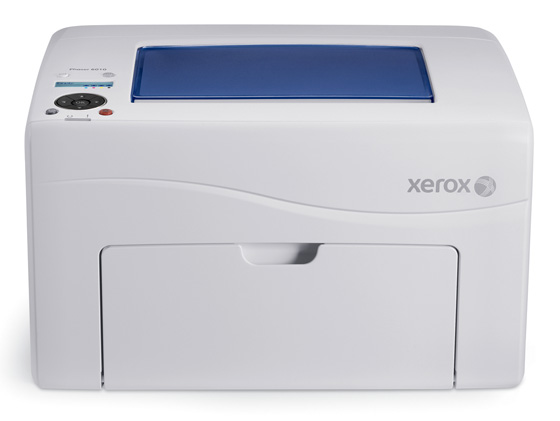 Reg Rating 60%
Price £203
More info Xerox
Xerox Phaser 6280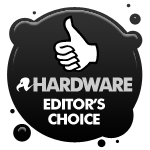 A big printer for a little price, if you're inclined to go on-line shopping that is. This Xerox model is a tall, but comparatively small footprint colour laser. Controls are easy to work through and functions like secure print and network connection are included. There's only a 250-sheet paper tray, but the multi-purpose tray adds an extra 150-sheets. Speeds of 23.5ppm for black, 13.6ppm for colour and 16.9spm duplex have it punching well above its weight. Print quality is particularly good, with solid blacks and vibrant colours. Even photos, traditionally hard to do on a laser, are smooth and with good shadow detail. Running costs, at 1.7p for black and 8.6p for colour, are also low. ®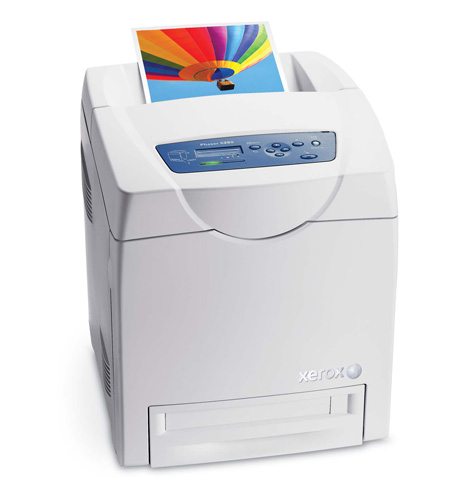 Reg Rating 90%
Price £426
More info Xerox