Original URL: http://www.theregister.co.uk/2011/11/25/review_amazon_kindle_fire_tablet_ebook_reader/
Amazon Kindle Fire
Content consumption kit
Posted in Tablets, 25th November 2011 07:00 GMT
Review You might think it odd for a UK-based publication to review a product only available in the US, but such is Amazon's global reach that it's only a matter of time before the Kindle Fire is officially released over here.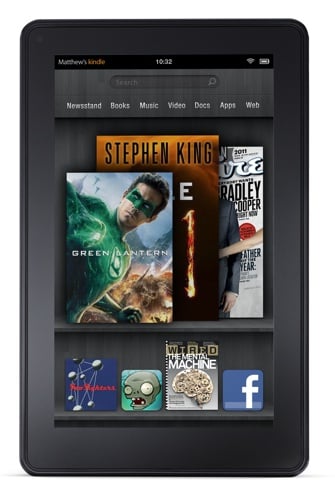 Less a tablet more an Amazon content reader
In the meantime, if you have a chum living in the States who can order one on your behalf, Amazon's 7in Android tablet can be yours. It's hard to resist the impulse to snap up a tablet for only $199 (£128), and Amazon knows it.
The US-centricity of the device brings some immediate limitations, of course: I couldn't rent or buy videos using my Amazon UK account - even ones with a zero dollar price, like TV trailers. All attempts to download software - even free apps - popped up a 'The Amazon Appstore is not yet available in your region' alert. The Android Market is inaccessible to all, at least not without hackery.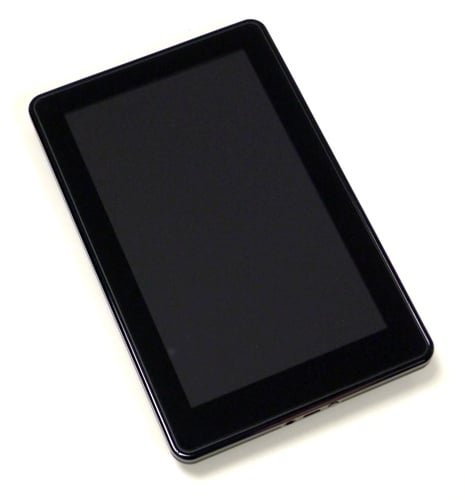 No favoured orientation
Buying books works, because a tap on the Store button fires up the Fire's Silk web browser and takes you to the UK website rather than a UI-integrated shopfront. Past purchases are listed and available to download. British periodicals can be accessed in the same fashion.
Hooking the Fire to a USB cable and a computer is the work of a moment, but accessing transferred content is another matter. There are Music, Pictures and Video folders on the Fire's 8GB Flash storage, only 6.5GB of which is available for your content, but none of the films I dropped in were detected by the tablet's Video section. Amazon, like Apple, wants you to get your content from the official channel.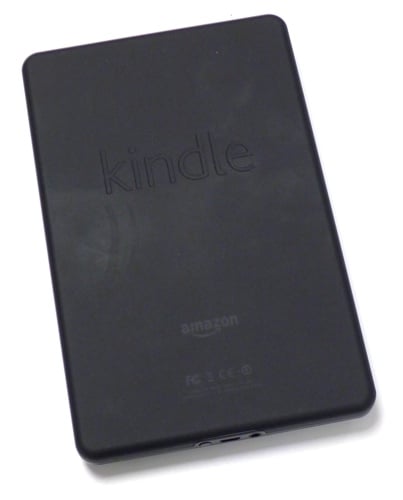 The back is rubberised
Side-loaded videos and pictures did appear in the bundled Gallery app but only the sample MP4 file would play - MKV and AVI test files were deemed incompatible. Gallery also showed the folder of JPEGs I dropped into Pictures, but listed them in some unusual, non-alphabetical order it's seemingly impossible to change.
So there's still work to be done on Amazon's interface software, which sits on top of Android 2.3 Gingerbread. The Fire's main UI is a cross between the bookshelf metaphor and iTunes' Cover Flow, here called the Carousel, so you can flip through all the content you've downloaded to your device. And all the web pages you've visited, videos you've watched and apps you've used.
Carousel, sell, sell
I'm not a fan of carousel-style UIs in any case – too much swiping to get to distant items – but having a sequence of attractive book cover portraits spoiled by a brash square app icon or, worse, a blank rectangle representing a PDF I'd side-loaded, put me right off. It all quickly looks a bit of a mess.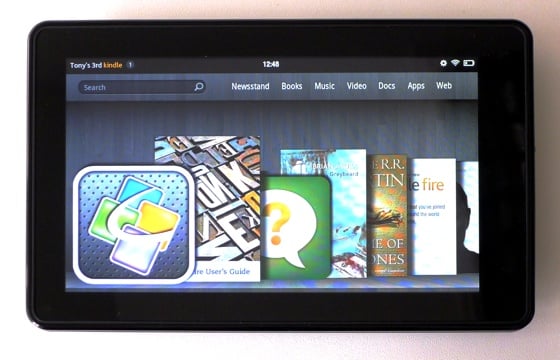 The Carousel runs smoothly but it's not an attractive UI
It's also too sensitive. Move your finger ever so slightly on the image of the item you want to open and the carousel will flip round to the next image. Yet other parts of the UI are less sensitive than I'd expect. The Fire's touchscreen is capacitive, but the UI often failed to register taps, or misjudged which one of two closely position items I was attempting to press.
Below the Carousel sits shelf after shelf of favourites, be they apps, books, movies or a mix of the content types the Fire can present. Again, the mix of icon sizes and styles – why can't some developers do PNG transparency properly? – makes for an unattractive interface, made more unappealing by the funereal burnt grey wood texture Amazon has chosen.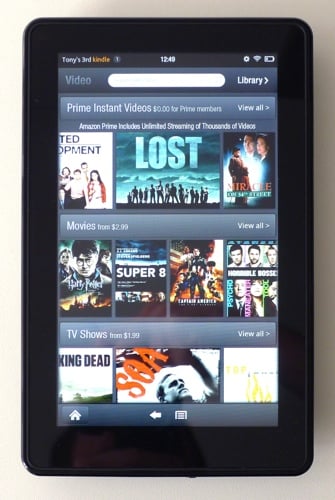 There's plenty of video content on offer - but only to Americans for now
All this makes sense for a device designed specifically for content consumption, but I found myself longing for the clarity and neat grid of iOS or even the native Android UI. Still, Amazon makes it easy to acquire more, segmenting all sections into Cloud – stuff you can download – and Device – stuff you have downloaded. Books aside, the store pages are integrated into the UI.
Amazon scores better for its Silk browser, which renders pages cleanly. Silk does a lot of page rendering at the server end, but I can't say it makes for a browsing speed demon. The progress bar slides right-ward very quickly, but some page elements still don't appear for a moment or two. It doesn't feel appreciably quicker than other, clientside-only browsers.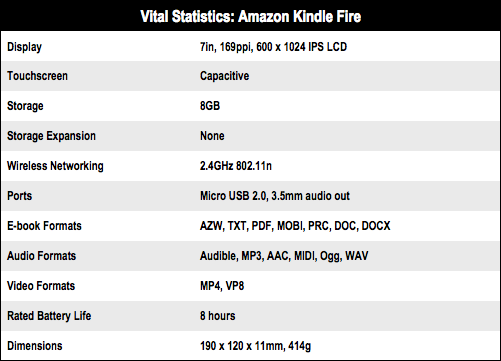 Screen machine
The Fire's general performance likewise is good but not astonishing. The UI is smooth enough, and SD video playback fine, but there's noticeable lag while the screen contents reflow after you rotate the device.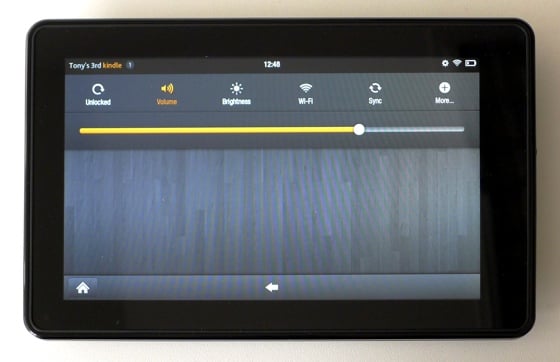 More Android-like UI elements lie within
You'll get a continuous video playback battery life of well over seven hours, if my test was anything to go by.
As you can see from the snaps, the Fire is dressed in black and sports no adornment. There's not even an Amazon logo on the front. Only the grey-on-grey branding and CE certification info on the back give any clue which way up it might be supposed to go. That and the lockscreen, which is always presented in portrait, no matter how you hold the Fire.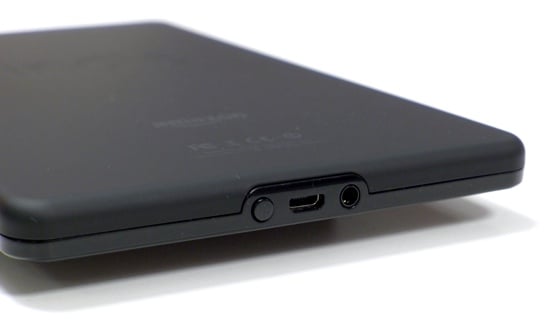 Micro USB and 3.5mm audio are the Fire's only ports
This tablet is designed like no other to be held any which way. There's not even an iPad-esque Home key to give a nod to a preferred orientation. Just pick it up and leave the accelerometers to present the image on the screen accordingly.
And a very nice screen it is too. Amazon has nudged the brightness down, but a tap of the status bar allows you to push it back up. The 1024 x 600 resolution is decent, and yields an iPad-beating pixel density of 169ppi. True, it's no "retina display", and you can see jaggies, but text is a lot easier on the eye than it is on the Apple product.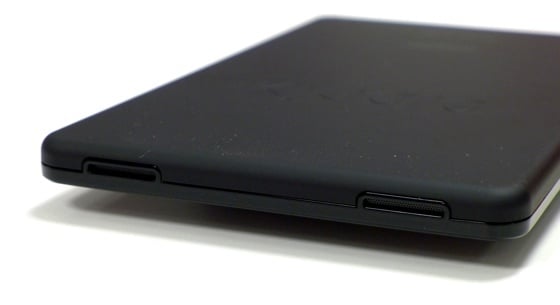 It's impossible not to block a speaker when you hold the Fire in landscape orientation
There are a pair of stereo speakers on one narrow side, a bad location: one grille gets covered when you hold the tablet in landscape mode to watch a video. There's a 3.5mm audio jack on the other opposite side, but that too is placed exactly where you'd naturally hold the tablet.
The audio port sits next to the Fire's micro USB connector and power key. And that's it for connectivity beyond the built in 2.4GHz Wi-Fi.
Weighty tome
Amazon CEO Jeff Bezos writes in his message to Fire buyers: "We designed Kindle Fire to disappear in your hands so you can lose yourself in the content you love."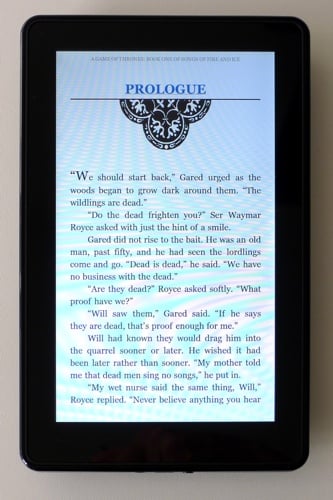 The screen is no "retina" display, but text is clear and smooth
Nice try, Jeff, but the only disappearing this tablet is going to do is slipping out of your hand and tumbling to the floor. Amazon's spec sheet puts the Fire at 414g. That doesn't sound very much, and on paper it's much less than the iPad's 601g. In your hand, it's another matter. The Fire's size is such that you unconsciously hold it one-handed. Indeed, that's one reason why a fair few of you prefer the 7in form-factor to nine- or ten-inchers.
The thing about those bigger tablets, though: you naturally pick them up with two hands. So that greater weight feels half of what it actually is.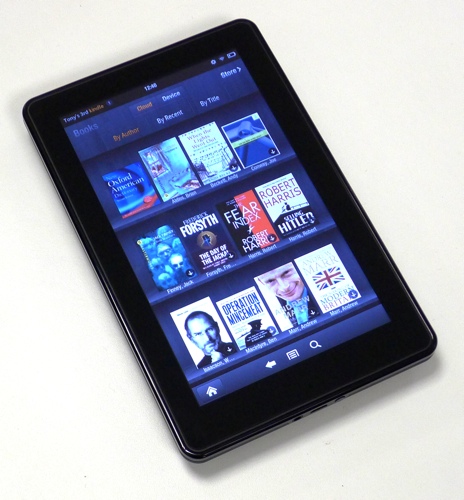 An e-book reader at heart?
The Fire's curves mean the 11.3mm front-to-back device's sides aren't quite as thick as that, but the flat sides make the Fire less comfortable to hold than it could be. Holding the Fire one-handed, I found it would slowly slip, the rubberised back not really producing enough friction to keep it in place without tightening my grip. Folk with sweaty palms, beware.
Verdict
The Kindle Fire is a nice-looking tablet, and, at 200 bucks, Amazon is going to sell a shedload of them. Its flaws are well balanced by the low price, and it's a logical upgrade if you're already a Kindle owner and you want to buy videos, music and apps from Amazon, not just books.
The problems I had getting content don't affect US buyers and will disappear for the rest of us when Amazon activates international sales. If it continues to make side-loading content a faff, that too will change when third-party video players and picture viewers are available.
And let's not forget the possibility of custom firmware from the likes of the CyanogenMod team, converting the Amazon-centric Kindle into a more capable device running generic Android.
For now, then, the Fire makes for a so-so Android tablet, but succeeds as an cheap vendor-tied content access device, the tablet equivalent of a Sky HD box. If you're looking for an iPad killer, look elsewhere, at least until the hackers have got to work. ®
More Tablet and Reader Reviews

Ten high-end
Android
tablets
Asus
Eee Pad
Slider
WHSmith
Kobo Touch
Amazon
Kindle 4
Ten budget
Android
tablets