Original URL: https://www.theregister.co.uk/2011/11/24/review_apple_macbook_pro_13in_core_i5_laptop/
Apple MacBook Pro 13in Core i5 laptop
More of the same but different
Posted in Personal Tech, 24th November 2011 07:00 GMT
Review Guilty, your honour. In mitigation, I would like to assure the jury that I do not automatically adore everything with Apple branding on it, nor have I any intention of jacking off over a Steve Jobs biography. I just happen to like the current range of Apple MacBook Pro notebook computers, that's all. Is it such a crime?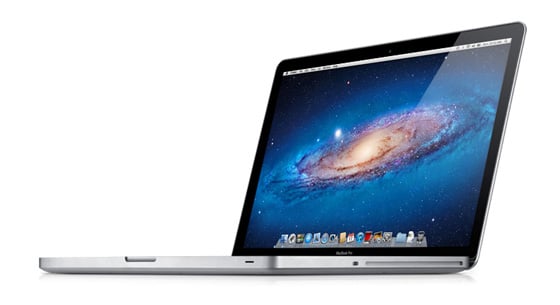 Bright, contrasty, wide viewing angle: Apple displays are the mutt's nuts
So here I am, dressed in stripes and manacled to a 10-foot thick wall in Register Hardware's dungeons, reviewing yet another MacBook Pro. This time, I'm determined to be sour, po-faced and negative, otherwise the readers will press for a death sentence.
And I remained negative right up to the point at which I turn the computer on.
As I bring the Apple power plug towards the MagSafe socket, it leaps magnetically into it. I open the flush lid and push it right back, yet the tilt-free MacBook Pro remains glued to the surface of the desk. When I press the on/off button at the top-right of the keyboard, the casing does not creak, nor does the computer make a stupid farting noise as it starts up.
This is not just any notebook computer, as Marks & Spencer might say.

MacBook Pro: an open and shut case. Ho ho! Did you see what I did there?
What we have here is a gently upgraded version of the 13in MacBook Pro that was last updated in February. This entry-level model has an Intel Core i5-2430M processor that's just 0.1GHz faster at 2.4GHz and is fitted with a 500GB hard drive to replace the previous 320GB unit. In line with Apple convention, however, the price remains the same.
Apart from the enormous Apple logo on the lid, there is nothing vulgar or tacky about the design. Everything is plain and coolly understated, from the overall flatness of the closed computer to the consistent black-and-aluminium styling of the screen and keyboard, and even to the complete lack of any hideous and unnecessary sticky labels celebrating the fact that your notebook has components inside it.

All connectivity ports are ranged along the left-hand edge, including Thunderbolt
DVDs and CDs are slot-loaded from the right edge. All the ports are ranged along the left edge. There's not much to look at. There's nothing to snap off and nothing that looks as if it could fall off. Sod M&S, this is certainly not just any notebook computer, it really isn't.
Socket set
Snapping out of my dreamworld, I was disappointed by only having two USB ports and especially that neither of them support USB 3.0. Ah well, my super-fast USB 3.0 portable hard drive remains a PC-only peripheral for a while longer.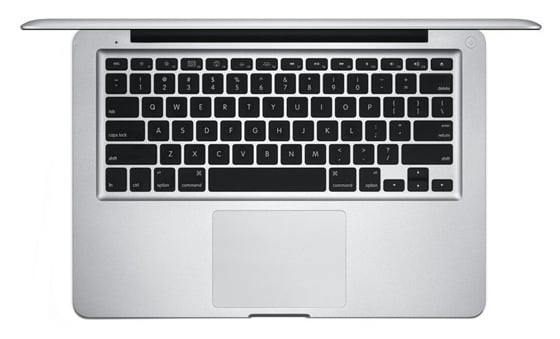 The one-piece trackpad supports a range of gestures that have been extended in Mac OS X Lion
I grabbed the chance to try out the MacBook Pro's Thunderbolt port with Apple's 27in Thunderbolt Display, and it was impressive to say the least. That is, it was impressive how well an entry-level 13in MacBook Pro could drive its own 1280 x 800-pixel display plus another at 2560 x 1440 pixels from its diminutive Intel HD Graphics 3000 chipset, without a hint of slowdown.

This recess is needed to help you separate the magnetically closed lid from the body
I plugged two USB hard drives and a Firewire drive into the Thunderbolt Display's hub, and still the MacBook Pro - driving them all through its Thunderbolt port - carried on without a blip. Yes, this is how Thunderbolt is supposed to work, but I didn't expect it to run so perfectly on an entry-level notebook... unless, of course, Apple's entry level is a damn sight higher than everyone else's.
Benchmark Tests
PCMark 7 Results

Longer bars are better
Outwardly, there's little evidence of entry-level compromise. You still get the controllable keyboard backlight and 74 x 103mm MultiTouch trackpad of the other MacBook Pros. The only defining factor is the 13.3in display which, although I hate small screens, was absolutely first rate in visibility.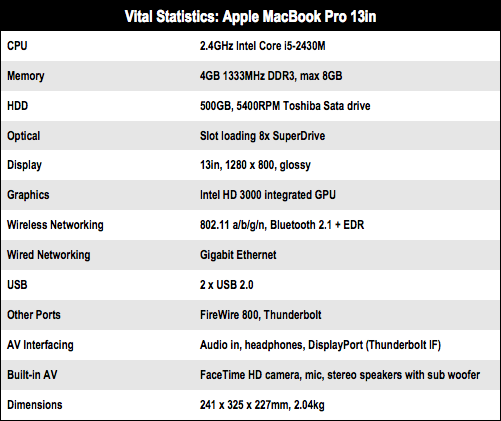 Affordable luxury?
The computer is a careful consumer of power, drawing approximately 55W while charging and around 60W while being used (and charging in the background). In sleep mode, the power consumption drops to 1.3W.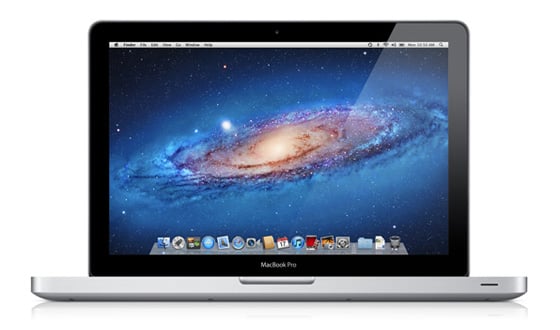 Paranoid users will appreciate the LED that illuminates when the FaceTime HD camera is active
With all power-saving functions disabled, the MacBook Pro performed respectably in Reg Hardware's full-on battery torture test: I managed 127 minutes of non-stop benchmarking before the unit switched off. This should be enough to get me through a day of sporadic, general computing tasks without constantly panicking about needing a recharge.
The MacBook Pros, of course, provide a secret battery level indicator on the left-hand edge, so I would never have to switch on the computer to see how much power was remaining.
Verdict
Here's what I don't like about the latest 13in MacBook Pro: it's so very, very expensive. I can forgive the shared-memory graphics and the lack of USB ports, perhaps also the fairly average processor performance, and I could even get used to the small display, but £999? For that kind of money, it had better be the best bloody entry-level notebook computer in the world. The problem is that it is. Thank you for listening, m' lud. Jailer, take me down. ®
Thanks to Square Group for the loan of the MacBook Pro and Thunderbolt Display.
More Notebook Reviews

Apple
MacBook
Air 13in
Lenovo
ThinkPad
X1
Acer
Aspire S3
Ultrabook
Sony
Vaio
SB
Dell
Vostro
V131