Original URL: https://www.theregister.co.uk/2011/11/24/gavin_rotheray_interview/
We talk to Moon designer about ULTIMATE sci-fi ship
Gavin Rothery points out successes, skewers failures
Posted in Science, 24th November 2011 13:00 GMT
Gavin Rothery was visual effects supervisor on the British sci-fi smash Moon, and has been a creative force on a welter of hit video games, and so has a lot to say on the subject of spacecraft design.
So much, in fact, that I couldn't bear to just cut a couple of quotes into my article on sci-fi spaceship design. So, here, in unedited form, are Gavin's well-informed and passionate responses to my ill-conceived and awkwardly-constructed questions:
Where do the ideas for imaginary spacecraft & future technologies come from?
Gavin Rothery: When I'm designing my own stuff I always start off designing functionally and then teasing it into something that looks cool once I've got the basic mechanical stuff down. This way I get one foot in reality and one foot in fantasy and design believable tech that looks like it'd get the job done.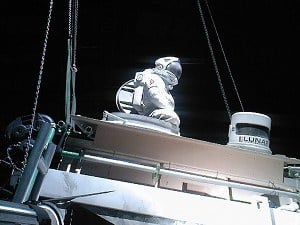 Gavin Rothery on the set of Moon.
One of the things I find interesting is how some design cues become hugely influential and enter the popular zeitgeist so you can see clear trends in other design work. The overall look of the Star Wars vehicle designs made itself felt throughout the '80s with productions like Battlestar Galactica, Buck Rogers, etc. and the work done by the fledgling ILM framing an entire period.
This look of a period is often down to tech constraints forcing a certain look on a production. Later CG came in, the look shifted. Star Trek: Voyager took ships into CG and they tended to take on a certain sleeker look over this period such as Babylon 5 and Andromeda. Current trends are mostly influenced by computer games and there's a sense that this feedback look is getting shorter and shorter with most games artwork referencing games from only two or three years previous. Have a look at some of the concept art from the remake of Total Recall and you'll see what I'm talking about.
There's not a huge amount going on with vehicles in sci-fi right now, something I'm keen to amend in the not-too-distant future. Tron had a bit of tech in there but it wasn't hugely memorable as the story didn't use it very well. I was so excited when I saw an original light cycle as concept art and in the film he basically just rides it into town once and it's out of the story. I like it when tech gets used as part of the story. To be honest I'm not very excited by what's going on right now, and I'd have to say that games offer the most interesting visuals. Just take a look at the Star Wars Bioware cut scenes and you'll see where I'm coming from.
When you're coming up with sci-fi technology do you talk to scientists and industrial designers, or is it a pure flight of creativity?
Gavin Rothery: Kind of yes and no, I'm on the net all the time and have a network of friends that I like to share science news with. We're always tweeting stuff around each other and I find it really exciting to keep abridge of recent tech news. Some of the robotics work that's going on at the moment is phenomenal. Boston Dynamics are a particular favourite. I tend to design with one foot in reality and one foot in fantasy so that I can create believable tech and vehicles. When I design a vehicle I work out where the pilot sits, how they enter and exit the vehicle, how it propels itself, where the fuel is stored, etc, so it looks balanced and believable with recognisable features for people to take cues from. Having said this, it's nice to do some more out-there stuff when you can. The games industry tends to offer more of these kinds of opportunities than film. I try and make a point of seeing everything that's out there.
Which is the best or absolutely the silliest design that I've seen?
Gavin Rothery: Best: Sulaco (Aliens). For me, this is the best vehicle design that I have ever seen and although I try and keep an uncluttered desk I have to have my model of the Sulaco next to my monitor. I find it so inspirational. It just looks like a weapon. Beautiful on-screen.
Millennium Falcon. Just gorgeous. Defined the whole Star Wars era. Looked so good, inside and out.
Tantive 4 from A New Hope (the original design for the Falcon). Such a great opener to a film, burned firmly into my memory forever.
Discovery & the service pods from 2001. So beautifully realistic and so utilitarian to the script.
The Heart Of Gold in the new HitchHikers. Really suited the whole Douglas Adams tone. Marvin too, even though the story was underachieving, the Marvin suit was a pretty awesome design.
Snowspeeders. Favourite Star Wars toy as a kid.
Thunderbird 2. The whole "What's coming out of the pod today" moment was a real treat, always an amazing vehicle that was going to do cool stuff.
Space 1999 Eagles – Design classic, pure '70s English sci-fi class.
Moon Eliza Rig – even though it was only on-screen for a moment, I loved the way Bill Pearson realized this simplistic design. He made it look huge and imposing and it felt like a real threat on-screen, even though it was only 14 inches long.
Blade Runner Spinners – just classic. So well thought out and they come across beautifully on-screen. This looked like the real future and I wanted to go there.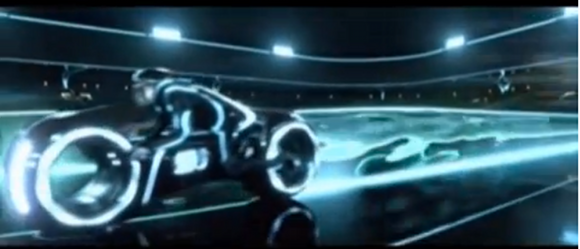 Tron light-cycles – who didn't want one of these? Instant motorbike anywhere? Every time I've ever been stranded anywhere, during the long walk home I have fantasised about having one of these magic handlebars.
Other cool gear
Return of the Jedi speeder bikes – this film sequence is phenomenal featuring some of the most exciting sound design I've ever heard. I listen to this on my iPod when I'm travelling around London and it just gets my blood pumping.
ROTJ Biker Scouts. I still want to be a biker scout and have daydreams about hammering around Endor on a speeder bike and capturing Leia.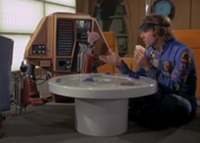 Bruce Dern plays poker with a drone
in Silent Running
The Drones in Silent Running. Some of the most charismatic faceless plastic boxes ever to hit the screen. Truly remarkable how much you ended up caring about these little robots.
Pulse rifle from Aliens. Shit yeah.
Deckard's blaster from Blade Runner. Again, always on my desk.
Original New Hope Stormtrooper helmet. Again, always on my desk. At least until my biker scout helmet turns up.
Worst: Nell, the ship flown by John Boy Walton in Battle Beyond The Stars. I always hated the look of this stupid slug looking thing. It has no practical reason for being this shape and it just stinks of somebody trying to do something different for different's sake. No.
Re-designed Red Dwarf. The original was so gorgeous I just wish they'd left it alone. I know the reason for this was outlined in the story but I really didn't need to see it all long like that. It made me sad.
Trade Federation Droid Fighters from The Phantom Menace. This annoyed me for the same reason the cylon raiders from the new BSG annoyed me. Just don't give a vehicle an actual face, it looks stupid and far less imposing as a weapon.
UFO Interceptors from UFO. The producers of this show missed a trick rejecting the original design by Mike Trim which was loads better than the one they went with.
The hover scooters from Thunderbirds – these always annoyed me. There was no visual clues whatsoever to show how they worked and even as a little kid this sort of lack of visual explanation on fantasy technology used to really put me off. They just floated around like little magic silver chairs with handlebars. Really let the side down compared to all the other cool tech and vehicles in there…
Minority Report finger touch-screens. As if you could do a day's work like this. It's basically a fancy interface for browsing photo galleries. ®
For more of Gavin's fascinating opinions on all things science-fictional be sure to visit his blog http://www.gavinrothery.com/my-blog/ or follow him on Twitter @gavrov