Original URL: https://www.theregister.co.uk/2011/11/23/review_game_saints_row_the_third/
Saints Row: The Third
Extreme - and then some
Posted in Personal Tech, 23rd November 2011 14:06 GMT
Review You shouldn't laugh at Saints Row: The Third. I mean, what's funny about bludgeoning an old lady to death with a three-foot-long purple dildo? Or kidnapping a gimp-wearing BDSM fetishist and forcing him to to pull your chariot in gladiatorial Pony Play?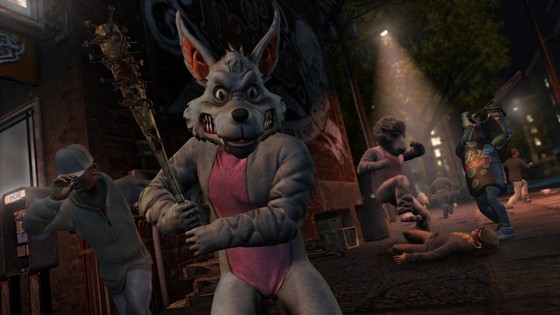 Hand over the Carats
That's the crux of the Saints Row series. By seasoning its smorgasbord of indefensible crimes with infantile and often outlandish satire - not to mention outlandish attire - developer Volition makes vulgarity palatable.
It's a cheap trick learned from Grand Theft Auto, of course, but while its debt to the master of underworld gaming is profound and very obvious, Rockstar's divergence towards a more serious tone in GTA IV has left the sociopathic sandbox market wide open. It's a void that Saints Row: The Third steps into with anarchic alacrity.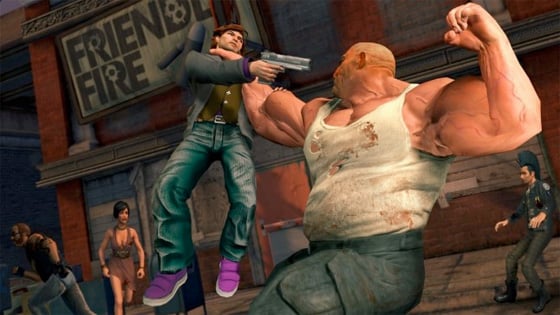 Punch and shooty
The story – what little there is – once again revolves around the Third Street Saints. Now risen from simple street gang to household names, they've become the ultimate franchise business, exploiting their new found celebrity status to endorse merchandising from movies and toys to sportswear and energy drinks.
Having outgrown Stillwater, the Saints' plan for global domination takes them to the sprawling metropolis of Steelport and into direct conflict with two new adversaries: The Syndicate, a powerful criminal cartel comprising three factions, and STAG, a ruthless government taskforce intent on eradicating criminal gangs.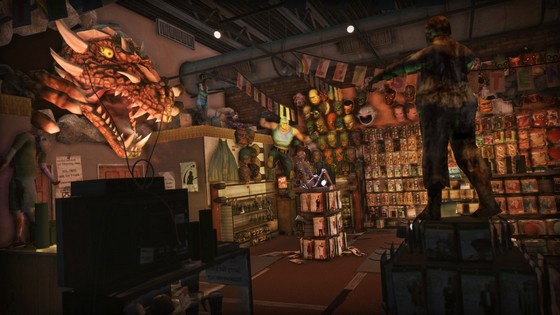 Shocks in store
In substance, Saints Row: The Third works exactly like every other open-world game. You tear around Steelport attempting to capture and control 'hoods by playing a variety of missions, buying up businesses and defeating the entrenched triumvirate of gangs, all the while avoiding the attentions of the police.
Player's a player
It's desperately familiar stuff: pimping your ride in chop shops, decking yourself out at outfitters in cool or wacky garb, seeking sanctuary in cribs from police and gangs, drug dealing, theft, prostitution and, naturally, shootouts, tons and tons of shootouts.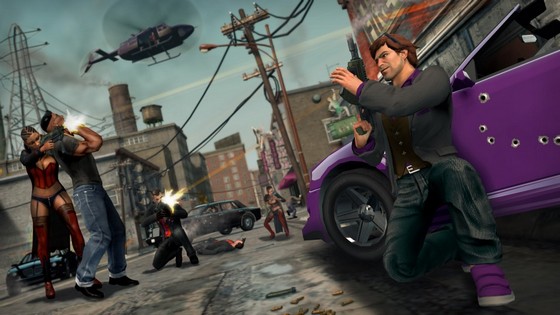 Wheel good shot
The game's mechanics prove equally as generic. True to form, driving and combat controls sit somewhere between adequate and awkward. Vehicles handle distinctively, from zippy and nimble Japanese sportsters to lumbering and achingly slow dump trucks, but they all share inexact physics and an overriding sensation of detachment from the tarmac.
The third-person movement feels floaty too. Aiming is imprecise – although, to be fair, combat transitions between gunplay and melee with remarkable fluidity.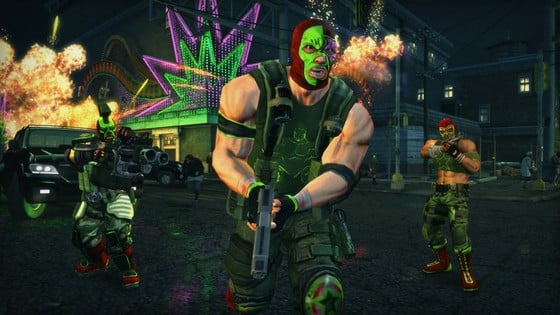 Quit clowning around
Elsewhere, the game's production values fall short of current top-tier games. The graphics are average at best, with a high enemy count coming at the expense of textures and animations. Despite the appearance of a bustling street life, Steelport's NPCs lack the vitality of Liberty City's randomly-scripted citizens, but they're at least superior to Mafia II's one-dimensional automatons.
There are also glitches aplenty, from constant object and texture pop-in to a GPS system which offers an overland route when aboard watercraft and gang fights that become stuck in endless respawn loops.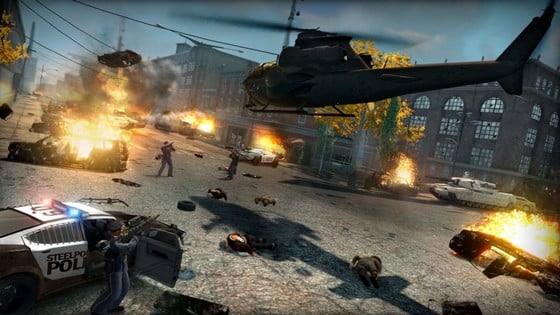 Shooter marking chopper
So what's there to enjoy in Saints Row: The Third? Well, surprisingly, quite a lot. Its underlying mechanics might be shaky, but the impressive mission variety and bombastic pyrotechnics are irresistibly distracting.
One step beyond
Just when you think you've seen it all, Volition ups the ante with even more implausible set-pieces. One minute you're engaged in a high-altitude tank battle as you free fall 20,000ft from a cargo plane and the next defending against a siege on your HQ with an increasingly ludicrous arsenal of RPGs, Reaper Drones and airstrikes.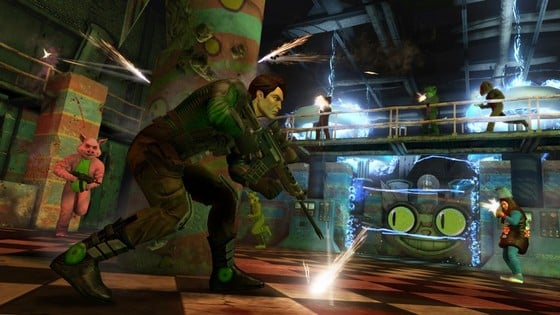 Electric avenue
Volition's OTT satire doesn't begin and end with open-world games, it extends to other videogames and pop culture in general. Not content with its explosive parody on sandbox conventions, the developer bombards you with absurd riffs on other game and movie genres as diverse as Bayonetta, Point Break and Tron.
It's a great trick. The constant stream of novelty masks the limited underlying mechanics while providing plenty of Scary Movie moments as you smirk knowingly at the cultural send-ups. Satirically, it may lack GTA IV's incisive bite, but its charming, if puerile, irreverence constantly amuses.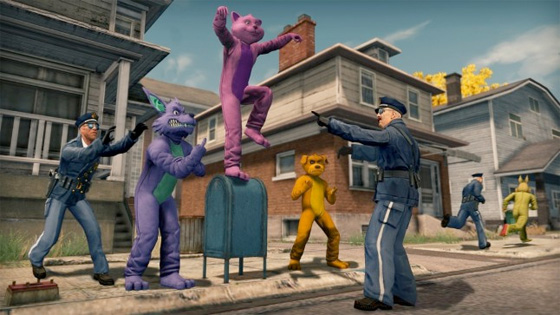 Chasing cats and dogs
The incoherent plot is best ignored, but the ensemble cast delivers some great voice acting and memorable lines, from the melodic bon mots from superfly pimp Zimo's auto-tuned voicebox, to the all-too-brief but exquisitely self-effacing cameo from Burt Reynolds. There's even a decent turn by former professional cock sock Sasha Grey, proving she can still perform even when her mouth's not full.
As Ms Grey's movies testify, the only thing more pleasurable that playing with... sorry, by yourself, is playing with someone else. And it's no different here. Whether creating improvised carnage on Steelport's sandbox streets or tackling any of the missions, the campaign mode dishes up even more belly-laughs in co-op.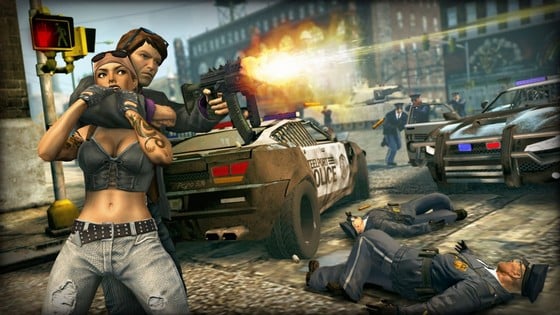 Wow, nice shield
And when you're done with the main mode, how about the game's Whored Mode, an hilarious take on the ubiquitous multiplayer offering mixing up enemies and weapon load-outs from fist-fighting waves of miniature zombies to duelling RPGs against giants dressed up as hot dogs?
Verdict
Saints Row: The Third may be crass, ridiculous and violent, but it's also wonderfully entertaining. By stepping into the void left by the maturing GTA series, Volition has not only stepped out of Rockstar's imposing shadow, it has also proved a paradox – that playing dumb is sometimes very clever. ®
More Games Reviews

The Legend of Zelda:
Skyward Sword
Assassin's Creed
Revelations
Halo: Combat Evolved
Anniversary Edition
The Elder Scrolls V:
Skyrim
The Adventures
of TinTin