Original URL: http://www.theregister.co.uk/2011/11/23/antique_code_show_id_software_doom/
id Software Doom
Scary monsters and super creeps
Posted in Games, 23rd November 2011 10:00 GMT
Antique Code Show id Software's latest FPS Rage left a niggling feeling of déjà vu at the back of my brain for about a week after I started playing it, until I realised I was getting some subliminal Doom flashbacks.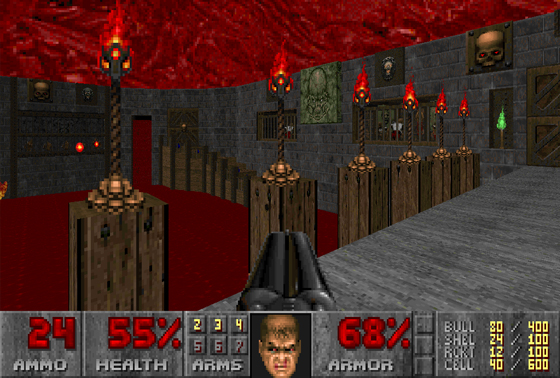 House of Doom
In 1992, game developer id Software needed something special to follow up the hit that was Wolfenstein 3D. What could be a better denouement to my battle with Hitler than an alien world full of demons and zombies where I get to don my space marine outfit?
Coincidentally, this was also around the time I was obsessed with battling space marines in Warhammer 40K with games that took over much of my kitchen floor. Those Cacodemons sure do bear a passing resemblance to squigs!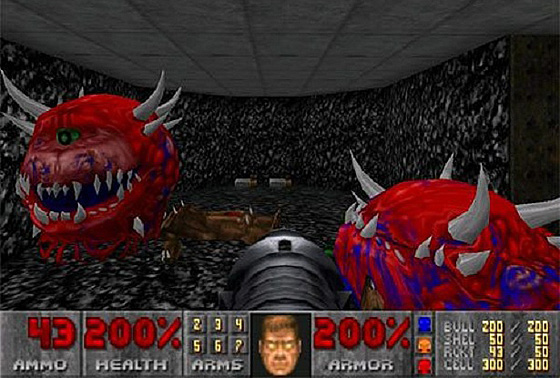 Cacodemon conflict
Doom wasn't short on story, never mind the gore and gunfire to follow, I particularly enjoyed the fact my own government had fucked things up by messing where they shouldn't and opened a portal to hell. Damn, it's just me left to go ultraviolent and push the legions of hell back into fiery limbo.
Faced with dual chain gun-wielding bulked up Aryans as your foe, Wolfenstein 3D was funny rather than scary. Indeed, I don't remember being scared by a game until Doom appeared, with its engine capable of dimmed quivering lights and its repugnant textures. The nihilistic tones of Alien 3 echoed through such levels as the toxic refinery. Like the Alien series Doom's dark corners allowed my imagination to run wild and consider turning the lights back on.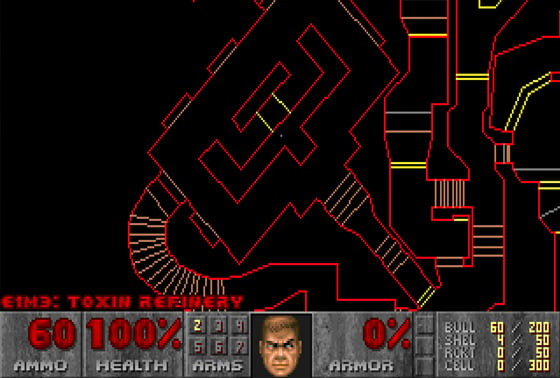 Alien resurrection?
But Doom had a lot more going for it then a few scary moments, and I don't just mean those scrambles for the health kit. Being able to carry an army's worth of gun power is not necessarily realistic but neither are angry alien demons trying to rip my flesh off. I'm never empty handed with a chainsaw, a shotgun, a chain-gun, and a rocket launcher at my disposal.
Date with death
With Doom you were not only introduced to a world of cyber demons but death matches – be sure to have the BFG 9000 on hand for that one shot kill – cooperative gameplay and also a world of player mods including maps and sometimes full remakes.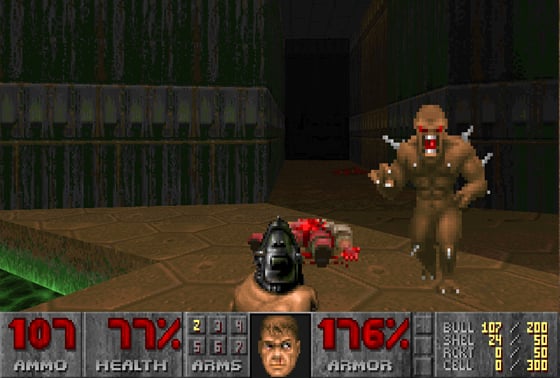 Lost productivity
Back in 1993, id Software boasted that Doom would be "the number one cause of decreased productivity in businesses around the world". I must confess, I played my part in living up to this statement with a fair few death matches across the network at the animation company where I worked back in those days.
Unfortunately Doom's satanic themes and slayer riffs all washed down with pixel splashes of blood horrified the moral majority and ushered in a legacy of ESRB games ratings. Still, as I boldly wield a chainsaw in the face of hell, I have yet to encounter a spiderdemon that could stop me.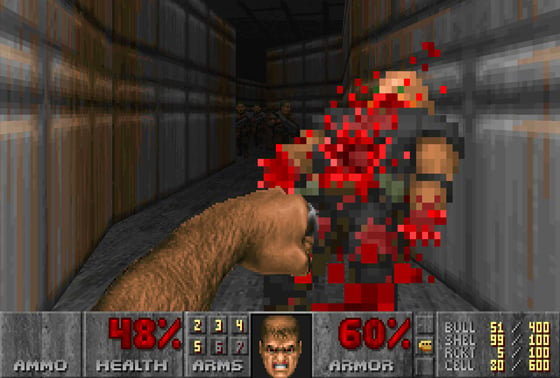 Harbinger of Doom
Doom is an absolute classic and this is reflected in it's 10 million + shareware downloads. The level design is tremendous and I adore the directness of the narrative and the shadowy and jittery ambiance. Fantastic sound, prodigious monster design. Doom is the definitive horror slugfest against the minions of hell. ®
Reg Hardware will be revisiting memorable titles from gaming's illustrious past every fortnight
Developer id Software
Year of release 1993
More Info Doom is still available for download from id Software for $20 and Steam for £5.99. An iOS version of Doom is available on iTunes.
More Antique Code Show Reviews

Lemmings
Flashback:
The Quest
for Identity
Baldur's
Gate
The Secret
of Monkey
Island
Star
Control