Original URL: http://www.theregister.co.uk/2011/11/22/review_game_the_legend_of_zelda_skyward_sword_for_nintendo_wii/
The Legend of Zelda: Skyward Sword
Gripping Link
Posted in Personal Tech, 22nd November 2011 14:01 GMT
Review Look who it is. Just when you thought that the dust-gathering ornament you used to call a Nintendo games console was in permanent retirement, back it bounds. Why? Because there's a new Legend of Zelda in town - a game most will have played before in one guise or another, and one that Nintendo always finds a way to freshen up.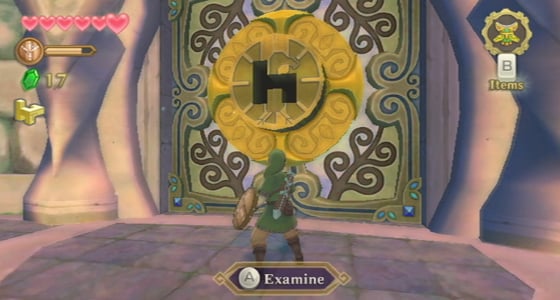 Lock-dressed monster
Where Link to the Past had its world-swapping; Ocarina of Time had its... well, ocarina; Wind Waker its cell-shaded high seas; and Twilight Princess its lashings of lycanthropy, Skyward Sword's main additives are a sword with nearly, but not quite, one-to-one control and the introduction of Link as master of the skies.
Skyward Sword opens in Skyloft, situated far above an impenetrable blanket of cloud which for eons has served as barrier between those above and what lies below. Exactly what that might be is largely forgotten by the Skyloftians, a people happy to live their lives above the clouds, travelling through their sun-kissed floating world atop giant birds.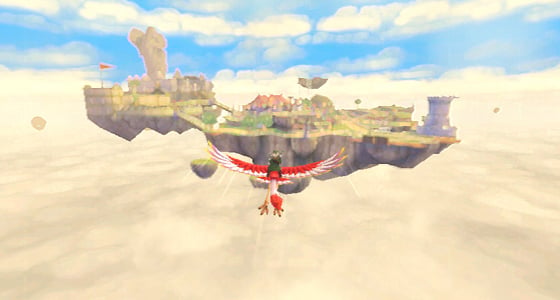 Riding a bird
Skyloft serves as a hub from which Link will eventually be granted access to the long forgotten surface. Though that's not to say that Skyloft isn't without its own secrets, indeed you're free to explore the floating islands at your leisure. Its inhabitants, a mixture of the odd and downright bizarre, tasking Link with errands, so adding to the already hefty 35 hours play time as they do.
Exploring Skyloft does, however, reveal the shortcomings of the Wii's graphical prowess.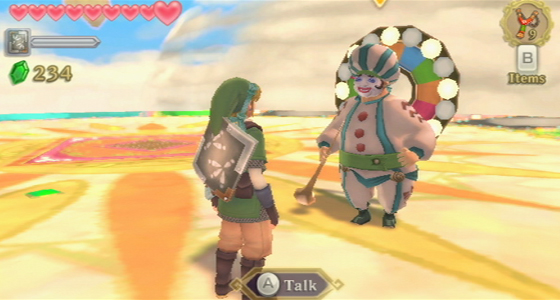 Don't speak to a horny clown
Nintendo has gone to great lengths to disguise the fact that the Wii is a geriatric, standard definition console where possible but, creative and colourful though the gaming world is, there's too much blurring of the horizon and low res textures on show for comfort. Indeed, you'll find yourself wondering how amazing Zelda might appear in HD.
Underground slasher
Link is first introduced as a knight-in-training, a premise used to teach us the basics of sword swinging, his new-found athletically prowess – which sees him leaping and climbing – and the handling of his trusty crimson loftwing bird. Before long, Zelda – here an object of his affection – is taken away, this time plummeting to the land below. As legendary hero made incarnate, Link is laden with the burden of finding her - did anyone say the word 'dungeon'?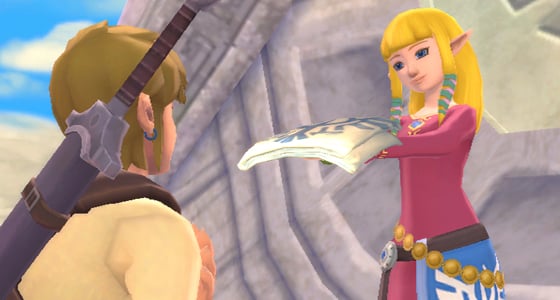 Just in case you get blood on your shirt
Oh yes, you'll soon be in familiar dungeon exploring territory, even if here there's a tendency for such dens of corruption to be hidden in open-plan environments which must themselves be explored, and their puzzles solved, before the dungeon proper is finally revealed.
Brilliantly imaginative, these new entries into Zelda lore are as fiendishly designed as ever, forcing players to use their brain as much as Link's brawn.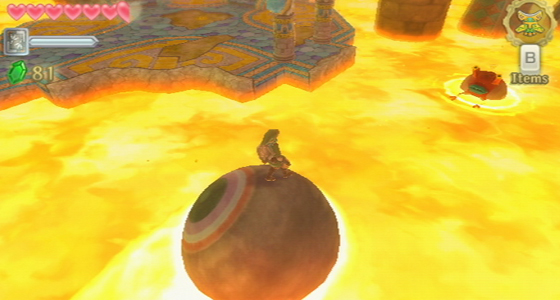 Having a ball
As is generally the case across the series' entries, Link is granted access to an ever widening assortment of gadgets, and it's to the developer's further credit that these are referenced beyond the initial environment they're found in. They are often required in later dungeons, or else elsewhere around Skyloft, ensuring the player must be ever aware of all the tools available, and providing a fair share of "Eureka!" moments.
Thankfully, Link isn't alone at times of strife, as Fi, a robot-voiced font of all knowledge, is constantly on hand to guide and inform – think Ocarina's Navi the fairy. Fi is a constant flea in his ear, letting us know pertinent developments, speculating on enemy weaknesses and even telling us when the batteries in our Wiimote need replacing.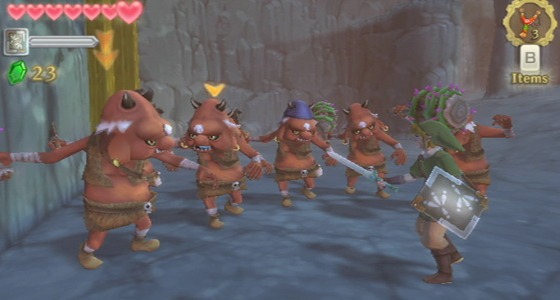 Ring a ring of gross things
Fi's other function is in the new dowsing system, where Link can set his sword to look for certain characters – usually, but not always, Zelda – and even items such as restorative hearts and so forth. A strange addition you might think, but one useful in Skyward Sword's more complicated locations which might lead the unwary traveller astray.
Gripping the sword
TFi is housed within Link's sword, which brings us swiftly back to those one-to-one controls, much publicised and ultimately worth the hype... just. Though responsive and attuned to the player's style when exploring, swordplay is still limited in its freestyling, as blows – however cunningly aimed – are reduced to preordained horizontal, vertical and diagonal swipes.
That said, forward thrusts are nicely implemented, particularly satisfying when a spinning Skulltula's weak belly is mercilessly exploited.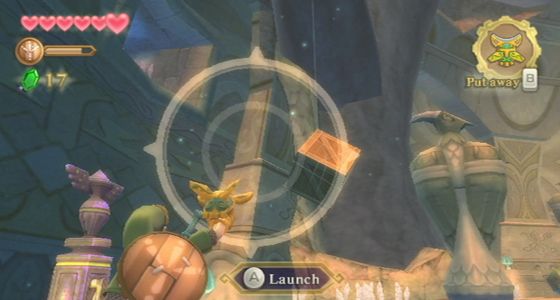 Flicking boxes
Encounters with enemies capable of defending themselves prove to be a mixed bag too. An early boss, for example, has the player feint in one direction, before attacking from another. It's good on paper but sluggish and unauthentic in practice.
That said, timed counter moves – using sword and shield in tandem – feel great, as does adjusting the direction of a swipe as your enemy's weak point dictates. It's just that the whole system feels like the middle-ground between the usual restriction and complete freedom.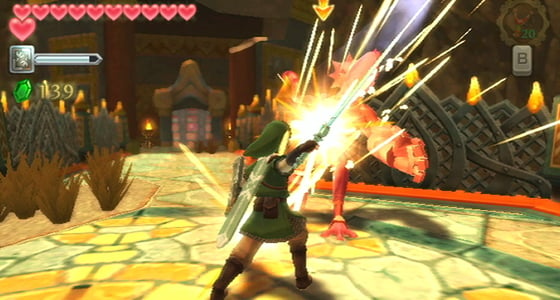 Spark it up
At least Link's reserve of discoverable – and usually upgradable – equipment fares better with the game's constant championing of MotionPlus. Bombs, for example, can now be rolled as well as thrown, a flying beetle can be directed by the tilt of the controller and Link's loftwing mount itself is as much a joy to fly as it is to dismount – Link turning skydiver as he plummets to the surface.
Verdict
Nintendo has produced one of Link's most memorable adventures yet, a rich tapestry of strange characters, memorable locations full of flourish and mischievous bosses. By taking MotionPlus to heart, it has created an interface unlike that of any other game, finally demonstrating what gesture controls are capable of. Yes, there are missteps in the sword play, but most Zelda-lovers will easily forgive that flaw.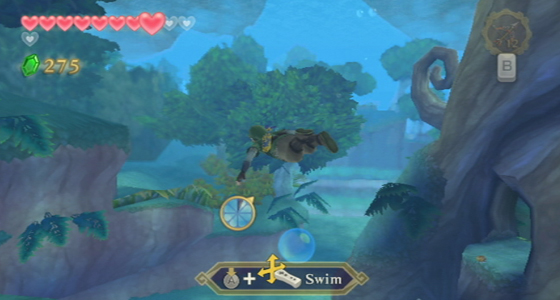 Wish I brought my Speedos
It's just a shame for Skyward Sword that it lands at a time when the Wii is at its lowest-ebb – technologically and in terms of popularity. It's a shame for the Wii too, that a game which finally shows off the console's hidden layers of control comes during its twilight years. ®
More Games Reviews

Assassin's Creed
Revelations
Halo: Combat Evolved
Anniversary Edition
The Elder Scrolls V:
Skyrim
The Adventures
of TinTin
Call of Duty:
Modern Warfare 3