Original URL: https://www.theregister.co.uk/2011/11/22/pure_storage_fc/
Pure Storage attacks EMC heartland
Taking the fight to Fibre Channel
Posted in The Channel, 22nd November 2011 17:01 GMT
No VC is going to fund a start-up intent on attacking EMC's SAN array heartland with a disk drive array - who would be that foolish - but a flash array which outperforms VMAX/VNX and costs less? Now you're talking - if it's for real.
Pure Storage is confident that it has the technology to beat EMC, Dell, HDS, HP, IBM and NetApp Fibre Channel SAN arrays. We've described the technology previously, but to recap, it's an all-flash array with thin-provisioning, compression and deduplication to enable its cost/GB to be lower than SAN disk arrays.
Product VP Matt Kixmoeller said at a press briefing: "We saw a lot of flash start-ups over the past couple of years - but they were blinded by performance. We thought the biggest obstacle was economics."
It's not sufficient to have the technology and the economics alone though; credibility is key when you're selling mission-critical arrays to enterprises used to dealing with rock solid suppliers like EMC and the like. Pure is pursuing that by conducting very open and lengthy alpha and beta testing.
Kixmoeller said: "We're certifying beta release runs on four platforms and variants. We've spent millions on interoperability testing." There are some 40 companies beta testing Pure's product, which could ship in the second quarter next year, and testing started one-and-a-half years ago.
Pure is even publishing case studies of some beta testers, such as eMeter. This is generally unheard of in the industry.
Our feeling is that Pure will probably bring out TPC benchmarks; another credibility booster.
Software smarts
Pure is developing extremely clever software to drive its off-the-shelf consumer-class multi-level cell (MLC) flash to both perform fast and dependably, and have a robust working life. It's carrying out extensive profiling of Samsung NAND drives, working closely with Samsung, and investor and the main one of its two flash suppliers, the other being STEC with a customised ZeusIOPS card.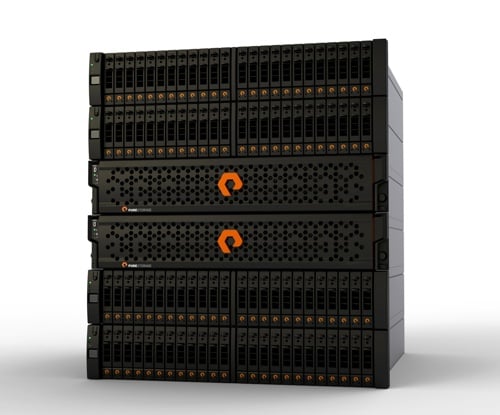 Pure Storage array
It is tuning its software so that it manages its writes to the drive to reduce write amplification and avoid brief period when a drive can't write through internal activity, switching writes to other drives and then back again. Technology director Michael Cornwell said: "We have 1 per cent over-provisioning. Our write pattern means the drive never has to do internal garbage collection ... We run garbage collection globally over the entire array ... It's all about reducing latency. Every millisecond/microsecond is sacred to applications."
Pure seems to be a reprise of 3PAR in its approach: going for the Fibre Channel SAN jugular. It is going to say to EMC customers: "Don't buy a VMAX or VNX. Buy one of our arrays and get better than EMC performance for less money but the same enterprise-class reliability, availability, service and support". It knows it has to have a compelling proposition to prise customers away from the comfort blankets provided by HDS, HP, IBM and the other top SAN storage array providers.
Price and positioning
At the core of its offer is the ability to store database, virtual machine images, and the like in much, much less capacity than a disk array, with consequent reductions in floor space, power and cooling.
Where disk arrays can't afford to deduplicate their data, meaning 100TB of data needs 100TB of disk, Pure says it compresses and deduplicates and can store 100TB of raw data in 50TB of flash or less; it varies with the dedupe ratio. It gets better. By avoiding disk-style RAID, Pure avoids the SAN array trap of needing 300-500TB of disk to store 100TB of raw data so as to protect it against drive failures.
The avoidance of costlier enterprise-class MLC and even more expensive single level cell flash is at the heart of its ability to get under disk drive SAN array pricing, less than $5/GB.
We have take this on trust of course, as product is not shipping yet and therefore doesn't have a price. But Pure has beta test experience and so an understanding of its costs in producing flash arrays to take on VMAX, VSP, FAS, DS8000, XIV, Compellent and 3PAR. Add a margin to these costs and it knows pretty well what its finished product is generally likely to be.
Don't buy a VMAX or VNX. Buy one of our arrays and get better than EMC performance for less money but the same enterprise-class reliability, availability, service and support.
Pure is neatly positioned against other all-flash arrays. It is the enterprise Fibre Channel flash array, with SolidFire being the iSCSI one for cloud service providers and Nimble Storage being a flash-enhanced iSCSI array for small and medium business... three well-funded start-up horses for three separate market courses. They won't tread on each other's toes, at least not initially.
What about competition from Nimbus and Violin Memory? Kixmoeller said: "Nimbus is not enterprise because it lacks scalability, HA and reliability ... Nimbus and Violin are fundamentally designed to be single controller products ... our design point was a dual-controller type system."
CEO Scott Dietzen said: "There are other companies in stealth that could give us, Nimble and SolidFire, strong competition."
Dietzen said he expects EMC, IBM, HDS, and NetApp to intro all-flash product designed to be all-flash and not biased towards disk drives in the next 12 to 18 months. They may though buy a flash array technology supplier.
Roadmap gleanings
We understand that snapshot functionality is coming. Pure will likely do a vCentre plug-in for the second or later release and let VMware admins manage its storage.
Regarding 3-bit MLC flash (TLC), its cost curve is not down to the commodity yet. When it gets there Pure will think about using it. Kixmoeller said of TLC: "We think we're going to be very well-positioned there."
After TLC, NAND will probably be superseded by a follow-on technology. Dietzen said: "Through tight relationship with both Samsung and STEC we are thinking about post-NAND."
He wouldn't identify which post-NAND technology is most interesting but he did say: "Phase Change is very exciting - it will go first to NVRAM. That will be too expensive for us. We want to ride the consumer curve."
Pure Storage is a tightly run ship with a clear course and roadmap, and a tigerish focus on what it needs to do to prise enterprise customers away from the tight embrace of their existing Fibre Channel array suppliers. It may well pull it off and should almost certainly give the existing suppliers strong competition. Bring it on. ®