Original URL: https://www.theregister.co.uk/2011/11/22/one_night_only_orchid_discovered/
Hideous orchid that just wants a one-night stand found
One to definitely regret in the morning
Posted in Science, 22nd November 2011 12:07 GMT
A flower that only opens in the hours of darkness has been found in the primeval forest of the New Britain Island in Papua New Guinea.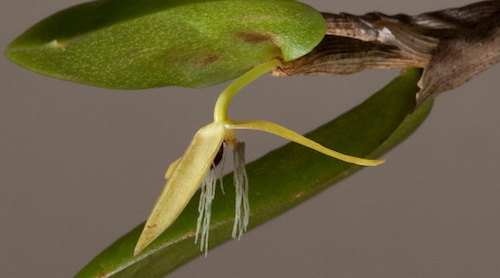 Perfect floral gift for a loved one, no? (Bulbophyllum nocturnum by Andre Schuiteman)
Pollinated by moths, it was observed to open its petals at 10pm and shut them again at 10am by Dutch orchid specialist Ed de Vogel, who has just published a paper on the new flower in the Botanical Journal of the Linnean Society.
Each bud only flowered for one night, closing a few hours after sunrise. Only by taking the orchid home with him one night, did De Vogel discover the secret of the flower whose buds otherwise seemed to wither without ever opening. Of 25,000 known species of orchids, the Bulbophyllum nocturnum is the only one to display night-time opening.
Orchids are known for their bizarre flowers which can sometimes resemble insects or sea creatures.
De Vogel published his paper in conjunction with Kew Gardens. The Gardens orchid expert Andre Schuiteman said: "This is another reminder that surprising discoveries can still be made. But it is a race against time to find species like this that only occur in primeval tropical forests. As we all know, such forests are disappearing fast. It is, therefore, increasingly important to obtain funding for the fieldwork required to make such discoveries." ®