Original URL: https://www.theregister.co.uk/2011/11/21/nokia_hildon_the_great_lost_platform/
Nokia's Great Lost Platform
Could've been a contender...
Posted in Networks, 21st November 2011 11:00 GMT
Special Report Nokia has undergone a dramatic convulsion this year, abandoning its two smartphone software platforms, and allying itself with Microsoft. The company's software was widely seen as uncompetitive, and hadn't moved with the demands of the market. Nokia has also missed out on the most explosive hardware growth area in recent years. As the company put it, in regulatory filings made this year:
We may not be able to attract developers and other participants to our ecosystem if they do not have the opportunity to leverage their offerings across a wide range of mobile products, particularly tablets, which we currently do not have in our mobile product portfolio.
Yet it could be a very different story today.
A decade ago, Nokia developed an advanced software platform light years ahead of the competition, only to neglect it, and eventually abandon it. The platform would have allowed Nokia to bring more sophisticated devices to market more quickly, and the company may have avoided much of the difficulty that enveloped its software development. The story is a microcosm of issues that enveloped Nokia, and the mobile industry, in the past decade.
This software platform began life as a project called Hildon. It's a remarkable story: it was completed "under budget and over spec" in under 18 months, something nobody has achieved before or since.
Few public details have ever emerged about Hildon and its legacy, with the result that few people outside a select few in the industry appreciate its capabilities, scale and ambition. Wikipedia, reflecting the 'collective wisdom of the web', merely describes Hildon as an "'application framework' for Linux", with no reference to its fascinating ancestry.
"People redefined Hildon after the fact. They still think it was a UI – but it was a platform," explains Jeremy "Jezar" Murray-Wakefield, the project's original design manager.
Here's the story of what Nokia had, but threw away.
A Meeting of Minds
Sometimes it hurts to be early.
The most dramatic new growth in consumer electronics in the past decade has been generated by two devices: an internet tablet and a slate - Apple's iPhone and iPad. The iPhone is a handheld designed around data, and the iPad is simply a tablet computer, conceptually little different from so many designs to hit the market over two decades. Indeed, the need for such wireless, connected mobile devices was being anticipated many years ago.
These future gadgets had a different name, at the start of the century. They were typically called WIDs or MIDs: a permutation of [Wireless | Mobile] [Information | Internet ] Device. And a decade ago it looked like these would be developed on a common software base, jointly owned by the three largest handset manufacturers of the time. Nokia, Ericsson and Motorola were shareholders along with the creator of the software, the British computer company Psion. This venture was called Symbian. The future truly appeared to be at Symbian's feet.
By the middle of the year 2000, Symbian had yet to ship its first real phone, however. And internally the top of the company was riven by conflict, as the owners pulled the vision in different directions, and gradually exerted control over the software, away from the original designers. We told this story last year – see this episode of our Three Part special history ( One and Three).
Psion had pioneered the PDA market producing pocketable mini-laptops renowned for their reliability and sophisticated software. Nokia had introduced something similar, a sophisticated mini-laptop, the size of a large phone, in 1996, called the 9000 Communicator. The very concept of Symbian emerged from their co-operation, as we described in detail here.
So looking forward, they had similar needs. But they also wanted to modernise the software, and expand into the WID or MID device space – what we today call handheld tablets. Nokia's second generation Communicator was based on Symbian, and it was taking a long time to emerge – and wouldn't do so until the following year. Nokia had already taken the decision not to develop any further devices on this platform, codenamed 'Crystal'.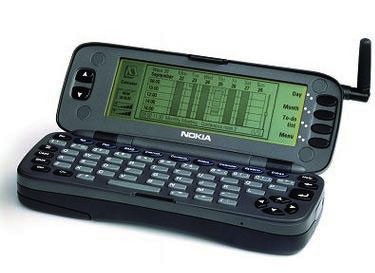 Nokia's 9000 from 1996
It was natural the two should co-operate.
In November 2000, an experienced executive, an American relatively new to Symbian, was called into an office at Psion's HQ. Jonathan Sulenski was given a proposition. Psion and Nokia would jointly develop a future platform. The work would be done at Psion, and Nokia would retain an option to license this software. Would he like to accept the challenge?
Charles Davies, the Psion executive who made the offer, described it as follows.
"The appeal for us was we didn't have to contribute our own private resources to develop our own next gen UI," he told me. Nokia had even greater ambitions, and more at stake. The project would become its strategic smartphone platform for the future.
It was unusual for Nokia to devolve something so important to an outside group, over which it didn't retain total control. And a new outside group, with no track record of working together, spontaneously created for the purpose. But it's a sign of how much respect and trust there was between the Finnish company and the British counterpart. The project had powerful backing from an enthusiastic and charismatic Nokia executive board member, Anssi Vanjokki. The Harley-Davidson driving Finn had been appointed to the board in 1998, and in addition to leading Nokia's mobile phones division in Europe and Africa, led the Digital Convergence Unit.
There was just one problem.
Psion's working codename for the project was Brian.
"You can't call a platform Brian," Matt Millar, who became the technical lead, and today is CEO of Live TalkBack, recalls saying.
The team cast around for inspiration, but drew a complete blank. They fell back on the ubiquitous bottled mineral water on the table in the conference room.
With Sulenski given a £10m budget and a challenging 18 month deadline, Project Hildon was underway.
The Project
The scale of the task was immense. Hildon could use the kernel from Symbian, but almost everything else had to be written from scratch.
"We needed new application engines, so everything was new, really," recalls Sulenski.
Hildon needed new telephony and messaging stacks and apps, a new Office suite, and Java. The specification also called for technologies anticipated in the future: such as IPv6. It would have The Hildon team in London would design the architecture and UI, contribute crucial code and co-ordinate the teams of contractors around the world. In the end, eight companies in nine countries were working on at Hildon as contractors. The London team would also have to test the code and deliver a working product on a new reference hardware platform.
The ground-up approach had other advantages. "It ensured it was clean, not spaghetti code," recalls one manager.
"Outsourcing was the only way to do it," recalls Sulenski. "If we'd done it in-house we'd have built a huge infrastructure, which needed personal support, and the great expense that goes with that. We were not building a company or an organisation".
The team ended up using an incremental development that today is known as Agile – before The Agile Manifesto (2001) made the term fashionable.
"We wanted to build something that always worked. The traditional waterfall model wouldn't produce the work in time. So we were always in a ready-to-ship state. The final stage was making it robust."
Sulenski drew heavily from former Psion staff. Jezar Wakefield was UI lead, bringing in Nick Healey as consultant. Millar was invited to become the technical chief. Millar was leading the 9200 Communicator project at Symbian and would not be able to join until Spring 2001. The number of staff would swell to over a hundred: more if contractors were included, and the core team spilled out from Psion's HQ in Park Crescent.
But incredibly, the nature of the project never got out, even to most other Psion staff. Psion staff who had been seconded to Hildon couldn't tell their colleagues what they were working on. Sulenski attributes the secrecy to a decision to pull everyone on the project from around the world for a formal technical review day, poring over every aspect of the project, followed by a social event. Sulenski organised a big party culminating at The London Dungeon. Large amounts of alcohol were consumed. It meant every contractor had looked every other one - and Hildon managers – in the eye. Sulenski today still credits this teamwork.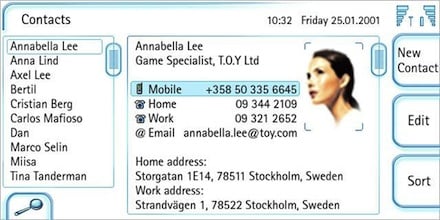 The Hildon UI
There was one problem, though, and it's a surprising one in retrospect. Despite the common ownership, the Hildon team couldn't get source code from Symbian in a timely fashion. It took nine months to get access to Hurricane, as Symbian OS 7.0 was called, by which time the team had been working on version 6.1.
"There were cross-licensing agreements, and not everyone was on board," recalls one frustrated manager. And Ericsson - which had contributed its pen interface work to Symbian, which became UIQ - viewed the Hildon project with suspicion.
"It was a microcosm of why Symbian failed, really," says one manager. "They didn't get the source code out."
Nokia could be infuriating in its decision making – something the world only saw much later in the decade.
"We would imagine a Deity in a cupboard making all the decisions, that had to be consulted," says one executive. "Nobody would make a call on the spot. They'd go away, and come back days later with a decision. It was a consensus culture."
Nonetheless Nokia's trusting approach won a lot of respect.
"Nokia was particularly brilliant and acted with absolute integrity throughout seeing as it was the 'elephant in the room'. They were complete gentlemen about it," recalls Sulenski.
And the team delivered. As the spring of 2002, the team could deliver the working platform.
Exit Psion, Enter Mobile Innovation
Nokia and Psion were both receiving code drops, as they drew up their respective product strategies. In June 2001, Psion had made a very public exit from the consumer PDA market it helped create. But it had retained key personnel after spinning out its software division in 1998 to form Symbian, and retained staff including employee No.1 Charles Davies, and hardware guru Mark Gretton. Away from the glare of publicity, Psion was devising an ambitious enterprise strategy, with push email software and sophisticated communicators.
What happened next is murky, but the outcome is not disputed. In the spring of 2002, Gretton and Davies were invited to in Finland to see Nokia's plans for products based on Hildon. It was so secret that Sulenski and the Hildon team couldn't see them. What they reported was that Nokia was preparing devices of such sophistication that competitors would have a very hard time.
Alarmed, Psion withdrew from Hildon. The Psion board decision still angers Gretton:
"Psion died by a succession of blows, people with less and less ambition — and more fear," Gretton recalled in an interview in 2007. "This fear became self-fulfilling. The mentality was that everyone will get us: 'Nokia will get us, Palm will get us, or the Japanese will get us.'... In the end we got ourselves!"
Meanwhile the Hildon team was being wound down. On a plane to Helsinki, Sulenski and Millar decided to take a radical step. They'd form their own company, try and keep the team together, and put the idea to Nokia.
Nokia, remarkably, accepted the proposal. In doing so, it was entrusting the development of its anointed future platform to an outside entity. The new company was called Mobile Innovation, with Sulenski and Millar's savings tiding them over.
"One of the things I'm most proud of, is almost all the contractors came off Hildon to work for Mobile Innovation – and at a reduced rate." Sulenski was wary of being so reliant on one supplier, and found other work for his engineers: Sendo was actually Mobile Innovation's first customer. But such was the insider industry reputation of the team – creating a platform in less than 18 months – more work followed.
Big Bangs
Flexibility is great asset. But flexibility can also be a double-edged sword.
Sometimes when a new platform brings significant advantages, it's advantageous in the long run to move everyone over at once, or as quickly as possible. Product managers and marketing teams must get behind the new platform, without reservation. As the saying goes, all the wood must be behind the arrow.
But if it isn't, then pockets of loyalty may remain around the older, more established technologies. Nokia was a burgeoning organisation, and avoided presenting Hildon as the one true future platform, one that was flexible enough to encompass the others. So political factions arose, and clung to the older, less capable technologies.
As we shall see, Hildon's flexibility permitted the more conservative factions to do this. A risk-averse management culture avoided short-term pain, and long-term gain.
Nokia's intention had been to license Hildon. It viewed Series 60 as a first step: the future of media devices and communicators would be Hildon, according to sources familiar with Nokia's strategy. As the project neared completion, it was content to wait on the licensing, however.
Nokia had two product families in mind for its new platform. One was media tablets, codenamed MX, and the other a more modern version of its Communicator line, CX.
But things had become complicated. By mid-2003, the landscape had changed subtly from three years earlier.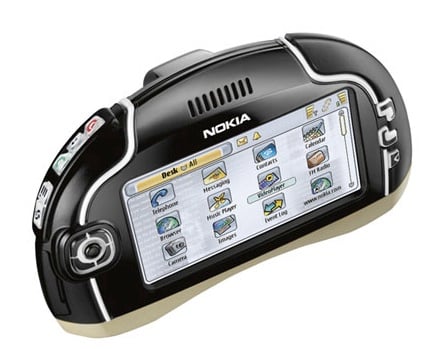 "And this came in looking like Darth Vader's helmet..."
Nokia's first media tablet - and the first Hildon device
During 2000, Symbian was being pulled several ways. The original goal of a crack design team handing designs to the shareholders
"Symbian knew what consumers wanted, what software they wanted," Millar recalled last year. "But it got pulled apart by competing views – it could never execute on Symbian view."
It decided upon a strategy called Project Nightingale – a tactical withdrawal from creating user interfaces. Except for the ones it did continue to develop. UIQ, a rival pen-based user interface, potentially useful for tablets remained on an uncomfortable perch in the Symbian nest. (Symbian's UIQ team, and its principle beneficiary Ericsson, knew nothing of the top-secret Hildon project).
Nokia in particular had become frustrated by the politics of Symbian, but was still supportive of its goals of building a mass market on a common base. It decided to take matters into its own hands. During 2000 and 2001 it cobbled together a user interface for devices that looked very much like traditional phones. Nokia would license this to other manufacturers, but handle the licensing itself. It would evangelise its own APIs, too, thus "owning" the developers and UI. This was announced halfway as the Hildon project reached its halfway stage, in November 2001.
The move allowed Nokia greater control, and the ability to bring its own products to market quicker, the company hoped. Nokia had announced a games console N-Gage, based on Series 60, in 2002 [N-Gage review]
But it also allowed what really was a limited, ad hoc codebase to become entrenched. The first sign of tension was in 2003, before Hildon had been announced to the world. Nokia cancelled CX, the advanced QWERTY keyboard Communicator for which Hildon had been designed. Since it had never been formally announced, most press and analysts were not aware of this.
"It was no big deal to us," recalls Millar. "Instead of CX being the lead product, it was MX. It was the same hardware underneath."
Series 90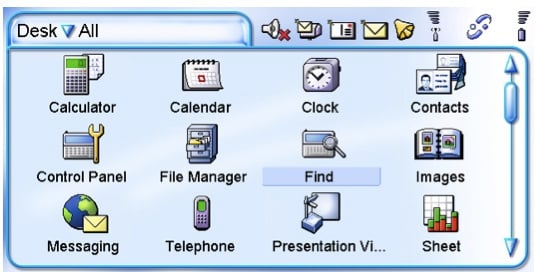 Series 90's "Desk"
from the Series 90 UI Style Guide; October 2003
Hildon was finally given a name for public consumption, Series 90, and revealed it to the world on 27 October, 2003. The first Hildon phone was announced the same day, a futuristic looking media tablet with no keyboard. This was the MX media tablet, the Nokia 7700. There was also a surprise: Nokia's old Crystal platform, Series 80 was still "alive" as the company explained:
"Nokia's Communicator line of high-end, top-performance business devices, will continue as the user interface for Communicator devices going forward, and will be aligned with Developer Platform for Series 90."
This was a curious explanation, to the say the least.
Series 90 wasn't revealed with a Big Bang – as a new platform superseding the old one, with everyone being chivvied to jump aboard. Series 80 would live on, gradually merging into Series 90, Hildon. Developers were encouraged to view Hildon as the future, but it was a confusing message. As the industry noted, Nokia was now juggling four platforms, three of them Symbian-based.
How had this happened? Why had Series 80 been kept alive?
In fact, it hadn't.
Three months later, at the industry's annual get-together in Cannes, Nokia revealed its first new Communicator for three years, the Nokia 9500, based on what looked like Series 80. What nobody knew - and outside of a small circle of insiders, most people still don't know - is that the 9500 was based on the entirely-new Hildon platform; it was the second Hildon device.
Nokia were able to do this thanks to the remarkable flexibility of Hildon, and specifically two assets that the team had created. Neither of these were on the original specification, but the designers included them because they could do so without delaying the project, and knew they added long-term value of the work.
One was user interface skinning, the ability to change the look and feel of the user interface chrome: the widgets, and colour schemes, very quickly and on the fly. A skinnable UI could be changed by the user in real time. So Hildon could be made to look like a traditional phone, a Series 40 or Series 60 phone, or it could look like a Nokia Communicator.
Skinned alive: a user has modified this Nokia 7710 to look like Microsoft Windows
The team also added to Hildon backward compatibility with Crystal, the basis for the 9200 Communicator. Hildon could run Series 80 applications written for the older platform without any overhead. Not all applications ran on Hildon, and not always perfectly, but many did so well and without an expensive run-time translation overhead.
As a consequence, to this day, nobody really knows that the Nokia 9500 and Nokia 9300 are Hildon machines – a testament to the subtle, thoughtful and forward-looking design decisions taken in London three years earlier. It allowed Nokia to present the 9500 as an upgraded Series 80 machine, with minimum disruption to the existing Communicator developers, and to enterprise users familiar with the earlier UI.
So long-term advantages of getting the ecosystem to a more advanced platform were sacrificed for short-term advantages of compatibility and familiarity.
Politics
Unknown to the rest of the industry, the politicking inside Nokia was getting furious.
Although Hildon, now Series 90, could look and feel like the other Nokia platforms, and was much cleaner and simpler, this strategic value wasn't really appreciated. The people who did recognise it were those groups threatened by it – particularly the groups aligned with the basic Series 60 platform.
They fought hard to add features to Series 60 so it didn't appear to be so far behind the more sophisticated rival platform. In June 2004 Nokia we saw an example of it.
Nokia announced it had devised "a scalable framework" to the spaghetti code of Series 60, adding support for new screen dimensions. As we reported:
In addition to the familiar 176x208 comes 208x208, which will allow devices that like the 6800, rotate through 90 degrees, and two surprises: 240x320 quarter-VGA, and 352x416. The latter is enormous for a cellphone, hinting that Nokia has set its goals on the portable HDTV market, and promising nightmares for wallpaper designers everywhere.
Nokia's fate is sealed
And there was an more ominous move announced the same day. The first Hildon device was being sidelined:
Executives confirmed that the first Series 90 product to be announced - the 7700, essentially a CX2 without a keyboard - will be shipped, but only as an experiment. Nokia is using it to trial "visual radio".
The Series 60 team was lobbying furiously. The writing was on the wall.
Mobile Innovation's executives first heard whispers of Hildon's fate late summer in the summer of 2004.
By the time Nokia announced the final Series 90 device, in November 2004, Series 90 was dead. Official confirmation came in January 2005, when Nokia announced it was cutting 3,000 staff from its MultiMedia division. It then publically admitted Series 90 was a dead end.
It still went ahead and released the 7710, and this media tablet phone gained prominence in Asia the following spring, despite being based on an orphan platform.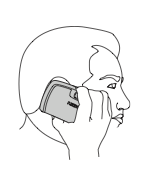 Today, the device shows great style, and hints at Nokia's ambitions. But the device was also encumbered by hardware design compromises. As we wrote at the time, Apple's iPod had become a runaway success in 2004, and as a media device, Nokia's offering was much less attractive.
The most serious limitation of the 7710 has only become apparent over the past year, with the runaway success of the iPod and the imminent introduction of Microsoft's Portable Media Center devices. As a "media phone", it doesn't do media as well as these other devices. Many MP3 players are also radios (although surprisingly, not Apple's own iPod). With 8 GB MMCs now available, the day when a solid state MP3 player can be folded into the phone at very low cost is drawing near. (Don't get your hopes up for using one in a 7710: it only supports cards up to 512 MB.) Will a phone ever be a better iPod than an iPod? That's doubtful, but it might be good enough for many people, especially given the price advantage. However there's more to a comparison than simply cost or capacity. Nokia hasn't announced the pieces of the software puzzle that are necessary to make this attractive to a mass market, such as synchronisation.
For a media tablet, many parts were missing: easy sync with a PC music library, large, standard memory card support, the ability to use a standard headphone jack.
And for the next few years Nokia would be dogged by the limitations of Series 60 – rechristened S60. A final Communicator was released in early 2007, the E90, but this lacked the rich UI of its predecessors, and unlike its predecessors, failed to win enterprise mindshare.
And the platform's failings were exposed cruelly, and fatally, when Apple's iPhone stormed the market in 2007.
The Series 60 faction within Nokia had originally promised the board it could add touch support within two weeks.
"It underestimated the work involved," says one executive.
Privately, Nokia executives were to concede privately they had made the wrong decision. The platform that could have kept Nokia competitive was abandoned.
A Canadian offer
Mobile Innovation had diversified into other areas from the get-go, so the cancellation of Series 90 wasn't as serious as might be expected. There were greater setbacks. The company had been working closely with Nokia on a CDMA project with Verizon, but the giant US operator pulled out, resulting in layoffs.
One area that was promising was Flash.
"We were looking for innovative new UIs, so we approached Macromedia with a suggestion. We already prototyped in Flash, so we asked them: 'Why can't we use Flash on devices?'" Millar remembers.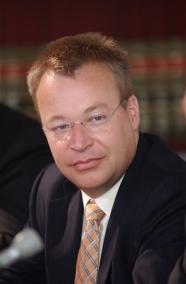 The Macromedia CEO
The ink was barely dry on a partnership when Nokia announced that it too was licensing Flash. Other manufacturers jumped in.
IT was just as MM was starting to push.
"We were the world experts on doing Flash stuff on mobile – and suddenly MacroMedia needed to build that out and needed to build that out quickly," recalls Millar.
Macromedia's chief executive raised the stakes. Why not create a mobile consulting practice for Macromedia, and form part of the Macromedia Consulting team in EMEA?
A deal was signed, and Macromedia acquired Mobile Innovation.
The executive was Stephen Elop.
Sometimes, history is circular... ®