Original URL: https://www.theregister.co.uk/2011/11/19/product_round_up_ten_noise_cancelling_headphones/
Ten... noise-cancelling headphones
Ditch that din
Posted in Personal Tech, 19th November 2011 08:00 GMT
Product Round-up Based on technology developed in the 1980s for airline crews, noise cancelling headphones are getting better every year. They are no longer luxury items but essential for frequent travellers, making journeys more tolerable.
Built-in microphones detect extraneous sound, such as aircraft engine hum or noise from trains and buses. The headphones actively reduce the noise by emitting a counteracting waveform. Almost all use a AAA battery, on average providing about 40 hours of use.
In-ear headphones offering greater sound isolation get you off to a good start, while over-ear designs may improve soundproofing with padded ear cups. Extras to look for include cabling with an in-line mobile phone microphone, volume controls and a monitor or 'talk-through' button if you need to mute sound and cut noise cancellation briefly.
Audio-Technica ATH-ANC23

The main issue with in-ear headphones is that a proper fit depends significantly on your own ears. For me this pair was not as comfy as the others. The features are standard: a AAA battery housed in a control unit plus volume adjustment, but no phone mic or monitor mode. Its noise cancellation is agile at reducing background hubbub and it works as a normal pair of headphones with cancellation off. Sound quality is well pronounced but it tends to be cold and clipped as opposed to rich and resonant. Its springy wires also cause the ear-bud mics to interpret head movements as 'noise' to try and cancel out, causing distortion.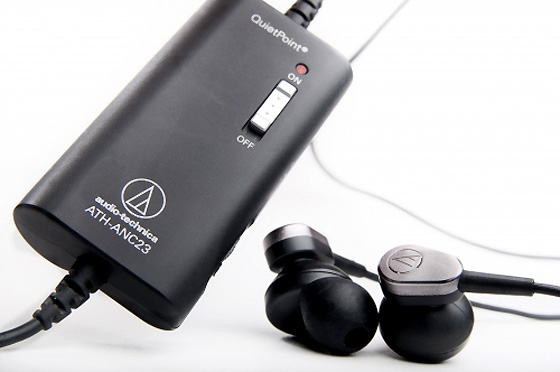 Blackbox M16

If you're not committed to travelling light, these chunky, over-ear headphones wipe out most exterior sound even before noise cancelling. They also work as standard headphones without cancellation being on. When you do activate it, the worst of the outside world's sonic distractions are lifted largely away. A single AAA battery fits inside the right ear can. There's no talk-through button but the removable cable includes volume controls and a phone mic (a rare feature). Audio quality is good overall. Its characteristics change subtly when cancellation is on – not better or worse – just different. The bass is strong without being overbearing, while vocals and higher notes are light and airy.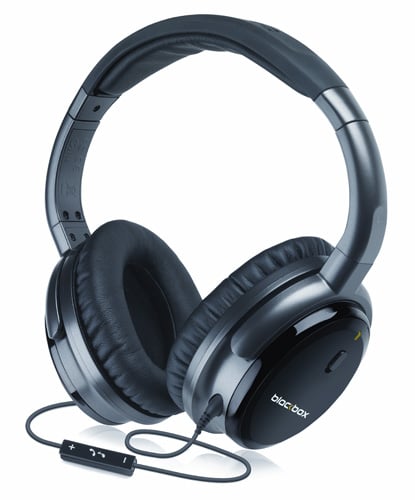 Reg Rating 70%
Price £165
More info Blackbox
Bose Quiet Comfort 15

Bose's over-ear QC15 is not too bulky, while pleasant padding offers excellent soundproofing. Vented ear-cups improve the acoustics, while noise cancelling microphones are placed both inside and outside. A choice of two detachable cables includes one with a hands-free mic and volume control, which appears to be only for iPhones. The headphones use one AAA but sadly don't function unless noise cancellation is switched on. In consolation they are very impressive at this task and the sound quality is equally striking. Even bog-standard MP3s sound well rounded and fine-tuned, full of bass and clear high notes in equal measure. However, they are not demonstrably better than the less expensive Denon, Sennheiser or Sony.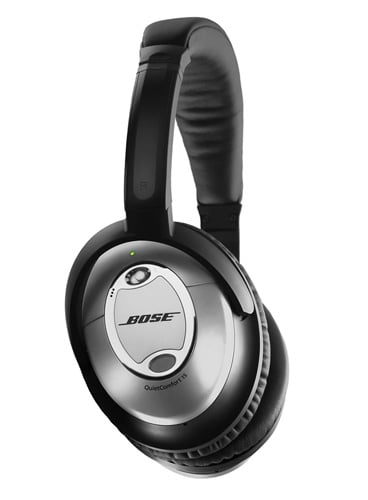 Reg Rating 70%
Price £279
More info Bose
Creative EP-3NC

This pair is fashioned in a traditional in-ear bullet shape. The fit is a little awkward and its control unit, which holds a AAA battery, sits a very short distance along the cable, so you have to use the clip to attach it to clothing otherwise it drags the buds out of your ears. It has a monitor but no volume buttons. The headphones work normally when noise cancelling is off. When active, the noise suppression is rather middling, roughly in line with the lower-priced Panasonic, and the audio quality is not the best, so on balance the Digital Silence gives better value for sub-£100 in-ear 'phones.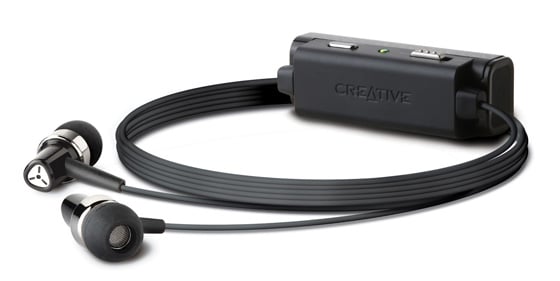 Reg Rating 50%
Price £90
More info Creative
Denon AH-NC800

At the plush end of the market, Denon's over-ear headphones have luxuriously soft cushioning and pivoting adjustments for comfort and folding. Weighing only 180g (including AAA battery), it hardly feels like you're wearing them. There's an additional processing mode on top of noise cancelling called Restorer, which aims to improve compressed audio, though it isn't very noticeable. Built-in volume and talk-through controls are absent but the AH-NC800 functions as normal headphones if cancellation is off. When on, this works meticulously, however, its claim of 99 per cent noise reduction is stretching things a bit. Overall the headphones deliver a bold, open and expansive performance.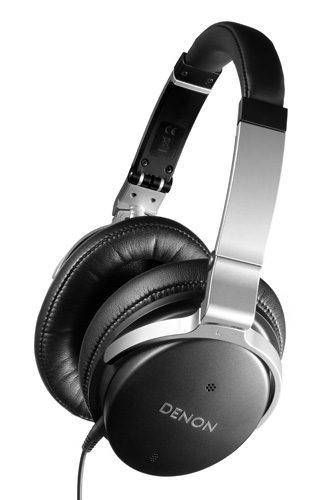 Reg Rating 75%
Price £219
More info Denon
Digital Silence DS-321D

These in-ear headphones by Wolfson Microelectronics are decent value if your budget doesn't reach treble figures. In terms of comfort, they are also midway between cheaper and luxury models. Instead of the usual AAA, a built-in battery is charged from a micro USB, giving about 30 hours, slightly less than a removable cell. Its advantage is the tiny, featherlight control unit but you'll need a mains connection to recharge. Sensibly they also work normally if noise cancelling is off. Features include a monitor button and mobile phone mic. It has a emphatic sound, packing plenty of bass and crisp higher frequencies, though vocals are not as smooth as the Sennheiser or Sony.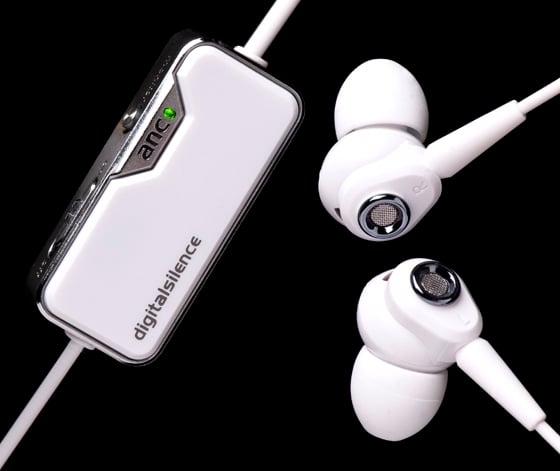 Panasonic RP-HC55

The cheapest headphones in this round-up have one big failing. As with the Bose, there's no 'pass-through', so they only function as headphones if the noise cancelling is switched on, otherwise they are silent. If you want them with you for general use, you'll need extra AAAs or spare conventional headphones. A pen-shaped control unit has volume adjustment but no monitor switch. The earbuds don't have the most snug or isolating fit, either, and it's something of a letdown at noise cancelling. While it removes some of the rumble, it still lets a lot through. At least its audio quality is reasonable.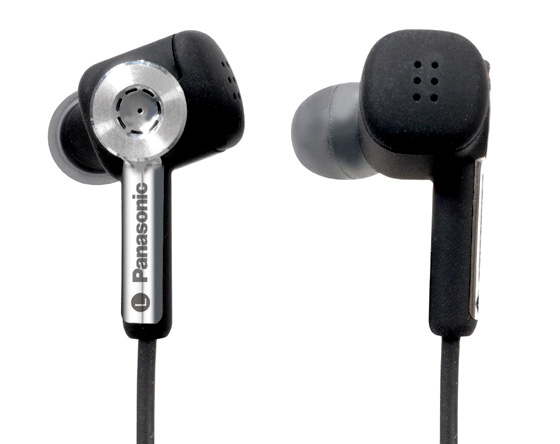 Philips SHN5600/10

Using the open on-ear design means an easy fit but there's more leakage from the real world than with in-ear or over-ear models. Despite that, the headphones cut a fair amount of low and mid-frequency background noise. They're less bulky than over-ear cans and the controls sit in a unit halfway along the cable – as with ear-bud types – featuring volume adjustment and talk-through. They run off a AAA and work normally when cancellation is off. Sound quality is good, considering the cost is no more than average, but its booming bass can be overpowering – depending on what's playing.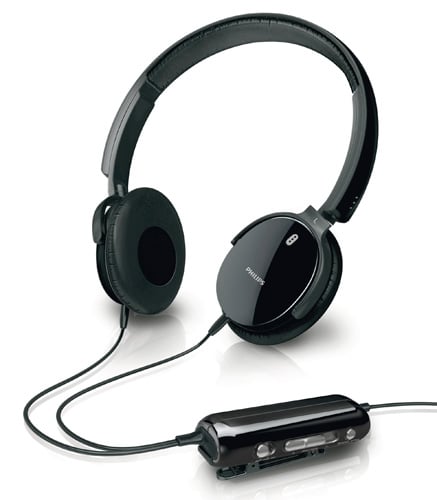 Reg Rating 65%
Price £71
More info Philips
Sennheiser CXC 700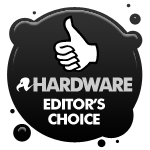 With its soft, cosy ear-buds the CXC 700 provides a good sound-isolating start, which it builds on with extremely effective noise cancellation in three strengths to cope with different environments. Even the top level adds no obvious distortion. The ear-buds aren't any larger than usual and there's a compact control unit on the cable, including monitor and volume buttons, which takes a AAA battery. If you switch off power or run out of battery, the Sennheisers work as normal headphones. The audio is superbly balanced, with an evocative bass response and distinct high frequencies. Given the quality and features, with this model you genuinely get what you pay for.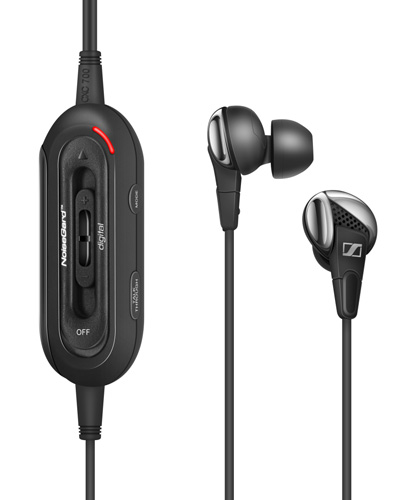 Sony MDR-NC100D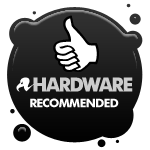 Sony's new and unusually shaped in-ear headphones are nevertheless a snug fit, though somewhat rigid for extended sessions. The cable is a generous length while its clip-on unit holds a AAA battery and features a monitor mode – but no volume controls. As with most noise cancelling models, they become conventional headphones when powered down (though a shade less bassy too). Like the Sennheiser it has three levels of active noise reduction, however, the Sony sets this automatically according to the situation. Its suppression of external sounds – even on the London Underground – is among the best in this round-up. As headphones they sound enjoyably clean and dynamic. ®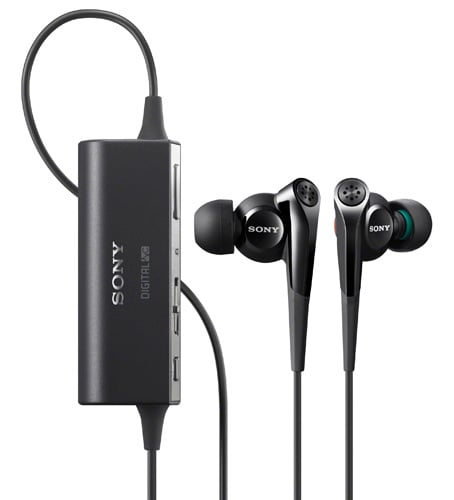 Reg Rating 75%
Price £160
More info Sony