Original URL: https://www.theregister.co.uk/2011/11/18/review_panasonic_sc_btt270_blu_ray_home_theatre/
Panasonic SC-BTT270 5.1 Blu-ray home theatre
AV do-it-all for Lilliputian lounges
Posted in Personal Tech, 18th November 2011 07:00 GMT
Review For an all inclusive Blu-ray home cinema, this Panasonic system sure comes in a small box. But everything you need for 21st century surround sound is inside, including satellite speakers and subwoofer, Blu-ray receiver and metres of colour coded bell-wire. Thankfully, the SC-BTT270 sounds somewhat larger than it looks.

Panasonic's SC-BTT270 5.1 Blu-ray home theatre
As an example of concise electronics, the SC-BTT270's receiver takes some beating. In a chassis barely bigger than a standalone Blu-ray deck, there's also an FM tuner, multi-channel digital amp module and slide-out iPod dock. Small wonder there's no room to accommodate HDMI inputs on the rear – just an output. Still you do get USB ports front and back, an SD card slot and digital optical audio and stereo phono inputs.
The satellite speakers stand proud at just 117mm tall, with the subwoofer an unobtrusive 289.5mm. The centre speaker may be a tad wider than the left/rights, but it's still a titch. Welcome to the home cinema Featherweight division.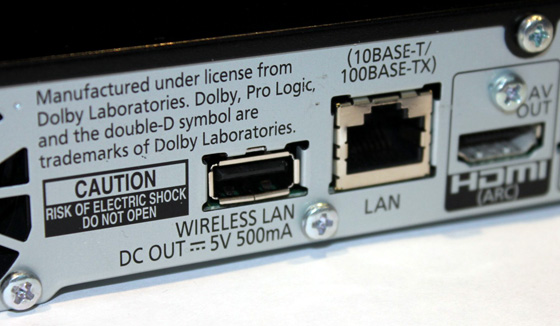 Content playback from USB media proves more reliable than the network option
Performance is a tale of two halves. Image quality from Blu-ray looks predictably fine. 2D playback is characteristically sharp and artefact free, while 3D discs perform as expected. Should you feel the need, you can also depth convert your flat platters into faux 3D.
Disc loading is speedy. My heavy Java old faithful, the remastered Goldfinger, goes from tray-in to 007 menu in just under 44 seconds. The no-Java Lou Reed concert movie Berlin is on stage in 30 seconds. In addition to BD/DVD/CD disc replay, the system hooks into Panasonic's on-line Viera Connect portal, which offers a variety of streaming video services, including YouTube and VOD supplier Acetrax.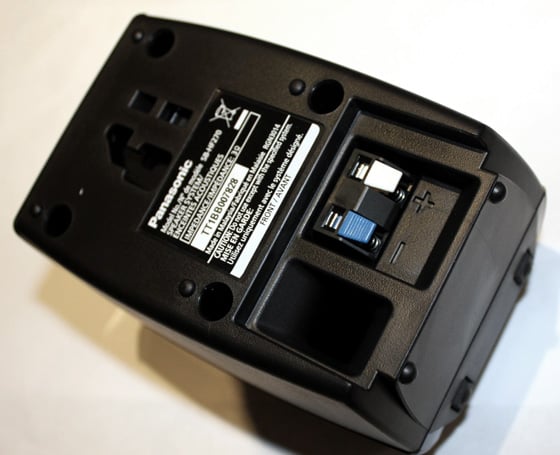 Spring loaded speaker terminals make for a quick set-up
As an adjunct to local USB media playback, the receiver will also stream across your network, although file compliancy is poor and presentation basic. While AVIs and MKV content unspooled from a stick, it wasn't recognized on my Nas. MP3s play without album art in the most rudimentary of windows.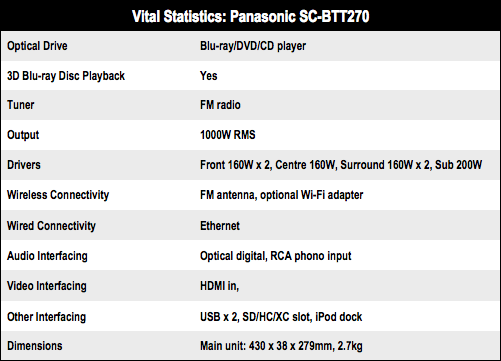 Trump card?
Up and running, the SC-BTT270 proves a feisty terrier of a system. Panasonic has rather cleverly tuned everything to the mid-range. The satellites drop off around 100Hz, while the sub trumpets between 50Hz and 200Hz. It makes an unflattering farty noise below 50Hz, which is best not talked about in polite company. Consequently, with 90 per cent of the energy mid-way between, the system is neither dynamic nor deep. But it does go loud and sounds relatively smooth.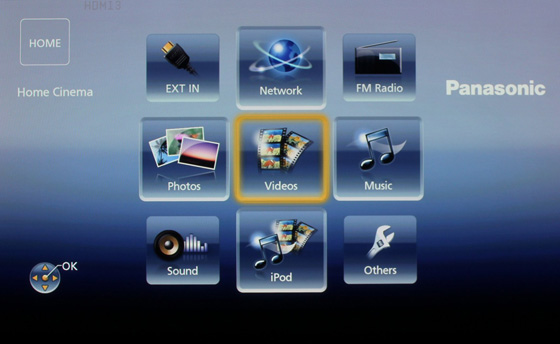 Main menu: the Viera portal is among the network options
The system also sports some very inventive DSP, specifically a vertical 3D surround mode which attempts a wrap around wall of virtual height speakers. The enclosures supplied aren't able to do this HRTF (Head Related Transfer function)-based post processing justice, but you can detect clear changes in directional cues.

Sound and vision one-stop shop
Verdict


Overall, the SC-BTT270 should be considered good value. For little over £300 you get a decent 3D Blu-ray player and a loud surround sound system. But there's little doubt though that from a quality perspective the enclosures are trailing the electronics. Methinks it's time for Panasonic to start taking loudspeaker design a little more seriously. ®
More AV Gear Reviews

Yamaha
RX-V471
AV receiver
Ten... Blu-ray
disc players
LG
BD670
3D Blu-ray player
Ten… Freeview HD
recorders
Marantz
NR1602
AV receiver