Original URL: https://www.theregister.co.uk/2011/11/18/review_game_assassins_creed_revelations/
Assassin's Creed: Revelations
Organised climb
Posted in Personal Tech, 18th November 2011 13:31 GMT
Review It might just be me, but as Ezio Auditore effortlessly scales yet another tower, it's hard to shake the feeling we've been here before. I know it's the continuation of a story arc, and I know that the game's engine – as already rolled out in last year's Assassin's Creed: Brotherhood – is already adequate enough in its animation and capacity for the dramatic, but this is the equivalent of the yearly football game update.
Even Modern Warfare 3 granted us two years grace after MW2.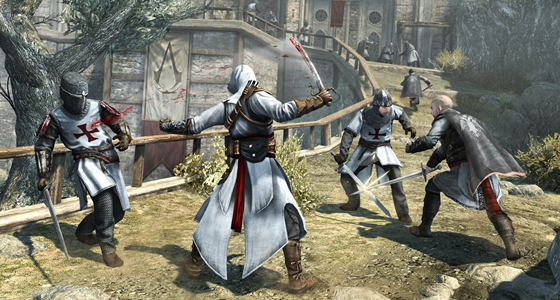 Beware the deadly flashing blade
The 'climb this, dive off that, assassinate him' machinations of the series' long established gameplay remains largely unchanged. With that in mind then, it seems reasonable to presume that most who buy Revelations will be veterans of the franchise who'll be up for more of the same as Ezio's fate is played out.
The game opens with Desmond – he with the memories of assassins Altair and Ezio embedded in his DNA – regaining consciousness on a transcendental beach reminiscent of the one in Inception's limbo.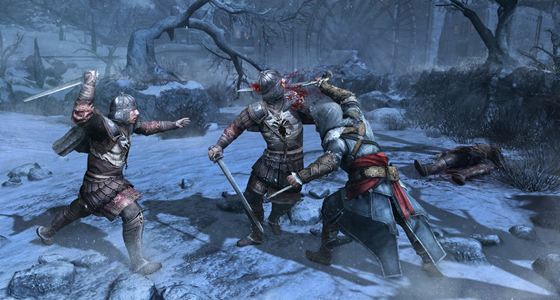 Stab in the dark
Turns out his fragmented mind is being held together by the Animus, the very same machine which both Templars and Assassins have used to harness the memories of his murderous antecedents.
Upon the suggestion that working through those memories will reconstruct his mind, he's soon leaping headfirst into a whirling, shimmering field, so placing him once more in the boots of Ezio. The master assassin, now based in Constantinople, appears older and more grizzled. Yet his monkey-like climbing and parkour skills are diminished by his aged frame.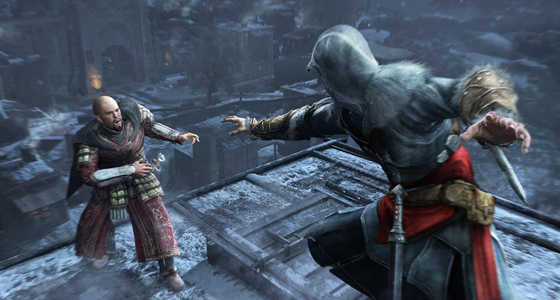 Game of throws
Constantinople is perhaps the series' most multifaceted and busy sandbox to date, a bustling hubbub of store vendors, orators, thugs-for-hire, simple townsfolk, beggars, Templar (and Ottoman) guards, and fellow assassins to name but some. In fact, after being criticised in past offerings for not providing enough in-town diversions, Revelations crams in an overwhelming number, not necessarily for the better.
Mod parkour
Perhaps the same could be said of Ubisoft's attempts to widen the series' established horizons. Take the 'Den Defence' mini game, for example. Here Ezio becomes general, positioning his fellow assassins on roof tops to fend off invading Templars. At best it's a half-baked take on tower defence; at worst it's indicative of developer willing to make bad decisions in its frenzed endeavour to justify the release of an overly familiar sequel.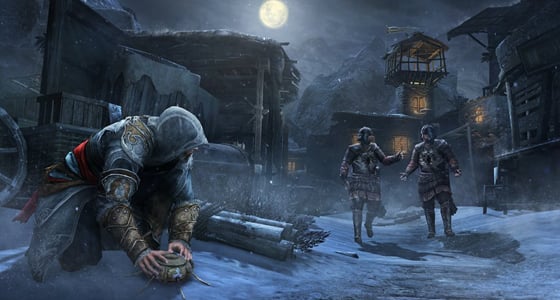 Minecraft
At least the early acquired hook blade is a decent addition to Ezio's arsenal, the blade varying his usual free-running by having the player hit a button to deploy the extension, so enabling the crossing of bigger gaps and the use of taut ropes as zip lines.
Alas, this free running action still suffers from the series' long standing contextual issues. Ezio - or Altair during his short interludes - fluidly shimmying up buildings, and effortlessly hopping across rooftops one minute, before irritatingly leaping in the complete opposite direction the next - prompting much gnashing of teeth. I'd graciously admit to pilot error, but it happens often enough for the issue to certainly be a flaw of design.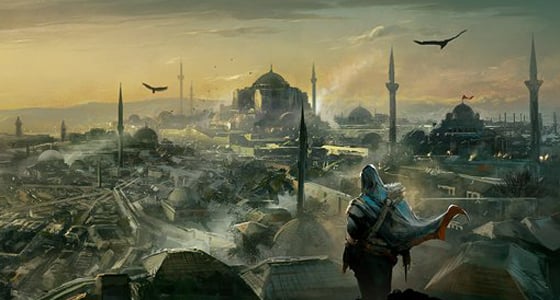 The roof fairy
The game then begins barking at you to create a variety of bombs upon the numerous bomb production tables scattered throughout Constantinople – often in the unlikeliest of places.
To give Ubisoft its due, it has created a huge assortment of types, from poison gas and shrapnel grenades, to the more psychological blood bombs - which spatter victims in blood, so making them run for fear they've been wounded - and even trip wires.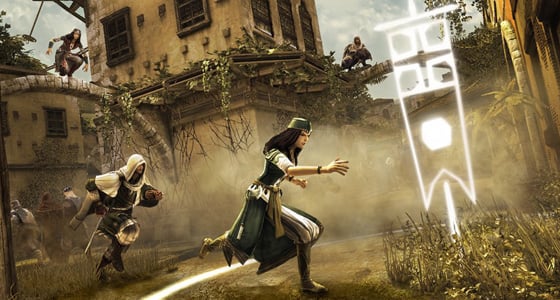 Chasing status
It would, however, take a player of unrivalled patience to experiment with the myriad ingredients when the payoff is all but identical regardless: explosion, guards come running - or die screaming - and Ezio gets to where he needs to be. There's also something odd about looting bodies only to find that each and every Templar carries fuses and bomb casings in their chasm-like pockets.
Twist and clout
Hand-to-hand combat deploys a similar 'everything and the kitchen sink' approach: Ezio able to disarm assailants, round on them with a diverse assortment of armaments and even flip over their backs by harnessing the aforementioned hook blade. The problem is, despite such diversity, it's all too easy to simply wait for an assailant to strike and then counter - et voilà, instant kill.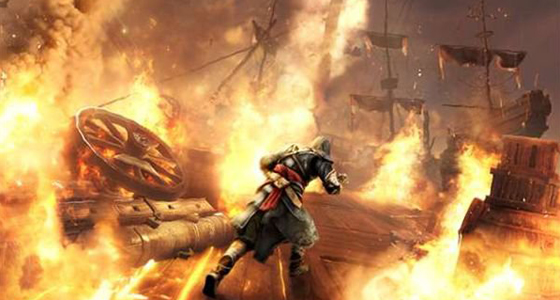 Burn the Captain's logs
Multiplayer is also home to the instant kill, though Revelations' further online development over its predecessor mean that's not a problem. The surprisingly robust online options varying the central theme of sneaking up to your target, dispatching them and melting away.
'Simple Deathmatch' mode, for example, becomes a game of cat-and-mouse where each player is tasked with felling just one target. The idea, to assassinate your particular target while watching your own back, an intriguing tactical battle. Variants on capture the flag, team deathmatch and 'tag, you're it' provide further diversion and then there's the obligatory leveling up where extra skills can unlocked.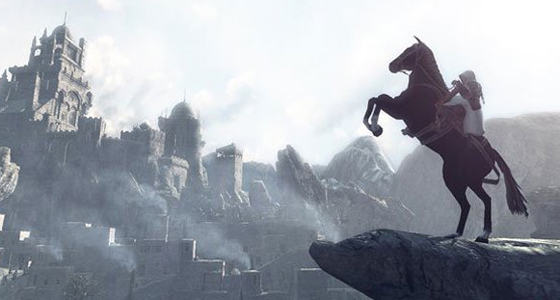 Hoof it up
Verdict
Despite my veritable tirade of negativity in parts of this review, Revelations remains a dramatic and exhilarating experience at its best. It's just hard to ignore the fact that this could have easily been released as a cut-price expansion of Brotherhood. What's more, the overblown plot makes this latest 'assassin-'em-up' all but inaccessible – not to mention an illogical choice – for those looking to take up the series afresh.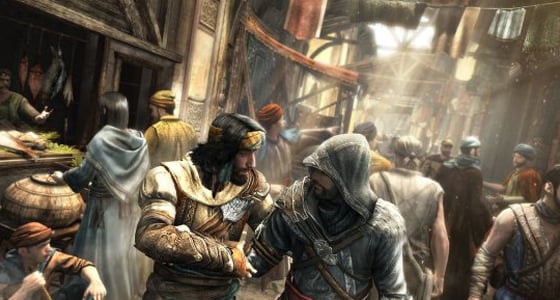 Shake Monsieur
If you're a series veteran and are actively relishing the prospect of many more hours of the same, then step this way. If you're a newcomer you might as well start with the bargain bin Assassin's Creed 2. And if you've tired of the formula, then wait with the rest of us to see what real revelations Assassin's Creed 3 might have in store. A future world setting? You know it makes sense. ®
More Games Reviews

Halo: Combat Evolved
Anniversary Edition
The Elder Scrolls V:
Skyrim
The Adventures
of TinTin
Call of Duty:
Modern Warfare 3
Goldeneye 007
Reloaded