Original URL: https://www.theregister.co.uk/2011/11/17/review_sony_kdl_55hx923_led_3d_tv/
Sony Bravia KDL-55HX923 55in LED 3D TV
Viewing it large
Posted in Personal Tech, 17th November 2011 09:15 GMT
Review The KDL-55HX923 is a remarkable Freeview HD TV for many reasons. It's humungous for one, measuring 148cm diagonally. It's also overflowing with image technology and network niceties, as befits a flagship product. Even from a design standpoint, this set knocks the ball out of the park.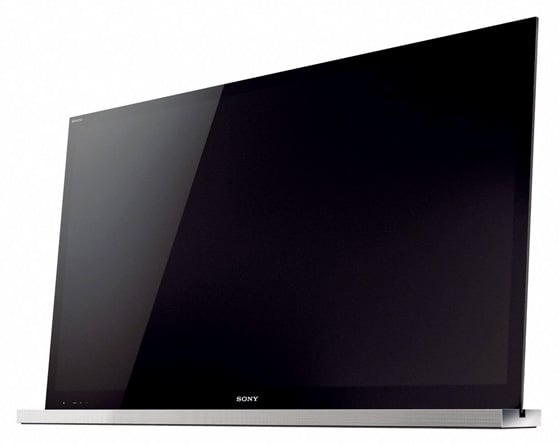 A 55in member of the Monolith family: Sony's Bravia KDL-55HX923
With its edge-to-edge glass frontage and soundbar-stand, this monster screen is surprisingly elegant. It's not even vaguely TOWIE. 
 But that doesn't mean you should necessarily buy one, even if you can drop the best part of three grand without palpitations.
The review model came equipped with a Bunchin (SU-B551S) stand which incorporates its own powered audio system and notches up the price by another £230. The TV recognises when it's been docked in this and prompts you to switch from its internal sound system to that in the external stand. A short HDMI lead is used to link the two, utilising an ARC (Audio Return Channel).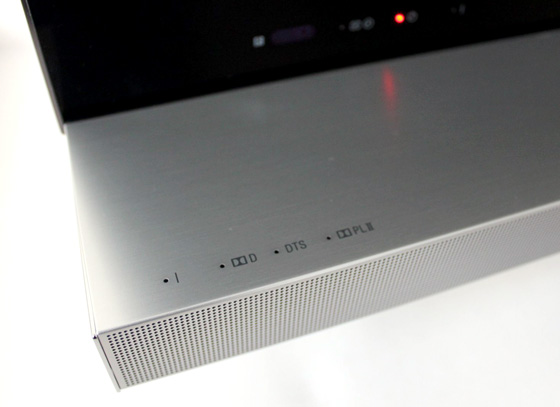 The Monolith Bunchin stand incorporates a soundbar to bolster thin panel telly audio
Rated at 2 x 10W, and bolstered by a 20W subwoofer, the resulting noise is a good deal better than standard TV audio. The KDL-55HX923 is also feature-rich, with some attractions seen throughout the rest of the Sony line, and some new.
I particularly like the fact that an Intelligent Presence Sensor throws up on-screen warnings if it feels you're too close for comfort. This Distance Alert can be disabled, but families with children might want to leave it on. The HX923's glass screen isn't going to look its best covered in jammy fingerprints.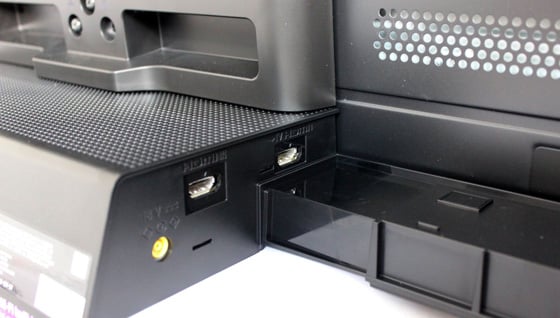 ARC HDMI speaker stand
Like other net connected screens from the brand, the KDL-55HX923 offers access to the newly unified Sony Entertainment Network. Compared to the app-driven portals of its key competitors, this simple grid of services looks a little dull. But if you want access to lots of IPTV content, Sony has it nailed.
Broadcast network
In addition to the BBC iPlayer, YouTube, DailyMotion, Demand 5 and dozens more, there's Video Unlimited – Sony's newly rechristened video-on-demand service, which offers a huge selection of new and recent releases in both SD and HD.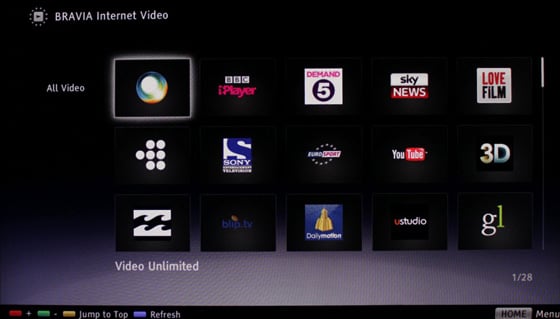 Sony's network portal
The screen can also stream content from local USB storage and from networked devices, but there's no support for NAS-stored MKVs. There's much better compliance from USB, with all key suffixes playing on cue.
Obviously, with a high-end Godzilla-tron like this, picture quality is paramount. The good news is this 55in titan is one big bowl of eye candy. Colour fidelity is fruity, while black levels are dark and suitably foreboding. Part of this is down to the image processing technology on-board, which includes Motionflow XR800, Sony's fastest-ever picture polisher.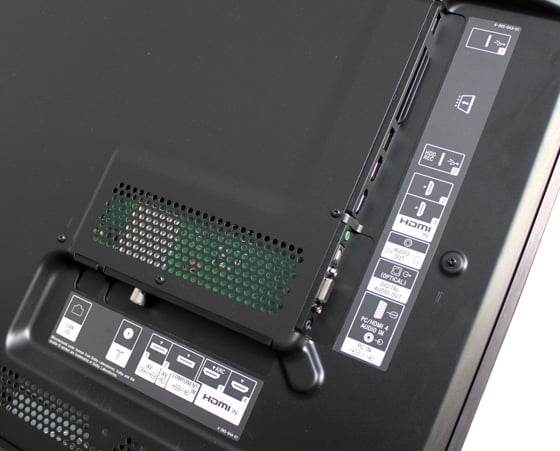 Back panel interconnects
It's certainly effective. The Standard Motionflow setting delivers around 950-1000 lines of moving resolution; step up to the higher settings and there's no loss of perceived detail at all. Motionflow does create occasional artefacts, seen as ripples around moving objects (background and subject dependant), but for general viewing and gaming, this is a price worth paying as the picture appears wonderfully sharp.
Personally, when watching film content I prefer to turn such high framerate frippery off. There's a drop in motion resolution as a result, but film images look more cinematic – and when you have a screen as large as this to watch your Blu-ray's on, that's a big win.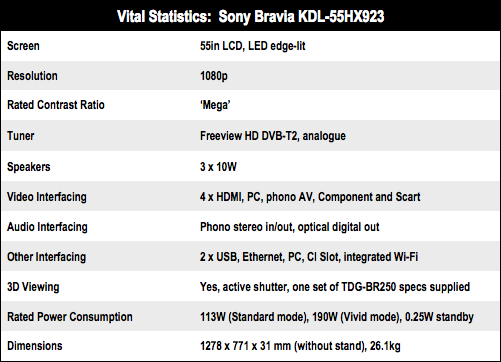 Panel beating
However, despite all this Kryptonian tech, there remain issues with this panel's performance. Off axis viewing is limited. The set drops colour and contrast rapidly when viewed from the side. Also curious is a light border running down the right and left hand edges of the screen. This is particularly noticeable on darker scenes, although some hues don't really highlight it.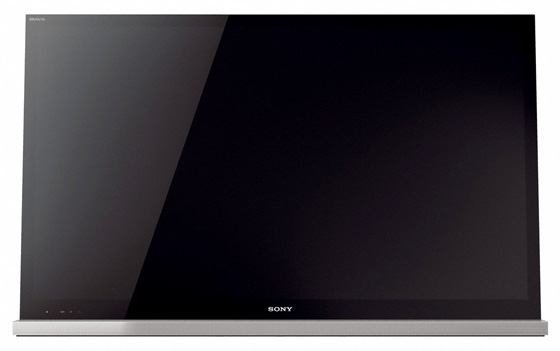 Minor visual artefacts have set the home cinema fan forums alight
There's been some debate about this on various forums, where the effect has been christened a crease. It doesn't look like a crease though, but in much the same way a dead pixel is magnetic, it's distracting once noticed. When quizzed about the anomaly, Sony told me it's a 'structural characteristic' of the panel, describing the effect as a "visible un-uniformity." I think I saw Picard get sucked into one of those on Star Trek: TNG.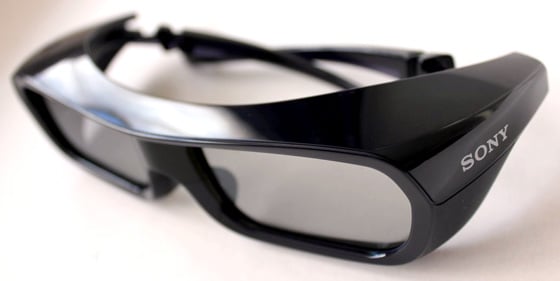 Only one set of specs supplied – do these manufacturers want people to view in 3D or not?
The set's 3D performance is vivid and deep. You'll notice crosstalk if you look for it on certain content, however there's no massive hit on brightness. Both Full HD and side-by-side 3D enjoy equal amounts of depth. One set of Active Shutter eyeware – coded TDG-BR250 – is supplied with the television. Additional specs will set you back £79.
Verdict


Overall, the KDL-55HX923 very nearly succeeds in justifying its astronomic ticket price. Design and specification are first class and its gigantic images look terrific. However Sony's 'visible un-uniformity' is a serious flaw. While it's fair to say that some will not notice this odd edge effect, cinephiles are bound to spot it. And I suspect for them it's almost certain to be a deal-breaker. ®
More TV Reviews

Samsung
PS64D8000
64in plasma TV
Toshiba
Regza 47VL863
Sony
Bravia
KDL-40HX723
LG
42 LW650T
Sharp
Aquos Quattron
LC-40LE831E