Original URL: https://www.theregister.co.uk/2011/11/17/ipo_quilty_select_committee/
IPO: Should stand for Intellectual Property Obliteration
Sir Humphrey's onslaught on creators' rights
Posted in Software, 17th November 2011 13:11 GMT
Comment Thanks to Yes, Minister, the idea of bureaucrats running the country is embedded in the nation's imagination. Governments change and ministers come and go with barely enough time to master the jargon. Public policy is quietly made in private, and while the media focuses on the elected government, the real one, our bureaucracy, quietly goes about its business. How true is this, really?
This summer The Spectator's political editor quoted a Cabinet minister as saying that, by his estimation, only four out of 22 colleagues lead their departments, the other 18 "just represent the views of their officials to Cabinet and the Prime Minister". They're messenger boys and girls.
That's arguably true at the Foreign and Commonwealth Office, where the Foreign Secretary is little more than an after-dinner speaker with a fabulous travel allowance. There's evidence of it at the Home Office: this Labour minister belatedly discovered he was being misled. And it's true at one other important outpost, the Intellectual Property Office (IPO) as we shall see below.
The IPO is the old Patent Office, and its brief is to support British business. This is a particularly important sector since we don't build ships or bash steel anymore. Businesses based on the "intangibles" of IP are the cornerstone of economic growth – and the only part of the economy that's growing. Speaking English helps here, as does the British genius for improvisation and inventiveness. Design, computer software, games, music and TV are all areas in which the UK punches above its weight, and where property rights need to be asserted.
The problem is, the IPO has its own agendas. The constant turnover of ministers who can barely grasp their brief has left the Sir Humphreys of the IPO effectively in charge of policy, and the IPO reflects all the bien pensant dinner-party prejudices about creators' rights. The organisation appears to have decided that its mission to collectivise copyright, and it works unrelentingly towards this goal - although it's not one ministers or industry share.
On most IP topics hand-picked academics (often funded by government), digital activists and large, powerful internet companies (who fund the activists, and who benefit commercially from using other people's content without paying for it) all speak with one voice. They regard IP holders as grubby and parochial and backwards looking, and long for new technology and networks to sweep away the Ancien Regime, like an act of nature, leaving behind goodness and fairness.
The idea of the inventor or creator as the owner of important property rights is not one that's respected; the individual may as well not exist, and what rights they wish to assert must be collectivised "for the greater good". When pirates hoist the Skull and Crossbones, they imagine they're striking a pose as rebellious outsiders; they don't realise they are actually the Establishment. Their flag has flown over the IPO for many years. The slogan may as well be "Intellectual Property Is Theft".
Hargreaves: This evidence isn't really evidence
Six months ago Downing Street ordered a review into IP, which became known as the "Google Review" after a remark by Prime Minister David Cameron. Cameron had been told Google may never have launched in the UK because of its intellectual property laws, and he wanted somebody to investigate.
Though it was nominally headed by journalist-turned-academic Ian Hargreaves, civil servants from the IPO were answering to MPs on the business select committee on Tuesday. It was a fascinating session.
The arguments kicked off with complaints from the officials that the supporting evidence justifying the new Digital Economy Act - which strengthens IP rights - was no good. Adrian Brazier of the Ministry of Fun (aka the DMCS) gave a long whinge to this effect and the IPO's Ed Quilty chipped in: the civil servants "couldn't look under the bonnet".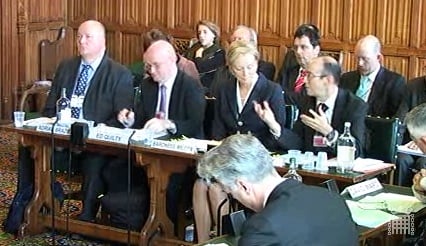 From left to right: Adrian Brazier, Ed Quilty, Baroness Judith Wilcox, John Alty
But the MPs had concerns too. They were scathing about the evidence the IPO had offered to justify the conclusions of the Google Hargreaves review, which argues for collectivisation.
The grilling found the civil servants – and biz department minister Baroness Wilcox – on the defensive. Instead of a chippy session extolling the promise of IP reform, they were on the back foot.
This isn't surprising as the IPO's economic "evidence" in support of the Hargreaves conclusions was cobbled together in a hurry, with fantastically implausible figures plucked out of the air. If you or I had produced something as amateurish as this for a company strategy document, we'd be picking up our P45s on Monday. But you don't get sacked at the IPO - you live to cobble another day.
Private copying exemption
We highlighted just one absurdity in the Economic Impact Assessment at the time: the idea that British companies could generate £2bn from sales of new iPod-type devices each year if only the private copying exemption was repealed. As just about everyone then pointed out, the landmark Amstrad court case of 1988 cleared the legal uncertainty over copying hardware. If a device has substantial non-infringing uses, the manufacturer cannot be liable. So we all do private copying. Schoolboy error.
There are many more examples.
One is the economic benefit of creating an exemption for parodies, another of Hargreaves' recommendations. Weird Al Yankovic sometimes get mentioned here. And the video Newport State of Mind. But Weird Al has always cleared all his rights in advance, and Newport State of Mind, which was taken offline for a day or two, has been online for 18 months and seen a million times. The IPO claimed that by 2020, £600m of new business would be created if we had a parody exemption, with the UK comedy market's share of global exports shooting from 1 per cent to 5 per cent - an astonishing growth. Bear in mind that the UK's TV exports this year - for all finished programmes ranging from Top Gear to David Attenborough - was £572m.
"The evidence base was to say the least, weak," noted one MP.
It was even weaker on the supposed benefits of Hargreaves' one interesting idea - a Digital Copyright Exchange, which was said by the IPO to be worth £2.2bn to the UK economy each year, once it's implemented. How had they come up with that figure, MPs asked.
It turns out that this is based on one report, from Copenhagen Economics, that was commissioned by tech companies and telcos including Microsoft and Vodafone. This guesstimated the amount of growth we might see across Europe if all kinds of measures - such as greater ICT education and better broadband infrastructure - were put in place to create a single digital market in the EU. This, the analysts suggested, might add 4 per cent to GDP over a decade. That figure was then applied to the entire UK IP economy. The report's author is dismayed that his work has been inappropriately used by the IPO.
Faced with a document nobody could defend, Quilty decided to reposition it. It wasn't "evidence" - as we know it Jim - but "a conversation starter".
"It's opened up a debate," he told the MPs. "We can now start debating."
IPO economist Ben Mitra-Khan told us something similar: "They [the Hargreaves estimates] are not as thorough as one might want, but I think they are a fair first stab at a potential impact. It's a starting point. No?"
MPs pressed the IPO further: "After all the work you've done you're still not in a position to make an estimate?" asked one.
"I was trying to illustrate the sort of things that might happen. Broadly, we think that range is reasonable," said the IPO's John Alty.
"We'll have to do some more work on it; Hargreaves has outlined the concept. We need to do a lot of work," admitted Quilty.
So MPs have discovered the empirical evidence on which government policy is to be based simply isn't there. This leaves ministers very exposed.
Losing the right to set a price on your own work
In the BIS select committee session on orphan works, MPs had heard plenty about possible consequences for professional photographers, illustrators and designers from two of the IPO's pet projects: orphan works legislation and the cherished Extended Collective Licensing (ECL) scheme, the latter a kind of nationalisation of assets. There are serious consequences to both, the licensing scheme formally destroying the commercial market and the ability of a creator to set the price for their work. It's also illegal: moral rights are part of the Berne Convention.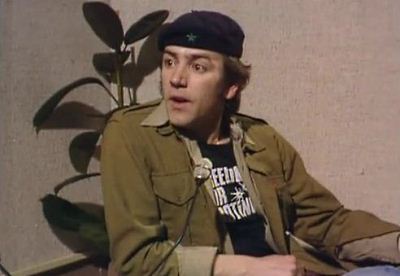 Tooting will be liberated - and so will your IP
Quilty stated that the photographers probably misunderstood everything the IPO was trying to do, adding: "There's an education campaign to be done."
ECL schemes are successful in Nordic countries, Quilty said, so why can't we have one in Blighty? But the IPO's proposed ECL looks very different to the narrow professional schemes that operate in Scandinavia - it would include a sweeping appropriation of amateur creative work. Quilty also told the MPs that photographers are objecting to cultural works competing with their photos, which isn't the case - their concerns are about "current and future" orphans.
Access to markets is a human right
There's also something that has discombobulated the IPO in recent weeks - the threat of a challenge to the proposed digital land grab under the Human Rights Act. Access to markets is a human right, and agents (including government organisations) who destroy market opportunities appear to be liable for prosecution.
The IPO's Quilty told MPs he was surprised to learn of this issue recently, and wished a government lawyer had told him about it before. This suggests that the IPO are rather deaf to the representations of the sectors they're supposed to support and promote - but no surprise there.
There were also telling omissions. Quilty said that Google Books had been just the kind of innovation that the UK needed from IP reform. That's the Google Books settlement that was found to be constitutionally illegal because it violated authors' rights. (Note how in other countries, their creators get support from the very top.)
MPs will have noted the difference between the IPO's cavalier dismissal of industry evidence, versus the very questionable quality of their own. MPs also seemed surprised and frustrated that six months on from the delivery of its report, the Hargreaves Review had got nowhere. Nobody has been appointed to run the Digital Copyright Exchange. Consultations haven't started yet.
The Powers That Be
Perhaps it's naive to expect politicians to expend valuable political capital on fighting the permanent bureaucracy - where's the upside? But one thing ministers of all hues hate is nasty surprises. They rely on experienced civil servants to alert them to possible bad news. They want them to solve problems, not create new ones.
A human rights legal challenge to Extended Collective Licensing - or any part of the Hargreaves suggestions - could tie down the government for years and cost millions. And when civil servants are asked to produce evidence to support policy and instead come up with a "conversation starter" they're left horribly short of ammo.
Now this isn't to say IP-based industries, no matter how important they are to the economy, should have everything their own way - they shouldn't. Some industries were slow to respond to the challenge of digital networks, and all have failed to build the platforms they should own and control.
But it was apparent that the IPO has long had a clear agenda of its own: and it won't easily be swayed. Every time rights-based industries attempt to explain their position - or strengthen it - IPO officials tell ministers it's too complicated, too difficult, or the industry representatives don't understand the industry they work in.
The IPO did all three yesterday.
What intellectual property faces is quite unique to any industrial sector. It faces a hostile network of academics and pop-up lobbyists, funded by backward-looking and protectionist service companies who live off content produced by others, and a permanent bureaucracy which seems devoted to ensuring the case either isn't made or is misrepresented.
Other successful British business sectors enjoy public resources devoted to promoting them - including specialist teams at Whitehall. This is all considered good for UK Plc. IP must be the only industrial area with a permanent bureaucracy apparently devoted to weakening it. ®