Original URL: https://www.theregister.co.uk/2011/11/16/review_sony_hmz_t1_personal_3d_head_mounted_display/
Sony HMZ-T1 3D head mounted display
Strap-on movies for your pleasure
Posted in Personal Tech, 16th November 2011 07:00 GMT
Review Watching a movie with Sony's strap-on Personal 3D Head Mounted Display is one of the more extraordinary cinematic experiences you can have. Imagine the intensity of large screen IMAX somehow ciphered through display panels more befitting a digital camera. It's like watching TV in a sensory deprivation tank: weird, uncomfortable and yet strangely addictive.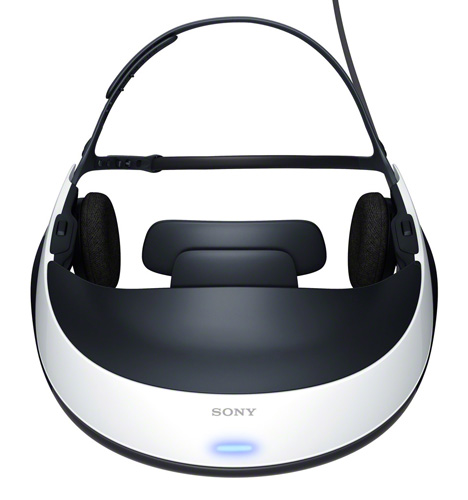 Viewing spectacle: Sony's HMZ-T1 Personal 3D Head Mounted Display
Not that I've worked out who would actually want to buy a HMZ-T1 headset and I suspect Sony hasn't either. Only a limited number are shipping into the UK (an unofficial source – actually a salesman working in the Harrods Sony Centre - told me it could be as low as 250 units, which may or may not be true); at £800 Sony clearly doesn't consider it a mass market proposition. But that doesn't make it any the less fascinating.
Sony has dabbled with video headsets before – congratulations if you have a Glasstron in your loft, circa 1997, it's probably worth a mint by now – but this is radically different. The HMZ-T1 is a two-part system comprising a 3D Head Mounted Display and HDMI tethered Dual Output Switcher. The latter feeds the former sound, vision and power from a single cable feed.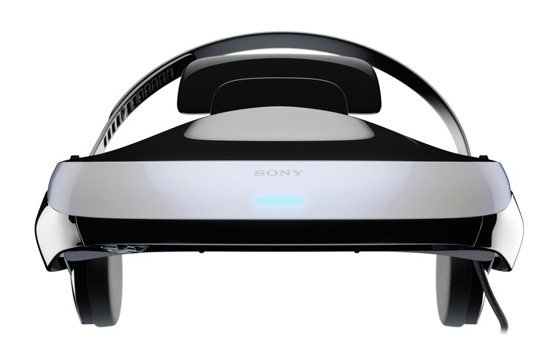 If only Sony designed cars...
The headset has no batteries, so you can forget about wandering the corridors of your council house starship pretending to be Geordi La Forge. This is a sit-down and keep still gadget. The 3D HMD comes with an adjustable noggin-strap, plus a padded forehead rest to secure the contraption in position. It looks geeky cool but is, in truth, a little cumbersome.
The stylised design, which sees the visor protruding from the face, isn't an homage to Star Trek. It's actually required to conceal a complicated optical block that incorporates two eye-ball facing 0.7inch OLED panels.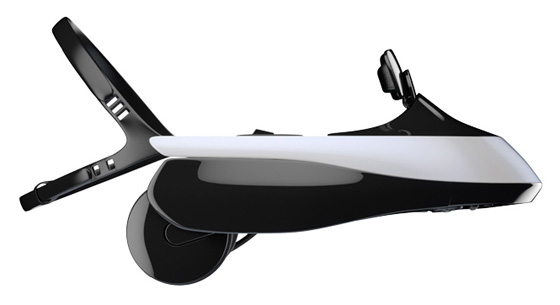 ...or boats
There's no remote control (obviously) although there are volume, menu and settings controls on the underside of the visor. Of course, if one of the sources you're watching is Blu-ray, you can still navigate your deck in the traditional way, provided you know where to point the remote control.
Immersion therapy
Two HDMI sources can be routed to the 3D HMD, and there's a loop-though on the switcher to your regular TV. It's also possible for others in the room to view one source, while you view another on the HMD.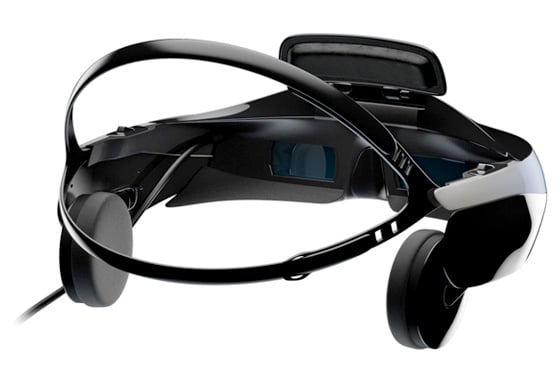 Not too well balanced at the front, hence the straps at the back
Sony maintains that the image as viewed through the headset is equivalent to a 750 feet cinema screen seen from about 20m. Equally, it could be said the picture looks much like you'd see from a 0.7in OLED panel viewed from just a few centimetres. The spec sheet goes for the middle ground and claims the effect of 150in screen viewed from 12ft away.
Regardless of estimates, the blackout effect of the headset certainly manages to create an illusion of scale. 

Films presented a 2.35:1 scope ratio look particularly cinematic, more so than video framed for 16:9. It's a nice illusion.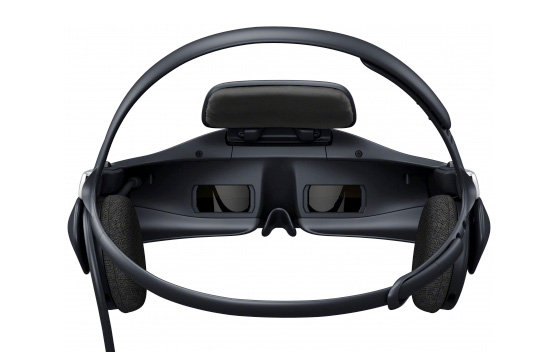 Each eye gets a 720p display, apparently
The panels themselves are incredibly sharp. Sony says the resolution is 720p, and the HMD-TZ1 is equipped with a newer microdisplay that's bigger than the 0.5in screens fitted to some of its Alpha cameras. If you understand Japanese, you can check out the HMD's 0.7in sensor here [PDF]. Indeed, images have texture and detail and exhibit extreme contrast that a photographer would expect. Manual optical adjustment sliders beneath eye piece ensure the sharpest focus.
The 3D experience created by the HMZ-T1 is rather different to that on an Active Shutter TV. For starters, there's no loss of brightness caused by filtering stereoscopic glasses.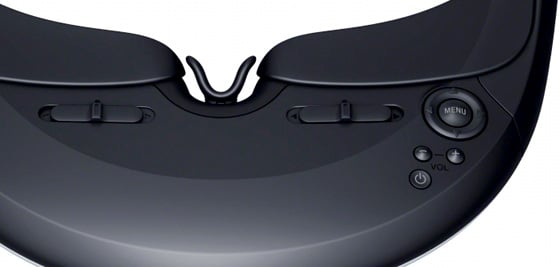 Switches adjust focus for each eye
That means 3D material looks just as bright and vivid as 2D. There's also no visible crosstalk. Because OLED panels refresh around 100x faster than LED panels (response time is quoted at just 0.01 milliseconds), left/right screens don't overlap and double imaging is avoided.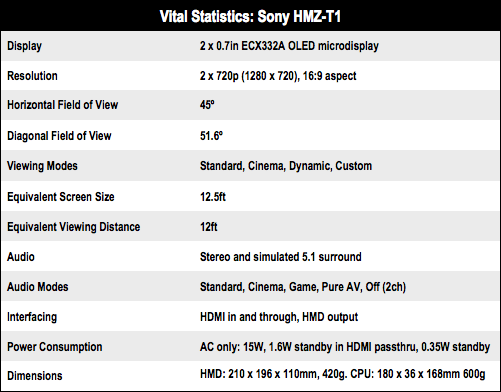 Game over?
Initially, I thought that the HMZ-T1 would also be ideal for gamers – until I tried it and quickly realised that wearing the headset meant I couldn't see the controller in my hands. If you can use a gamepad without looking it at, you might be fine – but I was hopeless. The headset is probably best thought of as a passive entertainment device.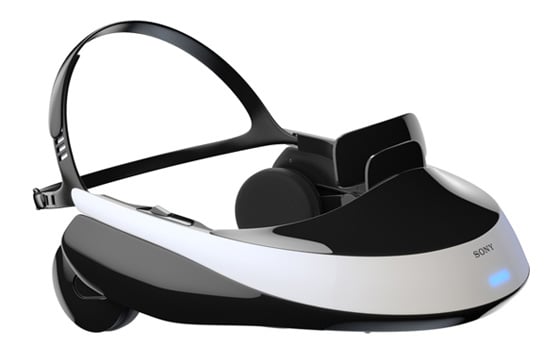 Passive viewing?
Sony hasn't wasted the opportunity to integrate quite a decent sound system into the HMD. I found its audio performance nearly as immersive as its video. Over-ear headphones deliver faux 5.1 signal processing which is rather effective. You can choose from four presets: cinema, game, music and standard. The system goes loud and yet remains clear, with definite wraparound image placement.
Ultimately, it's difficult to know where the HMZ-T1 is going to take Sony. Certainly the engineers I've talked to who are involved in the project are already talking about second generation improvements which will see the size of the optics and associated electronics reduced, thereby making the entire headset rather more manageable. So I guess that at least means there's a development road map.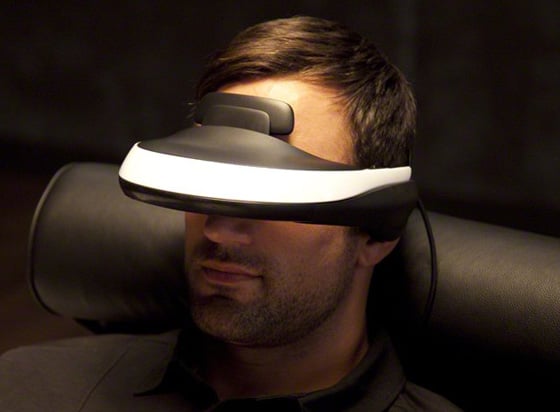 Stay in your seat and everything will be fine...
Verdict
As a 3D viewer today, it's an interesting (albeit expensive) alternative to regular stereoscopic TVs. 

Indeed, if it weren't for the eyewatering price, it would have a much higher rating. Yet purely from a brand point of view, I think its good to see Sony back with some new iconic technology – there's been a gaping void since Aibo the robot pooch was unceremoniously put down. The HMZ-T1 may have a whiff of folly about it, but the smell is curiously sweet. ®
More AV Gear Reviews

Samsung
PS64D8000
64in plasma 3D TV
Yamaha
RX-V471
AV receiver
Ten... Blu-ray
disc players
Sony
BDP-SX1 portable
Blu-ray player
Toshiba
Regza 47VL863